This post may contains affiliate links for your convenience. If you make a purchase after clicking a link we may earn a small commission but it won't cost you a penny more! Read our full disclosure policy here.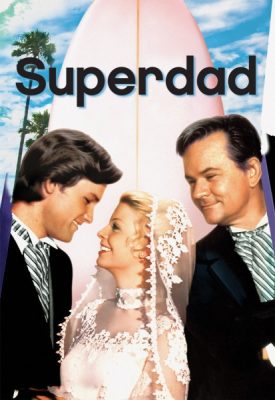 A live action comedy-drama, Disney's Superdad was theatrically released on December 14, 1973. The film is ninety-six minutes in length.
Plot Summary
In early-1970s Los Angeles, a middle-aged lawyer named Charlie McCready (Bob Crane) is worried about his teenage daughter, Wendy (Kathleen Cody), because Wendy's friends, especially her boyfriend Bart (Kurt Russell), seemingly lack direction in their lives. None of Wendy's friends have real jobs—the eccentric Stanley (Bruno Kirby) drives various vehicles for pay but only as a means to transport the group—and they only concern themselves with partying at the beach. Anxious to have Wendy attend the prestigious Huntington College in San Francisco rather than Los Angeles's City College, where Wendy's friends will be matriculating, McCready uses the influence of his law partner, Ira Kushaw (Dick Van Patten), to secure Wendy last-minute admittance to Huntington.
Unfortunately for Mr. McCready, his visions of tranquility for Wendy do not last long. Although Mrs. McCready (Barbara Rush) successfully secures lodging for her daughter at Mother Barlow's Boardinghouse, which was the orderly habitation of Mrs. McCready's own college days at Huntington, Mr. McCready walks into that establishment to find a scene of unmitigated chaos. Boys run wild in the co-ed dormitory, and the elderly Ms. Barlow (Judith Lowry) seems more interested in playing billiards than in restraining her rambunctious boarders. Furthermore, upon arriving back in Los Angeles, Mr. McCready learns that Wendy's friends drove all the way to San Francisco for a visit. Apparently, not even the vast expanse of California can keep Wendy isolated from temptation. How will this saga end?
Generation Gap
Superdad's plot delves into the chaotic climate of the United States in the late 1960s and early 1970s, especially instances of rebellious teenagers, campus turmoil, and urban protests. Along the way, Mr. McCready struggles to find the appropriate level of influence to exert over his daughter. Although his concern for Wendy's future is well intentioned, Mr. McCready often exudes an overbearing demeanor, which paradoxically moves his normally dutiful daughter to rebellion. Is the new generation really so bad, or is Mr. McCready jaded?
Problems
Superdad might have been improved had Disney decided to either make the movie a strict comedy or a strict drama, preferably the latter. The swings between the flick's comedic moments and its more serious moments are stark.
The visuals during the beach and road trip sequences early in the film are poor. The characters here are obviously moving in front of blue screens with stunt doubles providing brief action clips.
In some respects, Superdad is eerily similar to Disney's Charley and the Angel, which was theatrically released several months prior to Superdad. In both films, fathers named Charlie/Charley—to be fair, the spellings are different—seek closer relationships with their children and fight to have their respective daughters, both portrayed by Kathleen Cody, break up with their respective boyfriends, both played by Kurt Russell. The boyfriends in each case are good people misunderstood by the fathers. The two films also abruptly incorporate intense fight scenes in their concluding moments.
Music
Although Superdad is not a musical, the film's three lyrical numbers are excellent.
Superdad commences and culminates with a beautiful song, "These Are the Best Times." This number emphasizes how isolated moments, such as one's teenage years spent casually amongst friends and one's wedding ceremony, are often the best moments in one's life and should, thus, be fully enjoyed. The background visuals of friends playing on a beach at sunset that are shown over the song's first rendition are amazing to behold, although they seem better suited for a music video than for the introduction to a film. The church choir performance of the song at Wendy's wedding at the end of the film is outstanding. In fact, Disney released "These Are the Best Times" as sheet music—Superdad did not have a soundtrack album—after receiving numerous requests from fans to use the song at their weddings. (1)
In contrast to the relaxing "These Are the Best Times," "Los Angeles" is an energetic, groovy song played during the group's drive back from the beach early in the film.
Similar in style to "These Are the Best Times," "When I'm Near You" is a soothing dance number played at Wendy's birthday party.
In addition to the lyrical music, a foreboding background tune solidly foreshadows Mr. McCready's battle with the maniacal artist Klutch (Joby Baker).
Humor
Mr. McCready's client, Cyrus Hershberger (Joe Flynn) of Hershberger Shipping Lines, is troubled by unions, the small talk offered by McCready and Ira Kushaw, and unruly teenagers hampering his golf game.
Mr. McCready attempts to relate to Wendy by accompanying her and her friends to the beach. Once there, he runs into problems playing volleyball and rugby, swimming, and waterskiing. His shrill scream throughout these scenes is hilarious.
Mr. McCready ascends to the second-floor window of Mother Barlow's Boardinghouse and calls for Wendy. Unfortunately for Peter Pan…err, Mr. McCready, he went to the wrong window, and he is arrested after somersaulting off a trampoline and into a swimming pool. In contrast to normal occurrences in college towns, Wendy bails out her father.
Disappointed that Wendy will be going to Huntington College rather than City College, a miraculous chain of events allows Bart to earn a scholarship and join Wendy at Huntington! You see, during a massive thunderstorm, Bart is electrocuted by computer wires, has the corresponding computer's information transferred into his head, and instantly becomes a genius!…Err, never mind; that computer situation occurred to another Kurt Russell character, Dexter Riley, in The Computer Wore Tennis Shoes (1969).
In perhaps the film's funniest scene, Stanley, Mr. McCready, and law student Roger Rhinehurst (Nicholas Hammond) enter into a rambling discussion about dogs and cats after Stanley's dog, Rolie Polie, bites Roger.
With Mr. McCready in trouble, Bart turns into Barry Bonds and strikes a clutch blow on Klutch.
Mr. McCready and Wendy arrive late to the latter's wedding ceremony in the back of a delicatessen truck. Fortunately for all involved, the beauty of the ceremony more than masks the liverwurst stench being carried by Mr. McCready.
Relationship to Other Disney Films
A young boy wears a Mickey Mouse shirt on the beach early in Superdad.
Superdad was the eighth of fifteen Disney films to feature Kurt Russell, who was named a Disney Legend in 1998. Russell had previously appeared in Follow Me, Boys! (1966), The One and Only, Genuine, Original Family Band (1968), The Horse in the Gray Flannel Suit (1968), The Computer Wore Tennis Shoes, The Barefoot Executive (1971), Now You See Him, Now You Don't (1972), and Charley and the Angel for Disney, and he subsequently contributed to The Strongest Man in the World (1975), The Fox and the Hound (1981), Captain Ron (1992), Tombstone (1993), Miracle (2004), Sky High (2005), and Guardians of the Galaxy Vol. 2 (2017) for the studio.
Superdad was the second of seven Disney films to feature Dick Van Patten, following Snowball Express (1972) and preceding The Strongest Man in the World, Treasure of Matecumbe (1976), Gus (1976), The Shaggy D.A. (1976), and Freaky Friday (1977).
Superdad was the seventh of nine Disney films to feature Joe Flynn. Flynn had previously appeared in Son of Flubber (1963), The Love Bug (1968), The Computer Wore Tennis Shoes, The Barefoot Executive, The Million Dollar Duck (1971), and Now You See Him, Now You Don't for Disney, and he subsequently contributed to The Strongest Man in the World and The Rescuers (1977) for the studio.
Bob Crane subsequently portrayed the obnoxious sportscaster Pepper Allen in Gus.
A dad with greater superpowers than those possessed by Mr. McCready is featured in Pixar's The Incredibles (2004) and that film's upcoming sequel, Incredibles 2 (2018).

In the Parks
Different eras and generations are the theme of Walt Disney World's Pop Century Resort.
Overall
Superdad is a spotty effort, but there are enough laughs and action to keep you entertained, and the music is catchy.
Notes
1) Dave Smith, Disney Trivia from the Vault: Secrets Revealed and Questions Answered (New York: Disney Editions, 2012), 127-28.
What do you think of Superdad? Let me know in the comments!
 Sponsored Ad:  Would you like to help support The Mouse For Less website in continuing their mission of being THE Disney vacation planning resource?  You can do so by purchasing Superdad from our Affiliate Link through Amazon. Thanks so much for your support!
Incoming search terms:
https://www themouseforless com/blog_world/movie-review-superdad/
Summary of super dad