This post may contains affiliate links for your convenience. If you make a purchase after clicking a link we may earn a small commission but it won't cost you a penny more! Read our full disclosure policy here.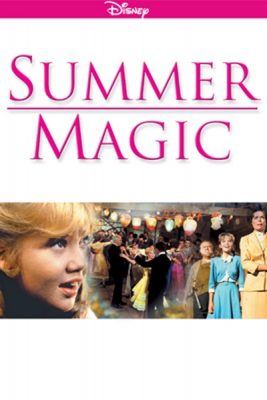 DVD Cover Copyright Disney
A musical drama and comedy based on Kate Douglas Wiggin's 1911 novel Mother Carey's Chickens, Summer Magic was theatrically released on July 7, 1963. The live action film is 110 minutes in length.
Plot Summary
In turn-of-the-twentieth-century Boston, the Carey family, which consists of a mother named Margaret (Dorothy McGuire), a teenage daughter named Nancy (Hayley Mills), a teenage son named Gilly (Eddie Hodges), and a younger son named Peter (Jimmy Mathers), is in dire straits after the loss of the family patriarch. The Careys, a wealthy clan with multiple maids, are now forced to sell many of their belongings and plan to move to a less luxurious house elsewhere in Boston. The family's downward trajectory seemingly intensifies when Mrs. Carey is informed that the mining investments made by her late husband are worthless and that she cannot afford the new home she was planning on purchasing. Where will the family live now?
Well, it is always a good idea to have a backup plan, and through the telling of a deceitful story about her family's makeup, Nancy has successfully secured a new house for the Careys in Beulah, Maine. While vacationing in that rural town several years back, the family had noticed an attractive vacant yellow house. Remembering this house, Nancy wrote to a local magistrate and general store proprietor, Osh Popham (Burl Ives), who is touched by Nancy's fabricated story and agrees to allow, with the supposed concurrence of the dwelling's absentee owner, Tom Hamilton (Peter Brown), the Careys to live there. Despite Nancy's lie, Mr. Popham proves to be a genuinely nice man, and he and the Careys become close friends.
Unfortunately for all involved, Mr. Popham has himself told a lie to, or at least withheld some key information from, Mr. Hamilton. The absentee owner has no idea that Mr. Popham has given his property to a family with no money, and, if he returns, he will likely be less accommodating than Mr. Popham. How will this story end?
Plot Comment
Summer Magic's plot is often superficial and forced—for example, I found the almost immediate change in the relationship between Nancy and her cousin Julia Carey (Deborah Walley) awkward, and the antagonistic vibe of Mr. Popham's wife, Mariah Popham (Una Merkel), unfulfilling—but the film's evolving journey mitigates the importance of a strong plot.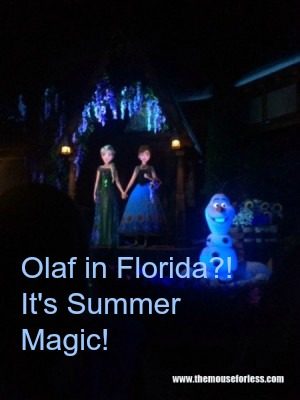 Photo Copyright The Mouse For Less
Symbolism
The sky shown over Summer Magic's opening credits symbolizes the battle between hope and despair that is fought over the course of the film. This particular sky features sunlight attempting to battle through dark storm clouds.
Coming Together
The various inhabitants of Beulah are in some respects vastly different. The Careys are used to a cosmopolitan urban lifestyle, the Pophams are accustomed to a more secluded and tight-knit rural vibe, and the animals go along with the flow. Furthermore, Mr. Popham is an optimist, Mrs. Popham is a pessimist, and Gilly's treasures are Nancy's junk. Nonetheless, the town's occupants unite into homeostasis.
Especially during the first half of the film, a debate occurs over the respective merits of rural life and urban life. Seeing from Mr. Hamilton's arguments with Thomas Jefferson that the former prefers cities to rural areas, it is no surprise that Hamilton has vacated his home in Beulah…err, never mind; the movie features Tom Hamilton, not Alexander Hamilton.
Music
Richard and Robert Sherman, the brothers who were named Disney Legends in 1990, composed seven lyrical numbers for Summer Magic: "Flitterin'," "Beautiful Beulah," "Summer Magic," "Pink of Perfection," "Ugly Bug Ball," "On the Front Porch," and "Femininity."
At worst, all of the songs adequately complement the moods of their corresponding scenes, and, at best, you will have them stuck in your head for a while after the movie. "On the Front Porch" and especially "Summer Magic" are beautiful songs, the former sung while the characters unwind on the porch after a day of celebration and the latter brilliantly juxtaposed with images of natural settings. My favorite number, however, is "Ugly Bug Ball"; this tune is fun and extraordinarily catchy. Almost as catchy, though pessimistic in nature, is "Pink of Perfection," which uses short beats to highlight Julia Carey's haughty attitude.
The Sherman Brothers: Reminiscences
Reflecting on Robert Sherman's role in Summer Magic years later with Robert's son Robbie Sherman, Disney historian Jim Korkis said: "I think it is especially significant that Robert Sherman always said that his favorite song that he wrote for Disney was 'On the Front Porch' from the 1963 live-action Hayley Mills musical film Summer Magic. The film is filled with some wonderful tunes by the Sherman Brothers, including 'Flitterin' and 'Beautiful Beulah,' as well as the hit 'The Ugly Bug Ball' sung by Burl Ives.
'Walt didn't like the negative connotation of the word 'ugly' so we had to work hard to convince him that one bug doesn't think of another bug as ugly,' Robert said.
Yet, Robert chose 'On the Front Porch' as his favorite. It is a soothing song hidden in the film with no choreography or special effects or animation. The song simply says that after a long hard day, it is nice to sit on the front porch with friends and family and sing a little and maybe share a story or two.
'Of the hundreds of songs we wrote for Walt Disney, I really love that one,' wrote Robert in his autobiography.
The first copy of the published sheet music was sent to the Sherman Brothers' mom and dad with the inscription: 'To Mom & Dad—This is the 1st copy and it's for you, with all our love, for all the years of magic—summer & winter—that you performed on us—because at times, only magic would work! Love Bob & Dick'
While they referred to themselves as Bob and Dick, professionally they were always known by their more formal names.
'In our early published music, we were credited as 'Bob Sherman and Dick Sherman.' Walt took us aside one day and suggested we become Robert and Richard. 'It's got more dignity' he assured us. We added the middle initial, and on our bylines that's who we've been ever since,' Richard told the authors of Walt's Time." (1)
Considering that the Sherman Brothers wrote music for such classic films as The Parent Trap (1961); The Sword in the Stone (1963); Mary Poppins (1964); The Jungle Book (1967); Bedknobs and Broomsticks (1971); and The Many Adventures of Winnie the Pooh (1977), not to mention soundtracks for such classic theme park attractions as "It's a Small World" and "Walt Disney's Carousel of Progress," it is interesting that Robert Sherman's favorite song from his long Disney career was an effort from the more-overlooked Summer Magic.
Humor
Humorous moments occur throughout Summer Magic.
Speaking to her family's two maids in the film's opening moments, Nancy relays a story where another family enduring a financial crisis keeps its maid despite moving out of a grand castle, because said maid elects to serve for free. Unfortunately for Nancy and the Careys, their maids have already secured another job, which will pay them five dollars more each month than the Careys are currently paying them. Oh well; it was worth a try!
Mr. Popham has written Mr. Hamilton about the arrival of the Careys; he just does not plan on mailing the letters.
Mr. Popham concocts a story about the importance of a non-existent painting of Mr. Hamilton's mother. This tall tale takes on a life of its own during the film's concluding scenes.
Peter Carey agrees to board an extremely shaggy dog named Sam.
Nancy really likes college football! She describes a play that Beulah's new schoolteacher, Charles Bryant (James Stacy), made for Brown University in a game against Dartmouth University as "a glorious moment in the great American scene."
Although Summer Magic features a Mariah and several Careys, songs such as "Fantasy," "I Still Believe," and "My All" are not included in the film.
Relationship to Other Disney Films
Summer Magic marked the fourth of Hayley Mills's six Disney films in as many years, following Pollyanna (1960), The Parent Trap, and In Search of the Castaways (1962); and preceding The Moon-Spinners (1964) and That Darn Cat! (1965).
Dorothy McGuire had previously starred in Old Yeller (1957) and Swiss Family Robinson (1960) for Disney. In the latter effort, McGuire played the wife of a character, Mr. Robinson, who was portrayed by Hayley Mills's father, John Mills.
Shaggy dogs were also featured in The Shaggy Dog (1959), The Shaggy D.A. (1976), and The Shaggy Dog (2006).
In the Parks
Osh Popham's name is inscribed on the windows at the southwest entrance to the Emporium store on Main Street U.S.A. at Walt Disney World's Magic Kingdom. Popham serves as the store's "proprietor," though you probably will not see him inside. In this regard, Mr. Popham is to the Emporium what Mr. Hamilton was to the yellow house in Summer Magic.
Overall
Although the plot of Summer Magic is somewhat disjointed, the film is a fun ride with great music and some good laughs.
Notes
1) Korkis, J. (2015, April 22). Robert B. Sherman Through the Eyes of His Son Robbie. Retrieved December 25, 2016, from https://www.mouseplanet.com/10999/Robert_B_Sherman_Through_the_Eyes_of_His_Son_Robbie
What do you think of Summer Magic? Let me know in the comments!
Sponsored Ad:  Would you like to help support The Mouse For Less website in continuing their mission of being THE Disney vacation planning resource?  You can do so by purchasing Summer Magic from our Affiliate Link through Amazon. Thanks so much for your support!
Incoming search terms:
is the shaggy dog the same as the dog in summer magic