This post may contains affiliate links for your convenience. If you make a purchase after clicking a link we may earn a small commission but it won't cost you a penny more! Read our full disclosure policy here.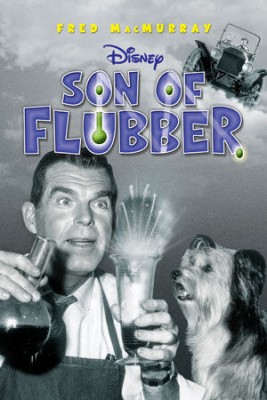 DVD Cover Copyright Disney
A sequel to Disney's 1961 live action comedy The Absent-Minded Professor, Son of Flubber was theatrically released on January 16, 1963. The film is 100 minutes in length.
Plot Summary
On the gridiron, Medfield College is preparing to get destroyed by rival Rutland College, which has neither lost a game nor surrendered a point in three years. True to form, Rutland storms out to a 37-0 third quarter lead as Medfield's two best players, Biff Hawk (Tommy Kirk) and Humphrey Hacker (Leon Tyler), are missing, supposedly devising a secret weapon to win the game. The secret weapon turns out to be Flubber Gas, a variation of the incredible Flubber, flying rubber, discovered by Professor Ned Brainard (Fred MacMurray) in The Absent-Minded Professor. Flubber Gas is intended to alter weather patterns, but it is usable for other applications as well.
Biff and Professor Brainard insert the gas into Hacker's uniform, and before Rutland can say "hut, hut, hike," Humphrey is bouncing across the field like an astronaut on the moon, six years before man actually walked on the moon. Humphrey's uniform eventually pops, but he makes a strategical adjustment, and Medfield wins the game, 38-37, on a 98-yard field goal as time expires.
Once again, Professor Brainard has used his Flubber to lead an improbable Medfield sports comeback against Rutland. Victory is sweet, but time has not expired on other contests for Brainard: a suit initiated by the irritating Alonzo Hawk (Keenan Wynn) for destroying county property; and a quest to find money to support his frustrated wife, Betsy (Nancy Olson), and pay off the Internal Revenue Service (IRS). Will he succeed in these endeavors?
Reviews
New York Times columnist Bosley Crowther, who had contributed a positive review of The Absent-Minded Professor upon that film's release, was fairly bullish on Son of Flubber, noting some Cold War overtones. Of the movie, Crowther said, "It is crazy, of course, in the spirit of old-fashioned sight-gag slapstick farce, but it is fun—and, indeed, a bit of a satire on the weird inventions of the new atomic age. It has all the wholesale ingredients of perennial family comedy, including Mr. [Walt] Disney's infant grandson in a small but expandable role." (1) That grandson, Walter Elias Disney Miller, was cast as the baby in a commercial early in the movie. (2)
Conversely, Mike McGrady of Newsday was unimpressed with Son of Flubber. A scathing review commenced with a line uttered by Professor Brainard in the flick: "Anybody who falls flat on his face is at least moving in the right direction—forward." (3)
McGrady used this quote to criticize the film, saying, "The aphorism is not entirely accurate. For with this movie, Walt Disney manages to pull off that same stunt while going in the opposite direction." (4) Ouch! For what it is worth, McGrady deemed this sequel comparable in quality to its predecessor, which he also did not enjoy. (5)
Production: They Can Fly!
On May 4, 1962, Bosley Crowther viewed the production of Son of Flubber's football scene, reporting:
"A football game (after a fashion) has been going on intermittently for several days on a turf-covered football field laid out in one of the largest movie sound stages in this area at the Walt Disney Studios. In the pre-production filming of the sequences of the football game, the actors cast as players have been whirled up and down the field by wires suspended from the top of the sound-stage or hanging from a large moveable crane. Anybody walking in on it and not knowing what to expect might think himself curiously transported into one of Disney's cartoon fantasies. More conventional stock shots of an actual football game to match up with these weird trick sequences were shot last fall on a nearby high school football field." (6)
Risk
President Franklin D. Roosevelt once said, "The only thing we have to fear is fear itself." In a similar vein, Professor Brainard laments an excessive level of fear among the American populace, which serves to discourage thinking, experimentation, and a willingness to make and learn from mistakes. If people refuse to take risks, society will stagnate and deteriorate.
Such principle epitomized Walt Disney, one of the greatest risk takers of the twentieth century. Legendary Disney producer Bill Walsh was not joking when he admitted to inserting facets of Walt Disney's personality into some of his characters, including Professor Brainard. (7)
Morals
Biff Hawk, a lazy failure of a student who borders on villainous in The Absent-Minded Professor, is a changed person in Son of Flubber. Indeed, Biff emerges as Professor Brainard's lab assistant and actively defends his teacher from the schemes of the protégé's evil father.
Professor Brainard displays conflicting morals in Son of Flubber. Though he is mired in financial straits, Professor Brainard refuses to accumulate money through sleazy means, instead abiding by his disappointing deal with the government. Conversely, Brainard uses his inventions to covertly gain revenge on his enemies, and he gets too amorous with his ex-girlfriend Desiree de la Roche (Joanna Moore), though Mrs. Brainard initiated the latter problem by inviting her ex-lover and Dr. Brainard's enemy, Professor Shelby Ashton (Elliott Reid), to dinner.
Antagonist
Alonzo Hawk proves even more obnoxious in Son of Flubber than he was in The Absent-Minded Professor. His proposed scheme to profit from Brainard's new invention is depraved and will likely have you screaming at your television.
Humor
Son of Flubber is a comedy and features both oral and physical humor, some of it uproarious, throughout.
Professor Brainard struggles to obtain expected compensation from the government, though he does manage a dime from an IRS agent to pay the paperboy. Brainard's pecuniary fight with the government is reminiscent of Walt Disney's own payment battles over his World War II propaganda films. (8)
Biff and Humphrey are simultaneously awkward and enthusiastic, producing some chuckles. The latter is often a chicken, sometimes almost literally.
A rainstorm develops inside Professor Ashton's car while he adorns a Neptune costume. The precipitation arises from Professor Brainard's Flubber Gas, not from the Roman god of the sea.
The football scene is by far the funniest segment in the flick…A 98-yard attempt to win the game….snap, spot, hold down, kick on its way, plenty of leg, and it is…GOOOD! MEDFIELD HAS WON!!! 38-37 over Rutland, and the pigskin is still going, perhaps bound for Neptune, the planet, not the alter ego of the very disappointed Professor Shelby Ashton!!!
In a rare example of harmony between college sports and academics, Professor Brainard sneaks onto the sideline disguised as a football player.
Mrs. Brainard proves competent in a courtroom setting, where Judge Murdock (Charlie Ruggles) greatly enjoys her superfluous testimony. The entire Court is awed by gargantuan vegetables, a beneficial side effect of Flubber Gas.
Relationship to Other Disney Films
Son of Flubber was the first of three live action sequels released by Disney during the 1960s. Savage Sam (1963) was a sequel to Old Yeller (1957), and The Monkey's Uncle (1965) was a sequel to The Misadventures of Merlin Jones (1963).
Football games are also featured in Gus (1976), Angels in the Endzone (1997), Air Bud: Golden Receiver (1998), and The Game Plan (2007).
Charlie Ruggles previously appeared in The Parent Trap (1961), and subsequently appeared in The Ugly Dachshund (1966) and Follow Me, Boys! (1966).
Near the beginning of Son of Flubber, as Rex Williams in the Flubber Enterprises commercial, Joe Flynn made his Disney Medfield College debut. Flynn subsequently portrayed Dean Eugene Higgins in each installment of the otherwise unrelated "Medfield College trilogy": The Computer Wore Tennis Shoes (1969), Now You See Him, Now You Don't (1972), and The Strongest Man in the World (1975).
Son of Flubber was one of only four Disney films to not be shot in color, the others being The Absent-Minded Professor, The Sign of Zorro (1958), and The Shaggy Dog (1959). (9)
In the Parks
A commemoratory photograph of Professor Philip Brainard's victory of the fictitious "Imagination Institute Inventor of the Year Award" hangs in the queue of Epcot's "Journey Into Imagination With Figment." Philip Brainard was the substitute for Ned Brainard in the 1997 remake of The Absent-Minded Professor, Flubber.
Guests at Epcot can witness the growth of produce, slightly smaller than the commodities hauled into the courtroom at the end of Son of Flubber, on Epcot's "Living with the Land" boat ride. A related tour, "Behind the Seeds," is also offered for an additional cost.
Photo Copyright Natalie Aked
If you enjoyed the film's Halloween segments, consider purchasing tickets for "Mickey's Not So Scary Halloween Party," held at Walt Disney World's Magic Kingdom each fall.
A whimsical football section is featured at Walt Disney World's All-Star Sports Resort.
Overall
Son of Flubber tends to plod during the scenes where the Brainards are coerced by their former lovers, but the film provides more than enough fun and laughter to compensate for its occasional plot deficiencies. Son of Flubber's concluding scenes are especially engaging and superior to the corresponding segments in its predecessor.
Notes
1) Crowther, B. (1963, February 9). Walt Disney's 'Flubber' Still Funny in Sequel: The Screen: Reinflation. New York Times, p. 5. Retrieved December 21, 2015, from http://0-search.proquest.com.alpha1.suffolk.lib.ny.us/docview/116514997?accountid=35174
2) FRED MACMURRAY FLIES AGAIN IN WALT DISNEY'S SON OF FLUBBER. (n.d.). Retrieved December 25, 2015, from https://d23.com/d23s-from-the-archives-fred-macmurray-flies-again-in-walt-disneys-son-of-flubber/
3) McGrady, M. (1963, February 11). 'Son of Flubber' Offers Jokes Even Less Funny on Rebound. Newsday, p. 2C. Retrieved December 21, 2015, from http://0-search.proquest.com.alpha1.suffolk.lib.ny.us/docview/899053391?accountid=35174
4) Ibid.
5) Ibid.
6) Crowther, B. (1962, May 5). DISNEY IMPROVES ON FLYING TACKLE: Football Players Soar in the Air in 'Son of Flubber' New York Times, p. 18. Retrieved December 21, 2015, from http://0-search.proquest.com.alpha1.suffolk.lib.ny.us/docview/116040891?accountid=35174
7) Watts, S. (1997). Disney and the Culture Industry. In The Magic Kingdom: Walt Disney and the American Way of Life (pp. 381-382). Columbia, Missouri: University of Missouri Press.
8) FRED MACMURRAY FLIES AGAIN IN WALT DISNEY'S SON OF FLUBBER. (n.d.). Retrieved December 25, 2015, from https://d23.com/d23s-from-the-archives-fred-macmurray-flies-again-in-walt-disneys-son-of-flubber/
9) Smith, D. (2012). Live-Action Films. In Disney Trivia from the Vault: Secrets Revealed and Questions Answered (p. 156). New York: Disney Editions.
What do you think of Son of Flubber? Let me know in the comments!
Sponsored Ad:  Would you like to help support The Mouse For Less website in continuing their mission of being THE Disney vacation planning resource?  You can do so by purchasing Sun of Flubber from our Affiliate Link through Amazon. Thanks so much for your support!
Incoming search terms:
https://www themouseforless com/blog_world/movie-review-son-of-flubber/