This post may contains affiliate links for your convenience. If you make a purchase after clicking a link we may earn a small commission but it won't cost you a penny more! Read our full disclosure policy here.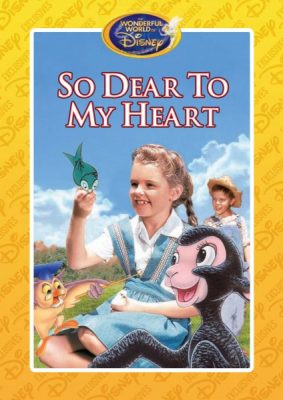 Based on Sterling North's 1943 children's book Midnight and Jeremiah, Disney's So Dear to My Heart was theatrically released on January 19, 1949. The musical drama, a hybrid of live-action and animated elements, is eighty-two minutes in length.
Plot Summary
In 1903 Indiana, a passing train affords the townspeople of Fulton Corners a brief glimpse of a famous prize racehorse, Dan Patch. Although young Jeremiah Kincaid (Bobby Driscoll) can only dream of winning a race with Dan Patch, he soon sees an unlikely but plausible opportunity for attaining some fame in an outcast black sheep born on the farm of his grandmother, Granny Kincaid (Beulah Bondi). Granny Kincaid deems this sheep, which Jeremiah names Danny, a mere nuisance, but Jeremiah sees more in it. Indeed, Danny may be different, but he is also special. Through hard work and the help of the enthusiastic blacksmith Uncle Hiram Douglas (Burl Ives), Jeremiah's young playmate Tildy (Luana Patten), and the shopkeeper Pete Grundy (Raymond Bond), Jeremiah tirelessly works to prepare Danny to compete for a possible prize at the county fair.
Jeremiah's enthusiasm notwithstanding, the boy faces two problems. First, Granny Kincaid is unsure about the advisability of attending the county fair. Also, even if Jeremiah attends the fair and enters Danny in a contest, there is no guarantee that he will win a prize. How will the story end?
The film's live action sequences are broken up by animated interludes starring a wise owl and other animal and human characters. These segments are intended to portray the daydreams of Jeremiah and afford the boy advice.
Production
So Dear to My Heart was filmed in California's San Joaquin Valley, approximately 250 miles north of Hollywood, between April 30, 1946 and March 28, 1947. (1) As the Disney Studios still featured only a single small soundstage, makeshift structures, including the barn, the railroad depot, Granny Kincaid's house, and the Grundy Store, were interspersed with local features to create the desired settings, and residents of the area braced temperatures north of 100 degrees to serve as extras. (2)
Back to the Future
With its Midwestern small town turn-of-the-century setting, So Dear to My Heart had special nostalgic appeal for Walt Disney. Said Disney during an interview: "So Dear was especially close to me. Why, that's the life my brother and I grew up with as kids out in Missouri. The great racehorse Dan Patch was a hero to us. We had Dan Patch's grandson on my father's farm." (3) Jeremiah's narration of the tale as a flashback and his tendency to daydream augment the movie's nostalgic aura, especially considering Walt Disney's legacy as a dreamer.
While harkening back to Disney's past, So Dear to My Heart also inspired Disney's future. The barn constructed for the film reminded Walt Disney so much of the barn from his childhood farm in Marceline, Missouri that he had architect John Cowles Jr., who had designed the barn for the film, construct a near replica in the backyard of his new home on Carolwood Drive in Holmby Hills, California. (4) Disney thereafter used the barn both as a control station for his backyard railroad, the Carolwood Pacific Railroad, and as a favorite spot to relax and ponder new ideas, including Disneyland. (5) Nowadays, new concepts for Disney's theme parks are devised by creative specialists called "Imagineers." As such, the barn is nicknamed "The Birthplace of Imagineering." (6)
Following Lillian Disney's death in 1997, Diane Disney Miller secured the relocation of the barn to Griffith Park in Los Angeles, where it continues to house artifacts, including memorabilia from So Dear to My Heart. (7) Fellow Mouse For Less blogger Kristina toured the barn a few years ago: check out her report here.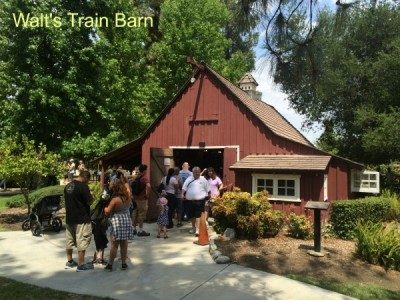 Additionally, the railroad depot from So Dear to My Heart provided the inspiration for the Frontierland Railroad Station, later the New Orleans Square Railroad Station, at Disneyland Park. Walt Disney, in the name of economy, tried to retrieve the original set from Ward Kimball, who had received the station as a gift from Disney for his own backyard railroad, the Grizzly Flats Railroad, after filming of So Dear to My Heart was completed. Kimball, having painstakingly reassembled the pieces, refused to comply, but Disney was able to construct a new, slightly modified version from the original blueprints. (8)
Not Quite Live
Although Walt Disney initially intended to make So Dear to My Heart the studio's first completely live action film, an honor eventually taken by Treasure Island (1950), the effort culminated as a live action-animation hybrid, largely because Disney's then contract with RKO, which distributed Disney's films, did not allow for distribution of movies without animation. Disney films distributed by RKO, according to the contract, "shall be animated cartoon or may be part animated cartoon and part live-action." (9)
Disney had created numerous hybrid productions since his Alice Comedies of the 1920s. These efforts had included films such as Fantasia (1940), The Reluctant Dragon (1941), Saludos Amigos (1942), The Three Caballeros (1944), Song of the South (1946), and Fun and Fancy Free (1947). The use of hybridity differed amongst these films. For example, whereas the animated and live action scenes are separated in Fantasia and The Reluctant Dragon, the elements are amalgamated in The Three Caballeros, allowing Donald Duck to dance alongside a real woman.
Additionally, whereas the animated elements are the focal point in Fantasia, Saludos Amigos, The Three Caballeros, and Fun and Fancy Free, the live action elements are more significant in The Reluctant Dragon, Song of the South, and So Dear to My Heart. The latter three films, unlike the former three movies, are not listed among Disney's fifty-six animated classics, which span from Snow White and the Seven Dwarfs (1937) to Moana (2016). When I wrote to Disney Chief Archivist Emeritus Dave Smith several years back asking "Why was Saludos Amigos counted as one of Disney's animated features when The Reluctant Dragon was not?," Mr. Smith replied, "The Reluctant Dragon has always been considered as primarily a live-action film. Saludos Amigos has a much larger percentage of animation." (10) The reason for So Dear to My Heart's omission from the company's animated feature list can therefrom be extrapolated.
Aside from the fact that So Dear to My Heart was originally intended to be completely live action, the relative insignificance of the film's animated elements was made clear when Walt Disney himself said, "I saw the cartoon characters as figments of a small boy's imagination, and I think they were justified." (11) Nonetheless, the animated segments are visually interesting; my favorite such sequence occurs during the song "The Wise Old Owl Singing-Stick-to-It-Ivity," where a fire breathing dragon disrupts an imagined Christopher Columbus voyage.
So Dear to My Heart was Disney's last hybrid film for more than a decade, a drought that culminated with the 1964 release of perhaps the company's greatest movie, Mary Poppins.
Granny Kincaid
Granny Kincaid is a conservative older woman. She believes in doing what one was brought up to do and not daydreaming of loftier goals; laboring hard at relevant tasks; and not spending beyond one's means. She has Jeremiah's best interests at heart, but sometimes ambition is a positive attribute, especially in Jeremiah's case, where he is willing to work hard and honestly towards his goals. On the other hand, Granny Kincaid wisely reminds Jeremiah of the difference between loving Danny for who he is and merely using Danny as a tool for self- aggrandizement.
Bobby Driscoll
Years after So Dear to My Heart's release, Dave Smith, chief archivist emeritus of the Walt Disney Archives, reminisced on the career of Bobby Driscoll, who portrayed Jeremiah in So Dear to My Heart.
In reply to a reader's question, Smith said, "Bobby Driscoll starred in Song of the South, Melody Time [1948], So Dear to My Heart, and Treasure Island for Disney; he also provided the voices of Peter Pan and Goofy Jr. in 1950s cartoons. Besides his films for Disney, Bobby appeared in a number of features and television shows for other producers. He received a special juvenile Academy Award in the year he made So Dear to My Heart and the non-Disney film The Window. He appeared in the television specials One Hour in Wonderland and The Walt Disney Christmas Show. He had a troubled life after he outgrew children's roles and died a pauper, of a drug overdose, at age thirty-one in New York City. Bobby was a favorite actor of mine, too, as I was growing up, since we were about the same age, and I knew his mother when I worked at the UCLA Library in the 1960s (she worked there, too)." (12)
Music
So Dear to My Heart is a musical and includes a diverse array of excellent songs. (13)
The film commences with a lyrical number, "So Dear to My Heart." Juxtaposed against animated backdrops of changing settings, seasons, and weather, this heartwarming song immediately allows one to reckon why Walt Disney found nostalgia in So Dear to My Heart.
The second number in So Dear to My Heart, "It's Whatcha Do With Whatcha Got," is performed during an animated sequence by the wise owl and a chorus of birds and other farm critters. This upbeat song is intended to show Danny the black sheep that although he faces tough odds, perseverance may very well lead him to success. Again, this song applies to Walt Disney's life, rising from humble origins to one of the most influential American figures of the twentieth century. Later, the owl returns to sing "The Wise Old Owl Singing-Stick-to-It-Ivity," an upbeat tune that promotes perseverance by showcasing successful visionaries, including Christopher Columbus and King Robert the Bruce of Scotland.
Forming a musical conversation between Uncle Hiram and Granny Kincaid, the intertwining songs "Lavender Blue" and "Billy Boy" serve as a charming method for Hiram to coerce Granny Kincaid into allowing Danny to compete in events at the county fair. The plan fails, but the resulting debate culminates in an exciting square dance!
Finally, the wise owl introduces the county fair with a joyous musical sequence.
Humor
Although So Dear to My Heart is not a comedy, humorous moments are interspersed throughout the film. Along the way, for example, Danny wreaks havoc in various locales, the wise owl encounters some spelling problems, and Jeremiah bluntly counters a bully.
Relationship to Other Disney Films
Burl Ives later costarred in and provided catchy music for Summer Magic (1963).
A book by Sterling North also inspired Disney's Rascal (1969).
Wise owls were later featured in The Sword in the Stone (1963) and The Many Adventures of Winnie the Pooh (1977).
In the Parks
Railroads are featured at the Disneyland parks in California, Paris, Tokyo, and Hong Kong, and at Walt Disney World's Magic Kingdom Park.
The replica barn from the Carolwood Pacific Railroad is highlighted in the Carolwood Pacific Room at Walt Disney World's Wilderness Lodge. (14)
Walt Disney World guests interested in trains should consider taking the "Disney's The Magic Behind Our Steam Trains Tour" at the Magic Kingdom. This tour costs an extra fee.
Overall
With great music, a touching story, a good mix of live action and animated elements, and strong ties to Disney history, So Dear to My Heart is a must watch film.
Notes
1) Sampson, W [pseudonym for Disney historian Jim Korkis]. (2010, August 4). So Dear to My Heart: The Secrets Behind the Film. Retrieved August 21, 2017, from https://www.mouseplanet.com/9333/So_Dear_to_My_Heart_The_Secrets_Behind_the_Film.
2) Ibid.
3) Watts, S. (1997). The Magic Kingdom: Walt Disney and the American Way of Life (pp. 5-6). Columbia, Missouri: University of Missouri Press.
4) Sampson, W. (2010, August 4). So Dear to My Heart: The Secrets Behind the Film; Walt's Barn. (n.d.). Retrieved August 21, 2017, from http://carolwood.com/walts-barn/.
5) Ibid.
6) Bogaert, M. (n.d.). The Birthplace of Imagineering–Walt's Barn. Retrieved August 21, 2017, from https://www.designingdisney.com/content/birthplace-imagineering-walts-barn.
7) Sampson, W. (2010, August 4). So Dear to My Heart: The Secrets Behind the Film; Walt's Barn; M. (2011, September 8). Carolwood Pacific and Other Backyard Railroads. Retrieved August 21, 2017, from http://www.imagineeringdisney.com/blog/2011/9/8/carolwood-pacific-and-other-backyard-railroads.html; Gordon, D. D. (2014, June 24). WALT DISNEY'S BARN (WALT'S BARN) TOUR 4k 2160P [Video file]. Retrieved August 21, 2017, from https://www.youtube.com/watch?v=rseLLZT5c98.
8) Sampson, W. (2010, August 4). So Dear to My Heart: The Secrets Behind the Film.
9) Ibid.
10) Smith, D. (n.d.). Ask Dave. Retrieved August 21, 2017, from https://d23.com/ask-dave/andrew-nissequogue-new-york-2/.
11) Sampson, W. (2010, August 4). So Dear to My Heart: The Secrets Behind the Film.
12) Smith, D. (2012). Live-Action Films. In Disney Trivia from the Vault: Secrets Revealed and Questions Answered (pp. 137-38). New York: Disney Editions.
13) Ibid., p. 154.
14) P., W. (2014, October 28). Visiting Walt's Train Cars in the Carolwood Pacific Room at Disney's Wilderness Lodge. Retrieved August 21, 2017, from https://www.themouseforless.com/blog_world/2014/10/visiting-walts-train-cars-carrolwood-pacific-room-disneys-wilderness-lodge/.
What do you think of So Dear to My Heart? Let me know in the comments!
Sponsored Ad:  Would you like to help support The Mouse For Less website in continuing their mission of being THE Disney vacation planning resource?  You can do so by purchasing So Dear to My Heart from our Affiliate Link through Amazon. Thanks so much for your support!
Did you like this article? Make sure to share it with your friends! Check below for easy ways to share!
Incoming search terms:
https://www themouseforless com/blog_world/movie-review-so-dear-to-my-heart/