This post may contains affiliate links for your convenience. If you make a purchase after clicking a link we may earn a small commission but it won't cost you a penny more! Read our full disclosure policy here.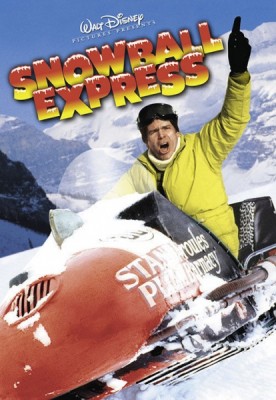 DVD Cover Copyright Disney
Based on Frankie and John O'Rear's 1967 novel Chateau Bon Vivant, Snowball Express was theatrically released on December 22, 1972. The live action comedy is ninety-three minutes in length.
Plot Summary
Upon arriving at his accounting firm's office in New York City, Johnny Baxter (Dean Jones) receives both bad news and good news from a probate lawyer (David White). The bad news is that his great uncle Jacob Barnesworth has passed away. The good news is that Baxter has inherited Barnesworth's Grand Imperial Hotel in Silver Hill, Colorado, an operation that produces $14,000 a month in spite of a small occupancy rate. Frustrated by the monotony of his current position, Baxter spontaneously moves his family, which consists of a wife, Sue (Nancy Olson), a daughter, Chris (Kathleen Cody), and a son, Richard (Johnny Whitaker), westward in hopes of great prosperity. Unfortunately for the clan, the hotel is dilapidated, and although an elderly squatter, Jesse McCord (Harry Morgan), and an enthusiastic young man, Wally Perkins (Michael McGreevey), help transform the property into a ski lodge, the prospects remain bleak. Compounding the troubles, a local banker, Martin Ridgeway (Keenan Wynn), is suspiciously intent on acquiring the hotel and has Baxter trapped from an ill-conceived loan. Will the Baxters find a way to persist in Silver Hill, or will they be forced to sell the hotel to Ridgeway and move back to New York?
The story is compelling, but it merely serves as a thread between the comedic slope segments. Plot development is secondary to gags here.
Review
In the New York Times, Howard Thompson gave Snowball Express a positive review, deeming the effort quality family entertainment. Thompson said, "What could be more square—or welcome—at the moment than a pleasant Disney movie, the old-fashioned, family kind? 'Snowball Express' fills the bill very nicely. What it lacks in wit it has in wholesome, hearty chuckles. Add to this some nice, snowy backgrounds and slope activity in the Colorado ski country." (1) As indicated in the opening credits, Snowball Express was filmed on location in Crested Butte, Colorado.
Mineral King
While the Baxters were struggling to devise a profitable ski resort, so too was the Walt Disney Company, albeit in California instead of Colorado. Between December 1965, when the United States Forest Service granted Walt Disney a permit to develop a ski resort in the Mineral Springs valley of the Sierra Nevada mountains, about halfway between Los Angeles and San Francisco; and the mid-1970s, when environmental groups succeeded in entangling the project in litigation, the company conceptualized an intriguing plan. (2)
Disney's original, grandiose concept, which was later downsized before being shuttered completely, was described in the Spring 1966 issue of the company's official Disney News magazine: "Walt's plan for the picturesque area, located about equidistant from Los Angeles and San Francisco, provides for year-round recreational activities by people of all ages and athletic abilities. Fourteen ski lifts are anticipated, many serving guests throughout the year. Some of the lifts will be used in the warm months by sightseers, campers, hikers and wild-life students, who for the first time will be able to visit the 7,900-foot valley and its surrounding 12,400-foot mountains. A completely self-contained village will accommodate visitors. It will have a chapel, ice-skating rink, convenience shops, restaurants, conference center, and low-cost lodging facilities. In addition to Mineral King Village and ski lifts, there will be a series of ten restaurants in the valley and atop surrounding peaks. There also will be two large hotels, a heliport and auxiliary facilities. The company's entire approach has been based on the absolute necessity to preserve the site's natural beauty and alpine character. To this end, automobiles will be excluded from the valley proper. Guests will park in a 2,500-vehicle parking area at the entrance and will be taken into the valley by a high-capacity public conveyance. Further, the area's natural character will be preserved by camouflaging ski lifts, situating the village so that it will not be seen from the valley entrance, and putting service areas in a 60,000 square foot underground facility beneath the village." (3)
Though Mineral Springs never transpired, an entertainment idea for one of the resort's restaurants, singing animatronic bears, was reimagined into the Magic Kingdom's classic "Country Bear Jamboree." (4)
Antagonist
Mr. Ridgeway is rendered a weak villain by the plot's superficiality. The banker's goals are crooked, but he receives minimal direct attention, and his professional demeanor never serves to infuriate.
Planning
When making important decisions, it is best to deliberate and to contemplate potential consequences such as to avoid disappointment. Mr. Baxter eschews this route several times during the movie, instead risking his family's welfare by acting on a whim.
Consistently pessimistic about her husband's haphazard planning, Mrs. Baxter finally serves as the Roy Disney to Mr. Baxter's Walt Disney late in the film, when the latter, eager to win prize money that will allow the family to pay Ridgeway and maintain control of the property, elects to enter a snowmobile race despite having never driven a snowmobile. Following a dream is one thing, but irrationality is another, and Mrs. Baxter believes her husband has moved dangerously into fanaticism.
Value
The wisdom of the proverb "You get with you pay for" is demonstrated when Mr. Baxter allows Wally, who does not know how to ski, to serve as a skiing instructor for free. Although Wally does not get paid, his incompetence causes catastrophic damage to the property, thus offsetting any savings incurred from not paying a competitive salary to a competent instructor.
Question
Did Mr. Baxter even know he had a great uncle named Jacob Barnesworth? He seemed perplexed when being informed of Barnesworth's death by the probate attorney. Perhaps he disowned this relative for personal reasons? When the Baxters arrive in Silver Hill, the locals deridingly refer to Barnesworth as "Crazy Jake," and Mr. Baxter appears humiliated.
Humor
Snowball Express is not Disney's most uproarious effort, but it is consistently amusing.
Mr. Baxter presents interesting parting gifts, including a stapler, a pair of scissors, and a staple remover, to his favorite colleagues in New York.
Young Richard Baxter provides much comic relief, mainly through unexpected lines. He is deceptively logical and ingenious.
The Grand Imperial Hotel could use some cleaning. Upon arriving, the Baxters encounter cobwebs on the furniture, bats in the wood box, raccoons in the oven, and fish in the water supply.
Mr. Baxter demonstrates his lack of previous skiing experience while trying to secure a loan from Mr. Wainwright (George Kirkpatrick). He falters on the ski lift, and the afternoon bumbles downhill from there in a lengthy segment, which has the novice knocking over a ski rack, barreling backwards into a tree, rolling through a patron's legs, encountering a flirt, and knocking over numerous people before crashing headfirst into a tree.
While providing skiing lessons to beginners, Wally reads a pamphlet called How to Ski. Talk about a debacle in the making.
Mr. Baxter and Mr. McCord struggle through an exhilarating snowmobile race, the latter against his will. Come on; to the finish line!
Relationship to Other Disney Films
Snowball Express featured Disney regulars Dean Jones, Nancy Olson, Keenan Wynn, and Michael McGreevey. Jones, who was named a Disney Legend in 1995, had previously starred in That Darn Cat (1965), The Ugly Dachshund (1966), Monkeys, Go Home! (1967), Blackbeard's Ghost (1968), The Horse in the Gray Flannel Suit (1968), The Love Bug (1968), and The Million Dollar Duck (1971) for Disney; and he subsequently appeared in The Shaggy D.A. (1976), Herbie Goes to Monte Carlo (1977), and That Darn Cat (1997) for the company. Olson had previously held major roles in Pollyanna (1960), The Absent-Minded Professor (1961), Son of Flubber (1963), and Smith! (1969); and she subsequently made a cameo in Flubber (1997), which was a remake of The Absent-Minded Professor. Wynn, for his part, portrayed a villain named Alonzo P. Hawk in The Absent-Minded Professor, Son of Flubber, and Herbie Rides Again (1974). Finally, McGreevey put bad acting to good use in playing Richard Schuyler in each installment of the "Medfield College Trilogy": The Computer Wore Tennis Shoes (1969), Now You See Him, Now You Don't (1972), and The Strongest Man in the World (1975).
Winter sports were also prominently featured in The Mighty Ducks (1992), D2: The Mighty Ducks (1994), D3: The Mighty Ducks (1996), and Cool Runnings (1993). The former three films, the respective installments of The Mighty Ducks trilogy, showcased ice hockey, while Cool Runnings highlighted Olympic bobsleighing.
A treacherous mountain was also featured in Third Man on the Mountain (1959).
Winter weather was also central to Frozen (2013).
In the Parks
Walt Disney World's whimsical Blizzard Beach water park is themed as a ski resort.
Photo Copyright Vikki Turner
Snowcapped mountains are utilized as elaborate roller coaster facades for "Matterhorn Bobsleds" and "Expedition Everest" at Disneyland Park and Disney's Animal Kingdom, respectively.
The Baxters were greeted by bats at the hotel, and guests at Disney's Animal Kingdom can view these creatures, specifically the Malayan Flying Fox, on the "Maharajah Jungle Trek" walking trail.
Overall
Snowball Express's plot is superficial and, ultimately, underwhelming, but the flick's silliness will keep you grinning.
Notes
1) Thompson, H. (1973, February 9). Snowball Express' A Family Film. New York Times, p. 32. Retrieved June 4, 2016, from http://0-search.proquest.com.alpha1.suffolk.lib.ny.us/docview/119699511?accountid=35174
2) Watts, S. (1997). The Magic Kingdom: Walt Disney and the American Way of Life (pp. 418-19). Columbia, MO: University of Missouri Press; Weiss, W. (2011, Dec. 16). Walt Disney's Mineral King. Retrieved June 11, 2016, from http://www.yesterland.com/mineralking.html
3) Ibid.
4) Ibid.; Hill, J. (2003, May 25). Mineral King: Disney's project that we never got to see … or ski. Retrieved June 11, 2016, from http://jimhillmedia.com/editor_in_chief1/b/jim_hill/archive/2003/05/26/176.aspx
What do you think of Snowball Express? Let me know in the comments!
Incoming search terms:
https://www themouseforless com/blog_world/movie-review-snowball-express/