This post may contains affiliate links for your convenience. If you make a purchase after clicking a link we may earn a small commission but it won't cost you a penny more! Read our full disclosure policy here.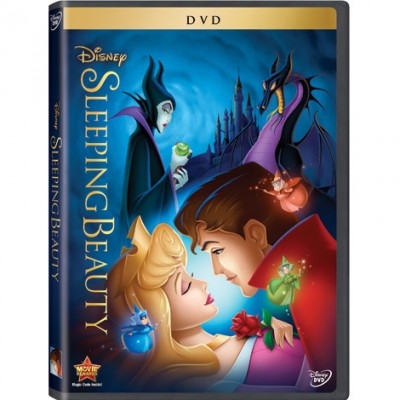 Based on Charles Perrault's 1697 fairy tale "The Beauty Sleeping in the Wood" and the Brothers Grimm's subsequent adaptation of that fairy tale, "Little Briar Rose," Sleeping Beauty was theatrically released as the sixteenth full-length animated feature in Disney history on January 29, 1959. The 75-minute flick was the last fairy tale-based movie that Walt Disney was personally involved with; the company would not release another such movie until The Little Mermaid (1989).
Plot Summary
It is a glorious fourteenth-century day in King Stefan's realm. He, Queen Leah, and the masses are enjoying a holiday in honor of the baby princess, Aurora. During the celebration, Stefan's fellow monarch, King Hubert, arranges for his son, Prince Phillip, to marry Aurora when the duo comes of age. The jubilance continues when three good fairies, Flora, Fauna, and Merryweather, are called forth to present magical gifts to the infant. Flora gives Aurora beauty, Fauna gives the baby song, and Merryweather…wait a minute! An evil fairy, Maleficent, has arrived uninvited to wreak havoc!
Maleficent proceeds to place a potential spell on Aurora: if the princess pricks her finger on the spindle of a spinning wheel by her sixteenth birthday, she will die. Merryweather cannot override Maleficent's curse, but she can at least mitigate it. If Aurora should prick her finger, the ensuing spell will cease upon a kiss from a true lover.
In any event, King Stefan and the three good fairies take precautions to protect Aurora. Stefan orders the burning of every spinning wheel in the kingdom, and the good fairies, impersonating humans, raise Aurora, now referred to as "Briar Rose," deep in the forest until the decisive sixteenth birthday. The intentions are good, but Maleficent is powerful and determined. Can she be stopped?
Morality
Morality is a key theme in most Disney films, and Sleeping Beauty is no exception. Throughout the film, the good fairies and King Phillip try to create harmony by defeating Maleficent.
Power
Despite being born into royalty, Aurora and Phillip want to marry for love, not for appeasement of their social class. If Phillip or Aurora loves a peasant, they believe they should be allowed to marry said person, despite his or her inferior societal rank. A similar situation occurs in Aladdin (1992) with Princess Jasmine dismissing all the royal suitors in favor of the "street rat" Aladdin.
To the End
A game is not over until the clock strikes zero. This concept is demonstrated in Sleeping Beauty through the actions of the fairies. On several occasions, both the good fairies and Maleficent let their respective guards down, allowing the opposition to seize control of Aurora's fate. To the credit of both sides, however, nobody despairs for more than a moment. Rather than feeling sorry for themselves, the fairies regroup and scheme to regain the upper hand.
Maleficent
Maleficent is a magnificent villain. With a sarcastic vibe and an unwavering determination to fulfill her evil goals, this fairy will likely enrage you. Her ability to transform into a fire-breathing dragon further augments her appeal as an antagonist.
Humor
Amusing moments are included throughout Sleeping Beauty.
The good fairies do not live up to their billing when manually making dresses and baking cakes. Actually, they're inept at these tasks. Bring on the magic!
When Briar Rose tells the forest animals that she met somebody, the owl responds with its typical "hoot" sound. The noise sounds like "who," and the girl elaborates on her statement.
Briar Rose's voice captivates most every being who hears it. A rare exception to this rule is Samson, Phillip's horse. Samson is more interested in oats and carrots than music.
A couple of bunnies steal Phillip's boots and proceed to run a sack race. Thereafter, the bunnies, with the help of the owl and a pair of birds, impersonate Briar Rose's potential lover.
King Hubert sometimes displays a temper. Luckily for his enemies, his preferred weapon is a fish from the buffet table.
Phillip defends his wish to marry a peasant girl by telling King Hubert, "Father, you're living in the past. This is the fourteenth century!" The prince seems to be a step ahead of his father, who is dizzied in trying to comprehend Phillip.
Music
Two songs in Sleeping Beauty stand out.
Dealing with dreams becoming reality, the film's flagship tune, "Once Upon a Dream," is both beautiful and memorable. Briar Rose's rendition of the number in the forest is probably my favorite in-film rendition of a song by a Disney princess; I usually prefer the popular versions.
Sung while the good fairies are putting the kingdom to sleep, "Sleeping Beauty" complements the situation. This song is as soothing as a lullaby.
The scenes involving Maleficent appropriately incorporate foreboding background music.
Trivia
It is unknown who uttered Queen Leah's only two lines. In the 1950s, Disney recorded voice artists but not the characters they voiced. Dave Smith, chief archivist emeritus of The Walt Disney Archives, has speculated that Verna Felton, the voice of Flora, played the Queen. (1)
The sound of Maleficent's dragon flames was created with a government-issued flamethrower. (2)
Relationship to Other Disney Films
The 70 mm Technirama format of Sleeping Beauty was also utilized in The Black Cauldron (1985). Lady and the Tramp (1955) had been created with another widescreen process, CinemaScope. (3)
Appearance wise, the castle's minstrel reminded me of Johnny Appleseed from Melody Time (1948).
Sleeping Beauty's antagonist was the focus of Disney's 2014 live-action film Maleficent.
The sequences where the good fairies give gifts to baby Aurora feature abstract animation that harkens back to certain segments of the package films of the 1940s.
In the Parks
"Sleeping Beauty" castles are featured at Disneyland Park, Disneyland Park Paris, and Hong Kong Disneyland. The California castle includes a walk-through exhibit featuring dioramas themed after Sleeping Beauty.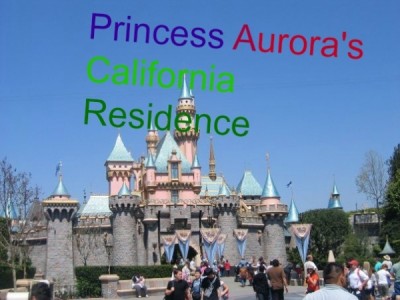 The Maleficent dragon is among the highlights of "Fantasmic," a nighttime spectacular at both Disneyland Park and Walt Disney World's Disney's Hollywood Studios.
Guests can interact with Princess Aurora throughout Walt Disney World. She appears in the France pavilion at Epcot, at City Hall in the Magic Kingdom, at "Cinderella's Royal Table" in the Magic Kingdom, and at "Akershus Royal Banquet Hall" at Epcot. Advance Dining Reservations are strongly recommended for meals at "Cinderella's Royal Table" and "Akershus Royal Banquet Hall." Aurora also appears with Prince Phillip at the Magic Kingdom's "Princess Fairytale Hall."
Located inside Cinderella Castle, "Cinderella's Royal Table" was called "King Stefan's Banquet Hall" until April 1997, when Prince Charming evicted Aurora's father. Go back to your own castle!
Maleficent resides on the Forbidden Mountain, and at Walt Disney World's Animal Kingdom park, guests can ride a thrilling roller coaster, "Expedition Everest—Legend of the Forbidden Mountain," which, sadly or otherwise, has nothing to do with Sleeping Beauty's Forbidden Mountain.
Finally, if you enjoyed the fireworks that encompassed King Stefan's castle, be sure to check out the various firework displays at Walt Disney World and Disneyland: "Wishes" at Walt Disney World's Magic Kingdom, "Illuminations" at Epcot, "Fantasmic" at Disney's Hollywood Studios, and both a unique "Fantasmic" as well as rotating firework spectacles at Disneyland Park.
Overall
With a combination of action, humor, drama, and heartwarming music, Sleeping Beauty is a must watch.
Notes
1) Smith, D. (2012). Animated Features. In Disney Trivia from the Vault: Secrets Revealed and Questions Answered. New York: Disney Editions, pp. 10-11.
2) Smith, p. 22.
3) Smith, p. 17.
What do you think of Sleeping Beauty? Let me know in the comments!
Sponsored Ad:  Would you like to help support The Mouse For Less website in continuing their mission of being THE Disney vacation planning resource?  You can do so by purchasing Sleeping Beauty from our Affiliate Link through Amazon. Thanks so much for your support!
Incoming search terms:
https://www themouseforless com/blog_world/movie-review-sleeping-beauty/
Sleeping Beauty Movie DVD
Disney Sleeping Beauty DVD Menu
Sleeping Beauty 2003 DVD