This post may contains affiliate links for your convenience. If you make a purchase after clicking a link we may earn a small commission but it won't cost you a penny more! Read our full disclosure policy here.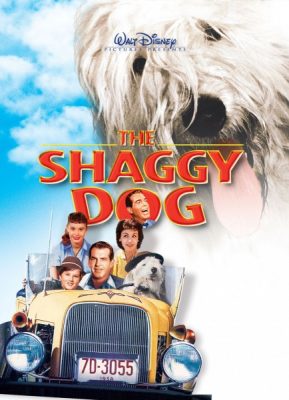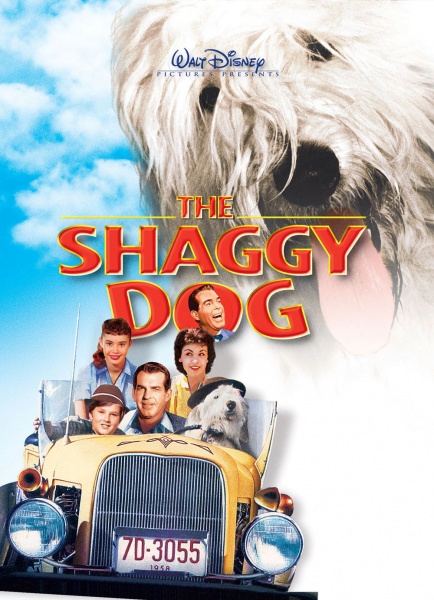 DVD Cover Copyright Disney
Disney's first live action comedy, The Shaggy Dog was theatrically released on March 19, 1959. The film, which was based on Felix Salten's 1923 novel The Hound of Florence, is 104 minutes in length.
The Shaggy Dog  inspired a 1976 sequel, The Shaggy D.A., and a 2006 remake, also called The Shaggy Dog, and was one of only four Disney films to be released in black-and-white, the others being The Sign of Zorro (1960), The Absent-Minded Professor (1961), and Son of Flubber (1963). (1)
Plot Summary
In a 1950s American suburb, the Daniels family patriarch, Wilson Daniels (Fred MacMurray), who is the father of two boys, a teenager named Wilby (Tommy Kirk) and a younger lad named Montgomery (Kevin Corcoran), exudes a liking for people and a hatred for dogs. With the latter element in mind, the arrival of rich neighbors, Dr. Mikhail Andrassy (Alexander Scourby) and Andrassy's teenage daughter, Franceska Andrassy (Roberta Shore), with a grandiose sheepdog named Chiffon has the potential for disaster.
Enthralled by Franceska, Wilby and his fair-weather friend Buzz Miller (Tim Considine) take the newcomer to the art museum, where Wilby bumps into a local academic, Professor Plumcutt (Cecil Kellaway), who is organizing an exhibit about Medieval Italy. Wilby unknowingly leaves the museum with a jewel from the inchoate exhibit stuck to his pants, and, upon reciting a phrase engraved on the jewel, "In canis corpore transmute" ("Into a dog's body I change"), Wilby's body and soul morph into those of Chiffon. Now, Wilby is literally a dog in the home of a man whose hatred of canines surpasses the distaste that most people entertain for termites. How will Wilby manage this ordeal?
Plot Development
The Shaggy Dog's plot is interesting, but haphazard. Many of the film's seemingly-important elements, such as Wilby's habit of creating questionable inventions and ways for Wilby to possibly break his spell, are briefly highlighted before being disregarded. Furthermore, the backgrounds of Dr. Andrassy's illegal activities are never explained. Andrassy's villainous character arises out of the blue.
Cold War and the 1950s
Produced during the Cold War, The Shaggy Dog incorporates undertones of that conflict, namely missiles, spies, and plans to counteract the schemes of the enemy. (2) Also indicative of the time period are the film's suburban setting and the role of Mrs. Daniels (Jean Hagen) as a stereotypical housewife.
Music
A whimsical theme song, "The Shaggy Dog," plays over the opening credits. The number provides a fun start to the film but is not especially memorable.
Humor
The Shaggy Dog is not as hysterical as some of Disney's subsequent Kurt Russell comedies, such as The Computer Wore Tennis Shoes (1969), The Barefoot Executive (1971), Now You See Him, Now You Don't (1972), and The Strongest Man in the World (1971), but it is still a hilarious effort.
Wilby has engineered, somewhat literally, so many troubles lately that Mr. Daniels is unmoved for about a minute upon being informed that his son is building a missile interceptor in the basement.
Disney shortsightedly decided to have Wilby launch a rocket in the film's opening moments instead of Buzz. Oh well; this mistake was atoned for in Toy Story (1995).
Judging by their initial encounter with Franceska, Wilby and Buzz do not speak foreign languages.
Buzz is a classic brownnoser, uttering false claims to elevate his stature. For example, in order to impress the cultured Franceska, Buzz claims to be an art connoisseur despite having no real interest in the subject.
When Wilby morphs into Chiffon, he begins to act like a dog. Among other things, he talks, brushes his teeth, changes into a pair of pajamas, makes a telephone call from a phone booth, and leads the police on a high-speed car chase. Ok, so maybe Wilby does not act like your normal dog, but he is still shaggy!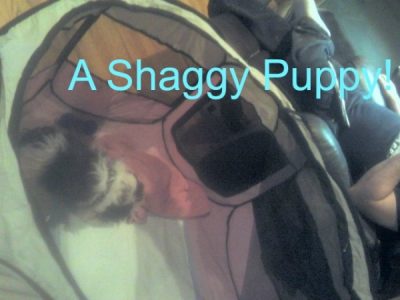 The juxtaposition of Wilby's voice with Chiffon's body produces an awkward, amusing vibe.
Professor Plumcutt uses The Hound of Florence, the book on which The Shaggy Dog was based, as a reference in detailing how Wilby might be able to break the spell.
The Daniels' neighbor Allison D'Allessio (Annette Funicello) shows great restraint when both Wilby and Buzz blow her off after Franceska's arrival. Instead of getting mad at them, she simply forgets them and finds a new boyfriend.
Relationship to Other Disney Films: Legends Edition
The Shaggy Dog marked the Disney film debuts of Fred MacMurray and Annette Funicello. MacMurray, who was named the first Disney Legend in 1987, subsequently starred in The Absent-Minded Professor, Bon Voyage! (1962), Son of Flubber, Follow Me, Boys! (1966), and The Happiest Millionaire (1967) for Disney; while Funicello, a popular Mouseketeer on the Disney television series "The Mickey Mouse Club" since that show's 1955 debut, thereafter starred in Babes in Toyland (1961), The Misadventures of Merlin Jones (1964), and The Monkey's Uncle (1965) for the company. Funicello was named a Disney Legend in 1992.
Tommy Kirk and Kevin Corcoran, who were themselves named Disney Legends in 2006, made their second Disney film appearances in The Shaggy Dog. Kirk had previously starred in Old Yeller (1957) and subsequently starred in Swiss Family Robinson (1960), Moon Pilot (1962), Bon Voyage!, Son of Flubber, Savage Sam (1963), The Misadventures of Merlin Jones, and The Monkey's Uncle. Meanwhile, Corcoran had previously starred in Old Yeller and subsequently appeared in Pollyanna (1960), Swiss Family Robinson, Babes in Toyland, Bon Voyage!, and Savage Sam. Kirk played Corcoran's older brother in each of the films in which both actors appeared.
The Shaggy Dog, The Shaggy D.A., and the 2006 remake of The Shaggy Dog all cast Disney Legends in their respective adult male protagonist roles: MacMurray, Dean Jones, and Tim Allen. Jones was named a Disney Legend in 1995, and Allen followed suit in 1999.
With Professor Plumcutt, The Shaggy Dog featured an absent-minded professor two years before Fred MacMurray popularized the figure as Dr. Ned Brainard in The Absent-Minded Professor.
Canines were significant in another Disney comedy, The Ugly Dachshund (1966).
Bambi (1942) was also based on a book by Felix Salten.
Humans also changed bodies, albeit with other humans instead of dogs, in Freaky Friday (1976) and that film's remake of the same name (2003).
In the Parks
A humorous nod to Annette Funicello, a net full of jello, is incorporated into the preshow waiting area for "Muppet Vision 3D" at Walt Disney World's Disney's Hollywood Studios theme park.
Overall
The Shaggy Dog is not Disney's funniest comedy, but it is nonetheless great entertainment for the whole family.
Notes
1) Smith, D. (2012). Live-Action Films. In Disney Trivia from the Vault: Secrets Revealed and Questions Answered (p. 156). New York: Disney Editions.
2) Watts, S. (1997). The Magic Kingdom: Walt Disney and the American Way of Life (p. 283). Columbia, Missouri: University of Missouri Press.
What do you think of The Shaggy Dog? Let me know in the comments!
Sponsored Ad:  Would you like to help support The Mouse For Less website in continuing their mission of being THE Disney vacation planning resource?  You can do so by purchasing The Shaggy Dog from our Affiliate Link through Amazon. Thanks so much for your support!
Incoming search terms:
https://www themouseforless com/blog_world/movie-review-shaggy-dog/
shaggy dog full movie