This post may contains affiliate links for your convenience. If you make a purchase after clicking a link we may earn a small commission but it won't cost you a penny more! Read our full disclosure policy here.
DVD Cover Copyright Disney
Based on Jules Verne's 1867 novel of the same name, Disney's In Search of the Castaways was theatrically released on December 21, 1962. The live action fantasy adventure film is ninety-eight minutes in length.
Plot Summary
In 1858 Glasgow, Scotland, three people, a young girl named Mary Grant (Hayley Mills), a young boy named Robert Grant (Keith Hamshere), and a geography professor from the University of Paris named Jacques Paganel (Maurice Chevalier), arrive unannounced at a yacht party hosted by the influential Lord Glenarvan (Wilfrid Hyde-White) in hopes that Glenarvan will help to save the children's father, Captain Grant (Jack Gwillim). Captain Grant's vessel, Britannia, is known to have capsized, but Professor Paganel has located a desperate note inside a bottle that seems to have been written by Captain Grant, thus indicating that he may still be alive and held hostage by Indians.
Facing hesitation on the part of Lord Glenarvan, who believes that he is being hoaxed, the rescue mission is approved when the Lord's son, John Glenarvan (Michael Anderson Jr.), complains that he wants to see more of the world than the Mediterranean. Indeed, Britannia likely wrecked on the thirty-seventh south parallel, near South America, Australia, or New Zealand. John will definitely be experiencing more of the world, but great dangers are possible. Will the mission succeed?
Special Effects and Production
Disney incorporated a variety of special effects to augment the numerous action scenes in In Search of the Castaways. Along the way, an earthquake, an avalanche, a bobsled ride down the Andes Mountains, a massive flood, a scorching fire, a volcano, and a battle with Maori peoples are encountered. The effects are badly dated by modern standards, but they are nonetheless exciting to behold, and they were deemed impressive at the time of the film's release.
Responding to a reader question about the production of In Search of the Castaways, Dave Smith, chief archivist emeritus of the Walt Disney Archives, said: "In Search of the Castaways (1962) contained some of the most elaborate special effects of any Disney film up to that time, with the set designers building a live volcano; part of the Andes Mountains; reproductions of the ports of Glasgow, Scotland, and Melbourne, Australia, from the 1870s; and a complete New Zealand Maori village. All of this was accomplished at Pinewood Studios in England. The special effects team was headed by Syd Pearson and Peter Ellenshaw." (1)
Child Actors
Walt Disney discovered Hayley Mills in 1959 through a movie, Tiger Bay, which starred her father, John Mills. Ironically, at the time of the Tiger Bay viewing, the elder Mills was about to star in another live action castaway film for Disney, Swiss Family Robinson (1960). (2)
For his part, Keith Hamshere was discovered by Disney in London while playing the title role in the musical Oliver. (3)
Opportunity
Sometimes, a simple effort is worth making because there is no downside. Sending a pleading message in a bottle, for example, posed no risk to the castaways. The odds of the message being found were extremely slim, but there was a chance that it would be found and the castaways rescued.
Even when there is a potential downside to a decision, new possibilities and results will undoubtedly emerge from the taking of the risk. The results may be positive or negative, but a preceding act must cause them. For example, as discussed by Mary and John in the film's final scene, if Professor Paganel had not found the seemingly-simple bottle, the protagonists would not have explored the vast extent of the Southern Hemisphere.
Music
In Search of the Castaways features several lyrical numbers written by the duo of Richard and Robert Sherman, who were named Disney Legends in 1990. The songs are largely superfluous—the film would not be much inferior had they been eliminated—but they are good efforts.
"Grimpons!," sung by the rescue team as it ascends the Andes Mountains, is especially fun, using consistent short beats to ingrain the song in one's head. The number is rendered classic Disney by virtue of its optimistic vibe. As Professor Paganel explains in the middle of the tune, "Grimpons; that means 'let's climb.' It is the French recipe for 'the good life.' Whatever you want to do, don't be afraid to do it for fear of failure." That line is Walt Disney's life in a nutshell.
Additionally, "The Castaways Theme," performed by Mary, evokes a similar theme in a more solemn manner. This song is beautiful and soothing, though not as memorable as "Grimpons!"
Humor
Although In Search of the Castaways is not a comedy, Professor Paganel's antics provide a surprising number of laughs throughout. Paganel exudes an eccentricity reminiscent of the Mad Hatter from Alice in Wonderland (1951). Among other things, Paganel drops a heap of food to dogs…err, children hiding under a table; claims, albeit sincerely, to Lord Glenarvan that he located the bottle inside a 225-pound shark; accidentally presents a sandwich rather than his university credentials to Lord Glenarvan; yodels while bobsledding down the Andes; attempts to communicate in a primitive dialect with an Indian who only speaks English; and awkwardly interacts with one of Captain Grant's even-more eccentric crewmates, Bill Gaye (Wilfrid Brambell).
Lord Glenarvan may have initially taken the children's bottle story more seriously had twenty-two people not previously told a similar story in hopes of receiving a monetary reward.
John Glenarvan extols the merits of the rescue voyage to his father with the same logic that he had just refuted when voiced to him by Mary.
Relationship to Other Disney Films
In Search of the Castaways marked Hayley Mills's third Disney film in as many years, after Pollyanna (1960) and The Parent Trap (1961). Mills subsequently starred in Summer Magic (1963), The Moon-Spinners (1964), and That Darn Cat (1965) for Disney.
In Search of the Castaways was the first of Maurice Chevalier's two on-screen appearances in Disney films, the other coming in Monkeys, Go Home! (1968). Chevalier also sang the Sherman Brothers' title song, "The Aristocats," for The Aristocats (1970). (4)
Reminiscing on Chevalier's role in The Aristocats during a 2012 interview, Richard Sherman said: "We're very particularly proud of that song because we got him to come out of retirement to do it. It was quite a job to get him to do it. We had done a number of songs for Chevalier, and our dad who was a songwriter wrote songs for Chevalier back in the '30s and so it was like a family thing. He was very sweet, and we'd done songs [sung by Chevalier] for In Search of the Castaways and Monkeys Go Home, and then when The Aristocats came up, they said, 'Who's the perfect guy for the title song to set the style and feel?' There was only one Maurice Chevalier, and unfortunately he was retired. So that's when Woolie [Wolfgang] Reitherman, the director of The Aristocats, said, "Sherman, you can do a demo, but make it sound like Chevalier, and we'll send it to him.' And so I made a demo where I made my voice sound like Chevalier's. He came out of retirement, which was marvelous." (5)
20,000 Leagues Under the Sea (1954) was also based on a Jules Verne novel of the same name and also featured a volcano.
Mountain scenes are also prominently featured in Third Man on the Mountain (1959) and Frozen (2013).
Towards the end of the film, Paganel mentions the East Australian Current, which is emphasized during the Crush the sea turtle scenes in Pixar's Finding Nemo (2003) and Finding Dory (2016).
A seemingly absent-minded professor was also a protagonist in The Absent-Minded Professor (1961); that film's sequel, Son of Flubber (1963); and a remake of The Absent-Minded Professor, Flubber (1997).
In the Parks
The Andes bobsled scene may remind Disney fans of Disneyland Park's "Matterhorn Bobsleds." Professor Paganel even mentions the Alps during the segment.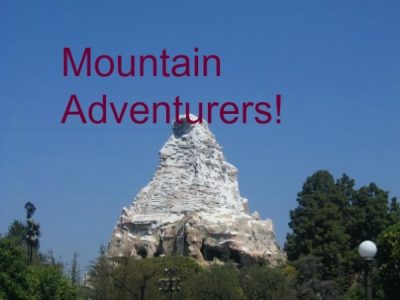 Guests at Epcot can view a volcano by dining at the San Angel Inn restaurant in World Showcase's Mexico Pavilion.
Overall
Outdated special effects notwithstanding, In Search of the Castaways is an entertaining, well-paced adventure with much excitement and some good songs.
Notes
1) Smith, D. (2012). Live-Action Films. In Disney Trivia from the Vault: Secrets Revealed and Questions Answered (p. 141). New York: Disney Editions.
2) Knickerbocker, P. (1959, August 30). OUT WEST WITH NEW ENGLAND'S 'POLLYANNA.' New York Times, p. X7. Retrieved September 28, 2015, from http://0-search.proquest.com.alpha1.suffolk.lib.ny.us/docview/114682485?accountid=35174
3) Smith, p. 127.
4) Link to "The Aristocats" song on Youtube https://www.youtube.com/watch?v=4yqh2sgnfZQ
5) Rome, E. (2012, August 21). 'The Aristocats' on Blu-ray: Songwriter Richard Sherman reflects on the Disney classic and working with Walt. Retrieved December 9, 2016, from http://www.ew.com/article/2012/08/21/the-aristocats-richard-sherman-music
What do you think of In Search of the Castaways? Let me know in the comments!
Incoming search terms:
https://www themouseforless com/blog_world/movie-review-search-castaways/