This post may contains affiliate links for your convenience. If you make a purchase after clicking a link we may earn a small commission but it won't cost you a penny more! Read our full disclosure policy here.
Based on Richard Gardner's 1963 novel of the same name, which is an Americanized version of Miguel de Cervantes's classic Spanish novel Don Quixote, Disney's Scandalous John was theatrically released on June 22, 1971. The live action comedy-drama is 113 minutes in length.
Plot Summary
In 1970 New Mexico, a confused old man named John McCanless (Brian Keith), the son of a legendary cattle driver named Pistol Pete McCanless, who carved out a cattle empire in the late-nineteenth century only to cede most of his land to those in need without obtaining compensation, lives worriedly in his ranch on the edge of the desert. You see, sans adequate funds to pay his mortgage, John, emotionally lost since the death of his wife, Fern, and believing that he is living in his father's era rather than in his own time, is on the verge of forfeiting his property to the influential developer Barton Whittaker (Simon Oakland), who wants to construct a dam on the land. While John's granddaughter, Amanda McCanless (Michele Carey), tries to negotiate a deal with Whittaker's sympathetic son, Jimmy (Rick Lenz), to save the ranch, John takes matters into his own hands. Along with his new sidekick, a Mexican laborer named Francisco Torrez "Paco" Martinez (Alfonso Arau), John embarks on a cattle drive, an adventure designed to sell enough cattle at the famed city of Quivira to pay off his mortgage. As John's mind is not synchronized with reality, the plan has no rational chance of success, but miracles often occur in Disney movies. Will John somehow save his ranch, or, if unsuccessful at this endeavor, will he at least find happiness?
Characterization
The pacing of Scandalous John is somewhat disjointed, alternately tranquil and frenetic. Perhaps reflecting McCanless's old age and his desire to live amidst nature, the film generally moves slowly but periodically accelerates with segments of intense action. Although the movie unfolds at a leisurely pace, the corresponding beauty of the film's music and scenery, combined with a great performance by Brian Keith, prevents the effort from becoming boring. Keith's convincing portrayal of the depressed old man renders the growing friendship between John and Paco gratifying—it is hard not to feel happy for John.
Action
Action sequences are included throughout Scandalous John. Along the way, viewers witness numerous shootouts, equestrian folly, sucker punches, and a runaway train.
Progress
Although modern engineering can bolster the quality of life in secluded areas, such innovation often mitigates nature's beauty, and those charged with implementing improvements may be acting under selfish motives that are opposed to the desires of local constituents. John is obviously confused about his real place in the world, but his fears concerning Barton Whittaker's plans are not meritless.
Music
Scandalous John's soundtrack mainly comprises instrumental background music, but a lyrical number, "Pastures Green," which details the serenity of a life lived amidst nature, is also featured. The music is largely soothing and, coupled with visuals of the desert at various times of the day, adds an element of beauty to the film. "Pastures Green" is an especially beautiful effort.
A whimsical tune played early in the film when Paco settles into his room feels like a lost opportunity. The music here sounds like the introduction to an extended lyrical number, but no such song materializes.
Humor
Confusion often causes John to embark on directionless tangents. For example, upon seeing several bikers ride into an outdoor market owned by an elderly lady, the infuriated title character hastens to save the lady from these "drunk renegades"! Unbeknownst to John, however, the owner, far from being in trouble, was enjoying the bikers' company, and John's efforts result in the destruction of the establishment. Although John concludes his visit by calling himself the owner's "personal protector" and encouraging her to "holler" whenever she needs help, something tells me that he will not be called back.
Later in the film, John mistakes a western-themed tourist attraction for a wild late-nineteenth century western town.
Paco struggles to mount John's mule. Although this mule looks weak, it is really a champion! The evidence: it eats Wheaties.
Upon riding into the department store to buy boots for Paco, John's horse reacts negatively to the smell of the owner. After John surmises that the owner's "perfume" is the issue, the owner enthusiastically corrects his patron, saying, "It's not perfume, it's Lilac Tweed, a man's cologne!" Well, whatever it is, it stinks.
While robbing Whittaker's henchmen on the runaway train, John makes sure to keep the mariachi band onboard while ejecting everybody else. Ah, nothing beats good music!
Relationship to Other Disney Films
Other Disney westerns released during the 1970s included The Apple Dumpling Gang (1975), Hot Lead and Cold Feet (1978), and The Apple Dumpling Gang Rides Again (1979).
Scandalous John was the last of seven Disney films to feature Brian Keith, following Ten Who Dared (1960), The Parent Trap (1961), Moon Pilot (1962), Savage Sam (1963), A Tiger Walks (1964), and Those Calloways (1965).
Scandalous John was the first of three Disney films to feature Alfonso Arau, who subsequently contributed to Run, Cougar, Run (1972) and Coco (2017) for the studio.
Scandalous John was the second of seven Disney films to feature Harry Morgan, who briefly appears as Sheriff Pippin. Morgan had previously appeared in The Barefoot Executive (1971) for Disney, and he subsequently contributed to Snowball Express (1972), Charley and the Angel (1974), The Apple Dumpling Gang, The Cat from Outer Space (1978), and The Apple Dumpling Gang Rides Again for the studio.
In the Parks
At Walt Disney World, two roller coasters, the Magic Kingdom's "Big Thunder Mountain Railroad" and the Animal Kingdom's "Expedition Everest," are themed after runaway trains.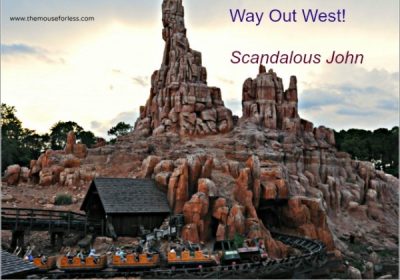 Although Disneyland Resort Paris is located far from New Mexico, guests at Disneyland Paris can choose to lodge at "Disney's Hotel Santa Fe."
Overall
Its numerous action scenes notwithstanding, Scandalous John is not among Disney's most exciting films. Still, the beauty of both the music and the setting make the flick worth watching.
What do you think of Scandalous John? Let me know in the comments!
Did you like this article? Make sure to share it with your friends! Check below for easy ways to share!
Incoming search terms:
https://www themouseforless com/blog_world/movie-review-scandalous-john/