This post may contains affiliate links for your convenience. If you make a purchase after clicking a link we may earn a small commission but it won't cost you a penny more! Read our full disclosure policy here.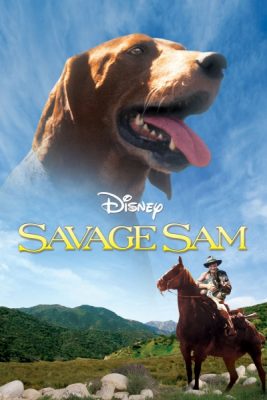 DVD cover Copyright Disney
A sequel to Old Yeller (1957), Savage Sam was theatrically released on June 1, 1963. The live action adventure drama is 103 minutes in length and, like its predecessor, is based on a novel of the same name by Fred Gipson.
Plot Summary
In post-Civil War Texas, teenager Travis Coates (Tommy Kirk) manages the family home with his younger brother, Arliss Coates (Kevin Corcoran), while their parents are away in San Antonio to care for a sick relative. As the old saying goes, "When the cat's away, the mice will play," and Arliss certainly plays with the situation, violently refusing to follow Travis's instructions. After Travis saves his stubborn brother from a bobcat, an influx of Indians appears on horseback. The Indians proceed to kidnap the brothers in addition to their neighbor Lisbeth Searcy (Marta Kristen), who was along for the journey. With the help of his hound dog, Savage Sam, Travis escapes the camp and locates his uncle Beck Coates (Brian Keith), who leads a search party to save Arliss and Lisbeth.
Will Arliss and Lisbeth be rescued? If so, Savage Sam, will need to sniff out the camp.
Returning Cast
Four characters from Old Yeller reappear in Savage Sam: Travis, Arliss, Bud Searcy (Jeff York), and Lisbeth Searcy. Played by Beverly Washburn in the original film, Lisbeth is portrayed by Marta Kristen in Savage Sam. Travis and Arliss, played by Tommy Kirk and Kevin Corcoran, respectively, in both films, look decidedly older in Savage Sam.
Savage Sam, like Old Yeller, is man's best friend, but it is more difficult for viewers to connect with this canine. Whereas Yeller overtly risked his life multiple times to save the human protagonists, and eventually lost his life through this selflessness, Sam is more or less along for the ride. He greatly aids the humans but does so in a more straightforward manner.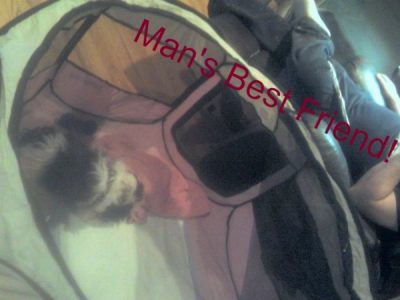 Arliss
Arliss's behavior during the first part of the film is, in a word, disturbing. In addition to complaining about everything, Arliss launches about a dozen moderate-sized rocks at Travis following a spontaneous stampede on the farm. Travis suffers no harm, but this sequence was difficult to watch. Ditto with a later scene where Travis struggles to save an incredulous Arliss from a bobcat.
Arliss's behavior is so obnoxious that when he scolds the Indians to "leave [his] brother alone," one gets the cynical feeling that Arliss means "Only I can mess with my brother!"
Unity
In dire moments, parties must remain united to defeat a common enemy. Such was the case with the United States during the Cold War, and this ideal is represented in Savage Sam. Over the course of the flick, Travis, rather unsuccessfully, pleads with Arliss to remain calm such as to not further inflame the Indians; Travis implores Sam to work with him to save Arliss and Lisbeth; and Uncle Beck quickly seeks to quell arguments among members of the search party.
Empathy
Putting yourself in another person's proverbial shoes is easier said than done. While riding towards the Indian camp, one member of the search party, recently arrived from Virginia, argues to another member, Pack Underwood (Royal Dano), who wants to rout the Indians, that the Native Americans' hostility to the settlers is a legitimate reaction against white settlers occupying the land and killing the buffalo. With Underwood unmoved, his adversary retorts "[it is] sometimes hard to tell who the savages are." As it turns out, Native Americans had previously murdered Underwood's wife and three children.
Action
Savage Sam does not lack in action. Along the way, a stampede erupts on the Coates' farm, Arliss fights a bobcat, a myriad of players ride horses across the landscape, the search crew withstands a sandstorm, and battles ensue between the settlers and the Native Americans.
Music
The film commences with a catchy lyrical country-western song, "Savage Sam and Me," which highlights the canine's adventures in the Texas countryside. Though it is not among Disney's best numbers, it provides a fun introduction to the film.
Relationship to Other Disney Films
Savage Sam marked the sixth and final Disney film to feature both Tommy Kirk and Kevin Corcoran, both of whom were named Disney Legends in 2006. The duo had previously costarred in Old Yeller, The Shaggy Dog (1959), Swiss Family Robinson (1960), Babes in Toyland (1961), and Bon Voyage! (1962).
The former Virginian's comment about the difficulty of discerning the real savages is similar to the line "Who is the monster, and who is the man?" in the song "The Bells of Notre Dame" in The Hunchback of Notre Dame (1996).
Battles among Indians and settlers also occur in Davy Crockett, King of the Wild Frontier (1955) and Pocahontas (1995).
Overall
Savage Sam features plenty of action, but it lacks the heart of its predecessor.  There are fewer somber moments, and Arliss's unruly antics make the first part of the movie hard to watch.
What do you think of Savage Sam? Let me know in the comments!
Sponsored Ad:  Would you like to help support The Mouse For Less website in continuing their mission of being THE Disney vacation planning resource?  You can do so by purchasing Savage Sam from our Affiliate Link through Amazon. Thanks so much for your support!
Incoming search terms: