This post may contains affiliate links for your convenience. If you make a purchase after clicking a link we may earn a small commission but it won't cost you a penny more! Read our full disclosure policy here.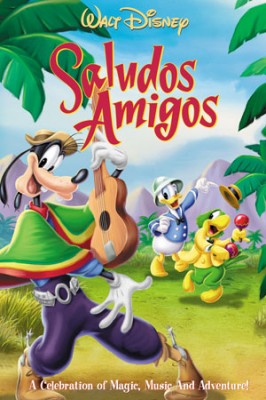 Saludos Amigos, Spanish for "Greetings, Friends," was released on August 24, 1942 as the sixth full-length animated feature in Disney history and the first of six consecutive package films released by the company. The package films combined multiple short segments based around a common theme, in this case South America, as opposed to a single plot-based story.
Saludos Amigos clocks in at only 42 minutes, making it the shortest animated feature in Disney history; Winnie the Pooh (2011) is Disney's second-shortest feature at 63 minutes.
Politics
When people ponder Disney movies, thoughts of fantasy often come to mind. Many of Disney's great films, after all, are based on fairy tales and fictional stories. Saludos Amigos is a departure from this norm, at least in concept.
Saludos Amigos does include numerous fictional characters, such as Goofy, Donald Duck, and Pedro the mail plane, but the reason for making the feature was serious in nature. In 1941, World War II was ongoing, and President Franklin D. Roosevelt was eager to apply his Good Neighbor Policy, which was meant to garner support for the United States in Latin America at the expense of Germany. Coupled with an animators' strike and financial turmoil at his studio, Walt Disney agreed to embark on a government-sponsored 10-week tour of South America and create a related film that would showcase the positive attributes of the region. (1)
Whimsical elements notwithstanding, political and, nowadays, historical undertones are inherent in Saludos Amigos. At the time of the film's release, Herald Tribune columnist Howard Barnes said that Saludos Amigos "should do more to cement friendly relations between North and South America than a dozen treaties or a score of diplomatic missions."(2) Additionally, in a February 7, 1943 movie review, New York Times film critic Theodore Strauss praised Walt Disney as "one of this country's No. 1 propagandists," while referring to Donald Duck as "a sort of ambassador-at-large, a salesman of the American way." (3) The flick may be fun, but that wasn't its main purpose.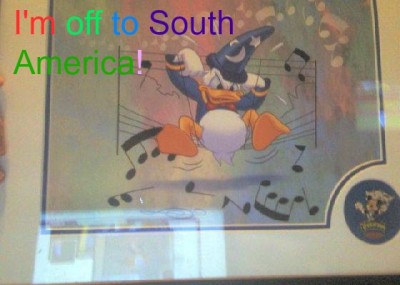 Structure
The film is divided into four segments, "Lake Titicaca," "Pedro," "El Gaucho Goofy," and "Aquarela do Brasil," which highlight Peru, the Andes mountains, Argentina, and Brazil, respectively. Each segment commences with a live-action description of regional food, music, and other cultural and geographical aspects before switching to a related cartoon.
The animated portions attempt to incorporate some of the highlights of the live-action segments. For example, in "Lake Titicaca," Donald experiences the water on a traditional bolsa boat. Also, Goofy enjoys Asado barbeque in "El Gaucho Goofy." I especially enjoyed the latter scene because it includes catchy instructions for eating the food: "A one, a two, a bite, cut, chew!" Try to get that out of your head.
Globalism
Related to the flick's political intentions, Saludos Amigos emphasizes the similarities between the United States and South America, especially in terms of culture and work ethic. (4) Donald Duck quickly becomes friends with a Brazilian parrot named Jose Carioca; Argentine gauchos are directly compared to Texas cowboys; traditional Argentine country dances are tied to the North American square dance; and Pedro the plane fulfills his duty to deliver the mail even when his life's in danger.
Humor
Some hysterically funny moments are achieved in Saludos Amigos through visual, linguistic, and technical means.
Visually, Donald battles high altitude and strong nautical winds, and Gaucho Goofy's horse wears fancy clothing and plays the piano. Both Donald and Goofy are poor musicians, although they'd like us to believe otherwise. Goofy is an accomplished lip singer.
Onto linguistic humor, Donald tries to interpret Jose Carioca's Portuguese dialogue, and the narrator inserts occasional puns. For example, Donald "drops in" on the Peruvian marketplace.
Finally, during "El Gaucho Goofy," laughs are attained through camera speed. The action is dramatically slowed down before it's abruptly accelerated.
Suspense
Narrator dialogue and alternating background music add drama to "Pedro," especially when the title plane enters the vicinity of Aconcagua, the highest peak in the Western Hemisphere. You'll likely shift towards the edge of your seat as Pedro fights for survival.
Music
The film's soundtrack is limited but catchy. My favorite number is "Escravos de Jó," which is played during the live-action description of Rio de Janeiro's annual Carnival celebration.
Relationship to Other Disney Films
Disney's trip to Latin America inspired a second package film, The Three Caballeros (1944). Donald Duck and José Carioca star in the latter film as two of the three caballeros.
The horse in "El Gaucho Goofy" reminded me of Cyril Proudbottom, the horse from The Adventures of Ichabod and Mr. Toad (1949), because they both possess diverse wardrobes.
In the Parks
Donald Duck and Goofy make regular appearances at both Walt Disney World and Disneyland.
Guests can experience the cultures and cuisines of 11 countries at Epcot's World Showcase.
Speaking of World Showcase, the Mexico pavilion features "Gran Fiesta Tour Starring The Three Caballeros." This boat ride includes Donald Duck and Jose Carioca.
Overall
Saludos Amigos is far from Disney's most cohesive effort, but it nonetheless provides solid edutainment.
References
1) Turan, K. (2009, September 9). MOVIE REVIEW; A youthful and searching Disney; 'Walt & El Grupo' chronicles a key South American trip and offers an insightful look at the man. Los Angeles Times, p. D.3.
2) Watts, S. (1997). Disney's Descent. The Magic Kingdom: Walt Disney and the American Way of Life (). Columbia, Missouri: University of Missouri Press, pp. 246-247.
3) Strauss, T. (1943, February 7). Donald Duck's Disney. New York Times, p. X3.
4) See Note 2.
What do you think of Saludos Amigos? Let me know in a comment!
Sponsored Ad:  Would you like to help support The Mouse For Less website in continuing their mission of being THE Disney vacation planning resource?  You can do so by purchasing Saludos Amigos (as part of a double feature with The Three Caballeros) from our Affiliate Link through Amazon. Thanks so much for your support!