This post may contains affiliate links for your convenience. If you make a purchase after clicking a link we may earn a small commission but it won't cost you a penny more! Read our full disclosure policy here.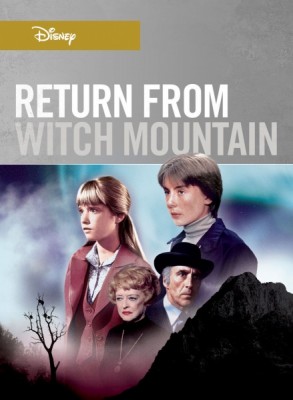 DVD Cover Copyright Disney
A sequel to Disney's 1975 film Escape to Witch Mountain, Return from Witch Mountain was theatrically released on March 10, 1978. The live action flick is 94 minutes in length.
Plot Summary
Pasadena, California; the Rose Bowl. No, Michigan State is not playing Stanford in a New Year's Day college football extravaganza. Rather, Uncle Bene (Denver Pyle) is dropping off Tia (Kim Richards) and Tony (Ike Eisenmann), who are slightly yet noticeably older than they were in Escape to Witch Mountain, for a vacation among earthlings in Los Angeles. Uncle Bene has to return to Witch Mountain, but he has secured a cab and a hotel room for his niece and nephew.
Sans adult supervision, things deteriorate for the siblings before they even exit the taxi. Tony has a vision that a man is going to fall off a building, and, when the driver (Wally Brooks) stops for gas, Tony runs down the street and saves the descending man, Sickle (Anthony James), from certain death through psychokinesis. Tony is a hero, but not all is well. You see, Sickle fell while working under the influence of two villains, Dr. Victor Gannon (Christopher Lee) and Sickle's aunt Letha Wedge (Bette Davis), who respectively crave fame and money, and Gannon saw Sickle hovering. Deeming Tony the proverbial gold at the end of the rainbow, Gannon and Wedge kidnap the "boy" and bring him to the former's laboratory for experimentation.
Concerned, Tia vacates the taxi but cannot locate her brother. She does, however, find a gang of four covertly kindhearted boys, Dazzler (Christian Juttner), Muscles (Brad Savage), Crusher (Poindexter), and Rocky (Jeffrey Jacquet), called the "Earthquakes," who are determined to help her find Tony. Still, Los Angeles is a big place. Can they possibly succeed?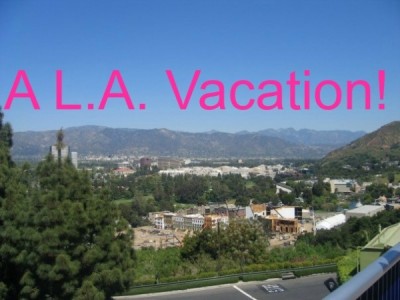 Reviews
Critic Bill Kaufman contributed an enthusiastic review of Return from Witch Mountain in Newsday. Kaufman afforded the flick three out of four stars, saying it mixed "just the right quantity of chase sequences, just the proper amount of spookiness and just the precise number of laughs." Kaufman also praised the actors for solid performances. (1)
Janet Maslin of the New York Times was not as enamored as Kaufman with the film, but she tried to be empathetic, saying, "If I were 10 again, I don't think I'd mind the fact that the space vehicle featured in the opening of "Return From Witch Mountain" looks like a flying pith helmet, or that the subsequent special effects are equally tinny. On the other hand, I think I'd very much enjoy watching telekinetically gifted kids from another planet applying their special powers to such earth-bound situations as car chases (when another vehicle gets in the way, they lift it) and fight scenes (they vanquish enemies with the flip of a flying garbage can). On balance, I think I'd be even more tickled by this Disney movie's abundance of mischief than tired by its emphasis on good, clean, freckle-faced fun." (2)
Maslin was lukewarm on the performances of Eisenmann and Richards, saying, "The two young principals are serviceable, but not nearly as lively as some of their co-stars — Christian Juttner, as the tallest Earthquake, steals virtually every scene he doesn't share with Miss Davis or Mr. Lee." (3)
I would agree with Maslin's assessment. I was not impressed with Eisenmann or Richards in either Escape to Witch Mountain or Return from Witch Mountain—their performances are often monotonous and awkward—but Juttner and the other actors portraying Earthquakes are hilarious.
Deeds
As was the case in Escape to Witch Mountain, Tony endures the wrath of the old saying "no good deed goes unpunished" by unknowingly saving the life of a villain.
Dark horse
My favorite character in Return from Witch Mountain is Mr. "Yo-Yo" Yokomoto (Jack Soo), who, though a minor player, develops an emotional tie with the children as a worker for the Board of Education. He shows them that being bad is, well, not good. Indeed, they should go to school and take advantage of their potential.
Antagonists
Gannon, Wedge, and Sickle are superior to the villains in Escape to Witch Mountain, Lucas Deranian (Donald Pleasence) and Aristotle Bolt (Ray Milland), but only because they play more visible roles. They feel like caricatures, and they will not augment your anger level.
Question
Did Uncle Bene empower an adult to supervise Tony and Tia once they arrived at the hotel? The siblings never do reach the hotel, and no concern whatsoever is voiced on this subject for the duration of the movie.
Setting
Whereas Escape to Witch Mountain was set in secluded areas, such as the California coast and mountains, Return from Witch Mountain transpires in Los Angeles. I think the former setting is superior as it produces a spookier vibe, but the latter setting is not a major detriment. The first film as a whole is shrouded in more mystery because we do not fully understand the backstories of Tony and Tia. Provided that you have seen Escape to Witch Mountain, Return from Witch Mountain is more straightforward, though still suspenseful.
Music
No feature songs are included in Return from Witch Mountain, but background music complements the story. A spooky tune played over a dark backdrop during the opening credits serves as an excellent beginning to the movie.
Humor
Return from Witch Mountain is much funnier than Escape to Witch Mountain. Whereas the humor in the original flick was sporadic and mainly tied to the levitation powers of Tony and Tia, Return from Witch Mountain supplements these levitations with numerous awkward lines and corny jokes. Said silliness commences with the first words of the film, uttered by Tia at the Rose Bowl, and continues throughout.
The levitating objects in Return from Witch Mountain include an unidentified flying object, Tony, Sickle, garbage cans, wine barrels, bars of gold, a school bus, a guard stand, and a security guard.
My favorite lines in the movie come from Letha and the Earthquakes. The former issues a not-so-compassionate plea to Dr. Gannon for her nephew's safety early in the film, and two of the Earthquakes offer priceless guesses as to respective locations pictured in Tia's thoughts. The first of these guesses is issued by Dazzler after Tia mentions a stagecoach, dummies, gold, and clothing; the second guess comes from Muscles when Tia mentions a big round shape.
The taxi driver seems oblivious despite his impressive safety record. Sometimes people get lucky.
The old west featured its share of rowdiness, and related museum exhibits are apparently no exception when Tony is around. Touchdown 49ers!
Relationship to Other Disney Films
Disney had released several live action sequels prior to Return from Witch Mountain: Son of Flubber (1963) followed The Absent-Minded Professor (1961); Herbie Rides Again (1974) and Herbie Goes to Monte Carlo (1977) were sequels to The Love Bug (1968); The Shaggy D.A. (1976) was a sequel to The Shaggy Dog (1959); and Now You See Him, Now You Don't (1972) and The Strongest Man in the World (1975) were sequels to The Computer Wore Tennis Shoes (1969). The last of these film series, the "Medfield College Trilogy," is rendered hilarious by virtue of awful acting.
Eisenmann and Richards were given cameos in Disney's 2009 remake of Escape to Witch Mountain, Race to Witch Mountain.
In the Parks
Crusher leads his fellow Earthquakes and Tia to a miniature golf course, and guests at Walt Disney World can partake in putt putt at "Fantasia Gardens" or "Winter Summerland." The former locale also features a miniature version of a regular 18-hole course with hazards, traps, and the like called Fantasia Fairways.
In Return from Witch Mountain, Tony wants to surf. At Walt Disney World's Typhoon Lagoon water park, guests can schedule special surfing sessions or lessons, which are held in the park's wave pool.
"Big Thunder Mountain Railroad," a roller coaster at both Walt Disney World's Magic Kingdom and Disneyland Park in California, exudes a western theme.
Overall
Return from Witch Mountain is inferior to its predecessor, but it is nonetheless entertaining. You are guaranteed some laughs.
Notes
1) Kaufman, B. (1978, July 15). MOVIE REVIEW: Disney's mold. Newsday, p. 26A. Retrieved November 17, 2015, from http://0-search.proquest.com.alpha1.suffolk.lib.ny.us/docview/966296380?accountid=35174
2) Maslin, J. (1978, July 14). Earthbound Spacelings. New York Times. Retrieved November 17, 2015, from http://www.nytimes.com/movie/review?res=9E04E5D61E31E632A25757C1A9619C946990D6CF
3) Ibid.
What do you think of Return from Witch Mountain? Let me know in the comments!
Sponsored Ad:  Would you like to help support The Mouse For Less website in continuing their mission of being THE Disney vacation planning resource?  You can do so by purchasing Return From Witch Mountain from our Affiliate Link through Amazon. Thanks so much for your support!
Incoming search terms:
https://www themouseforless com/blog_world/movie-review-return-witch-mountain/
Return from Witch Mountain