This post may contains affiliate links for your convenience. If you make a purchase after clicking a link we may earn a small commission but it won't cost you a penny more! Read our full disclosure policy here.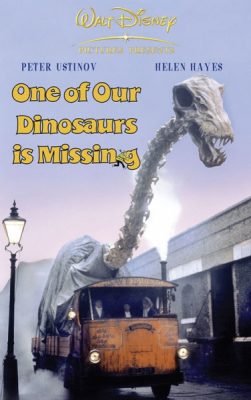 Based on David Forrest's 1970 novel The Great Dinosaur Robbery, Disney's One of Our Dinosaurs Is Missing was theatrically released on July 9, 1975. The live action mystery comedy is ninety-four minutes in length.
Plot Summary
In post-World War I Britain, a middle-aged man named Lord Southmere (Derek Nimmo) attempts to flee a band of spies, led by one Hnup Wan (Peter Ustinov), who have been chasing Southmere from China, eager to reclaim a secret something called "Lotus X." The contents of Lotus X, seemingly a Chinese military secret, are imprinted on a piece of microfilm. While dodging the spies in the Natural History Museum in London, Southmere hides the microfilm within a large model dinosaur but faints before he can recover the valuable. Prior to collapsing, Southmere manages to tell fragments of his story to his old nanny, Hettie (Helen Hayes), and her friend Emily (Joan Sims). While the museum is closed that night, these two nannies, along with a group of other nannies recruited for the occasion, search the dinosaur but fail to locate the microfilm before the spies arrive and kidnap the participants. Desperate to reclaim Lotus X sans interruption, Hnup hatches an ambitious plan: he and his fellow agents will steal the entire dinosaur model from the museum and search it in peace thereafter. Considering the mysterious nature of Lotus X, the equivocal occupation of Lord Southmere, Knup's grandiose robbery scheme, and the counterattack to that scheme by the nannies, the film is shrouded in mystery. How will it conclude?
If you are looking for a politically-correct film, you should avoid One of Our Dinosaurs Is Missing. Stereotypes of Chinese people, English people, Scottish people, and American people are encountered throughout the movie.
Youth
As the flick progresses, the wisdom of youth competes well with that of age and experience. More specifically, the dinosaur knowledge of the lad Lord Castleberry (Andrew Dove) helps to accomplish in several minutes what the many nannies failed to achieve during a three-night wild goose chase. Castleberry's contribution is reflected by the word "one" in the film's title. The museum has multiple dinosaur models, so Lotus X is not necessarily hidden in the stolen model.
Music
An instrumental number that combines jazz and Asian music plays against animated backdrops of London during the opening credits. This effort is a bit eccentric, providing a fitting prologue to the craziness of the film proper.
A suspenseful tune nicely complements the chaotic ride of the model dinosaur through downtown London.
Humor
One of Our Dinosaurs Is Missing is downright hilarious at points.
A bird knocks Lord Southmere off his hang glider and into a garden.
Southmere rides through the Natural History Museum in a baby carriage with the tune "Rock-A-Bye Baby" playing in the background.
A bear randomly chokes Hnup at the zoo.
Upon being kidnapped for interrogation, Hettie recounts some memories of Hnup from his childhood days traveling in London with his diplomat father. To Hnup's embarrassment, Hettie notes that his moniker was "Panda Nose" and that he "was rather backward with his toilet training." Ok, too much information.
After recovering from the embarrassment of having to relive his bygone bathroom exploits, Hnup argues with Hettie and Emily over the origins of tea. Should the Chinese or the English be given primary credit for perfecting the beverage?
Hettie and Emily's fellow nanny Susan (Natasha Pyne) uses the spies' desire for martial arts preeminence to help her colleagues escape from Hnup's prison. Much younger than her colleagues, Susan enjoys wild activities, such as jumping off dinosaur models, sliding down banisters, and riding in runaway vehicles.
The nannies aimlessly drive the model dinosaur on a lorry through downtown London. Hettie admits to Emily that she neither knows where she is nor where she is going.
Several legendary creatures are noted in the film, including the abominable snowman and the Lochness Monster. The former being aids Lord Southmere during his escape from China, and two Scotsmen mistake the model dinosaur for the Lochness Monster.
A giraffe at the zoo instantly falls in love with the passing dinosaur.
Believing that he is a "conquering hero," museum curator Sir Geoffrey Wilkins (Richard Pearson) ecstatically returns to London on the morning after the robbery. Unfortunately for Geoffrey, people are interested in the stolen dinosaur model, not the exotic butterflies he obtained during his trip to Yugoslavia.
The dinosaur theft causes a diplomatic crisis for Britain. As the home secretary (Anthony Sharp) notes to Geoffrey, the smaller countries of Europe cannot expect protection from Britain if she cannot even protect a massive dinosaur model in one of her largest museums.
The team assembled by Superintendent Grubbs (Roy Kinnear) to investigate the robbery consists of some interesting characters. For example, Sergeant Bromley (Wensley Pithey) has "the most extraordinary nose in the British Empire," and Dr. Freemo (Frank Williams) is a brilliant estimator. Immediately following his introduction, Freemo accurately guesses Geoffrey's name, dental history, and weight.
The true identities of Lotus X and Lord Southmere—Lotus X is not a military secret, and Lord Southmere is not a secret agent—will make you laugh and groan. Let's just say that you have probably encountered Lotus X during every visit to your local Chinese restaurant.
Relationship to Other Disney Films
A restaurant, nightclub, and hideout called "The Reluctant Dragon" is featured throughout One of Our Dinosaurs Is Missing. Said name is an inside joke for longtime Disney fans; The Reluctant Dragon was a 1941 film that combined a live action tour of the Disney Studio with several animated segments, the most noteworthy being "The Reluctant Dragon."
Peter Ustinov had previously held lead roles Blackbeard's Ghost (1968) and the animated Robin Hood (1973) for Disney, and he subsequently contributed to Treasure of Matecumbe (1976) for the studio.
Helen Hayes had previously appeared in Third Man on the Mountain (1959) and Herbie Rides Again (1974) for Disney, and she subsequently appeared in Candleshoe (1977) for the studio.
One of Our Dinosaurs Is Missing was the eighteenth of nineteen Disney films directed by Robert Stevenson, who was named a Disney Legend in 2002. Stevenson had previously directed Johnny Tremain (1957), Old Yeller (1957), Darby O'Gill and the Little People (1959), Kidnapped (1960), The Absent-Minded Professor (1961), In Search of the Castaways (1962), Son of Flubber (1963), The Misadventures of Merlin Jones (1964), Mary Poppins (1964), The Monkey's Uncle (1965), That Darn Cat! (1965), The Gnome-Mobile (1967), Blackbeard's Ghost, The Love Bug (1968), Bedknobs and Broomsticks (1971), Herbie Rides Again, and The Island at the Top of the World (1974) for Disney, and he subsequently directed The Shaggy D.A. (1976) for the studio.
Dinosaurs were also prominently featured in Fantasia (1940), Dinosaur (2000), and The Good Dinosaur (2015).
Other Disney mysteries staged in European settings include Emil and the Detectives (1964) and The Great Mouse Detective (1986).
In the Parks
At Walt Disney World's Disney's Animal Kingdom theme park, guests can experience an entire land, "DinoLand U.S.A.," based on dinosaurs.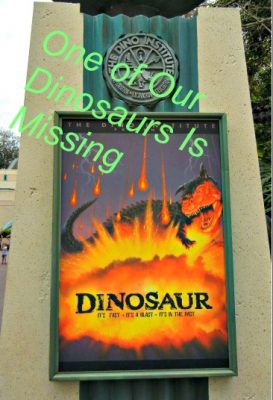 Guests at California's Disneyland Park can encounter an elaborate dinosaur diorama called "Primeval World" on the Disneyland Railroad between Tomorrowland and Main Street U.S.A.
From 1982 to 2017, animatronic dinosaurs similar to those on the Disneyland Railroad were incorporated as part of Epcot's former "Universe of Energy" attraction.
Visitors to China can experience Hong Kong Disneyland and Shanghai Disneyland. These resorts debuted in 2005 and 2016, respectively.
China and the United Kingdom are two of the countries represented in Epcot's World Showcase.
Overall
Although the plot of One of Our Dinosaurs Is Missing largely falls into the "what were they on when they thought this up" category, the movie's silliness is ultimately its strength. Action and suspense abound, and you are guaranteed some laughs.
What do you think of One of Our Dinosaurs Is Missing? Let me know in the comments!
Sponsored Ad:  Would you like to help support The Mouse For Less website in continuing their mission of being THE Disney vacation planning resource?  You can do so by purchasing One of our Dinosaurs is Missing from our Affiliate Link through Amazon. Thanks so much for your support!
Did you like this article? Make sure to share it with your friends! Check below for easy ways to share!
Incoming search terms:
disney one of our dinosaurs is missing full movie
one of our dinosaurs is missing