This post may contains affiliate links for your convenience. If you make a purchase after clicking a link we may earn a small commission but it won't cost you a penny more! Read our full disclosure policy here.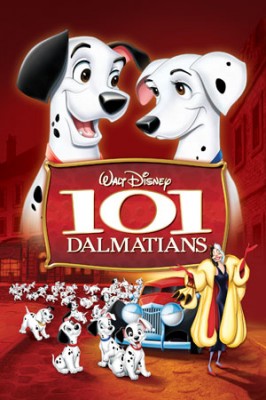 101 Dalmatians was released on January 25, 1961 as the 17th full-length animated feature in Disney history. The film is based on Dodie Smith's 1956 novel The Hundred and One Dalmatians and is 79 minutes in length.
Plot Summary
I find the plot of 101 Dalmatians to be intriguing, albeit rushed and underdeveloped.
The film commences in London with a male Dalmatian named Pongo pondering the bachelor lives led by both him and his owner, Roger Radcliffe. Pongo is eager to find them both female mates, and as luck would have it, he spots (pun intended) the perfect pair of woman and Dalmatian walking down the street outside the window.
Such as not to squander the opportunity for love, Pongo rushes Roger to the park. The dog instigates a mishap with the woman, Anita, but all is quickly forgiven. In fact, Roger and Anita even end up getting married! The marriage also unites Pongo and Anita's Dalmatian, Perdita, and the canine couple happily gives birth to 15 puppies.
Harmonious on the surface, all is not well in the Radcliffe household. You see, an old friend of Anita named Cruella de Vil is desperate to kidnap the puppies to make a fur coat, and this evil scheme succeeds with the help of two henchmen, Jasper and Horace.
The dogs are missing, and their parents and owners are frantic. Can the puppies be saved?
Cruella de Vil
Deceptive and terrifying yet often hilarious to the audience, de Vil is one of Disney's greatest villains. The antagonist smokes smelly cigarettes, berates her henchmen, and recklessly drives her car while somehow maintaining control of it. Few people I know could get back on track so quickly after driving into a snowbank!
De Vil is identified as an old friend of Anita, but I wonder if she is simply tolerated by Mrs. Radcliffe. Though courteous to de Vil, Anita seemed rather happy when Roger berated Cruella for repeatedly insisting on buying the puppies.
Time
From the opening scene where Pongo discusses the inconsistent pace of his life, time persists as a key theme in the flick.
Upon first noticing Anita and Perdita, Pongo changes the time on the clock so that Roger will stop working on his music and head to the park.
The flick features several near misses where a single second makes a difference. One of the puppies slides to within an inch of the henchmen's flashlight on the pond, all of the dogs board a truck with Cruella sitting only feet away, and the car driven by Jasper and Horace barges down a hill at the exact moment when de Vil is passing at a perpendicular angle.
Chain of Command
An interesting element of 101 Dalmatians is the various power hierarchies.
As a dog, Pongo is controlled by Roger, but the opposite is also true at times. It's no wonder Pongo seriously refers to Roger as his "pet."
Pongo and Perdita are in charge of their puppies. They enforce bedtime rules and tell the puppies when rolling in soot is permissible.
On a related note, Colonel the Sheepdog and Sergeant Tibbs the cat respond with the generally accepted authority concept of "all in the line of duty" when Pongo and Perdita wonder how they can repay the duo for saving the puppies.
Culture
Several real life cultural elements are inserted throughout the movie.
The dogs see an advertisement for a brand of dog biscuits called "Kanine Krunchies" while watching television. Including a jingle and amusing visuals, this commercial is reminiscent to a cereal ad directed at children.
Horace and Jasper intently watch a television show called "What's My Crime?" This name seems to be a reference to the contemporary game show "What's My Line?"
The dogs are allowed to spend the night in the dairy barn. The term "dairy barn" intrigued me because Dairy Barn was once a prominent drive-thru convenience store chain on Long Island, where I'm from. I began to think of frosted donuts and ice cream.
Animation
I find the animation quality to be inconsistent. While the park and apartment scenes are sketchily animated, many other scenes are beautiful. The night sky and snow are nostalgia-inducing.
Humor
With the humans having failed to locate the puppies, Pongo decides to take matters into his own hands…err, paws. He sends an "all dogs alert," which is basically a loud howl in the vein of Wile E. Coyote, at twilight to notify other area dogs of the dire situation. Ahh! Cover your ears London!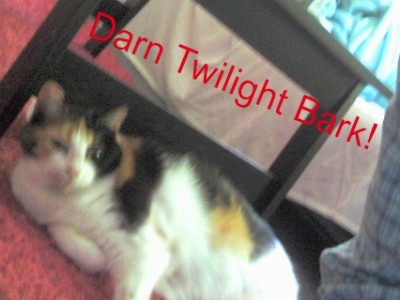 Horace and Jasper urge Cruella to "have pity" when she orders the duo to kill the puppies. The henchmen aren't concerned about the dogs, though; they simply want to watch the end of "What's My Crime?" without distraction.
Roger and Pongo dance, hands to paws, when good news is announced.
For various reasons, the three antagonists repeatedly miss the puppies even though the canines are almost literally adjacent to them.
Colonel seems a bit confused. He concludes that "three fives is 13" and mistakes "missing puppies" for "missing puddles." Fortunately, no water was lost.
Finally, Tibbs does most of the work to save the puppies. Really; a cat going out of his way to help dogs? Sometimes pigs fly.
Music
Although Roger makes his living as a composer, feature songs don't play a major role in the film. The one exception would be "Cruella de Ville," an upbeat and mysterious tune, which reminds me of "The Headless Horseman" from The Adventures of Ichabod and Mr. Toad (1949). "Cruella de Ville" became Roger's first hit, and he deserves every pound and shilling he earned from it.
Relationship to Other Disney Films
A live action remake, 101 Dalmatians, starring Glenn Close as Cruella was theatrically released on November 27, 1996.
Several dogs from Lady and the Tramp (1955) make cameos. Lady, Tramp, and Jock all appear during the "twilight bark" scene.
Finally, both the kidnapping plot and many of the characters, including dogs, cats, horses, and geese, from 101 Dalmatians have counterparts in The Aristocats (1970).
In the Parks
Guests can interact with Cruella during Mickey's Not So Scary Halloween Party, a seasonal hard ticket event held at Walt Disney World's Magic Kingdom.
Overall
Though the plot of 101 Dalmatians is somewhat lacking, this problem is overshadowed by the film's numerous great characters and fun moments.
What do you think of 101 Dalmatians? Let me know in a comment!
Sponsored Ad:  Would you like to help support The Mouse For Less website in continuing their mission of being THE Disney vacation planning resource?  You can do so by purchasing 101 Dalmatians from our Affiliate Link through Amazon. Thanks so much for your support!

Incoming search terms:
how was disneys 101 dalmations animaed version what was public reaction
https://www themouseforless com/blog_world/movie-review-one-hundred-one-dalmatians/