This post may contains affiliate links for your convenience. If you make a purchase after clicking a link we may earn a small commission but it won't cost you a penny more! Read our full disclosure policy here.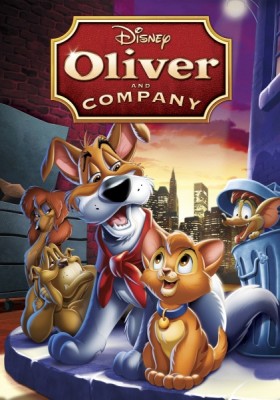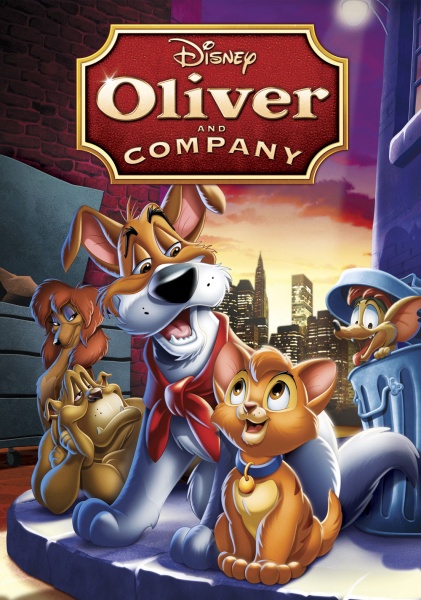 Based loosely on Charles Dickens' 1837 novel Oliver Twist, Oliver and Company was released on November 18, 1988. The 73-minute film was the 27th full-length animated feature in Disney history and the last full-length animated movie to be released by Disney prior to the commencement of the company's Animation Renaissance.
Oliver and Company was rereleased to theatres on March 29, 1996. I first saw the film as a five-year old child during this rerelease, a status that I wasn't aware of for another decade. Yup; I was young and ignorant.
Relationship to Oliver Twist and Plot Summary
The flick loosely translates Dickens' Victorian work to a 1980s New York City setting. Both versions feature an orphan named Oliver attempting to find a loving home in a cruel world. In Oliver and Company, said home is that of a girl named Jenny.
Some of the characters, including Oliver, Fagin, Bill Sykes (Bill Sikes in the book), and Dodger (the Artful Dodger or Jack Dawkins in the book), will be familiar to those who've read the novel, albeit hardly to the letter. In Oliver and Company, Dodger and Oliver still try to steal for Fagin, but they're not young boys. Instead, Oliver is an orphaned cat, and Dodger is a dog.
Also, the main villains, Fagin and Sykes, aren't on the same page in the film. Sykes is a loan shark who will do anything in his power to obtain the money Fagin owes him. Nothing, not even New York's subway system, will deter this determined villain!
Themes
The two main themes in Oliver and Company are redemption and love.
Aside from Jenny, who is totally good, and Sykes, who is pure evil, all of the film's major characters possess complex personalities embedded with correctable flaws. Most notably, and in sharp contrast to his demeanor in Oliver Twist, Fagin shows both a heart and a moral compass. While Fagin kidnaps Oliver in an attempt to raise the money he owes Sykes, Jenny's welfare proves to be more important to him. Fagin displays so much concern for Jenny in the film's latter scenes that I didn't even realize he was a villain when I first saw the movie.
Regarding love, the film shows that positive actions towards others are more important than physical transactions. I doubt that the dinner Jenny concocted for Oliver upon taking him in was the tastiest creation, and I know the birthday gifts that Fagin and his dogs gave Jenny weren't expensive. However, the physical quality of these things didn't matter to Oliver and Jenny because, as articulated in an old saying, "it's the thought that counts."
Sykes
The loan shark isn't Disney's most noteworthy villain, but he's arguably among its cruelest and scariest antagonists. He's loud and demonstrative in his mannerisms, and his kidnapping of Jenny is heartbreaking and infuriating.
Sykes is also realistic. With the possible exception of driving on the side of a bridge, all of his actions can plausibly occur in the real world. This realism may make Sykes more disturbing than other Disney villains such as Ursula and Jafar to some viewers.
Elements
Visuals and humor enhance Oliver and Company.
Throughout the movie, we encounter New York City landmarks such as the Brooklyn Bridge, the Manhattan Bridge, and the lake in Central Park. We also see ads for real products, including Coca Cola and USA Today.
Many of the characters exhibit humor. Dodger possesses an uncanny ability to capture his peers' attention through music, Francis the bulldog has a better knack for poetry than many humans, and Tito the Chihuahua is always hyper, especially when he encounters supposed aliens. Additionally, I find Jenny's dog Georgette to be amusing in the ways she pampers herself. Man, is she captivating!
Music
With Billy Joel, Bette Midler, and Huey Lewis doing much of the honors, the music in Oliver and Company is more akin to 1980s popular music than it is to classic Disney. Still, I enjoy this soundtrack because Joel, the voice of Dodger, is one of my favorite musicians.
The film commences with Lewis singing "Once Upon a Time in New York City." Highlighting both Manhattan generally and Oliver's dire situation specifically, this song tells us that "dreaming is still how the strong survive." I like the song itself, but I don't think it really sets up the ensuing plot. I don't see any of the characters as "dreamers."
Joel's key number in the flick is the upbeat "Why Should I Worry?" After an initial rendition early in the film, this song is brilliantly reprised during the final scene. The latter inclusion ends the movie with a bang.
Moving down the conga line of famous singers, Midler voices Georgette and sings "Perfect Isn't Easy." This song doesn't appeal to me. I find the corresponding visuals of Jenny's haughty dog showing off to be more enticing than the song itself.
Finally, I think "Good Company" is the film's most heartwarming number. The lyrics are limited, but coupled with sights of Jenny and Oliver enjoying life together throughout Manhattan, the words contribute to a beautiful song.
In the Parks
No attractions or regular character meets based on Oliver and Company are currently offered at either Walt Disney World or Disneyland.
Overall
Though Oliver and Company isn't Disney's best effort, I find it to be an enjoyable watch with a good mix of action, fun music, and heartwarming moments.
What do you think of Oliver and Company? Let me know in a comment!
Sponsored Ad:  Would you like to help support The Mouse For Less website in continuing their mission of being THE Disney vacation planning resource?  You can do so by purchasing Oliver and Company from our affiliate link through Amazon.
Incoming search terms:
https://www themouseforless com/blog_world/movie-review-oliver-company/
https://www themouseforless com/blog_world/movie-review-oliver-company/#:~:text=The two main themes in personalities embedded with correctable flaws