This post may contains affiliate links for your convenience. If you make a purchase after clicking a link we may earn a small commission but it won't cost you a penny more! Read our full disclosure policy here.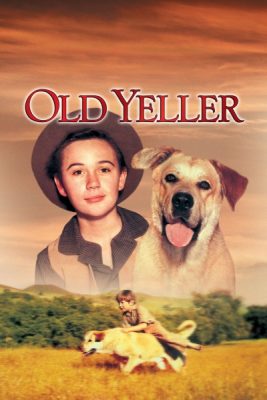 DVD Cover Copyright Disney
Based on Fred Gipson's 1956 novel of the same name (1), Old Yeller was theatrically released on Christmas Day 1957. The eighty-three minute live action drama inspired a sequel, Savage Sam (1963).
Plot Summary
In post-Civil War Texas, family patriarch Jim Coates (Fess Parker) prepares to embark on a cattle drive to Kansas to earn money for himself; his wife, Katie (Dorothy McGuire); and his two sons, Travis (Tommy Kirk) and Arliss (Kevin Corcoran). During Mr. Coates's approximately four-month absence, the elder son, Travis, is expected to eschew visions of Peter Pan and become a man, managing the family and its farm through numerous plausible problems. Indeed, Travis oversees many serious conundrums, most of which are related to encounters with animals. Ironically, the first of these troubles is a covert blessing: the stray dog that ransacks the family corn plot turns out to become the brothers' best friend, Old Yeller. Arliss immediately loves the dog, but Travis is furious at the crop destruction. Fortunately for all involved here, first impressions are overridden.
Review
In the New York Times, film critic H.H.T. afforded Old Yeller a positive review, praising especially the film's genuine themes. Said H.H.T.: "Walt Disney's contribution to Santa's bag yesterday was a nice trim little family picture called 'Old Yeller.' The Buena Vista release opened at the Fifty-second Street Trans-Lux, with Dorothy McGuire and Fess Parker as frontier parents, two highly appealing kids named Tommy Kirk and Kevin Corcoran, and a wonderful old stray hound of indeterminate pedigree.
In this very lean and sensible screen transcription of Fred Gipson's children's book, adapted by himself and William Tunberg, a warm, appealing little rustic tale unfolds in lovely color photography. Sentimental, yes, but also sturdy as a hickory stick.
In the simplest of language and movie terms, 'Old Yeller' describes how a spunky adolescent, substituting for his absent father, pilots a remote farm through hardships and dangers. Alongside Tommy Kirk, as he toughens into young manhood, are his level-headed mother, Miss McGuire, his little brother, Master Corcoran, and the canine performer of the title role. Mr. Parker, incidentally, takes off on a cattle drive almost immediately, and barely returns before the fade-out. Meanwhile, back at the farm, the folks face up to a steady grind of demanding chores and, occasionally, some unnerving experiences. One very droll sequence involves a lazy, big-mouthed neighbor, Jeff York. Another—a beautifully written one—involves an indignant Master Corcoran and a gentle cowboy, excellently played by Chuck Connors, in a 'dispute' over the dog.
Very happily, instead of isolating the little family on an island of sentimentality, in a nice, blunt, low-keyed manner the picture holds to reality, some of it quite strong for moppets. One scene of Master Kirk being attacked by a pack of wild hogs is rough sledding. The climax, when his little brother attempts to free a snarling mad dog (yes, Old Yeller has to be shot) is plain frightening.
However, it seems to us that most clear-eyed young-uns should be able to take these scenes unflinchingly. Especially with the straightforward honesty of Robert Stevenson's direction and the aura of family love that quietly caps the entire picture. Again, both boys are fine, and it's a pleasure to watch Miss McGuire exuding sweet wisdom, even in a cornfield. As for Old Yeller himself, it's just too bad he couldn't fit into one Christmas stocking somewhere." (2)
Marketing
Disney unleashed, pun somewhat intended, a unique marketing concept to promote Old Yeller. With dogcatchers and veterinarians on hand, leashed dogs were allowed to accompany pet owners to theaters. Grow-Pup dog food, Milkbone dog biscuits, and solid rubber fire hydrants were given to the owners as they viewed the film with their canines. (3)
Those who incorrectly believed that they were going to see a rerelease of Snow White and the Seven Dwarfs (1937) were compensated with an extra dose of Sneezy. Darn allergies!
Adversity
Learning how to deal with various troubles is a major part of growing up. Throughout the course of Old Yeller, Travis skillfully deals with a myriad of adversities, including crop damage, injury, and, most traumatically, having to shoot his rabid dog.
Antagonist
Old Yeller lacks a traditional "villain." The Coates' neighbor Bud Searcy (Jeff York) is a meddlesome nuisance, but he is by no means evil.
Action
Action scenes are plentiful in Old Yeller. Along the way, the canine causes a chain reaction in the corn plot; Arliss battles a bear; Travis and Yeller fight a team of hogs; Arliss throws rocks at a departing visitor, Burn Sanderson (Chuck Connors); and Yeller saves Mrs. Coates and young Lisbeth Searcy (Beverly Washburn) from a mad wolf.
The Real Yeller
In an interview conducted years later, the humans behind Old Yeller recalled the dog that played the title dog.
Said Beverly Washburn: "Old Yeller was played by a wonderful dog named Spike, whom they [Disney] got out of the dog pound. I think they paid $4 for him." (4) What a bargain!
Animal trainer Bob Weatherwax continued: "Getting a job with a dog is just like with an actor. It's almost the same process. You'll go before the producers and the directors, and a lot of it's 'Does he have the right looks? Does he perform properly?' In Old Yeller's case it had to be his size, which was part of what won him that role because he has to fight the bear, and he has to do all these things. Spike weighed probably a good 160 pounds. I'm 5'11''. If he put his feet up on me, he'd probably have his head above mine. He was very formidable in size." (5)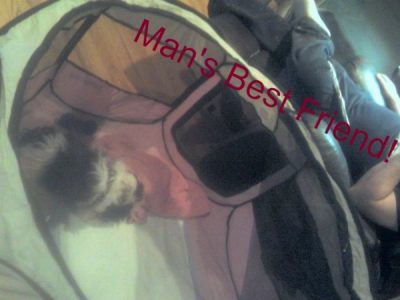 Humor
Although Old Yeller is not one of Disney's funnier films, comic relief arises from Arliss's interest in collecting reptiles and amphibians, much to his mother's chagrin. Eww! Get that frog away from me!
Music
The film both commences and ends with a lyrical country number, "Old Yeller." The song, which highlights the canine's admirable traits, is reprised instrumentally throughout the movie. The background music, alternately solemn, upbeat, and suspenseful, nicely complements the action.
Relationship to Other Disney Films: Legends
Old Yeller marked the Disney debuts of Tommy Kirk and Kevin Corcoran, both of whom were named Disney Legends in 2006. Kirk subsequently starred in The Shaggy Dog (1959), Swiss Family Robinson (1960), The Absent-Minded Professor (1961), Babes in Toyland (1961), Moon Pilot (1962), Bon Voyage! (1962), Son of Flubber (1963), Savage Sam, The Misadventures of Merlin Jones (1964), and The Monkey's Uncle (1965) for Disney; and Corcoran thereafter appeared in The Shaggy Dog, Pollyanna (1960), Swiss Family Robinson, Toby Tyler (1960), Babes in Toyland (1961), Bon Voyage!, Savage Sam, and A Tiger Walks (1964) for the company.
Additionally, Fess Parker, who was named a Disney Legend in 1991, had previously played Davy Crockett in Disney's epic five-part Davy Crockett miniseries, which first aired as part of ABC-TV's "Disneyland" television show between 1954 and 1955, and was thereafter repackaged as a pair of films, Davy Crockett, King of the Wild Frontier (1955) and Davy Crockett and the River Pirates (1956). Parker also appeared in The Great Locomotive Chase (1956), Westward Ho, the Wagons! (1956), and The Light in the Forest (1958) for Disney.
Overall
Old Yeller is a masterpiece. The film is well paced, loaded with action, and is likely to make you cry, perhaps multiple times.
Notes
1) Walt Disney acquired the rights to Gipson's book on July 15, 1956.; Godbout, O. (1956, July 16). DISNEY WILL FILM NOVEL ABOUT DOG: Buys Rights to 'Old Yeller'– Production Team Changed for 'Red Nichols Story' Fox to Release 55-mm. Film Of Local Origin Syria Bans 'South of Algiers' New York Times, p. 17. Retrieved October 29, 2016, from http://0-search.proquest.com.alpha1.suffolk.lib.ny.us/docview/113777458?accountid=35174
2) T, H. H. (1967, December 26). Screen: Shameful Incident of War: 'Paths of Glory' Has Premiere at Victoria Kirk Douglas Stars in Film of Cobb Book For the Children Mr. Moto Returns. New York Times, p. 23. Retrieved October 29, 2016, from http://0-search.proquest.com.alpha1.suffolk.lib.ny.us/docview/114264312?accountid=35174
3) Watts, S. (1997). The Magic Kingdom: Walt Disney and the American Way of Life (pp. 372-73). Columbia, Missouri: University of Missouri Press.
4) "Old Yeller Remembering a Classic" [DVD]. (2005). United States: Disney. Approximately 36-minute segment featured on Disk 2 of 2005 Special Edition DVD double release of Old Yeller and Savage Sam, 22:25-22:33 (minutes and seconds into segment).
5) Ibid., 22:42-23:09.
What do you think of Old Yeller? Let me know in the comments!
Sponsored Ad:  Would you like to help support The Mouse For Less website in continuing their mission of being THE Disney vacation planning resource?  You can do so by purchasing Old Yeller from our Affiliate Link through Amazon. Thanks so much for your support!
Incoming search terms:
https://www themouseforless com/blog_world/movie-review-old-yeller/
who was the free loading neighbour in old yeller