This post may contains affiliate links for your convenience. If you make a purchase after clicking a link we may earn a small commission but it won't cost you a penny more! Read our full disclosure policy here.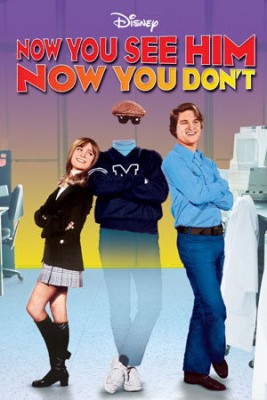 DVD Cover Copyright Disney
The second installment of the "Medfield College trilogy," following The Computer Wore Tennis Shoes (1969) and preceding The Strongest Man in the World (1975), Now You See Him, Now You Don't was theatrically released on July 12, 1972. The film, the fourth of six overall Disney movies to be set at the fictitious Medfield College, is 88 minutes in length.
A Sequel
Most of the major players from The Computer Wore Tennis Shoes return in Now You See Him, Now You Don't, including Dexter Riley (Kurt Russell), Richard Schuyler (Michael McGreevey), Dean Eugene Higgins (Joe Flynn), A.J. Arno (Cesar Romero), Arno's henchman Cookie (Richard Bakalyan), and Dean Collingsgood (Alan Hewitt). The major substitutions are Professor Lufkin (William Windom) for Professor Quigley (William Schallert), and Debbie (Joyce Menges) for Annie (Debbie Paine). Personality wise, I preferred Professor Quigley to Professor Lufkin, but this change is hardly a major problem.
The spelling of Dexter's last name, seen in the opening credits and on a laboratory locker towards the end of the movie, is "Riley," instead of "Reilly," as it had been in The Computer Wore Tennis Shoes. Similarly, "Chillie" the henchman is now "Cookie." These alterations probably represent editorial oversights; they are the same characters.
Plot Summary
In playing a round of eighteen-hole golf with Timothy Forsythe (Jim Backus), the sponsor of a coveted science prize, and Dean Collingsgood of Springfield State College, Dean Eugene Higgins of Medfield College scores an amazing round of 54 despite demonstrating terrible form and footwork.  Forsythe and Collingsgood are understandably confounded. After all, Higgins was playing his first ever round of golf, putt putt excepted.  What happened?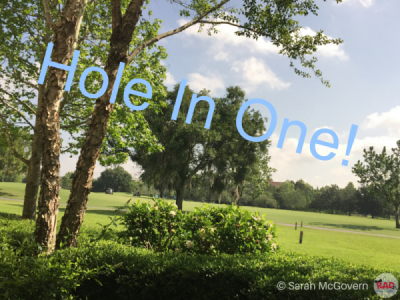 Photo Copyright Sarah McGovern
In fact, Dean Higgins is not a budding golf star destined to compete with Arnold Palmer for beverage naming rights. Rather, Higgins's much-maligned pupil Dexter Riley, who temporarily became a national sensation after a mishap in The Computer Wore Tennis Shoes, has again hit proverbial gold. Aided by a literal stroke of lightning, Dexter has perfected the invisibility formula he had been working on in Professor Lufkin's creative science course, and his covert efforts ensure Higgins repeated holes in one. Dexter's concoction, which looks like sweet and sour sauce, has much greater application potential than golf, however. Indeed, the vanishing solution is Medfield's only hope for winning the $50,000 Forsythe Science Award, which is needed to pay the college's $50,000 mortgage to the villainous A.J. Arno. Will Dexter's entry prevail?
Reviews
Columnist H.T. of the New York Times afforded Now You See Him, Now You Don't a positive review, saying, "Walt Disney—at least his thriving production unit—has finally met 'The Invisible Man.' That's the gimmick of 'Now You See Him, Now You Don't' and the children ate it up yesterday at the Guild, which is all that matters. The Disney people, with their obvious gimmick, have kept the antics as merry as they are broad—and clean. The main students [actors], Kurt Russell, Joyce Menges and Michael McGreevey, are thoroughly appealing with nimble help from such veterans as Joe Flynn, playing the school prexy, and Cesar Romero, personable as usual, as a natty crook." (1)
Creativity
In the spirit of Walt Disney, Professor Lufkin wants his science students to be creative. He tells Dean Higgins, "Our students have to experiment, be…be creative! That's what science is all about today."
Though Dexter may not be the next Thomas Edison, he and his classmates can make great discoveries if afforded an open mind by their mentors. Professor Lufkin provides such support with his "Creative Lab" course. Dean Higgins, conversely, degrades his students in a manner reminiscent of the way film critics treated Walt Disney prior to his release of the groundbreaking Snow White and the Seven Dwarfs (1937), the first full length animated feature in cinematic history. (2) Walt Disney proved his naysayers wrong, and Dexter strives to follow suit. Sometimes the best innovations arise from seeming impossibilities.
Cold War
After Dean Higgins scolds Dexter for exploring the invisibility theory of an eighteenth-century Russian scientist, Schuyler responds with a reference to the still-ongoing Cold War: "Now wait a minute! We may not agree with the Russians politically. We may not even like them. But as scientists, don't you think we ought to raise ourselves above these petty prejudices?"
Common Sense
Logic is exhibited by the students throughout the film.
While Higgins and Lufkin celebrate the school's seeming financial relief, Dexter rightly questions A.J. Arno's intentions in allowing an indefinite deferment of Medfield's mortgage payment. If a proposal, especially one coming from a seedy character, sounds too good to be true, it probably is too good to be true.
Also, immediately after securing the requisite $50,000 for the mortgage payment, Debbie and Dexter show Forsythe…err, foresight in wondering how the school will meet next year's installment. It is always good to think ahead!
Schuyler
In giving Schuyler a larger role in this sequel, Disney hit a home run. McGreevey is a bad actor, and Schuyler is consistently awkward, but such gaucheness only improves the movie. Laughs are the goal here, and Schuyler provides them en masse. The scene where Schuyler demonstrates Dexter's discovery to Higgins and Forsythe had me literally rolling around on my bed in laughter.
Schuyler proves more contentious in this film than he was in the original. When Dean Higgins angers him, Schuyler is not afraid to fight back, a benefit for the audience because Higgins is even surlier than he was in The Computer Wore Tennis Shoes. He is not a villain, but he is obnoxious.
Music
Unlike its predecessor, which featured an extended theme song over the opening credits, Now You See Him, Now You Don't lacks lyrical music save for Dexter's brief rendition of "The Farmer in the Dell" in the golf bunker, and a happy birthday song for A.J. Arno. Suspenseful background music is well utilized during the film's action scenes, such as the bank robbery and the car chase.
Humor
The students demonstrate the benefits of bug-laden plants, bees excepted.
One student in the Creative Lab is working on an experiment with cereal and milk. Err, never mind; he is just making his breakfast.
Dexter, Schuyler, and Debbie endure some tense moments when Dexter displays ignorance as to removing the vanishing solution.
A.J. Arno envisions grandiose "improvements" for Medfield College.
Dexter covertly steals the show on the golf course.
Dean Higgins encounters a difficult water trap on the thirteenth hole. Actually, it is more like a tidal wave.
The students abruptly depart in the middle of an art lecture. The professor is exceedingly boring, but his dullness is not the cause of the mass exodus.
The police and students find themselves in a car chase after Arno robs a bank. This endeavor is complicated by Arno's possession of Dexter's vanishing solution.
Dean Higgins is terrified by his reflection, or lack thereof, in the mirror.
Relationship to Other Disney Films
Dexter's friends took a page from Alice in Wonderland (1951) in throwing A.J. Arno an unbirthday party!
By virtue of the golf scenes, Now You See Him, Now You Don't joined its Medfield College predecessors in featuring a major competitive event. Basketball, football, and an academic tournament dominated The Absent-Minded Professor (1961), Son of Flubber (1963), and The Computer Wore Tennis Shoes, respectively.
In the Parks
In the queue for Epcot's "Journey Into Imagination With Figment," guests will hear an announcement for Dexter Riley and see Dean Higgins's name inscribed on a faux office door.
Vanishing objects can be viewed in the "Haunted Mansion," located at both Walt Disney World's Magic Kingdom and California's Disneyland Park.
A.J. Arno incorporates "Arno's Golden Horseshoe Club" into his Medfield College diorama. At Disneyland Park, "The Golden Horseshoe" serves as a venue for dining and entertainment.
In the movie, Dean Higgins partook in both traditional golf and miniature golf. At Walt Disney World, traditional golf can be enjoyed at "Disney's Palm Golf Course," "Disney's Oak Trail Golf Course," and "Disney's Magnolia Golf Course"; and miniature golf is offered at "Fantasia Gardens" and "Winter Summerland."
Overall
Aside from the car chase scene running a few minutes too long, Now You See Him, Now You Don't is a great Disney comedy. If you want to laugh, this film is highly recommended.
Notes
1) T., H. (1972, August 24). Spirited Romp for Invisible Caper Crew. New York Times, p. 52. Retrieved February 18, 2016, from http://0-search.proquest.com.alpha1.suffolk.lib.ny.us/docview/119527685/fulltextPDF/984D928220C24502PQ/1?accountid=35174
2) 1938: Disney releases Snow White and the Seven Dwarfs. (n.d.). Retrieved February 19, 2016, from http://www.history.com/this-day-in-history/disney-releases-snow-white-and-the-seven-dwarfs
What do you think of Now You See Him, Now You Don't? Let me know in the comments!
Sponsored Ad:  Would you like to help support The Mouse For Less website in continuing their mission of being THE Disney vacation planning resource?  You can do so by purchasing Now You See Him, Now You Don't from our Affiliate Link through Amazon. Thanks so much for your support!