This post may contains affiliate links for your convenience. If you make a purchase after clicking a link we may earn a small commission but it won't cost you a penny more! Read our full disclosure policy here.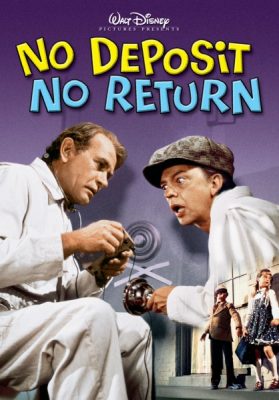 DVD Cover Copyright Disney
A live action suspense comedy, No Deposit, No Return was theatrically released on February 5, 1976. The film, which debuted as part of a double bill with Dumbo (1941) in the New York City area, is 112 minutes in length. (1)
Plot Summary
Hoping for a long-awaited reunion with their traveling mother, Carolyn Osborne (Barbara Feldon), over Easter vacation, two young children, Tracy Osborne (Kim Richards) and Jay Osborne (Brad Savage), are disappointed when they are informed that Mrs. Osborne will remain in Hong Kong on magazine business. To make matters worse, the children's caretaker, Miss Murdock (Ruth Manning), plans a vacation to Bermuda, so Tracy, Jay, and Jay's pet skunk, Duster, will be forced to spend the holiday in Los Angeles with the children's irascible grandfather, J.W. Osborne (David Niven)…or maybe they won't be! You see, Tracy and Jay are deceptively brilliant, and Tracy devises a scheme where she and her brother will avoid their grandfather at Los Angeles International Airport and somehow raise money to meet their mother in Hong Kong. As fate would have it, Tracy and Jay encounter two failed burglars, Duke (Darren McGavin) and Bert (Don Knotts), in a taxi, and, seeing that the men are in legal peril, decide to fake an abduction and demand ransom from the children's rich grandfather such that both pairs can obtain needed funds.
The plan is absolutely bizarre and will require near perfect execution to be successful. How will this saga end?
Learning
In questioning the paradoxical natures of the disfigured yet kind Quasimodo and the powerful yet cruel Lord Frollo at the beginning of The Hunchback of Notre Dame (1996), the jester Clopin rhetorically asks, "Who is the monster, and who is the man?" The characterization in No Deposit, No Return is similarly complex. Indeed, the line between the good guys and the antagonists is extremely fuzzy.
All of the movie's major characters exude significant flaws: Duke and Bert are wanted criminals, Jay and Tracy are poorly behaved, Grandfather Osborne is ill-humored, and Mrs. Osborne is distant in her maternal duties. These defects notwithstanding, over the course of the flick, the protagonists seem to take advice from their counterparts and become happier and better people in the process.
Throwbacks and Looks Forward
Several animated images that appear over the opening credits to No Deposit, No Return are reminiscent of earlier Disney films. Visuals of a tropical island and a submarine harken back to two of Disney's most beloved live action films, Treasure Island (1950) and 20,000 Leagues Under the Sea (1954), respectively. Additionally, images of a stork and a flying carpet are perhaps respective throwbacks to Dumbo and The Three Caballeros (1944)—the latter film featured a flying serape decades before the flying carpet came to the forefront in Aladdin (1992).
Furthermore, the scene towards the end of the film where the children physically battle unremittent loan sharks foreshadows the antics in Twentieth Century Fox's Home Alone (1990).
Music
A suspenseful tune, akin to "The Pink Panther" theme song, plays over the opening credits. This number provides a pleasant introduction to the film's mysterious nature. Similar music is implemented in the background during the course of the movie.
Humor
Duster initiates a stampede at Los Angeles International Airport. Jay's query "Has anybody seen a skunk?" prior to departing the airplane is not received too calmly by his fellow passengers.
What's that smell?! Oh, you were right Duke, Tracy is cooking bacon, not waffles, and thank goodness! Waffles have always driven me bananas!
Jay engages in much mischief, climbing a flag pole, slipping boarding school teacher Mrs. Hadley (Olive Dunbar) an unwanted frog, launching ketchup onto Miss Murdoch, kicking open an inflatable raft in the airport, and leading Bert on a wild skunk chase high above Los Angeles.
Bert has an interesting history, which he has to return to his hometown of Hackensack, New Jersey to confirm. Bert also performs mean impressions of fire engines, police cars, and ambulances based on his varied travels.
The film features a plethora of awkward dialogue, which will probably induce some chuckles. For example, an assertion by Tracy that fate brought her and her brother together with the criminal duo is followed by a confused Jay saying, "I thought it was you Tracy." Then, moments after Duke asks his partner, "What can be dangerous about taking care of a couple of kids?," Jay throws a bundle of dynamite, which, fortunately, does not explode.
Bert may not be lucky in robbing banks, but he is compensated for past misfortunes during his fall from a skyscraper. Murphy's Law reverses itself in that sequence.
As Al Capone was finally busted on tax evasion, the bank robbing, kidnapping duo of Duke and Bert are finally caught by the police on the charge of allowing children to walk a skunk without a license.
It may be springtime in Los Angeles, but the characters at the wharf think it's Halloween! The masks adorned by numerous characters in one scene are hilarious.
Sargent Turner (Herschel Bernardi) should probably listen to the advice of his young comrade, Longnecker (Charles Martin Smith). Longnecker may be awkward, but he makes some good points, and he can even read Miranda Rights while hanging upside down!
Relationship to Other Disney Films
No Deposit, No Return was the second of six live action Disney films to feature Don Knotts. Knotts had previously starred in The Apple Dumpling Gang (1975) for Disney, and he subsequently appeared in Gus (1976), Herbie Goes to Monte Carlo (1977), Hot Lead and Cold Feet (1978), and The Apple Dumpling Gang Rides Again (1979) for the company. Additionally, Knotts voiced Mayor Turkey Lurkey in Chicken Little (2005).
Kim Richards also played the little girl Tia in Escape to Witch Mountain (1975) and that film's sequel, Return from Witch Mountain (1978).
Kidnappings also occurred in Pinocchio (1940), One Hundred and One Dalmatians (1961), The Aristocats (1970), Return from Witch Mountain, The Great Mouse Detective (1986), and Oliver and Company (1988).
In the Parks
In No Deposit, No Return, Mrs. Osborne is detained in Hong Kong. In 2005, the Walt Disney Company opened its third overseas Magic Kingdom-style park, after Tokyo Disneyland Park and Disneyland Park Paris, in Hong Kong. A fourth such park, Shanghai Disneyland Park, debuted in 2016.
A skunk unleashes its wrath at Epcot in the "Journey Into Imagination with Figment" track ride. Though you will encounter a foul odor on this attraction, you will also win a prize…one (s)cent!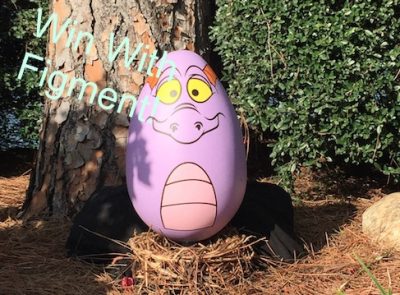 Photo Copyright Liliane Opsomer
Overall
No Deposit, No Return is concurrently mind-boggling and hilarious. The plot is bizarre to an extreme, but it will probably make you laugh.
Notes
1) Canby, V. (1976, July 3). Film: Drawn-Out Disney: 'No Deposit, No Return' Is No 'Dumbo' New York Times, p. 12. Retrieved April 18, 2017, from https://libproxy-cc-stonybrook-edu.proxy.library.stonybrook.edu/login?url=http://search.proquest.com.proxy.library.stonybrook.edu/docview/122914998?accountid=14172.
What do you think of No Deposit, No Return? Let me know in the comments!
Did you like this article? Make sure to share it with your friends! Check below for easy ways to share!
Incoming search terms:
https://www themouseforless com/blog_world/movie-review-no-deposit-no-return/