This post may contains affiliate links for your convenience. If you make a purchase after clicking a link we may earn a small commission but it won't cost you a penny more! Read our full disclosure policy here.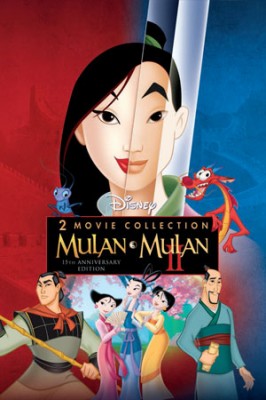 The 36th full-length animated feature in Disney history, Mulan was released on June 19, 1998. It is based on the legend of Hua Mulan and is 87 minutes in length. A sequel, Mulan II, was released directly to DVD on February 1, 2005.
Plot Summary
The title character is an energetic teen in a crisis. Her meeting with the village Matchmaker is an unmitigated disaster, and the prospects for her future are in doubt. Mulan knows she has to accomplish something to right this wrong and bring honor to her family, but what can she do? She's living in a patriarchal society with limited opportunities for women.
Good often emerges from bad situations, though, and when Mulan's father, Fa Zhou, is abruptly conscripted to fight in a war against the Huns, the girl sees her chance. She takes her father's armor and marches off to battle under the male moniker "Ping." If any of her colleagues discover her true identity, she will be executed. Will Mulan's gamble pay off?
Themes
Three main themes are prevalent in Mulan: sexism, feminism, and redemption.
We see that although Mulan is daring and competent, traditional gender roles still dominate. Mulan's efforts almost singlehandedly bury the Huns, who won't die easily, and she selflessly risks her own life to save that of Captain Li Shang, but she is nevertheless deserted when her true identity is finally discovered.
Mulan exudes a feminist spirit. When Li Shang questions why he should believe Mulan's pleas about the Huns having survived, the title character harkens back to the captain's trust in her when she was "Ping."
Throughout the course of the movie, Mulan seeks atonement for her failures. Seeing that the Huns have survived, Mulan tracks down the army, which eventually accepts her apology to set up a frantic final battle. More broadly, the reason why the title character crashed the army in the first place was to redeem herself in the wake of her debacle with the Matchmaker.
Mushu, a dragon who works for Mulan's ancestors, also gets a second chance. Having become a nuisance amongst the family's ancestral guardians due to past failures, Mushu helps Mulan to regain his credibility.
Humor
While Mulan is a war film at its core, jokes and gags are inserted throughout. I find many of the characters, most notably Mushu, to be hilarious.
Mushu's role in Mulan is similar to that of the Gargoyles in the Hunchback of Notre Dame (1996) and Olaf in Frozen (2013). That is, his main purpose is to provide comic relief, and provide comic relief he does! Even when he's mad, this "powerful, pleasurable, indestructible" dragon, not lizard, is laugh-out-loud funny. In addition to other antics, he scares people with his shadow, and he improvises to impersonate superiors.
Also, although Grant Wood didn't paint "American Gothic" until 1930, the two farmers from said work appear among Mulan's ancestors. Wow, they're older than I thought!
Music
Mulan's soundtrack isn't among Disney's most memorable, but the music is solid nonetheless.
Articulating the title character's desire to find her place in the world, I think "Reflection" is a beautiful, heartwarming song. Because of the context, I'd compare it to "Go the Distance" from Hercules (1997). The popular version of this number was the debut single in the career of Christina Aguilera.
Additionally, "I'll Make a Man Out of You" combines figurative lyrics—"Mysterious as the dark side of the moon," for example—with amusing visuals such as Mulan catching fish with her bare hands to create a frenetic number. After an initial rendition during military training, the tune is reprised, ironically, as the soldiers adorn female clothing such as to fool the Huns.
Relationship to Other Disney Films
Mushu refers to Mulan as "Sleeping Beauty" when trying to wake her up at the training camp. Sleeping Beauty (1959) was Disney's 16th full-length animated feature.
Also, when Mulan is pondering a fake male name to appease Li Shang, Mushu suggests "Ah Chu," a clear reference to Sneezy from Snow White and the Seven Dwarfs (1937)! Or, maybe that's a stretch on my part.
In the Parks
Guests at Walt Disney World can interact with Mulan and Mushu. Mulan regularly appears at Epcot, both randomly in the China pavilion and for all three meals at the Akershus Royal Banquet Hall in the Norway pavilion. Meanwhile, Mushu occasionally appears in the "Dinoland Dance Party" at the Animal Kingdom.
Mushu hosts the preshow video at the "Magic of Disney Animation" attraction at Walt Disney World's Disney's Hollywood Studios theme park. In fact, Mulan was animated here; prior to 2004, this attraction featured actual animators working on feature Disney films, which included Lilo and Stitch (2002) and Brother Bear (2003) in addition to Mulan.
Finally, if you enjoyed the fireworks that encompassed the Emperor of China's palace, be sure to check out the various firework displays at Walt Disney World and Disneyland: "Wishes" at Walt Disney World's Magic Kingdom, "Illuminations" at Epcot, "Fantasmic" at Disney's Hollywood Studios, and both a unique "Fantasmic" as well as rotating firework spectacles at Disneyland Park.
Overall
Featuring action, humor, romance, and catchy music, Mulan is a fairly complete package. Prior to watching it twice for this review, I hadn't seen Mulan since its 1998 theatrical run and honestly wasn't intrigued by it. Wow, has my opinion changed!
What do you think of Mulan? Let me know in a comment!
Sponsored Ad:  Would you like to help support The Mouse For Less website in continuing their mission of being THE Disney vacation planning resource?  You can do so by purchasing Mulan from our affiliate link through Amazon.