This post may contains affiliate links for your convenience. If you make a purchase after clicking a link we may earn a small commission but it won't cost you a penny more! Read our full disclosure policy here.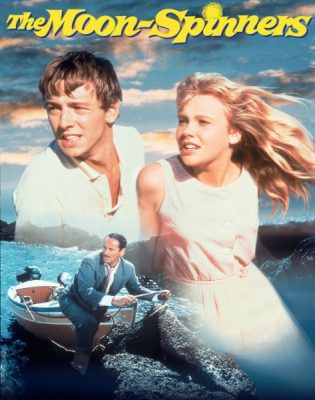 DVD Cover Copyright Disney
Based on Mary Stewart's best-selling 1962 romance suspense novel of the same name (1), Disney's The Moon-Spinners was theatrically released on July 2, 1964. The live action film is 118 minutes in length.
Plot Summary
A young English woman, Nicky Ferris (Hayley Mills), and her aunt, Frances Ferris (Joan Greenwood), endure an unpleasant start to the Crete portion of their Greek holiday when a fellow passenger on a crowded bus dangles a fish in their faces. Yes, the odor is noxious, but, unbeknownst to the Ferris duo, their vacation is about to get even worse. Upon arriving at The Moon Spinners hotel, Nicky and Frances are only reluctantly given a room by the owner, Sophia (Irene Papas), because Sophia's brother, Stratos (Eli Wallach), is mired in a perpetually sour mood, hostile to allowing guests to stay in the "hotel."
Stratos's attitude, it turns out, is a direct reflection of his character. While in England, Stratos stole a stash of jewelry from a banker, Mark Camford (Peter McEnery), who was en route to deliver the jewelry to its owner, the Countess of Fleet. Camford is discredited and shamed.
Now, Camford, who is almost positive that Stratos committed the robbery, is in Crete and determined to retrieve the jewelry. This situation is not lost on Stratos, who does everything in his power to kill Camford and silence Nicky, who has fallen in love with the Englishman. The situation is extremely dangerous for all involved. How will it end?
Reviews
Film critic Bosley Crowther of the New York Times afforded The Moon-Spinners an average review, deeming the effort enjoyable, especially in terms of visuals, but too clichéd. Said Crowther: "For all the ripening attractiveness of the young British actress Hayley Mills and some beautiful scenery in color on the island of Crete, I would say that Walt Disney's 'The Moon-Spinners,' in which these felicities are embraced, is essentially an entertainment for the younger set.
That is to say, it is a pictune [sic; picture] in which standard melodrama abounds—the kind that the older observer may find just too bubbling with clichés. And yet, because it does present Miss Mills and a nice, skinny young Englishman, Peter McEnery, in a series of bristling adventures with jewel robbers on the shores of Crete, it compels the sort of empathy and excitement that youngsters are able to feel. They were squealing with it yesterday morning when it opened at the Guild." (2)
Cast
The Moon-Spinners was the fifth Disney film to feature Hayley Mills, who was named a Disney Legend in 1998. Mills had previously starred in Pollyanna (1960), The Parent Trap (1961), In Search of the Castaways (1962), and Summer Magic (1963) for the company, and she subsequently starred in That Darn Cat (1965) for Disney.
Additionally, silent film star Poli Negri, who had been retired for twenty years, accepted the role of Madam Habib, the unknowing recipient of the stolen jewels who appears in her yacht towards the end of The Moon-Spinners. Negri's noteworthy films had included Bella Donna (1923), Shadows of Paris (1924), and Flower of Night (1925).
On her comeback, Negri said, "We say we are retired, but we still cannot resist a comeback if something interesting comes along. After 20 years, I was very reluctant to return. I had refused many offers. But when the Disney people called me about 'The Moon-Spinners,' it sounded interesting. They talked me into it." (3)
First Appearances
First impressions are sometimes indicative of one's true character but prove false at other times. In The Moon-Spinners, for example, Stratos's initial viciousness accurately reflects his villainy, while Camford's initially distracted, "mysterious" attitude reflects angst over the prospects of retrieving the jewels and salvaging his reputation; his ambiguous attitude, which stumped me throughout the first half of the film, is not a symptom of covert maliciousness. On the positive end of the spectrum, Sophia's amiable son, Alexis (Michael Davis), is in fact a good person.
Action
The Moon-Spinners incorporates a plethora of action. Much of this action comes in the form of battery—Stratos violently restrains Nicky in one scene, and Nicky slaps Camford in the face in another scene—and, thus, the film may not be appropriate for young children. Aside from this physical violence, Alexis and Camford mount a windmill in an attempt to rescue an imprisoned Nicky; and numerous party segments, involving music, dancing, and other jovial activities, are incorporated.
Morality
Whereas Stratos has no qualms about making money through illegal means, Sophia is less enthralled by this situation. Completely enraged at her brother upon the disappearances of Nicky and Camford, Sophia bellows, "Better to have nothing, better to starve and have some self respect!"
Here, Sophia gives the impression that she would have reported Stratos to the police had he not threatened to murder Alexis if such a revelation was made. Indeed, Stratos exudes a domineering, abusive vibe throughout the film.
Music
Music plays, no pun intended, a surprisingly large role in The Moon-Spinners, though much of it is not especially memorable. Performed against lovely backdrops of Greece at dusk during the opening credits, "The Moon-Spinners Song" provides a soothing introduction to the film. Thereafter, a variety of instrumental numbers is featured during the many party sequences; and dark, foreboding tunes accompany Stratos's evil endeavors.
Relationship to Other Disney Films
Greece was also the setting for Hercules (1997).
Overtly religious elements, as seen in some of the art and architecture on Crete, are also incorporated in The Hunchback of Notre Dame (1996).
In the Parks
Guests can explore Greece, including Crete, by booking an "Adventures by Disney" itinerary. Adventures by Disney offers travel packages with organized itineraries to locations around the world. Packages to Greece are offered throughout 2017. (4)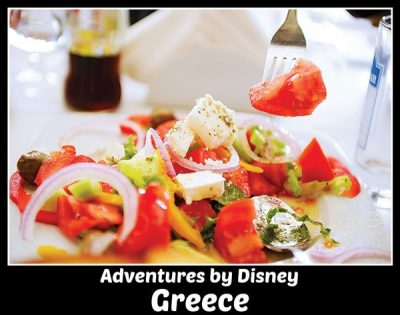 Image Copyright The Magic for Less Travel
Overall
With extended action sequences, much suspense, and a touch of romance, The Moon-Spinners is an engaging adventure.
Notes
1) Weiler, A. H. (1963, June 9). PICTURES AND PEOPLE: 'Sylva' and Others on Walter Wanger State–Disney Docket–Imports Local Project. New York Times, p. 121. Retrieved December 3, 2016, from http://0-search.proquest.com.alpha1.suffolk.lib.ny.us/docview/116338673?accountid=35174
2) Crowther, B. (1964, November 4). Screen: Entertainment for Youngsters: 'The Moon-Spinners' Opens at Guild Hayley Mills Starred in Disney Film. New York Times, p. 47. Retrieved December 3, 2016, from http://0-search.proquest.com.alpha1.suffolk.lib.ny.us/docview/115922564?accountid=35174
3) Bart, P. (1964, July 22). SILENT-ERA STARS RETURN TO FILMS: Pola Negri, Dolores Del Rio, Fay Wray in Comebacks. New York Times, p. 38. Retrieved December 3, 2016, from http://0-search.proquest.com.alpha1.suffolk.lib.ny.us/docview/115857707?accountid=35174
4) Check out The Magic for Less Travel's page on Adventures by Disney's Greek itineraries. https://www.themagicforless.com/disney-vacations/adventures-by-disney/itineraries/greece/
What do you think of The Moon-Spinners? Let me know in the comments!
Sponsored Ad:  Would you like to help support The Mouse For Less website in continuing their mission of being THE Disney vacation planning resource?  You can do so by purchasing The Moon-Spinners from our Affiliate Link through Amazon. Thanks so much for your support!
Incoming search terms: