This post may contains affiliate links for your convenience. If you make a purchase after clicking a link we may earn a small commission but it won't cost you a penny more! Read our full disclosure policy here.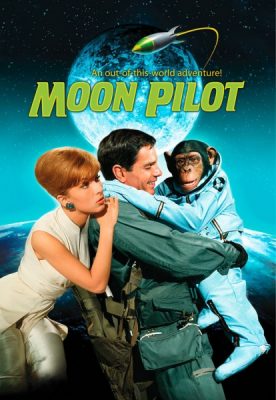 Image Copyright Disney
Based on Robert Buckner's 1960 novel Starfire, Moon Pilot was theatrically released on April 5, 1962. The live action science fiction drama and comedy is ninety-eight minutes in length.
Plot Summary
In Washington D.C., scientists and politicians alike anxiously await the expected return of an astronaut named Charley from a spin around the moon. Charley does land safely, but he was just a Guinea pig, or, more accurately, a Guinea chimpanzee. Indeed, if the United States is to take the next giant step in its scientific battle with the Soviet Union, a human will have to orbit the moon. With Major General John M. Vanneman (Brian Keith) struggling to get a volunteer, Charley intercedes, selecting Captain Richmond Talbot (Tom Tryon) for the task. Talbot reluctantly abides, but, while on leave in San Francisco, he grows disconcerted with the stalking presence of a combination of Federal security agents, led by one McClosky (Edmond O'Brien), and a mysterious woman named Lyrae (Dany Saval). Specifics notwithstanding, all involved agree that Lyrae is a Russian spy intent on destroying American astronomical superiority. She cannot possibly be looking out for American interests. Can she?
Moon Pilot is conflicted in terms of genre—at different points, the movie feels like a romance, a comedy, and a drama. On the whole, I would categorize the flick as a drama. To be sure, there are laughs to be had, but the effort is hardly uproarious.
FBI Probe
Because of his strong anticommunist politics in the midst of the Cold War, Walt Disney enjoyed a respectable relationship with J. Edgar Hoover and the Federal Bureau of Investigation (FBI). This liaison showed feet of clay, however, during the production of Moon Pilot because Hoover took offense to Disney's portrayal of government officials as bumbling incompetents. (1)
On this subject, a retrospective New York Times article from October 15, 1985 said: "After J. Edgar Hoover objected that a 1962 Walt Disney Productions film depicted agents of the Federal Bureau of Investigation as bumblers, the film company changed their designation to "Federal security agents," The Arizona Republic [sic] reported today.
The newspaper, which said it had obtained a file the bureau kept on the studio founder, Walt Disney, reported that Hoover directed his chief agent in Los Angeles to meet with Disney and tell him that "the bureau will strongly object to any portrayal of the F.B.I. in this film."
Movie reviewers at the time commented that the film, "Moon Pilot," leveled a "humorous rifle" at the bureau depicting it "as a mass of dolts."
Disney changed a reference in the film from F.B.I. agents to "Federal security agents" although he thought the change "unrealistic," The Republic article said.
The file on Disney, obtained through a request under the Freedom of Information Act, contained a copy of a review of the movie with a handwritten note in the margin that read: "I am amazed Disney would do this. He probably has been infiltrated."
There is no proof of who wrote the comment but other information in the file indicates it was Hoover, The Republic's article said.
A memorandum to Hoover, according to the paper, said Disney "stated that he would never portray the F.B.I. other than in a favorable light due to his esteem for the Director and the bureau."
Another Disney movie, "That Darn Cat," produced in 1964, also caused grumbling among the bureau's agents.
The bureau closely monitored the proposed film's progress, and an August 1964 memo to Hoover said "an established source at the Disney studios" had disclosed that the screenplay "depicts the F.B.I. in a most complimentary manner."
Hoover considered Disney a friend and "contact" the newspaper said. The F.B.I. Director sent a number of friendly letters to Disney in his lifetime and a telegram of condolence to Disney's widow, Lillian, after Disney died of lung cancer at the age of 65." (2)
Government Battles
The United States government hardly presents a united front in Moon Pilot. Throughout the film, the Air Force and the Federal security agents act at cross purposes.
Music
Eerie, suspenseful background music complements the action throughout the film. The plot is bizarre, so this music is well selected.
The film culminates with a vocal rendition by Talbot and Lyrae of "Seven Moons of Beta Lyrae," a number written by the legendary Disney composition duo of Richard and Robert Sherman. The song, concurrently soothing and exciting, feels like an afterthought because of its placement. It would probably have been more memorable had it been inserted earlier, but there is no other adequate place for it. It does not mesh with the bulk of the plot, and the opening credits are already well utilized for suspenseful treatment of Charley's mission.
Humor
Moon Pilot is not among Disney's funniest efforts, but you will enjoy an occasional laugh.
Senator Henry McGuire (Bob Sweeney) is ignorant of space jargon, terms such as "drunk" and "shoot" that have different meanings here than in normal conversation. McGuire is especially worried about this verbiage because an election is approaching. The idea of drunken astronauts will not endear him to his constituency.
Talbot is scheduled to orbit the moon despite the fact that he wants to eschew an airplane and ride a Greyhound bus between Washington D.C. and San Francisco.
Charley forces Talbot's hand, err back, in volunteering for the moon flight with the strategic use of a fork. Ouch!
Before returning to earth from his moon orbit, Talbot plans to take a detour to another moon: a honeymoon with Lyrae on the latter's home planet, which features seven moons.
Relationship to Other Disney Films
Walt Disney was fascinated by space travel, a passion demonstrated through three episodes of the "Disneyland" television series: "Man in Space," "Man and the Moon," and "Mars and Beyond." The three episodes aired on March 9, 1955, December 28, 1955, and December 4, 1957, respectively. (3)
Brian Keith previously portrayed the father, Mitch Evers, in The Parent Trap (1961), and he subsequently starred as Uncle Beck Coates in Savage Sam (1963).
Moon Pilot was the sixth of eleven Disney films to feature Tommy Kirk, who was named a Disney Legend in 2006. Kirk plays only a minor role in Moon Pilot, appearing as Captain Talbot's younger brother, Walter Talbot, who serves as an escort between San Francisco International Airport and their mother's house. Kirk had previously starred in Old Yeller (1957), The Shaggy Dog (1959), Swiss Family Robinson (1960), The Absent-Minded Professor (1961), and Babes in Toyland (1961) for Disney, and he subsequently appeared in Bon Voyage! (1962), Son of Flubber (1963), Savage Sam, The Misadventures of Merlin Jones (1964), and The Monkey's Uncle (1965) for the company.
Outer space was also a key theme in The Cat from Outer Space (1978), The Black Hole (1979), Armageddon (1998), Mission to Mars (2000), Lilo and Stitch (2003), and Wall-E (2008).
Aliens in human form were also prominently featured in Escape to Witch Mountain (1975) and Return from Witch Mountain (1978).
Monkeys were also prominently featured in The Misadventures of Merlin Jones; The Monkey's Uncle; Monkeys, Go Home! (1967); and The Barefoot Executive (1971).
In the Parks
Numerous attractions in Disney's theme parks are based around space travel.
Between Disneyland's opening in 1955 and 1992, three similar theater-in-the-round attractions, "Rocket to the Moon," "Flight to the Moon," and "Mission to Mars," operated in the park's Tomorrowland.  The latter two attractions also ran in Tomorrowland at Walt Disney World's Magic Kingdom between that park's opening in 1971 and 1993.
Today, guests at both the Magic Kingdom and Disneyland Park can enjoy the classic "Space Mountain" roller coaster and the "Astro Orbiter" ("Astro Orbitor" at Disneyland) spinner, where rockets fly around a central tower. Also, at Epcot, guests can venture to Mars aboard the ambitious "Mission: Space" simulator.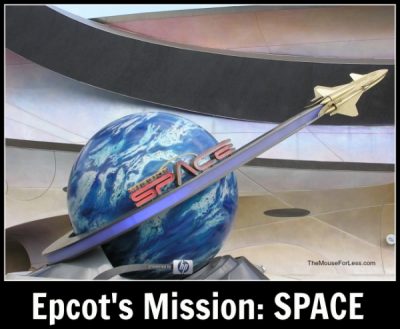 Image Copyright The Mouse For Less
Overall
Moon Pilot's story is somewhat meandering and flat, but enough humor and action is interspersed to keep things interesting.
Notes
1) Watts, S. (1997). The Magic Kingdom: Walt Disney and the American Way of Life (p. 349). Columbia, Missouri: University of Missouri Press.
2) Files Tell of Contacts Between Hoover and Disney. (1985, October 15). New York Times, p. B8. Retrieved April 6, 2017, from https://0-search.proquest.com.alpha1.suffolk.lib.ny.us/docview/111254921?accountid=35174.
3) Tallarico, T. (n.d.). Disney & Space Travel. Retrieved April 6, 2017, from http://thisdayindisneyhistory.homestead.com/SpaceTravel.html.
What do you think of Moon Pilot? Let me know in the comments!
Sponsored Ad:  Would you like to help support The Mouse For Less website in continuing their mission of being THE Disney vacation planning resource?  You can do so by purchasing Moon Pilot from our Affiliate Link through Amazon. Thanks so much for your support!
Did you like this article? Make sure to share it with your friends! Check below for easy ways to share!
Incoming search terms:
https://www themouseforless com/blog_world/movie-review-moon-pilot/