This post may contains affiliate links for your convenience. If you make a purchase after clicking a link we may earn a small commission but it won't cost you a penny more! Read our full disclosure policy here.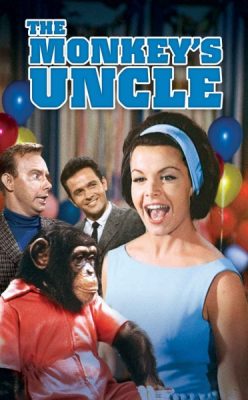 Image Copyright Disney
A sequel to The Misadventures of Merlin Jones (1964), The Monkey's Uncle was theatrically released on August 18, 1965. The live action comedy is eighty-seven minutes in length.
Plot Summary
Like its predecessor, The Monkey's Uncle features two related segments, akin to episodes of a television series, instead of a single plot-based story. The first half of the film involves Midvale College genius Merlin Jones (Tommy Kirk) gaining legal recognition as the uncle of Stanley, the chimpanzee from The Misadventures of Merlin Jones, and, under the dictates of college board member Judge Holmsby (Leon Ames), inventing a way for two members of the school football team, Leon (Leon Tyler) and Norman (Norman Grabowski), to "honestly cheat" on an English literature exam and remain on the squad.
In the second half of the film, Merlin attempts to help Judge Holmsby secure a larger donation for Midvale than a gift procured by Mr. Dearborne (Frank Faylen), Holmsby's enemy on the school board, who wants to eliminate the football program. The desired donation comes from one Darius Green III (Arthur O'Connell), who demands that Merlin first devise a way for humans to fly on their own power. Merlin doubts the practicality of Green's plan, and Judge Holmsby is nervous that Mr. Dearborne will prevail in this pecuniary battle.  How will the saga conclude?
As in The Misadventures of Merlin Jones, Annette Funicello portrays Merlin Jones's girlfriend, Jennifer, and Alan Hewitt plays Midvale's featured academic, Professor Shattuck.
End Game
The Monkey's Uncle marked the final Disney appearances for both Annette Funicello and Tommy Kirk, who were named Disney Legends in 1992 and 2006, respectively. Funicello, who rose to prominence through her role as a Mouseketeer on the Disney television series "The Mickey Mouse Club" from 1955 to 1959, had previously starred in The Shaggy Dog (1959), Babes in Toyland (1961), and The Misadventures of Merlin Jones for Disney. For his part, Kirk had previously starred in Old Yeller (1957), The Shaggy Dog, Swiss Family Robinson (1960), The Absent-Minded Professor (1961), Babes in Toyland, Moon Pilot (1962), Bon Voyage! (1962), Son of Flubber (1963), Savage Sam (1963), and The Misadventures of Merlin Jones for the company.
A Cold August: Part 2
As had been the case in The Misadventures of Merlin Jones, the screenplay for The Monkey's Uncle, credited to the pseudonym "Tom and Helen August," was the work of Alfred Lewis Levitt and his wife, Helen Slotte Levitt. The Levitts utilized the "August" moniker after 1951 upon being blacklisted for Communist activities. (1)  Their work for Disney is interesting considering Walt Disney's staunch anticommunist politics. (2)
College Life
The Monkey's Uncle incorporates typical arguments over the point of college.  To this end, Judge Holmsby and Mr. Dearborne debate the value of sports as compared to academics and the relative importance of thinking as compared to rote memorization.
Dreams
A revered Disney quote, though uttered by Disney Imagineer Tom Fitzgerald rather than Walt Disney himself, is "if you can dream it, you can do it." (3) In The Monkey's Uncle, Merlin teaches Leon and Norman more than they ever thought they could know about English literature, or anything else for that matter, through audio recordings imparted into their brains while they sleep. Additionally, when Merlin exudes doubt over his ability to invent an honest way to cheat, Jennifer tells her boyfriend, "I believe you can do anything if you really put your mind to it."
Music
The Monkey's Uncle commences with a catchy number of the same name, composed by the classic Disney songwriting duo of Richard and Robert Sherman and performed by Annette Funicello and The Beach Boys.
Humor
The Monkey's Uncle is consistently uproarious.
After Judge Holmsby announces that Merlin can serve as Stanley's uncle, the chimpanzee gives the judge a banana, which Holmsby accidentally uses as a gable.
Stanley is instructed to brush his teeth, but he goes further, enjoying a bubble bath.
Haywood (Mark Goddard) of the Mu Mu fraternity tries to brownnose Judge Holmsby in discussing the latter's tenure on Midvale's football team. Judging by the reactions of Leon and Norman to Haywood's claim that Holmsby was frequently mentioned by the Mu Mu in the same breath as pigskin legends Knute Rockne and Red Grange, Holmsby's tenure on the gridiron is probably largely forgotten.
Stanley simultaneously reads a physics textbook and a comic book.
Jennifer wanted Merlin to compliment her new dress, but his claim that it looks "very comfortable" was not what she was hoping for. This line reminded me of Aladdin's botched compliment of Jasmine as "punctual" rather than "beautiful" or something more romantic in Aladdin (1992).
Humorous bits of logic are occasionally incorporated throughout the film. For example, Haywood tells Merlin that he should help Norman and Leon cheat because, considering their ignorance, their ability to compete with Merlin in the classroom is akin to Merlin's ability to compete with the heavyset Norman in a boxing match.  Later, when Mr. Dearborne says that he learned law from watching court scenes in television shows, Judge Holmsby notes that he should learn medicine through watching "doctor shows."
When Merlin becomes angry that Stanley's babysitter is ten seconds late, Jennifer tries to relieve the tension. Moments later, Merlin and Jennifer switch attitudes when the female sitter, Lisa (Cheryl Miller), seems to like Merlin.
Norman relays extremely thorough information about the Elizabethan era of English literature to Professor Shattuck. Unfortunately for the football player but happily for the audience, Norman is scolded for not answering in his own voice.
The aviation video that Merlin shows Leon might have been counterproductive in the sense that only mishaps are encountered. These crashes do not help alleviate Leon's fears of partaking in the flying experiment.
Darius Green III tries to be someone to everyone. As such, he encounters problems.
Relationship to Other Disney Films
Another amazing Merlin, albeit one who preferred magic to science, was a protagonist in Disney's animated classic The Sword in the Stone (1963).
Alan Hewitt portrayed another academic, Dean Collingsgood of Springfield State College, in the first two installments of the "Medfield College trilogy," The Computer Wore Tennis Shoes (1969) and Now You See Him, Now You Don't (1972).
Leon Ames previously portrayed President Rufus Daggett of Medfield College in The Absent-Minded Professor and Son of Flubber.
The Monkey's Uncle was the tenth of nineteen Disney films directed by Robert Stevenson. Stevenson, who was named a Disney Legend in 2002, had previously directed  Johnny Tremain (1957), Old Yeller, Darby O'Gill and the Little People (1959), Kidnapped (1960), The Absent-Minded Professor, In Search of the Castaways (1962), Son of Flubber, The Misadventures of Merlin Jones, and Mary Poppins (1964) for Disney; and he subsequently directed That Darn Cat! (1965), The Gnome-Mobile (1967), Blackbeard's Ghost (1968), The Love Bug (1968), Bedknobs and Broomsticks (1971), Herbie Rides Again (1974), The Island at the Top of the World (1974), One of Our Dinosaurs Is Missing (1975), and The Shaggy D.A. (1976) for the studio.
The Monkey's Uncle was among numerous Disney films of its era to be set at a fictional college beginning with the letter "M." The Misadventures of Merlin Jones and The Monkey's Uncle were set at Midvale College; The Absent-Minded Professor, Son of Flubber, The Computer Wore Tennis Shoes, Now You See Him, Now You Don't, and The Strongest Man in the World (1975) were set at Medfield College; and The World's Greatest Athlete (1973) took place at Merrivale College. (4)
Monkeys were also utilized by Disney in Monkeys, Go Home! (1967) and The Barefoot Executive (1971).
In the Parks
A punny tribute to Annette Funicello, a net full of jello, appears in the preshow to "Muppet*Vision 3D" at Walt Disney World's Disney's Hollywood Studios theme park.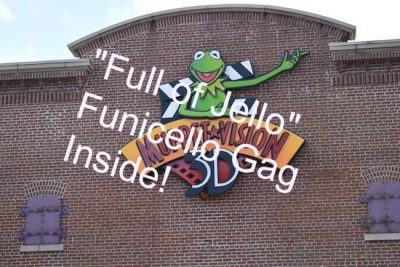 Photo Copyright Tim Rogers
Overall
If nothing else, The Monkey's Uncle is entertaining. Be sure to give it a watch after viewing The Misadventures of Merlin Jones. The four features between the two films can be enjoyed on their own terms, but they make more sense if viewed in order.
Notes
1) Alfred Lewis Levitt, 87 Screenwriter blacklisted in McCarthy era. (2002, November 25). Chicago Tribune. Retrieved March 14, 2016, from http://articles.chicagotribune.com/2002-11-25/news/0211250131_1_alfred-lewis-levitt-tom-levitt-writers-guild
2) Evanier, M. (2004, March 6). Blacklist Memories. Retrieved March 14, 2016, from http://www.newsfromme.com/2004/03/06/blacklist-memories/
Thanks to @disfilmproject on Twitter for pointing this article out to me.
3) Novak, M. (2015, March 19). 8 Walt Disney Quotes That Are Actually Fake. Retrieved March 31, 2017, from http://gizmodo.com/8-walt-disney-quotes-that-are-actually-fake-1692355588
4) Smith, D. (2012). Live-Action Films. In Disney Trivia from the Vault: Secrets Revealed and Questions Answered (pp. 133-134). New York: Disney Editions.
What do you think of The Monkey's Uncle? Let me know in the comments!
Sponsored Ad:  Would you like to help support The Mouse For Less website in continuing their mission of being THE Disney vacation planning resource?  You can do so by purchasing The Monkey's Uncle from our Affiliate Link through Amazon. Thanks so much for your support!
Incoming search terms: