This post may contains affiliate links for your convenience. If you make a purchase after clicking a link we may earn a small commission but it won't cost you a penny more! Read our full disclosure policy here.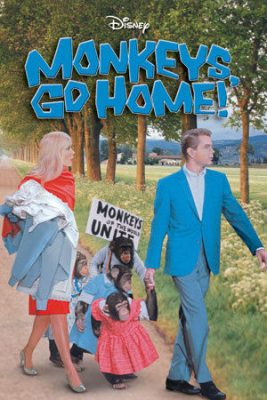 DVD Cover Copyright Disney
A live action comedy based on G.K. Wilkinson's 1962 novel The Monkeys, Monkeys, Go Home! was theatrically released on February 8, 1967. The film, the first Disney movie released following the death of Walt Disney on December 15, 1966, is 101 minutes in length.
Plot Summary
With an inheritance and a dream, Hank Dussard (Dean Jones), formerly of the United States Air Force, ventures to France to profit off his late uncle's olive farm. Upon arriving, Dussard receives three pieces of bad news. First, and least problematic in the long run, he will be pestered by a pair of well-meaning but obtrusive neighbors, Father Sylvain (Maurice Chevalier) and a charming young woman named Maria Riserau (Yvette Mimieux). Secondly, jealous locals led by insurance agent Emile Paraulis (Clément Harari) want to trick Dussard out of his property for their own benefit. Finally, picking olives is apparently a more difficult enterprise than Dussard imagined. With no other plausible option in mind, Dussard drives off in the middle of the night and returns with four female chimpanzees, which Dussard was acquainted with from his days at the Air Force, to help with the olive picking. The chimpanzees are capable of doing the work, but Dussard's neighbors, save for Father Sylvain and Maria, complain about Dussard's methods. Dussard's stay in France is quickly turning unpleasant. Will he cut his losses and return to the United States?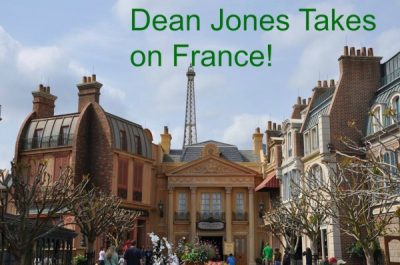 Photo Copyright Pam Forrester
Elements
Jones, Chevalier, and Mimieux are all excellent in Monkeys, Go Home! The plot is suspenseful for the most part, but even if it was dull, the acting would make this film worth watching. The one part of the plot that is not suspenseful is the love story; I could tell from the first scene how the relationship would culminate.
The movie, for better or worse, is thought provoking. Some political issues, including labor relations, freedom of speech, privacy rights, and the dangers of mob rule, are encountered throughout the course of the film. I think the film's literal final scene is symbolic of freedom.
Music
Although none of it is especially memorable, Monkeys, Go Home! features a good variety of instrumental and lyrical tunes. These numbers range from joyful choir chants to instrumental numbers of folly, which are reminiscent of music from a baseball blooper video. The silly music takes center stage during the brawl scene towards the end of the movie.
Humor
Hilarious moments are interspersed throughout Monkeys, Go Home!
Paraulis is extremely excited upon meeting his first American, Dussard!
Maria Riserau's appearance in Dussard's house puts the latter in a tough situation. On one hand, she has entered without permission; on the other hand, she makes a good, free breakfast!
Dussard gives his monkeys French names: Madeline, Celeste, Delphine, and Monique.
Free speech is made messy by a liberal, and legal, use of paint by all sides to express their respective opinions.
If regular monkeys are not a sufficient reason for Dussard's self-proclaimed cousin Yolande Angelli (Yvonne Constant) to leave the house, monkeys disguised as ghosts might work.
A spontaneous riot erupts after Father Sylvain accuses the unscrupulous butcher, Marcel Cartucci (Bernard Woringer), of either being dishonest for willingly working with Paraulis or of being a fool for believing Paraulis's lies.
Relationship to Other Disney Films
Monkeys, Go Home! was the third of ten Disney films to star Dean Jones, who was named a Disney Legend in 1995. Jones had previously starred in That Darn Cat! (1965) and The Ugly Dachshund (1966) for Disney, and he subsequently starred in Blackbeard's Ghost (1968), The Horse in the Gray Flannel Suit (1968), The Love Bug (1968), The Million Dollar Duck (1971),  Snowball Express (1972), The Shaggy D.A. (1976), and Herbie Goes to Monte Carlo (1977) for the company. Jones would also make a cameo in the 1997 remake of That Darn Cat!
Monkeys, Go Home! marked the latter of Maurice Chevalier's two on-screen appearances in Disney films, the first having come in In Search of the Castaways (1962). Chevalier also sang the Sherman Brothers' title song, "The Aristocats," for The Aristocats (1970).
Reminiscing on Chevalier's role in The Aristocats during a 2012 interview, legendary Disney composer Richard Sherman said: "We're [Richard and his brother, Robert Sherman] very particularly proud of that song because we got him to come out of retirement to do it. It was quite a job to get him to do it. We had done a number of songs for Chevalier, and our dad who was a songwriter wrote songs for Chevalier back in the '30s and so it was like a family thing. He was very sweet, and we'd done songs [sung by Chevalier] for In Search of the Castaways and Monkeys Go Home, and then when The Aristocats came up, they said, 'Who's the perfect guy for the title song to set the style and feel?' There was only one Maurice Chevalier, and unfortunately he was retired. So that's when Woolie [Wolfgang] Reitherman, the director of The Aristocats, said, 'Sherman, you can do a demo, but make it sound like Chevalier, and we'll send it to him.' And so I made a demo where I made my voice sound like Chevalier's. He came out of retirement, which was marvelous." (1)
Disney also incorporated monkeys in The Misadventures of Merlin Jones (1964), The Monkey's Uncle (1965), and The Barefoot Executive (1971).
A plot to take real estate from Jones's character is also encountered in Snowball Express.
In the Parks
Guests at Epcot can enjoy French architecture, culture, and food at the France Pavilion in World Showcase.
Two Disney theme parks, Disneyland Park Paris and Walt Disney Studios Park, are situated at Disneyland Resort Paris, which is located in Marne-la-Vallée, France, about twenty miles outside of Paris proper.
Overall
Monkeys, Go Home! is an engaging effort with an above-average plot, great acting, and plenty of laughs.
Notes
1) Rome, E. (2012, August 21). 'The Aristocats' on Blu-ray: Songwriter Richard Sherman reflects on the Disney classic and working with Walt. Retrieved December 9, 2016, from http://www.ew.com/article/2012/08/21/the-aristocats-richard-sherman-music
What do you think of Monkeys, Go Home!? Let me know in the comments!
Sponsored Ad:  Would you like to help support The Mouse For Less website in continuing their mission of being THE Disney vacation planning resource?  You can do so by purchasing Monkeys, Go Home from our Affiliate Link through Amazon. Thanks so much for your support!