This post may contains affiliate links for your convenience. If you make a purchase after clicking a link we may earn a small commission but it won't cost you a penny more! Read our full disclosure policy here.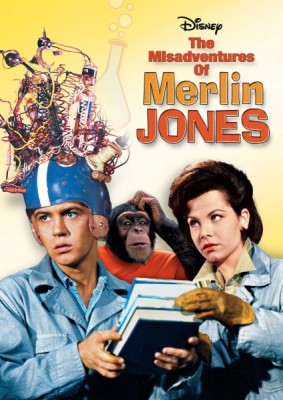 DVD Cover Copyright Disney
A live action throwback to Disney's animated package films of the 1940s, which amalgamated multiple short segments based around a common theme in lieu of a single plot-based story, The Misadventures of Merlin Jones was theatrically released on March 25, 1964. The 91-minute comedy was followed by a sequel, The Monkey's Uncle (1965).
Plot Summary
The Misadventures of Merlin Jones features two roughly forty-minute segments sans an overt interlude, the second story commencing immediately after the first story ends. Both segments feature Merlin Jones (Tommy Kirk), a budding scientist at fictional Midvale College; Jennifer (Annette Funicello), Jones's popular girlfriend; Professor Shattuck (Alan Hewitt), Midvale's science teacher; Norman (Norman Grabowski), Midvale's pompous football star and animal tender; and Judge Holmsby (Leon Ames), the community's multifaceted legal authority.
In both stories, the title character encounters legal problems related to his science experiments. The first segment involves mind-reading; the second story features hypnosis. The former story is more suspenseful; the latter story is funnier. Regardless, both tales are highly entertaining.
Reviews
Eugene Archer panned The Misadventures of Merlin Jones in his New York Times column, noting especially the flick's different segments. Said Archer: "Movies made for television are commonplace these days, but the idea of screening television shows in movie theaters is still0 far-fetched. Who is expected to spend the $2?
Strange as it sounds, this seems to be the explanation behind Walt Disney's latest miss, 'The Misadventures of Merlin Jones.' It is a pastiche of two separate stories with the same set of characters, each running less than an hour (leaving time for commercials), abruptly and pointlessly stitched together in the middle and deposited yesterday in neighborhood theaters.
Were they intended as the first two parts of a series? Or was the series rejected by the networks, and siphoned off to unsuspecting paying customers?
The latter possibility seems more likely, since the quality is low even by television standards. The pattern is for cheap situation comedy about a scientifically inclined high school boy whose experiments with hypnosis and a complicated mind-reading gadget land him in trouble with the law." (1)
Newsday film critic Michael McGrady was likewise pessimistic about the effort, though he noted the potential appeal of the cast, which included Disney regulars Annette Funicello and Tommy Kirk, who were named Disney Legends in 1992 and 2006, respectively. Said McGrady: "All right, Mouseketeers, let's go to the movies. The whole Disney gang (Tommy Kirk and Annette) is here in living color. This situation comedy about a boy wonder is billed as family entertainment—but oldsters may have trouble figuring out what the kids are laughing about." (2)
A Cold August
The film's screenplay, credited to the pseudonym "Tom and Helen August," was the work of Alfred Lewis Levitt and his wife, Helen Slotte Levitt. The Levitts utilized the "August" moniker after 1951 upon being blacklisted for Communist activities. (3)  Their work for Disney is interesting considering Walt Disney's staunch anticommunist politics. (4)
Merlin Disney
Merlin Jones resembles Walt Disney both in his ability to disregard critics and his desire to spark progress in his field, science. Improvement cannot occur if risks are not occasionally taken. As Disney disregarded cries that his ventures into full length animated features and live action movies, to provide two examples, were foolhardy, Jones successfully ignores the almost-universal admonishments made against his scientific experiments. As Merlin tells Norman in the film's second segment, "Most ideas are crackpot, till they're perfected."
Characterization
Judge Holmsby symbolizes the complexity of man. People, no matter their position in life, are often more complex, for better or worse, than they superficially appear.
Conversely, Professor Shattuck is arguably the dullest professor ever created by Disney. Compared with Professor Brainard from The Absent-Minded Professor (1961) and Son of Flubber (1963), Professor Quigley from The Computer Wore Tennis Shoes (1969) and The Strongest Man in the World (1975), and even Professor Ivarsson from The Island at the Top of the World (1974), Shattuck has no personality and comes across as a complete caricature.
Music
Annette Funicello sings a whimsical, jazzy theme song, which explains why the popular Jennifer loves the geeky Merlin Jones rather than one of her many other suitors, over the opening credits. I found the song, written by the legendary duo of Richard and Robert Sherman, decent but not especially memorable. It is one of the Sherman Brothers' weaker numbers.
Humor
Realistic cartoon drawings of Kirk, Funicello, and Norman Grabowski are featured with the opening credits. Also visible here are pennants for a series of real universities, including Georgia Tech, Ohio State, U.C.L.A., Stanford, California, Wisconsin, Penn State, Purdue, and Cornell, to either side of a Midvale pennant.
A student in the library mentions President Zachary Taylor, who is identified as the eleventh president when he was actually the twelfth president, in the same thought as an ice cream sundae. A possible connection between these two subjects is Taylor's admitted admiration for former first lady Dolley Madison, who was known for her ice cream!
Merlin offers precise scientific definitions and explanations, which nobody else can comprehend.
Jennifer is alternately blunt, sarcastic, verbose, and melodramatic. Her conversation with an imprisoned Merlin in the second segment is hysterical.
Merlin's ability to read people's thoughts causes some problems in the library, where he is the only patron encountering noise.
Working his side job at a waiter, Merlin jeopardizes his tip by providing excessively attentive service to Judge Holmsby. No, I don't want those peach pits a la mode!
Merlin behaves strangely under the combined influence of hypnosis and water.
Judge Holmsby performs random errands after the witching hour.
The film's second story is dominated by monkey business!
Relationship to Other Disney Films
Another amazing Merlin, albeit one who preferred magic to science, was a protagonist in Disney's animated classic The Sword in the Stone (1963).
The first story's plot includes a sharp twist that rivals the plot shift in Frozen (2013).
Alan Hewitt portrayed another academic, Dean Collingsgood of Springfield State College, in the first two installments of the "Medfield College trilogy," The Computer Wore Tennis Shoes and Now You See Him, Now You Don't (1972).
Leon Ames previously portrayed President Rufus Daggett of Medfield College in The Absent-Minded Professor and Son of Flubber.
The Misadventures of Merlin Jones was the eighth of nineteen Disney films directed by Robert Stevenson, dating back to Johnny Tremain (1957). Stevenson was named a Disney Legend in 2002.
The Misadventures of Merlin Jones was among numerous Disney films of its era to be set at a fictional college beginning with the letter "M." The Misadventures of Merlin Jones and The Monkey's Uncle were set at Midvale College; The Absent-Minded Professor, Son of Flubber, The Computer Wore Tennis Shoes, Now You See Him, Now You Don't, and The Strongest Man in the World were set at Medfield College; and The World's Greatest Athlete (1973) took place at Merrivale College. (5)
The Misadventures of Merlin Jones marked Tommy Kirk's penultimate performance in a live action Disney film, the flick's sequel, The Monkey's Uncle, being his final Disney effort. Kirk had previously appeared in Old Yeller (1957), The Shaggy Dog (1959), Swiss Family Robinson (1960), The Absent-Minded Professor, Babes in Toyland (1961), Moon Pilot (1962), Bon Voyage! (1962), Son of Flubber, and Savage Sam (1963) for the studio.
Disney's multi-story package films dominated during the 1940s because of World War II and studio turmoil. These productions included Saludos Amigos (1942), The Three Caballeros (1944), Make Mine Music (1946), Fun and Fancy Free (1947), Melody Time (1948), and The Adventures of Ichabod and Mr. Toad (1949).
During the Davy Crockett boon of the mid-1950s, Disney repackaged five episodes of the frontiersman's beloved television series between two films, Davy Crockett, King of the Wild Frontier (1955) and Davy Crockett and the River Pirates (1956).
The Sherman Brothers also composed unforgettable songs for The Parent Trap (1961), Mary Poppins (1964), The Aristocats (1970), and The Many Adventures of Winnie the Pooh (1977) to name four of their efforts. They were named Disney Legends in 1990.
In the Parks
A punny tribute to Annette Funicello, a net full of jello, appears in the preshow to "Muppet*Vision 3D" at Walt Disney World's Disney's Hollywood Studios.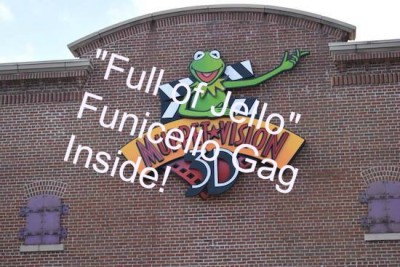 Photo Copyright Tim Rogers
The Sherman Brothers contributed the respective soundtracks for the Magic Kingdom's "Walt Disney's Enchanted Tiki Room," "Walt Disney's Carousel of Progress," and "It's a Small World"; and Epcot's "Journey Into Imagination With Figment."
Overall
The respective plots are somewhat forced and underdeveloped, but The Misadventures of Merlin Jones is worth watching, especially for Disney history buffs. The stories are suspenseful, and there are plenty of laughs.
Notes
1) Archer, E. (1964, March 26). Misadventures of Merlin Jones' Opens. New York Times, p. 40. Retrieved March 14, 2016, from http://www.nytimes.com/movie/review?res=9906E2D71230E033A25755C2A9659C946591D6CF
Page number from ProQuest Historical Newspapers: The New York Times with Index database
2) McGrady, M. (1964, February 19). Gassman Is High-Octane in 'Easy Life' Newsday, p. 2C. Retrieved March 14, 2016, from http://0-search.proquest.com.alpha1.suffolk.lib.ny.us/docview/913675279?accountid=35174
3) Alfred Lewis Levitt, 87 Screenwriter blacklisted in McCarthy era. (2002, November 25). Chicago Tribune. Retrieved March 14, 2016, from http://articles.chicagotribune.com/2002-11-25/news/0211250131_1_alfred-lewis-levitt-tom-levitt-writers-guild
4) Evanier, M. (2004, March 6). Blacklist Memories. Retrieved March 14, 2016, from http://www.newsfromme.com/2004/03/06/blacklist-memories/
Thanks to @disfilmproject on Twitter for pointing this article out to me.
5) Smith, D. (2012). Live-Action Films. In Disney Trivia from the Vault: Secrets Revealed and Questions Answered (pp. 133-134). New York: Disney Editions.
What do you think of The Misadventures of Merlin Jones? Let me know in the comments!
Sponsored Ad:  Would you like to help support The Mouse For Less website in continuing their mission of being THE Disney vacation planning resource?  You can do so by purchasing The Misadventures of Merlin Jones from our Affiliate Link through Amazon. Thanks so much for your support!