This post may contains affiliate links for your convenience. If you make a purchase after clicking a link we may earn a small commission but it won't cost you a penny more! Read our full disclosure policy here.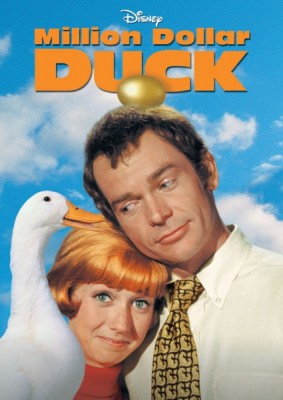 DVD Cover Copyright Disney
Based on the Aesop Fable "The Goose that Laid the Golden Eggs," The Million Dollar Duck was theatrically released on June 30, 1971. The live action comedy, which does not produce any cameos from Donald Duck or Scrooge McDuck, is eighty-nine minutes in length.
Plot Summary
Struggling to pay his bills, Professor Albert Dooley (Dean Jones) of California desperately urges his family, which includes his wife Katie Dooley (Sandy Duncan) and his preteen son Jimmy Dooley (Lee Montgomery), to economize wherever possible. As a result of this plan, Mrs. Dooley has to make her own applesauce, and Jimmy cannot buy the fifty-dollar puppy he wants. Nobody in the household is happy.
Then, out of the blue, a seeming non-entity saves the fiscal day. A duck at Professor Dooley's laboratory escapes into the adjoining radiology lab, gets zapped, and begins to lay golden eggs. Professor Dooley has hit the jackpot, but his problems, far from being solved, are now compounded by conflicting agendas. While Jimmy comes to love the duck, which he names "Charley" in spite of its gender, as a pet, not as a source of wealth, Professor Dooley and his lawyer neighbor Fred Hines (Tony Roberts) are merely interested in covertly profiting from the duck's emissions.
Unfortunately for the duo, another neighbor, Finley Hooper (Joe Flynn), an employee of the United States Department of the Treasury, is becoming increasingly suspicious about its activities. Ditto the United States government as a whole. The money is there, but prosperity is elusive. Will happiness prevail, or will this golden scheme come home to roost?
Reviews
Roger Ebert got right to the point in disclosing his opinion of The Million Dollar Duck, commencing his July 13, 1971 Chicago Sun-Times column with "Walt Disney's '$1,000,000 Duck' is one of the most profoundly stupid movies I've ever seen." (1) Ouch!
Howard Thompson of the New York Times, conversely, enjoyed the film, saying, "The picture spins along so easily and breezily, under Vincent McEveety's direction, that even a climactic auto mixup seems natural. It was certainly funny, as viewed over a sea of little heads yesterday, and the children ate it up." (2)
Though a full review of The Million Dollar Duck was not featured in Newsday, the publication saw mass appeal in the effort, following a brief summary of the flick with the comment: "It is another sure-fire money maker for Walt Disney's studios." (3) I would guess that most people paid for their tickets with cash or credit cards, not with golden eggs, but that is another story.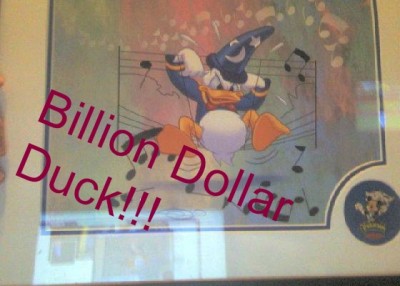 Priorities
Though it features numerous unlikeable characters, The Million Dollar Duck lacks a great villain. Mr. Hooper, by virtue of his sneaky activities, is the film's antagonist, but he is unlikely to make your blood boil. Most of the film's players, including Professor Dooley, Mr. Hines, and a pair of teenage neighbors, Arvin Wadlow (Jack Bender)  and Orlo Wadlow  (Billy Bowles), demonstrate human complexity in that they are ordinary, flawed people, who sometimes misplace their priorities.
Professor Dooley subconsciously becomes obsessed with money at the expense of his parental obligations. For example, when Mrs. Dooley tells her husband to close the window so that their son does not catch cold, Mr. Dooley covers Charley with a blanket and leaves Jimmy uncovered. Later, when Professor Dooley is informed that Jimmy and Charley are going for a car ride with the Wadlows, who are notoriously reckless drivers, Professor Dooley exudes extreme concern for the welfare of the duck and none for that of his son. Professor Dooley loves Jimmy, but his financial situation has temporarily warped his better judgement.
Success
Intelligence is not always a harbinger of success. Professor Dooley was voted the "most likely to succeed" in the Norton College graduating class of 1959, but he is mired in severe financial straits. Enduring similar troubles, Mr. Hines laments to Dooley, "Sometimes I wish I'd been born rich instead of brilliant." The eventual Charley, conversely, produces bullion despite failing all of his intelligence tests in the laboratory. The duck happened to be in the right place at the right time.
Music
An extended instrumental number accompanies the opening credits. The tune, like the film itself, is silly in tone. It sounds like what you would get if a duck was playing various instruments inside a cash register.
Humor
The Million Dollar Duck explores the relationship between specie and species.
Mrs. Dooley has a tendency to confuse people, words, and phrases. In the middle of the film, for example, she reprimands her husband, "Albert, I can't keep the duck locked up all the time; it's only human you know!"
Charley lays figurative eggs on her laboratory intelligence tests, but these failures are rendered irrelevant by the eggs she literally lays.
As Charley only reacts to barking, the various humans imitate canines throughout the film. To complicate matters, the barking has to occur at a certain pitch to work.
The Dooleys, Charley, Mr. Hooper, and Mr. Hooper's dog all fight a battle in the Hoopers's swimming pool. It is like a wild nature video mixed with an Aflac commercial. A similar scene occurs later in the film at the farm of Mr. Purdham (Arthur Hunnicutt).
Mr. Purdham sells Charley back to Professor Dooley for five dollars. Talk about a heist for Dooley!
In a car chase scene towards the end of the film, Professor Dooley is repeatedly forced to duck, pun somewhat intended, to avoid banging his head into overpasses.
Relationship to Other Disney Films
Dean Jones and Joe Flynn were Disney regulars, appearing in a combined twenty films for the company between 1963 and 1997. Jones had previously appeared in That Darn Cat (1965), The Ugly Dachshund (1966), Monkeys, Go Home! (1967), Blackbeard's Ghost (1968), The Horse in the Gray Flannel Suit (1968), and The Love Bug (1968); and he subsequently appeared in Snowball Express (1972), The Shaggy D.A. (1976), Herbie Goes to Monte Carlo (1977), and That Darn Cat (1997).
For his part, Flynn had previously appeared in Son of Flubber (1963), The Love Bug, The Computer Wore Tennis Shoes (1969), and The Barefoot Executive (1971); and he subsequently worked on Now You See Him, Now You Don't (1972), Superdad (1973), The Strongest Man in the World (1975), and The Rescuers (1977), his efforts in the latter two films appearing posthumously.
Like Professor Dooley, Dean Jones's character in The Horse in the Gray Flannel Suit, Mr. Fred Bolton, became temporarily enamored with his pet at the expense of his child.
In The Million Dollar Duck, Mr. Hooper is a government official who seeks to oust an academic. Conversely, in The Computer Wore Tennis Shoes, Now You See Him, Now You Don't, and The Strongest Man in the World, Joe Flynn's character, Dean Eugene Higgins, is a college administrator opposed to the government.
In The Million Dollar Duck, Mr. Hooper is reprimanded by his wife, Eunice Hooper (Virginia Vincent), for spying on the neighbors. Conversely, in That Darn Cat, a husband, Mr. MacDougall (William Demarest), lambastes his wife (Elsa Lanchester) for prowling on their neighbors.
In the Parks
No attractions or regular character meets pertaining directly to The Million Dollar Duck are featured at either Walt Disney World or Disneyland.
Overall
The Million Dollar Duck will likely amuse you regardless of your thoughts on the overall effort. Its run time is short too, so give it a watch and decide for yourself.
Notes
1) Ebert, R. (n.d.). $1,000,000 DUCK. Retrieved May 12, 2016, from http://www.rogerebert.com/reviews/1000000-duck-1971
2) Thompson, H. (1971, September 2). Duck Worth $1,000,000. New York Times, p. 41. Retrieved May 12, 2016, from http://0-search.proquest.com.alpha1.suffolk.lib.ny.us/docview/119103300?accountid=35174
3) SELECTED REVIEWS. (1971, September 3). Newsday, p. 64A. Retrieved May 12, 2016, from http://0-search.proquest.com.alpha1.suffolk.lib.ny.us/docview/916076736?accountid=35174
What do you think of The Million Dollar Duck? Let me know in the comments!
Sponsored Ad:  Would you like to help support The Mouse For Less website in continuing their mission of being THE Disney vacation planning resource?  You can do so by purchasing The Million Dollar Duck from our Affiliate Link through Amazon. Thanks so much for your support!
Incoming search terms:
Million dollar duck review