This post may contains affiliate links for your convenience. If you make a purchase after clicking a link we may earn a small commission but it won't cost you a penny more! Read our full disclosure policy here.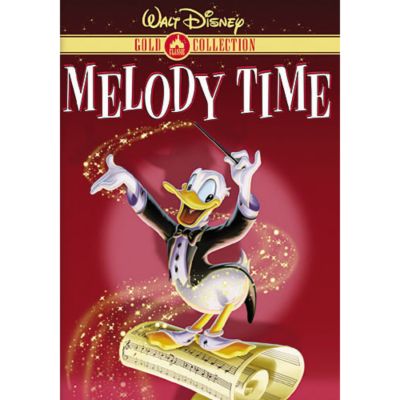 Melody Time was released on May 27, 1948 as the 10th full-length animated feature in Disney history. The 75-minute flick was the fifth in a line of six consecutive package films released by the studio. The package films combined numerous short segments based around a common theme, in this case music, as opposed to a single plot-based story.
Structure
Melody Time incorporates eight short segments, "Once Upon a Wintertime," "Bumble Boogie," "Johnny Appleseed," "Little Toot," "Trees," "Blame It on the Samba," "Blue Shadows on the Trail," and "Pecos Bill," which showcase diverse music and animation styles.
Towards the end of the opening credits, the narrator gleefully tells viewers to "come on in, and join the fun; there's something here for everyone!" This line summarizes Walt Disney's goal in creating the package films: to offer different styles of a similar concept such as to appeal to a broad audience. (1)
Music
The music style changes amongst the segments to account for different themes and moods. For example, "Once Upon a Wintertime" features a soothing love song, "Little Toot" utilizes swing, and "Pecos Bill" brings country western to the mix. The songs were performed by notable contemporary musicians, including Frances Langford, The Andrews Sisters, and Roy Rogers.
Some of the segments artfully synchronize the music to the on-screen action. In "Once Upon a Wintertime," the lady sliding down the ice is accompanied by a long note; the man scraping the ice is accompanied by a sharp note; and the angry walk of the lady is accompanied by short notes. Similarly, in "Trees," the notes increase in duration as the ripple effect grows in the water.
Animation
Melody Time utilizes different animation styles in different segments. While "Once Upon a Wintertime," "Johnny Appleseed," "Little Toot," and "Pecos Bill" use a typical Disney approach to tell a plot-based story involving characters in real-world settings, "Bumble Boogie," "Trees," and "Blame It on the Samba," are more abstract in nature. These latter shorts are visually enticing with surreal backgrounds but possess no real story.
All of the segments are adequately animated, but I thought "Trees" stood out in this regard. Various aspects of the forest, including the tree, the sky, and a pond, are beautifully executed and exude a peaceful feeling. I think "Trees' would be enjoyable to watch even without music.
Additionally, "Blame It on the Samba," "Blue Shadows on the Trail," and "Pecos Bill" incorporate live actors into the cartoons.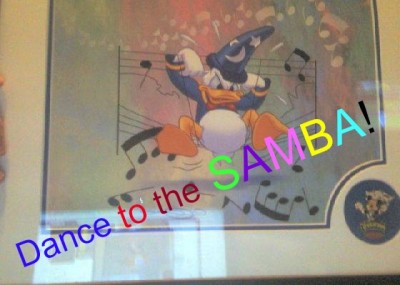 Lessons
Life lessons are depicted through "Johnny Appleseed," "Little Toot," and "Pecos Bill."
"Johnny Appleseed" demonstrates the power of faith as well as the Golden Rule. Though Johnny is far from the strongest man in terms of muscles, he nonetheless succeeds because of his determination and passion surrounding the planting of apple trees. Applying the Golden Rule aids Johnny when he first ventures into the forest because the animals are willing to cooperate with the respectful settler. If Johnny was mean to the critters, he would have likely been bear chow, but I digress.
"Little Toot" exudes the importance of hard work and maturity. It also shows that one's decisions can impact others and that redemption is possible. The title character, a young tug boat, only realizes the detriments of his inappropriate behavior after being arrested and "disgrace[ing] his father's name."
"Pecos Bill" shows the flaws in seemingly good people…and, well, horses. Ah, personification at its best. Anyway, to get back on track, Bill's horse, Widowmaker, becomes dangerously jealous when the human's girlfriend, Slue-Foot Sue, begins to occupy most of Bill's time.
"Pecos Bill" also incorporates several geography and science lessons, but I'm not sure they're entirely accurate; more on this in the next section.
Humor
Have you ever wondered why wolves howl, or how the Gulf of Mexico and the Rio Grande came to be? Well, I have some good news and some bad news. The good news is that "Pecos Bill" provides answers to these questions. The bad news is that the answers are comically inaccurate.
Bill is incredible at imitating animals. He can run with an antelope, hop with a jackrabbit, and scare a rattlesnake into a worm.
The apple celebration segment in "Johnny Appleseed" is rather amusing. This scene demonstrates why biting an apple that's hanging by a thread isn't a good idea.
The abstract works contain numerous bizarre visuals. For example, the bee in "Bumble Boogie" rides a keyboard that morphs into a snake and is nearly crushed by quarter notes. Similarly, in "Blame It on the Samba," Donald Duck and Jose Caricoa ride an eighth note into a whole…err, hole.
On that note, let's move on!
Suspense
Some scenes in Melody Time may push you to the edge your seat.
Will the lady in "Once Upon a Wintertime" be rescued before she drifts over the waterfall? Will the curious skunk spray Johnny Appleseed such as to banish him from the forest? Will Slue-Foot Sue survive her intentional ejection from Widowmaker?
You'll have to watch the movie to find out!
Relationship to Other Disney Films
As related figures, such as Paul Bunyan and Davy Crockett, are addressed at the start of "Johnny Appleseed," so too are they at the commencement of both portions of The Adventures of Ichabod and Mr. Toad (1949).
The stars of "Blame It on the Samba," Donald Duck, Jose Carioca, and Panchito Pistoles, were the title characters of The Three Caballeros (1944). Donald and Jose Carioca originally appeared in Saludos Amigos (1942).
Similar to Pecos Bill, human characters were raised by animals in both The Jungle Book (1967) and Tarzan (1999).
Bobby Driscoll, who appeared as the live-action cowboy child in the final two segments, later voiced the title character in Peter Pan (1953).
"Pecos Bill" reminded me of "Gaucho Goofy" from Saludos Amigos because of the cowboy theme and silly antics.
A pair of Siamese cats appears in "Pecos Bill." Such felines play an important role in Lady and the Tramp (1955).
In the Parks
Donald Duck, Jose Carioca, and Panchito Pistoles lead guests on a boat ride, "Gran Fiesta Tour Starring The Three Caballeros," through Epcot's indoor Mexico pavilion.
Guests at Walt Disney World's Magic Kingdom can enjoy lunch and dinner at Frontierland's "Pecos Bill Tall Tale Inn & Café," a counter service restaurant with a legendary toppings bar.
Overall
Melody Time is fragmented, but the individual segments are enjoyable. It may be best to watch the film over multiple viewings such as to better judge the various shorts on their own terms. For example, if you dislike "Blame It on the Samba," your displeasure may transfer to "Pecos Bill." A break might be beneficial in such a situation to clear your head.
Notes
1) Watts, S. (1997). Disney's Descent. The Magic Kingdom: Walt Disney and the American Way of Life (). Columbia, Missouri: University of Missouri Press, pp. 248-9.
What do you think of Melody Time? Let me know in a comment!
Sponsored Ad:  Would you like to help support The Mouse For Less website in continuing their mission of being THE Disney vacation planning resource?  You can do so by purchasing Melody Time from our Affiliate Link through Amazon. Thanks so much for your support!