This post may contains affiliate links for your convenience. If you make a purchase after clicking a link we may earn a small commission but it won't cost you a penny more! Read our full disclosure policy here.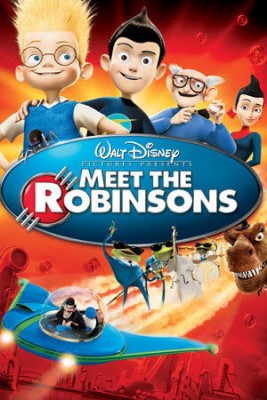 DVD Cover Copyright Disney
Meet the Robinsons was theatrically released as the forty-seventh full length animated feature in Disney history on March 30, 2007. It is based on William Joyce's 1990 children's book A Day with Wilbur Robinson and is ninety-four minutes in length.
Changes
Meet the Robinsons was the first of the recent Disney animated features to involve John Lasseter, a former Disney animator and the major creative force at Pixar Animation Studios, after the Walt Disney Company agreed to acquire Pixar in one of the most significant moves in the company's history on January 24, 2006. (1)
Lasseter got to work quickly after assuming control of Disney animation, reviewing and critiquing commenced projects, including Meet the Robinsons. Following his first screening of the Robinsons in March 2006, Lasseter and his colleagues from Pixar held an intense six-hour meeting with the flick's director, Stephen Anderson, where Anderson was told that the film needed a scarier, more threatening villain such as to invoke emotion from the audience. (2) Lasseter hardly coddled Anderson, who described the meeting as "one of the hardest days of [his] life." (3) Anderson was up to the challenge, however, and by October 2006, the director had successfully cut sixty percent of the original film to tailor the product to Lasseter's liking. (4)
Lasseter wanted to be tough but fair with the filmmakers such as to garner the best results. On his philosophy, Lasseter said, "I believe in a filmmaker-led studio. So, instead of me dictating what's in every movie, I am collaborative. I love great people and sort of inspire them to make films they want to make. I really push them and am honest with them when things are not working." (5)
Not all of Disney's animators were as agreeable to Lasseter's suggestions as Anderson. Chris Sanders, a director of Lilo and Stitch (2002), departed Disney in January 2007 after disliking proposed changes to his project "American Dog." (6) "American Dog" developed into Bolt (2008).
Normalcy
Though coming from Pixar and wanting to instill that studio's positive attributes at Disney, Lasseter deemed important a distinction between the animation groups, even if subtle. On this note, Lasseter said, "When we [Lasseter and colleague Edwin Catmull] came to work here, we said Pixar is Pixar, Disney is Disney. We did not want to come here and turn it into Pixar." (7) And so it remains.
A relevant quote by Walt Disney is nicely included in Meet the Robinsons prior to the end credits.
Plot Summary
On a dark and stormy night in the big city, a mother settles her infant boy on the front steps of the 6th Street orphanage, knocks on the door, and runs away, never to be seen again.  As the years progress, that boy, Lewis, develops a passion for science and devising new inventions.  Unfortunately for the now twelve-year old lad, these inventions never seem to work, and, to make matters worse, nobody wants to adopt him.  He seems to give up hope after his latest creation, the "Memory Scanner," explodes at the science fair.
With Lewis seemingly at rock bottom, something bizarre happens.  A boy from the future named Wilbur Robinson appears and relays the unbelievable news that a guy wearing a bowler hat has stolen Wilbur's father's time machine and has further destructive plans in mind.  Wilbur implores Lewis to fix his memory scanner such as to extinguish the bowler hat guy's plot.
Everything is happening so fast.  What is going on, and what will become of Lewis?
Suggestion
I would recommend viewing Meet the Robinsons as if it was a mystery instead of merely attempting to follow the plot at face value. The story may seem bizarre and directionless for the majority of the movie, but the proverbial puzzle pieces eventually fall into place.
Life
You cannot change the past, but you can impact the future. Throughout the movie, several characters are faced with situations whereby they can either accept or reject this "proverb."  On a similar note, the film suggests that feeling sorry for yourself is not the best strategy.  Keep moving forward!
Music
Several songs are incorporated throughout Meet the Robinsons, but I found them largely mediocre and forgettable. The background music is solid, however, adding suspense and emotion at appropriate moments, and the song "Little Wonders" works with the corresponding imagery to create a heartwarming conclusion to the flick.
Humor
Meet the Robinsons features numerous spontaneous gags that will likely generate laughter.
As a whole, the Robinson clan features a cast of…well, interesting, personalities. From a grandfather who knows many shortcuts to the garage, to competing doormen, to a mother who conducts frogs, to an uncle who saves humanity through pizza delivery, this is one eccentric family!
Interestingly, I found the bowler hat guy to be especially funny. Let's just say that he is a poor improviser and should really develop workable strategies ahead of time. His mannerisms are also decidedly eccentric.
Relationship to Other Disney Films
Adam West of "Batman" fame voices Uncle Art, the pizza delivery hero. West also contributed his distinctive voice to Disney's previous animated feature, Chicken Little (2005).
Pizza delivery itself plays a significant part in Pixar's Toy Story (1995).
An orphanage is also featured in The Rescuers (1977).
Carl, the Robinsons' robot, reminds me of B.E.N (Bio-Electronic Navigator) from Treasure Planet (2002) in appearance. The deep voice used by Carl when Lewis and Wilbur approach the garage is reminiscent of that utilized by Melvin the alien in Chicken Little.
Towards the end of Meet the Robinsons, a dinosaur attacks the Robinson family. Dinosaurs took center stage in the "Rite of Spring" segment of Fantasia (1940) and the entirety of Dinosaur (2000).
The theme of working for a better future also pervades the live action film Tomorrowland (2015).
In the Parks
The locale of "Todayland" in Meet the Robinsons is a parody of the "Tomorrowland" area that is featured at Walt Disney World's Magic Kingdom theme park and the Disneyland parks in Anaheim, Tokyo, Hong Kong, and Paris, respectively; Paris' version is termed "Discoveryland."
The façade of the "Space Mountain" roller coaster, the headliner attraction of each Tomorrowland, is included among the other aspects of Todayland.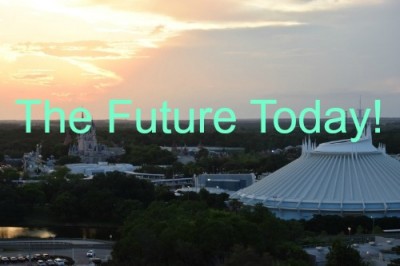 Photo Copyright Tim Rogers
Dinosaurs are featured in many Disney attractions, including the intense motion simulator "Dinosaur" at Disney's Animal Kingdom theme park, "Universe of Energy: Ellen's Energy Adventure" at Epcot, and the "Disneyland Railroad" at California's Disneyland Park.
The Robinsons use meatball cannonballs during evening food fights. At "Earl of Sandwich," a sub shop located at Downtown Disney in both Florida and California, as well as the Disney Village in Paris, diners can enjoy a meatball hero called "Cannonballs."
If you liked the topiaries in the flick's Todayland, be sure to check out Walt Disney World's "Flower and Garden Festival," a horticultural extravaganza held at Epcot each spring. The 2015 festival ran between March 4 and May 17.
Finally, if you enjoyed the fireworks that encompassed the Robinsons' kitchen, be sure to check out the various firework displays at Walt Disney World and Disneyland: "Wishes" at Walt Disney World's Magic Kingdom, "Illuminations" at Epcot, "Fantasmic" at Disney's Hollywood Studios, and both a unique "Fantasmic" as well as rotating firework spectacles at Disneyland Park.
Overall
The final version of Meet the Robinsons, like its development process, features a bumpy ride that finds a way to adequately culminate. Don't give up on it until it is over.
Notes
1) Holson, L. (2006, January 25). Disney Agrees to Acquire Pixar in a $7.4 Billion Deal: Hopes for reviving animation at the home of Mickey Mouse. New York Times, p. C6. Retrieved June 3, 2015, from http://0-search.proquest.com.alpha1.suffolk.lib.ny.us/docview/93271563?accountid=35174
2) Ibid. (2007, March 4). He Runs That Mickey Mouse Outfit. New York Times, p. A1. Retrieved June 3, 2015, from http://0-search.proquest.com.alpha1.suffolk.lib.ny.us/docview/848114836?accountid=35174
3) Ibid., p. A13.
4) Ibid., p. A1.
5) King, S. (2008, Dec 03). Animation evolution; 'Bolt': Barking back to Disney's philosophy. Los Angeles Times. Retrieved from http://0-search.proquest.com.alpha1.suffolk.lib.ny.us/docview/422226605?accountid=35174
6) Holson, L. (2007, March 4), p. A13.
7) Ibid.
What do you think of Meet the Robinsons? Let me know in the comments!
Sponsored Ad:  Would you like to help support The Mouse For Less website in continuing their mission of being THE Disney vacation planning resource?  You can do so by purchasing Meet the Robinsons from our Affiliate Link through Amazon. Thanks so much for your support!