This post may contains affiliate links for your convenience. If you make a purchase after clicking a link we may earn a small commission but it won't cost you a penny more! Read our full disclosure policy here.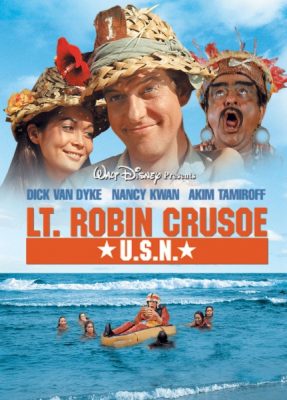 Based loosely on Daniel Defoe's 1719 novel Robinson Crusoe, Disney's Lt. Robin Crusoe, U.S.N. was theatrically released on July 29, 1966. The live action comedy is 114 minutes in length.
Plot Summary
Writing to his fiancé, Jane, about a year after missing their wedding, Lieutenant Robin Crusoe (Dick Van Dyke) explains his whereabouts. You see, while flying a military plane over the Pacific Ocean, Crusoe was forced to parachute to safety from an engine fire. After four eventful days in a lifeboat, Crusoe washes up on the shore of a seemingly-deserted island. Crusoe's attempts to procure rescue prove fruitless, aside from some coconuts, but the lieutenant soon enough finds companionship, first from a chimpanzee, Floyd, who had previously worked for the United States space program and is still employed by the United States Navy, and later from a native girl named Wednesday (Nancy Kwan), who was transported to the island by her father, Tanamashu (Akim Tamiroff), a ruthless chief from another island, for refusing to marry the prescribed man. What will be the eventual fate of the castaways?
Writing
Along with Defoe, Bill Walsh, and Don DaGradi, the latter two named Disney Legends in 1991, Walt Disney received a writing credit, the only such credit of his career, in Lt. Robin Crusoe, U.S.N. under the name "Retlaw Yensid," "Walter Disney" spelled backwards. (1)
Disney explained the origins of the Retlaw Yensid pseudonym to Honolulu Advertiser reporter Sean O'Neil during production of the film in Hawaii during the summer of 1965. Said Disney: "The Retlaw Yensid is an old joke we've had around the Studio for years. I started using my name backward on the slate to identify the scenes. Pretty soon, my cameraman followed suit and the poor guys at Technicolor processing the film thought we had hired a bunch of immigrants. This will be the first time it has been used in the credits." (2)
Walt Disney had originally wanted his daughter Diane Disney Miller and his son-in-law Ron Miller to engage with him in the writing of the film, but they declined. Years later, Diane Disney Miller recounted the situation to Disney historian Jim Korkis, saying, "Dad pitched the concept of Lt. Robin Crusoe to Ron and me, wanting to encourage us to become a writing team. I wasn't taken with the idea at all, and had six children who took up all of my time and a large house and yard. That was my career of choice, and I cherished it. He finally did it himself." (3)
At Sea
In addition to work conducted at the Disney Studios in Burbank, California and in Hawaii, production of Lt. Robin Crusoe, U.S.N. occurred aboard the United States Navy missile attack aircraft carrier USS Kitty Hawk for five days in July 1965. (4) Walt Disney himself exhilaratingly departed the carrier after three days via a catapulted four-place C1A trainer. (5)
Future Walt Disney Company President and CEO Card Walker, who had served in the navy during World War II along with the Kitty Hawk's commander, Captain Martin Carmody, and who was with Disney during his ejection from the Kitty Hawk, recounted the experience several months later for The Disney World magazine, saying, "In front of Walt was only 40 yards of flight deck and endless miles of choppy sea. The pilot revved up the engines to 100 percent, the catapult was triggered and we jumped right out of the place, leaving that big baby looking like a postage stamp down there behind us in a matter of seconds. Walt loved it. They gave him the admiral's cabin for the trip and I wouldn't be surprised if he didn't feel a bit like one up there in the sky, commanding the C1A." (6)
The ejection of Disney and Walker from the vessel was not the proverbial cherry on top of the Kitty Hawk's role in Lt. Robin Crusoe, U.S.N., however. About a year later, on the evening of June 25, 1966, the film's world premiere occurred aboard the carrier, stationed at Naval Air Station North Island off the coast of Southern California. Approximately 2,500 social and civic leaders, key Navy personnel, and Hollywood celebrities were in attendance. (7) The film was simultaneously screened by naval personnel stationed aboard the USS Constellation off the coast of Vietnam, resulting in a double premiere. (8)
Liberation
Crusoe condemns Tanamashu's destructive actions, convincing Wednesday and later her cousins that women have rights, including the rights to speak freely and to marry who they wish. These sentiments facilitate the formation of an army to counter that of Tanamashu in the film's second half.
Music
Lt. Robin Crusoe, U.S.N.'s score, the work of music director Bob Brunner, was inspired by traditional Polynesian music, chants, and dialects. According to a contemporary press release, "Brunner conducted an extensive preliminary research program, which resulted in one of the most exciting musical scores to emanate from a Disney film. Largely Polynesian in mood and tempo, the background accompaniment varies from lilting island themes, broken, occasionally by a haunting oriental strain to the pulsating rhythms of a ceremonial dance and the frantic staccato beat of an exciting chase." (9)
The Polynesian music soothingly complements beautiful visuals of Hawaii, which are shown as Crusoe wanders the film's island. The tunes are not especially memorable, but they are excellent in the moment. The film is bookended by triumphant military march tunes.
Humor
Lt. Robin Crusoe, U.S.N. is consistently amusing and occasionally uproarious.
Following his escape from the smoking military plane, Crusoe's survey of his survival kit is aided by an awkward narrator.
The lieutenant enjoys a moment of hope when he thinks he sees the sail of a Chinese vessel…unfortunately, the seeming boat is actually a shark.
Crusoe is ecstatic upon the advent of a thunderstorm because it affords him essential drinking water; on the other hand, torrential downpours do not mix well with deflating boats on the open ocean.
Upon floating onto the deserted island, Crusoe abruptly curses out the overbearing narrator, designs a massive "Help!" sign out of coconuts, and constructs a sextant to calculate his location, which is somewhere between Elmira, New York and Muncie, Indiana…ok, apparently the sextant was defective!
Crusoe discovers a Japanese submarine, thoroughly searches the vessel, and eventually encounters life…a chimpanzee hoisting a pistol. Well, that was unexpected!
After discovering, to quote Ariel from The Little Mermaid (1989), "gadgets and gizmos aplenty" in the "Japanese supermarket"…err, the storeroom of the Japanese submarine, Crusoe and Floyd use a Japanese guidebook to build a residence on the island. Crusoe describes the structure as an example of the "Tinkertoy school of architecture" and reminiscent of a "dollhouse with a hangover"—the effort is actually fairly elaborate and substantially better than Crusoe's description.
Crusoe informs Floyd that he is going to "mail a letter" to his girlfriend, Jane. No, the mailman is not going to pull up in a boat outside Crusoe's residence; rather, Crusoe places the letter in a bottle and sends it into the ocean. Odds are that Jane did not receive that letter.
An animatronic mynah bird argues with Crusoe.
Crusoe and Wednesday initially communicate through body motions, a method that leads to some miscommunication. For example, in trying to depict that Wednesday's father is a chief, Floyd adorns a makeshift crown, and Wednesday correspondingly points to the chimpanzee. Not comprehending Floyd's intent, Crusoe perplexedly queries, "Your father's a monkey?" Fortunately for the duo, it soon becomes apparent that Wednesday speaks fluent English.
In instructing his army via megaphone through the face of the ruins of Kabuna, the evil god of the island, Crusoe sounds like a disc jockey at a pool party.
Relationship to Other Disney Films
Lt. Robin Crusoe, U.S.N. was the second of, as of 2017, four Disney films to feature Dick Van Dyke, who was named a Disney Legend in 1998. Van Dyke had previously appeared in Mary Poppins (1964) for Disney, and he subsequently appeared in Never a Dull Moment (1968) and Dick Tracy (1990) for the company. Van Dyke will appear in Disney's upcoming Mary Poppins sequel, Mary Poppins Returns, which is scheduled for release in December 2018.
Arthur Malet, who briefly portrayed the umbrella man in Lt. Robin Crusoe, U.S.N., had previously appeared in Mary Poppins for Disney, and he later worked on The Adventures of Bullwhip Griffin (1967), Bedknobs and Broomsticks (1971), The Black Cauldron (1985), and Dick Tracy for the studio.
Chimpanzees were featured in several other Disney comedies of the era, including Moon Pilot (1962), The Misadventures of Merlin Jones (1964), The Monkey's Uncle (1965), Monkeys, Go Home! (1967), and The Barefoot Executive (1971). The chimpanzee in Moon Pilot was also an astro-chimp.
Crusoe mentions Jules Verne's 1870 novel Twenty Thousand Leagues Under the Sea, which inspired Disney's 1954 film 20,000 Leagues Under the Sea, to Floyd.
The family in The Swiss Family Robinson (1960) also gets stranded on a deserted island.
Lilo and Stitch (2002) and Moana (2016) are also set in Pacific island settings.
The title character in The Absent-Minded Professor (1961) also misses his wedding.
In the Parks
Animatronic birds entertain guests throughout the day in the "Walt Disney's Enchanted Tiki Room" attraction at both Walt Disney World and Disneyland.
As Crusoe and Floyd drink "Japanese Kumquat Cola," or something to that effect, guests at Walt Disney World can enjoy foreign-based Coca-Cola soft drinks at Epcot's "Club Cool" and Disney Springs' "World of Coca-Cola."
Although guests at Disney's theme parks will not find an aircraft carrier, more modest vessels, including the Magic Kingdom's "Liberty Square Riverboat"; Disneyland Park's "Mark Twain Riverboat," "Sailing Ship Columbia," and "Finding Nemo Submarine Voyage"; Disneyland Park Paris's "Molly Brown Riverboat"; and Tokyo Disneyland Park's "Mark Twain Riverboat," can be experienced at numerous Disney parks around the world.
Guests at Walt Disney World can stay at the popular "Polynesian Village Resort," while those visiting the real Hawaii can stay at "Aulani," a Disney Vacation Club property on Oahu.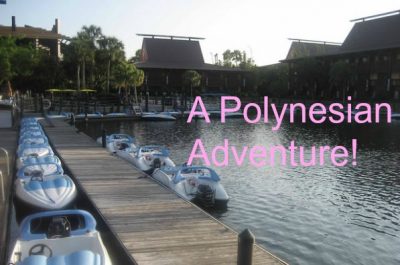 Overall
With perpetual humor and superior background music, Lt. Robin Crusoe, U.S.N. is a fun effort. Give it a watch when you need some cheer!
Notes
1) Sampson, W [pseudonym for Disney historian Jim Korkis]. (2008, November 26). Lt. Robin Crusoe, U.S.N. Remembered. Retrieved October 19, 2017, from https://www.mouseplanet.com/8582/Lt_Robin_Crusoe_USN_Remembered.
2) Ibid.
3) Ibid.
4) Sampson, W. (2008, December 3). Lt. Robin Crusoe, U.S.N. Premieres. Retrieved October 19, 2017, from https://www.mouseplanet.com/8583/Lt_Robin_Crusoe_USN_Premieres.
5) Ibid.
6) Ibid.
7) Ibid.
8) Ibid.
9) Sampson, W. (2008, November 26). Lt. Robin Crusoe, U.S.N. Remembered.
What do you think of Lt. Robin Crusoe, U.S.N.? Let me know in the comments!
Sponsored Ad:  Would you like to help support The Mouse For Less website in continuing their mission of being THE Disney vacation planning resource?  You can do so by purchasing Lt. Robin Crusoe, U.S.N. from our Affiliate Link through Amazon. Thanks so much for your support!
Did you like this article? Make sure to share it with your friends! Check below for easy ways to share!
Incoming search terms:
https://www themouseforless com/blog_world/movie-review-lt-robin-crusoe-u-s-n/
where was lt robinson curuso filmed
lt robin crusoe usn free movie
lt robinson crusoe usn free movie
submarine lt robin crusoe usn