This post may contains affiliate links for your convenience. If you make a purchase after clicking a link we may earn a small commission but it won't cost you a penny more! Read our full disclosure policy here.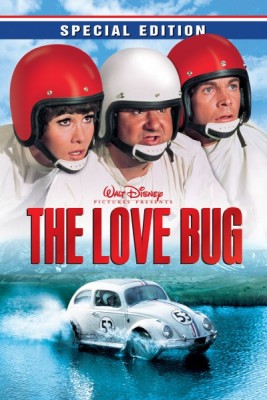 DVD Cover Copyright Disney
Based on Car, Boy, Girl, a 1961 book by Gordon Buford, The Love Bug was theatrically released on December 24, 1968. The 108-minute flick, which was the final live action project approved by Walt Disney before his 1966 death (1), stars a whimsical Volkswagen Beetle named Herbie.
The Love Bug inspired numerous spinoffs, including three sequels, Herbie Rides Again (1974), Herbie Goes to Monte Carlo (1977), and Herbie Goes Bananas (1980); an unsuccessful television series, "Herbie, the Love Bug," on CBS-TV in 1982; a made-for-television remake, The Love Bug (1997); and a theatrically-released remake starring Lindsay Lohan, Herbie: Fully Loaded (2005).
Plot Summary
In San Francisco, Jim Douglas (Dean Jones) has become a washed up stock car driver, repeatedly losing both races and cars. Desperate to enter forthcoming events, he purchases a seemingly worthless Volkswagen Beetle from a car dealership owned by the sleazy Peter Thorndyke (David Tomlinson). Though Douglas's plan is dubious, the Volkswagen, which Douglas's quirky but sweet friend Tennessee Steinmetz (Buddy Hackett) names Herbie, prevails in a series of events and earns Douglas's esteem. Said esteem subsists only as long as Herbie succeeds, however, and when the car loses an important race at Riverside, Douglas shuns his Volkswagen in favor of a shiny sports car, a decision that infuriates both Tennessee and Douglas's quasi-lover, Carole Bennett (Michele Lee).
Herbie is a car, a material object, so why are Tennessee and Bennett angry at Douglas? Well, because Herbie is more than just a car; he is a friend, and he has human qualities. He demonstrates loyalty to allies and disdain for enemies. Douglas, Tennessee, and Bennett all recognize Herbie's special traits, but while Douglas is primarily concerned with the car's ability to win races, the latter two players display a greater concern for the Volkswagen's feelings. Herbie is crushed by Douglas's seeming betrayal. Can the relationship be salvaged?
Reviews
Vincent Canby of the New York Times offered The Love Bug a negative review, deeming the film boring. Said Canby: "The movie is a long, sentimental Volkswagen commercial about a small car—never specifically identified but still as unmistakable as a Doyle Dane Bernbach ad—that adopts a has-been race car driver (Dean Jones) and drives him to victory. Robert Stevenson ('Mary Poppins') directed the film, which has the form of fantasy-comedy, lots of not-very-special effects and no real humor." (2)
The film actually utilizes some excellent effects in bringing Herbie to life, but Canby raises a legitimate point in that the blue screen shots of action behind the race cars are awful. In many of these scenarios, the fans and cars in the background are awkwardly static.
Joseph Gelmis was likewise pessimistic about the flick in Newsday. Gelmis said, "'The Love Bug' is a film about a Volkswagen that falls in love with its driver. [Sigmund] Freud would have called it auto-eroticism. I call it disappointing. Not bad. But not awfully good, either. It is a strange comedy that does not quite know whether to become an adult and sophisticated satire or a child's film." (3)
Audiences, however, were enthusiastic about The Love Bug, which became the highest-grossing live action Disney movie to that time save for Mary Poppins (1964). (4)
Production
Dean Jones and Walt Disney discussed a race car movie prior to the latter's death. Recalling this meeting years later, Jones said, "The only reference that Walt ever made to The Love Bug…I had brought him a script, and it was a story of the first sports car ever brought to America. I had an option on it, and I said, 'This would be good for us to make.' He said, 'Dean, I read it. I got a better car story for you.'" (5)
The script for The Love Bug was the work of the film's eventual director, Bill Walsh, who was named a Disney Legend in 1991. (6) Assistant Director Christopher Hibler credited the film's jokes to Walsh, calling him "a creative genius." (7)
A Volkswagen was chosen as the film's car over other makes, including a Toyota, a Volvo, and a MG, following a casting call on the Disney Studio lot. Reactions to the various models from Disney employees were noted. The reaction to the Volkswagen was the most whimsical, with crew members and actors petting and even talking to the car. In an interview shortly before his 2003 death, Buddy Hackett noted that the car was "like a friend."  Dean Jones termed the vehicle "unpretentious" and "honest." (8) Such traits are the lifeblood of Disney's best movies.
Various titles were contemplated for the film before "The Love Bug" was settled upon, including "The Magic Volksy," "Beetlebomb," and "Thunderbug." Dean Jones found the latter title "ludicrous for the nice, little car." (9)
The car's name, Herbie, originated from a story relayed by Buddy Hackett to a Las Vegas audience, which included Bill Walsh. (10)
Herbie's number, 53, was chosen because Walsh was a fan of Los Angeles Dodgers' pitcher Don Drysdale, who wore the number 53. (11)
Approximately eight Herbies were utilized during the filming of The Love Bug such as to allow for different stunts. One model was extremely fast, another model was hydraulic and could perform wheelies, and still another model could shutter and shake. (12) The scenes where Herbie drove himself were conducted with an actor concealed with an extended steering wheel in the backseat. (13)
Many of the stunt scenes were realistic. Recalling the sequence in the El Dorado road race where Herbie glides along the side of a cliff, Christopher Hibler said, "Our stunt people were actually riding on the edge of that cliff in a very unstable car, and they're going quite fast. That was pretty dicey stuff we did up there. The stunt people really earned their pay." (14)
Personification
Herbie personifies a shy, insecure being with a good heart. He rewards those that befriend him with immense loyalty, but, because of his previous loneliness, he responds virulently to real or perceived rejection or betrayal. His dire reactions to negativity fuel, no pun intended, the film's most emotional sequence, in nighttime San Francisco.
Fittingly, the one character who unceasingly believes in Herbie takes the checkered flag with the vehicle at El Dorado.
Antagonist
Concurrently cunning and ruthless, Thorndyke is a great villain. If his abuse of Herbie and his schemes to sabotage Douglas are not sufficient to intensify your anger, consider that Thorndyke was the first car dealer to utilize fine print in contracts.
Music
The Love Bug's swift, upbeat theme song is one of my favorite Disney tunes. I usually prefer lyrical numbers, but this effort by composer George Bruns is perfection. Bruns, who was also integral to the scores of Davy Crockett: King of the Wild Frontier (1955), Sleeping Beauty (1959), The Jungle Book (1967), and Robin Hood (1973), was posthumously named a Disney Legend in 2001. (15)
Humor
Humor nicely meshes with drama and action in The Love Bug.
Dean Jones convinced an initially skeptical Bill Walsh to afford him a second role as the hippie in the truck next to Herbie during the drive-in theater scene early in the movie. (16)
Thorndyke courts Douglas with bread and wine when the latter enters the antagonist's car dealership, an offer that is immediately retracted when Douglas mentions that he has only $80 to spend. You cheapskate!
Herbie frequently avenges Thorndyke's insults by spraying the racer with oil and Irish coffee. The recipient deserves every spritz he receives.
Tennessee is an eccentric figure who follows his conscience to extremes yet maintains happiness. He relays various stories relating to his travels in Tibet.
Douglas and Tennessee eat nutritious meals in their apartment. They maintain a surplus of parrot food even though they do not own a parrot.
Thorndyke's assistant Mr. Havershaw (Joe Flynn) contends with mercurial treatment from his boss during the El Dorado race segment. Havershaw usually makes one comment too many for Thorndyke's limited patience.
Thorndyke wishes he did not give a figurative lift to a certain passenger…ahh! A bear! Meanwhile, Douglas, Tennessee, and Bennett receive a literal lift when Herbie runs out of gas at El Dorado.
Relationship to Other Disney Films
The Love Bug was the sixth of eleven theatrically-released Disney films to feature Dean Jones, following That Darn Cat (1965), The Ugly Dachshund (1966), Monkeys, Go Home! (1967), Blackbeard's Ghost (1968), and The Horse in the Gray Flannel Suit (1968); and preceding The Million Dollar Duck (1971), Snowball Express (1972), The Shaggy D.A. (1976), Herbie Goes to Monte Carlo, and That Darn Cat (1997).
Cars and racing were key themes in Disney and Pixar's Cars (2006) and Cars 2 (2011).
An underappreciated car was also the subject of Disney's 1952 animated short "Susie the Little Blue Coupe." (17)
In the Parks
On March 23, 1969, a "Herbie Day" was held at Disneyland Park to help promote The Love Bug. Guests were encouraged to decorate their Volkswagens for prizes and a parade down Main Street U.S.A. (18)
From 2005 to 2011, Herbie appeared in Disney's Hollywood Studios' "Lights, Motors, Action! Extreme Stunt Show," which closed in 2016 to prepare for the park's Star Wars and Toy Story expansions. Herbie was replaced in "Lights, Motors, Action!" by Lightning McQueen from Cars and Cars 2. (19)
Guests can "drive" cars at the Magic Kingdom's "Tomorrowland Speedway" and Disneyland Park's "Autopia." The former attraction replicates a racetrack, while the latter experience is themed after California's streets and freeways.
Guests can experience the thrill of race car driving at Epcot's "Test Track" and Disney's California Adventure's "Radiator Springs Racers."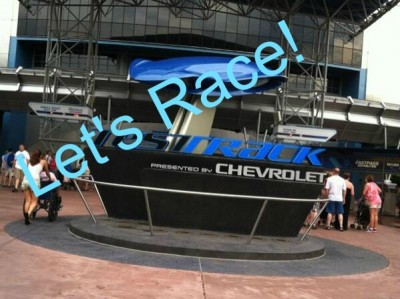 Photo Copyright Rikki Niblett
A section of Walt Disney World's "All-Star Movies Resort" is based on The Love Bug. Other areas of this Value Resort are themed after 101 Dalmatians (1961), Toy Story (1995), Fantasia (1940), and The Mighty Ducks trilogy (1992, 1994, and 1996).
The Love Bug's world premiere occurred at Hollywood's Grauman's Chinese Theatre. (20) A replica of this theater houses "The Great Movie Ride" at Disney's Hollywood Studios.
Overall
With plenty of action, relatable characters, and a great soundtrack, The Love Bug is a winner of a movie.
Notes
1) 11 LOVABLE FACTS ABOUT HERBIE THE LOVE BUG: ANOTHER SORT OF BEETLEMANIA SWEPT THE NATION IN 1969. (2016, June 8). Retrieved July 3, 2016, from http://www.metv.com/lists/11-lovable-facts-about-herbie-the-love-bug
2) Canby, V. (1969, March 14). The Screen: And Now a Word From . . .: Disney Film Offers Ad for a Certain Car The Love Bug' Opens at Music Hall. New York Times, p. 50. Retrieved July 3, 2016, from http://0-search.proquest.com.alpha1.suffolk.lib.ny.us/docview/118627017?accountid=35174
3) Gelmis, J. (1969, March 14). Sex a Mechanical Act In Compact Love Story. Newsday, p. 46A. Retrieved July 3, 2016, from http://0-search.proquest.com.alpha1.suffolk.lib.ny.us/docview/919476203?accountid=35174
4) 11 LOVABLE FACTS; "The Loveable Bug" [DVD]. (2003). United States: Disney. 43-minute segment featured on Disk 2 of 2003 Special Edition DVD release of The Love Bug, After 39:49 (minutes and seconds into segment).
5) "The Loveable Bug," 1:02-1:24.
6) Bill Walsh. (n.d.). Retrieved July 6, 2016, from https://d23.com/walt-disney-legend/bill-walsh/
7) "The Loveable Bug," 2:37-2:50.
8) Ibid., 2:51-4:03.
9) Ibid., 4:21-4:49; 11 LOVABLE FACTS.
10) Ibid., "The Loveable Bug," 4:57-5:47.
11) Ibid., 5:48-6:22; 11 LOVABLE FACTS.
12) "The Loveable Bug," 18:51-21:05.
13) Ibid., 21:06-21:56.
14) Ibid., 30:27-30:54.
15) George Bruns. (n.d.). Retrieved July 4, 2016, from https://d23.com/walt-disney-legend/george-bruns/
16) "The Loveable Bug," 8:40-10:14.
17) The short is featured on Disk 1 of the 2003 Special Edition DVD release of The Love Bug.
18) "The Many Lives of Herbie," [DVD]. (2003). United States: Disney. 14-minute segment featured on Disk 2 of the 2003 Special Edition DVD release of The Love Bug, 1:07-1:57.
19) Hochberg, M. (2011, April 4). Lightning McQueen to replace Herbie in Lights, Motors, Action! Extreme Stunt Show. Retrieved July 4, 2016, from http://www.studioscentral.com/blog/2011/04/04/lightning-mcqueen-replace-herbie-lights-motors-action-extreme-stunt-show
20) "The Loveable Bug," 38:43-39:49.
What do you think of The Love Bug? Let me know in the comments!
Sponsored Ad:  Would you like to help support The Mouse For Less website in continuing their mission of being THE Disney vacation planning resource?  You can do so by purchasing The Love Bug from our Affiliate Link through Amazon. Thanks so much for your support!
Incoming search terms:
https://www themouseforless com/blog_world/movie-review-love-bug/
https://www themouseforless com/blog_world/movie-review-love-bug/#:~:text=With plenty of action, relatable characters, and a great soundtrack, The Love Bug is a winner of a movie
the love bug movie reviews