This post may contains affiliate links for your convenience. If you make a purchase after clicking a link we may earn a small commission but it won't cost you a penny more! Read our full disclosure policy here.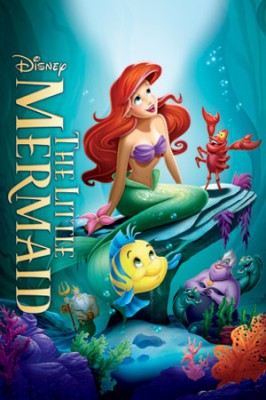 The 28th full-length animated feature in Disney history, The Little Mermaid was released on November 17, 1989. It is based on Hans Christian Andersen's 1837 fairy tale of the same name and is 82 minutes in length.
Although I was born in 1990, I got a chance to see the flick on the big screen. Disney rereleased The Little Mermaid to theatres from November 14-30, 1997.
Disney Renaissance
Prior to 1989, Disney animation was mired in a stupor, having sporadically released only eight feature films since 1970. The Little Mermaid ended this dry spell and commenced an animation renaissance that would last through 1999. During this period, the company released 10 feature animated films, one every year save for 1993.
Plot Summary
In the subaqueous kingdom of Atlantica, King Triton has many mermaid daughters, and he loves them all dearly. His youngest girl, Ariel, is obsessed with life above the surface, however, and to make matters worse, she's now in love with a human, Prince Eric. Triton won't stand for the latter development; he berates Ariel and destroys all of her terrestrial possessions.
Despite her father's obvious disdain for humans, Ariel still has hope to marry Eric, as Ursala the sea witch offers to transform the mermaid into a human for at least three days. The risks are high for Ariel, though: she must surrender her voice for payment, and no matter what, she can never see her father and sisters again. This story cannot possibly end well. Can it?
Parental Authority
King Triton is a father who wants the best for his daughters. Ariel may not agree with all of his decisions, and Triton is sometimes incorrect in his judgments, but his heart is always in the right place. As is typical with parents, he struggles to accept that Ariel is growing up and perhaps deserves some independence.
True Love
The developing story between Ariel and Prince Eric depicts what true love should be about. That is, the quality of one's heart is more important than his or her looks or voice.
It is shown that others cannot force you to love somebody. Contrary to his manservant Grimsby's wishes, Eric doesn't want to marry just any random princess to get things over with; he is willing to postpone matrimony until he finds a woman he truly loves.
Humor
Comedy is provided through a trio of animals: Sebastian the crab, Flounder the fish, and Scuttle the seagull.
Serving as Triton's royal court composer, Sebastian is a terrible liar. He manages some quirky facial expressions, and he can wreak havoc in the kitchen. If you're a chef, make sure this critter is not around when preparing stuffed crab.
Flounder is Ariel's best friend. He, like Sebastian, is a lousy liar, and he's afraid of sharks. He can be quite the guppy!
Though Sebastian and Flounder are amusing, the award for funniest character would have to go to Scuttle, who talks like an expert despite being ignorant. For example, he knowingly tells Ariel that a fork, which he calls a "dingle hopper," is used by humans to straighten their hair, and he believes smoking pipes are used by humans to play music.
Speaking of music, Scuttle sometimes shows off his vocal prowess! Err, on second thought, make that vocal ineptitude. You may want to cover your ears when he sings.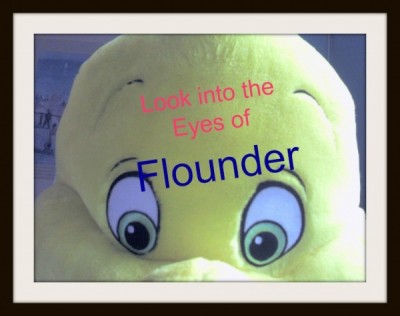 Music
Performed either instrumentally or lyrically several times throughout the movie, "Part of Your World" is The Little Mermaid's flagship song. It is soothing and beautiful. In singing this number, Ariel demonstrates that she doesn't fully understand life on land, because human fathers do, in fact, "reprimand their daughters."
"Under the Sea" is an upbeat and whimsical song, which Sebastian sings in an attempt to convince Ariel that life under water is better than life on land. In other words, the saying "the grass is always greener on the other side of the fence" is only true in theory, not in reality.
Ursala's song "Poor Unfortunate Souls" demonstrates the power of deceit. It's often a bad idea to rely on others such as to attain something important, Eric's love in the case of Ariel.
Finally, Sebastian's second song, "Kiss the Girl," is soothing and, with plot context, suspenseful. Will true love prevail?
More Mermaids!
Mermaids are prominently featured in several other Disney films.
A group of these creatures inhabits Neverland in Peter Pan (1953). One of the mermaids here possesses a striking resemblance to Ariel.
The first film released under Disney's Touchstone Pictures label, which is used by the company for its more mature features, was a mermaid story entitled Splash (1984).
Finally, mermaids play a major role in Pirates of the Caribbean: On Stranger Tides (2011).
In the Parks
Walt Disney World's Magic Kingdom and Disneyland Resort's Disney's California Adventure each feature "Under the Sea: Journey of The Little Mermaid," a dark ride where guests travel on clamshells through sets themed after The Little Mermaid.
The "Voyage of The Little Mermaid" stage show at Walt Disney World's Disney's Hollywood Studios theme park retells the film's plot with live actors, puppets, and special effects.
Guests can ride "King Triton's Carousel" at Disney's California Adventure.
If you enjoyed the fireworks that encompassed Eric's ship, be sure to check out the various firework displays at Walt Disney World and Disneyland: "Wishes" at Walt Disney World's Magic Kingdom, "Illuminations" at Epcot, "Fantasmic" at Disney's Hollywood Studios, and both a unique "Fantasmic" as well as rotating firework spectacles at Disneyland Park.
In the Magic Kingdom's Fantasyland, guests can interact with The Little Mermaid throughout the day at "Ariel's Grotto."
For those who want to dine with Ariel, be sure to make reservations for a meal at either Epcot's "Akershus Royal Banquet Hall" or California Adventure's "Ariel's Grotto." The Little Mermaid appears at both of these restaurants along with other Disney princesses.
Finally, the Tokyo DisneySea theme park at the Tokyo Disneyland Resort features "Mermaid Lagoon," a themed area with numerous minor attractions based on The Little Mermaid.
Overall
The Little Mermaid is an outstanding film with memorable music, plenty of laughs, and a plethora of heartwarming moments.
What do you think of The Little Mermaid? Let me know in a comment!
Sponsored Ad:  Would you like to help support The Mouse For Less website in continuing their mission of being THE Disney vacation planning resource?  You can do so by purchasing The Little Mermaid from our affiliate link through Amazon.