This post may contains affiliate links for your convenience. If you make a purchase after clicking a link we may earn a small commission but it won't cost you a penny more! Read our full disclosure policy here.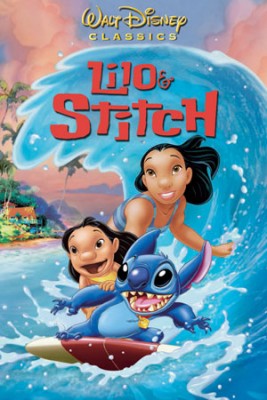 The forty-second full-length animated feature in Disney history, Lilo and Stitch was theatrically released on June 21, 2002. The flick is eighty-five minutes in length.
Plot Summary
At the Galactic Federation Headquarters on Planet Turbo, Dr. Jumba Jookiba has invented an alien, Experiment 626, which possesses an ability to "think faster than [a] supercomputer" and "move objects three-thousand times his size." It is undoubtedly an impressive creation.
Unfortunately, 626 is programmed to be evil, to destroy everything in its path. The Grand Councilwoman and Captain Gantu are infuriated by this menace and retaliate by imprisoning Jookiba and sentencing 626 to exile on a desert asteroid.
Punishments have been dealt, so tranquility can resume, right? Wrong. 626 escapes Turbo in a red police cruiser and speeds towards a distant planet, Earth. Because of his high molecular density, 626 appears doomed as he plunges towards the Pacific Ocean, but he, luckily or otherwise, crashes on a small landmass, Hawaii, where he is adopted by a young girl named Lilo and her guardian, Nani. Now named Stitch, the experiment is loved but naturally prone to mischief. Can Stitch somehow mellow and assimilate into his new family?
Lilo and Stitch
Having lost her parents and being raised by her older sister, Nani, Lilo is a lonely young girl with no friends. She wants to fit in with the girls at her dance school, but they are uninterested. Stitch represents hope for Lilo. The alien's misbehavior causes problems, but Lilo believes in him and hopes his presence will commence a happy life for them both.
How does Stitch morph from the evil Experiment 626 into a loveable creature? As revealed by Jookiba, Stitch is programmed to be destructive, a feature that attracts him to large cities; he has no broader purpose or memories to alter his direction should he be isolated. Stitch's desire to find a city is shown when, after stealing a tricycle, he exudes frustration at every bluff he reaches, before fainting when Lilo casually remarks that there are no big cities on the island. This dearth of urban centers allows Stitch to absorb the caring nature of Lilo and gradually tranquilize.
Family
"'Ohana means family; family means nobody gets left behind or forgotten."
Lilo's family is troubled, with Nani simultaneously struggling to care for her younger sister and to find work. Nani often loses her temper, creating an unpleasant atmosphere. Still, she loves Lilo and strives to maintain custody of her.
The adoption of Stitch complicates the situation with the alien's shenanigans hindering Nani's pursuit of a job. Is Stitch really part of the family? Lilo believes he is, but she is willing to let him determine his own fate. She will not protest if he leaves, but she will also never forget him.
Villains
Lilo and Stitch features some of the weakest villains in Disney history. The prime antagonist, Jookiba, has a surprisingly likeable personality and did not infuriate me in the least. I was more annoyed by the condescending attitudes of the Grand Councilwoman and Captain Gantu, respectively, but this duo wants to preserve peace. A lack of cohesion between the various characters causes problems here.
The other potential antagonists in the film are the girls at Lilo's dance school, but they do not receive enough attention for one to truly hate them.
Action
Fans of superhero flicks will enjoy the beginning and end of Lilo and Stitch. The movie is bookmarked by high-speed chases between the vehicles of certain players. I enjoyed the introductory scenes but found the latter ones bizarre and almost cringe worthy, albeit exciting. I think I got so attached to the typical Hawaiian setting that the sudden alien takeover caught me off-guard.
Music
The soundtrack of Lilo and Stitch does not compare to its extraordinary counterparts of the Disney Renaissance period (1989-1999), but it is solid, if not especially original. Most of the songs in the movie, including "Stuck on You," "Heartbreak Hotel," and "Hound Dog," are classic Elvis Presley numbers. I enjoyed these songs, and if you like Disney and Elvis, Lilo and Stitch is a must watch.
My favorite song in the movie is Mark Keali'i Ho'omalu's "Hawaiian Rollercoaster Ride." This catchy, upbeat number is perfectly complemented by visuals of Lilo, Nani, and Nani's friend David enjoying themselves at the beach.
Humor
Comical scenes abound in Lilo and Stitch.
Lilo leads Stitch into problematic yet funny situations by teaching her "pet" about Elvis. I actually thought Stitch played the guitar adequately, but the patrons at the coffee shop would beg to differ; it was just one bad note people! Lilo is also superb at lip singing and commencing unwanted tangents.
Stitch has a knack for impressions. He is especially good at impersonating Elvis and Godzilla, though unlike the famed monster, Stitch literally builds San Francisco before destroying it.
Agent Pleakley is concerned about the environment. To the horror of earthlings, this alien strives to save the mosquito from extinction! Pleakley does not read textbooks, but he educates himself by pondering View-Master slides.
Relationship to Other Disney Films
Treasure Planet (2002) and Mars Needs Moms (2011) also feature extraterrestrial settings.
Seen periodically during Lilo and Stitch, live-action clips were often incorporated in Disney's "Package Films" of the 1940s. Such movies included Saludos Amigos (1942), The Three Caballeros (1944), and Melody Time (1948).
Stitch disregards a book about oyster farming in Lilo's bookshelf. Oysters starred in the "Walrus and the Carpenter" segment of Alice in Wonderland (1951).
The man on the beach eating mint chocolate chip ice cream reminds me of Baymax from Big Hero 6 (2014).
A restaurant called "Mulan's Wok" appears in the scene after Lilo and Nani adopt Stitch. Mulan was the title character of Disney's thirty-sixth full-length animated feature, Mulan (1998).
In the Parks
Do you want to interact with Lilo and Stitch? Well, you can at Walt Disney World's 'Ohana restaurant. Located in the Polynesian Village Resort, 'Ohana hosts a character breakfast each morning with Lilo and Stitch appearing with Mickey and Pluto. Advance Dining Reservations (ADRs) are strongly recommended for this meal.
Also at Walt Disney World, Stitch hosts daily meets in the Magic Kingdom's Tomorrowland, and Lilo and Stitch may appear at the Typhoon Lagoon water park, especially between Spring Break and Labor Day. (1)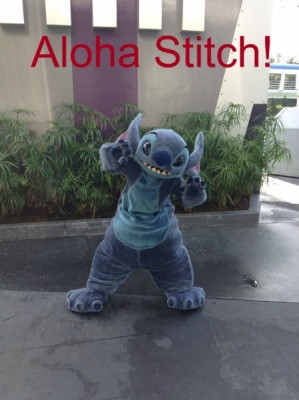 At Hong Kong Disneyland and Walt Disney Studios Paris, Stitch stars in an interactive show, called "Stitch Encounter" in Hong Kong and "Stitch Live!" in Paris. These experiences are similar to that of "Turtle Talk with Crush," which is located at Epcot at Walt Disney World, Disney's California Adventure at Disneyland, and Tokyo DisneySea at Tokyo Disneyland.
Much of Lilo and Stitch was created at "The Magic of Disney Animation" attraction at Florida's Disney's Hollywood Studios theme park. (2) Disney shuttered its Florida animation unit in 2004, so official animation no longer occurs at "The Magic of Disney Animation." (3) Guests can create their own art at that attraction's "Animation Academy," however.
An animatronic Stitch, seemingly in his Experiment 626 mode, wreaks havoc in "Stitch's Great Escape," a theatre-in-the-round show at the Magic Kingdom.
Stitch sleeps in a box marked "Aloha Pineapple." At the Magic Kingdom's "Aloha Isle" snack stand, guests can enjoy a "Dole Whip," a pineapple-flavored soft serve ice cream product.
Finally, if you are craving a luau, check out "Disney's Spirit of Aloha Dinner Show," which is staged several times each week at the Polynesian Village Resort.
Overall
Though the latter part of Lilo and Stitch is almost disturbingly bizarre, the movie's emotion, humor, and music make it an enjoyable watch.
Notes
1) Thanks to @kennypirate @heatherw25 on Twitter for helping with the character meet information.
2) Stewart, J. (2005). Disenchanted Kingdom. In Disney War (p. 402). New York: Simon & Schuster.
3) Ibid. Disneywar. In Disney War (p. 473). New York: Simon & Schuster.
What do you think of Lilo and Stitch? Let me know in the comments!
Sponsored Ad:  Would you like to help support The Mouse For Less website in continuing their mission of being THE Disney vacation planning resource?  You can do so by purchasing Lilo and Stitch from our Affiliate Link through Amazon. Thanks so much for your support!
Incoming search terms:
https://www themouseforless com/blog_world/movie-review-lilo-stitch/