This post may contains affiliate links for your convenience. If you make a purchase after clicking a link we may earn a small commission but it won't cost you a penny more! Read our full disclosure policy here.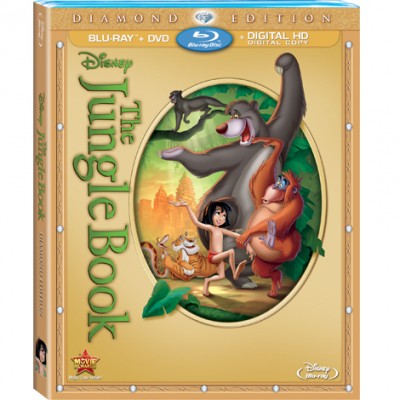 The 19th full-length animated feature in Disney history, The Jungle Book was released on October 18, 1967. It is based on Rudyard Kipling's 1894 novel of the same name and is 78 minutes in length. The Jungle Book marked the final film that Walt Disney was personally involved with as he passed away months before the movie's release, on December 15, 1966.
Plot Summary
Wandering through the jungles of India, Bagheera the panther discovers a deserted human baby lying in a basket. Bagheera could have, in the vein of Dionne Warwick, walked on by, but he takes a different route, bringing the baby, Mowgli, to a pack of wolves.
The wolves happily raise Mowgli until they learn that Shere Khan, a tiger with a disdain for humans, is lurking in the vicinity. With Mowgli's life in danger, Bagheera tries to bring the boy to a human village so that he can commence a life with his own kind.
There's just one problem: Mowgli has lived amongst animals his entire life and doesn't want to leave. Indeed, against Bagheera's pleas, Mowgli believes he can care for himself in the jungle. Is Mowgli correct, or would he be better served adhering to Bagheera's plan?
Structure
The plot here is relatively loose and serves primarily as a thread between the different animal sequences. Along his prolonged march towards the human village, the boy encounters Baloo the bear, Kaa the snake, an army of elephants, a congress of orangutans, and a quartet of crows. These individual sequences are self-contained and engaging even without plot context.
Love
Have you ever wanted to disown someone from your life but just don't have the heart to follow through? This hypothetical scenario personifies Bagheera's feelings towards Mowgli. Although the panther is frequently frustrated by the boy's belief that he can care for himself and deserts Mowgli several times, Bagheera always rushes back to the boy's aid when danger is imminent because he genuinely cares about the lad. Ah, yes! True love always prevails…at least in Disney movies.
Baloo shows love for Mowgli through selflessness. If Mowgli elects to join the humans, Baloo decides to support that choice, even though he would like the boy to stay with him.
On a related note, Winifred the elephant shows empathy. When her husband, Colonel Hathi, refuses to help search for a missing Mowgli, Winifred angrily asks the colonel how he would feel if their son, Hathi, Jr, went missing and nobody cared. It's the golden rule in action!
Villains
The two main villains in the film are Shere Khan and Kaa the snake.
Shere Khan is a classic villain. He's very mean and sarcastic, reminding me of Uncle Scar from The Lion King (1994).
Conversely, Kaa is a more fun antagonist. I find his bodily maneuvers as well as the results of his hypnosis skills to be visually appealing. Be sure to look into Mowgli's eyes after Kaa hypnotizes the boy.
Humor
The Jungle Book is among Disney's funniest animated flicks. The humor will obviously not mesh with everyone, but it is definitely present.
I find Baloo to be especially funny. This bear can sing, dance, and impersonate apes by wearing coconuts! He's even amusing during melancholy moments, such as the aftermath of his battle with Shere Khan; dramatic irony, or a state where the audience knows more than the characters, is well utilized here.
The looks and personalities of the four vultures also amuse me. These birds make me imagine how The Beatles might have spent a boring day. They even sing!
Music
Introduced by Baloo to convince Mowgli to stay with him, "The Bare Necessities" is one of the greatest songs in Disney history. It's an upbeat number with poetic lyrics and entertaining, albeit somewhat unsanitary, visuals.
The remainder of the soundtrack fits in well with the film's context but is otherwise forgettable.
"I Wanna Be Like You" is a jazz number sung by King Louie the orangutan. Amusing visuals such as Louie using his body as a jump rope enhance this song.
A slowly paced number, "Trust in Me" successfully complements the scene where Kaa tries to gain Mowgli's trust by hypnotizing him. This song exudes a mysterious vibe.
Finally, "That's What Friends Are For" is the film's most heartwarming song. Performed by four vultures, this number attempts to brighten the mood of a depressed Mowgli. It's uplifting but not a love song.
Relationship to Other Disney Films
The plot of Tarzan (1999) is similar to that of The Jungle Book in that a human child is raised by animals.
The vulture scene strongly reminds me of the crow segment from Dumbo (1941). In both cases, surly birds became nice and sing a song when they discover that the respective protagonists, Mowgli and Dumbo, are depressed.
Finally, Disney animation fans will hear some familiar voices in The Jungle Book. Sterling Holloway plays Kaa, and Phil Harris voices Baloo. Holloway narrated numerous shorts, including Susie the Little Blue Coupe (1952) and Lambert the Sheepish Lion (1952), and he was the voice of Mr. Stork in Dumbo and Roquefort the mouse in The Aristocats (1970). Meanwhile, Harris played Thomas O'Malley in The Aristocats and Little John in Robin Hood (1973).
In the Parks
At Walt Disney World's Animal Kingdom theme park, guests can view tigers and other Asian animals at the walkthrough "Maharajah Jungle Trek" attraction.
Also, Baloo and King Louie make regular appearances at the Animal Kingdom.
Overall
With noticeable humor, fun music, and lively characters, The Jungle Book is a classic film that is definitely worth watching.
What do you think of The Jungle Book? Let me know in a comment!
Sponsored Ad:  Would you like to help support The Mouse For Less website in continuing their mission of being THE Disney vacation planning resource?  You can do so by purchasing The Jungle Book from our affiliate link through Amazon.
Incoming search terms:
https://www themouseforless com/blog_world/movie-review-jungle-book/