This post may contains affiliate links for your convenience. If you make a purchase after clicking a link we may earn a small commission but it won't cost you a penny more! Read our full disclosure policy here.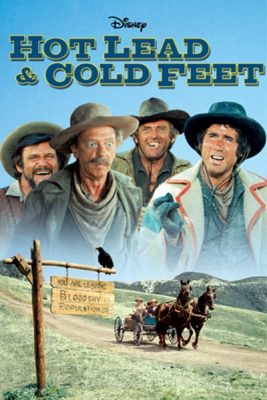 A live action comedy-western, Disney's Hot Lead and Cold Feet was theatrically released on July 5, 1978. The flick is ninety minutes in length.
Plot Summary
In the western American town of Bloodshy, the settlement's elderly founder, Jasper Bloodshy (Jim Dale), is seemingly on the verge of death, and all of the residents expect his inheritance to immediately go to his gangster son Wild Billy Bloodshy (Jim Dale). A major development, however, changes this expectation. You see, years earlier, angered by Jasper's chaotic lifestyle, his wife ran off to England with their second son, Eli (Jim Dale), an identical twin of Billy, and Eli has now been located in Philadelphia. An unstable man, Jasper decides that his sons should compete for the inheritance: Eli will come to town and race Billy in a multi-part event through dangerous terrain. The residents of Bloodshy, including Sheriff Denver Kid (Don Knotts in a fake mustache), are unsure of whether Eli, a virtuous preacher, can survive a trip to the wild west, but Eli indeed arrives, accompanied by two orphaned children, Roxanne (Debbie Lytton) and Marcus (Michael Sharrett), and a young schoolteacher named Jenny Willingham (Karen Valentine).
Objectively speaking, Billy should easily win the race; unlike Eli, he knows the region and is used to chaos through his frequent shootouts that scare everyone in town. Still, crazy things happen in the wild west, and Bloodshy's mayor, Ragsdale (Darren McGavin), entertains some devious schemes to steal the inheritance. Who will secure the money?
Title
"Hot Lead and Cold Feet" refers to the extremely different personalities and lifestyles of Billy and Eli. Essentially, the latter brother should get proverbial cold feet when faced with the prospect of the hot lead coming from Billy's gun. Far from backing down from danger, however, Eli persists in attempting to convert his brother into a respectable person. Indeed, Eli wants to work with his brother to transform Bloodshy from a chaotic locale with shootouts every few seconds into an orderly community with faithful and educated citizens. Eli's goals may be a bit utopian, but, hey, miracles often happen in Disney movies!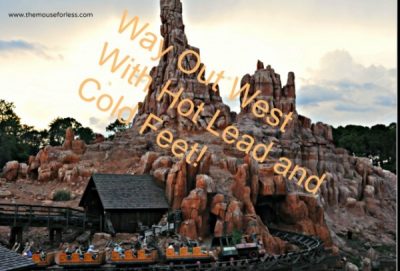 Questions
Was Jasper really dying, or did he feign mortal illness such as to try to restore harmony to his town? He never actually dies and, in fact, energetically rides off to visit his daughters in the final scene.
How did Ragsdale become mayor? Jasper seems to completely distrust him but cannot directly oust him.
After inebriating Eli during the race, why did Ragsdale's goons save the preacher rather than letting him walk into the water and drown?
During a fight with his nemesis Rattlesnake (Jack Elam), Sheriff Kid completely sinks in quicksand but reappears in numerous scenes thereafter. Did Kid miraculously escape, or was there a production error?
Triple Duty
With Jim Dale portraying all three Bloodshy family members, Hot Lead and Cold Feet is the only live action Disney film to have a single actor portray three main characters. Previously, Hayley Mills played both sisters, Sharon and Susan, in The Parent Trap (1961), and Walter Brennan portrayed both the old man, D.J. Mulrooney, and the gnome, Knobby, in The Gnome-Mobile (1967).
Music
For a non-musical, Hot Lead and Cold Feet has a surprisingly good, dare I say borderline-great, soundtrack. The soundtrack includes one outstanding lyrical number, "May the Best Man Win"; a great band-style preaching number, "Something Good Is Bound to Happen"; and solid background music. "May the Best Man Win," a ballad that explains the film's plot over the opening credits, is incredibly catchy, and I would rank it among the most underrated songs in Disney history. Additionally, the uplifting "Something Good Is Bound to Happen" is performed intermittently throughout the film, the best rendition occurring as the movie's grand finale.
Action
Hot Lead and Cold Feet incorporates numerous action scenes. Along the way, there are many shootouts and brawls, and the final race sequences feature runaway steam engines, rock climbing, canoeing, freefalling, and explosions.
The scene where Eli, Marcus, Roxanne, and Jenny drive into Bloodshy for the first time is really exciting, with shooting, fighting, explosions, and people jumping off roofs. This sequence may be too intense for young children, however.
Humor
Much of Hot Lead and Cold Feet's humor comes via awkward utterances, though there is plenty of physical humor too.
Jasper's doctor encourages his patient to "take care of himself" because doing so will significantly increase Jasper's life expectancy—Jasper will die "soon" if he does not take care of himself but will live for at least two days if he does take care of himself. Seeing that Jasper survives a fall off a cliff, a fall out of a tree, a fall off a roof, and a brawl with Jenny and the children, the doctor might have been a little off in his diagnosis. Then again, as the word "soon" is ambiguous, maybe the doctor meant that Jasper would actually live longer by seeking out danger! Additionally, Jasper might have fabricated the story.
The people listening to Eli and the children sing "Something Good Is Bound to Happen" early in the film obviously do not appreciate the preaching, because they throw vegetables at the performers. Although Eli is happy that the trio has at least gotten the people's attention, Marcus notes that more people paid attention at their last preaching stop: there, the people threw rocks instead of produce!
Initially, everyone involved with Bloodshy eagerly meets Eli's every demand, including a call to stop fighting amongst themselves, because they confuse him with his dangerous identical twin. Marcus and Roxanne note this attitude when the stagecoach drivers transporting them to Bloodshy treat the party like royalty. On this point, Roxanne says, "People sure seem polite around here," and Marcus responds, "They even call you by your first name, even if it's the wrong one!"
Waking up from a nap, Sheriff Kid incorrectly calls Jasper's butler, Mansfield (John Williams), "Mansbridge." Then, when Mansfield corrects the sheriff with "Field, sir," Kid replies, "Oh, yeah, well, what can I do for you Fieldbridge?"
When Jenny tells her fellow travelers that they will be staying at a boardinghouse, a disappointed Marcus says, "A boardinghouse?! But Eli, that's not where the shooting and fighting is." Indeed, Marcus prefers to stay in the saloon!
Attempting to convince Marcus that there will be no violence regardless of where they stay in Bloodshy, Eli says, "Listen, Marcus, 99.9 percent of all towns in the west are just peaceful, sleepy little villages where nothing ever happens. Now, will you get all that other stuff out of your head!" Seconds later, the travelers hear gunshots and drive into a massive downtown shootout. I guess Bloodshy is part of the .1 percent of all western towns.
Mayor Ragsdale tries to get rid of Eli by walking him through his dilapidated town and feeding the newcomer grim stories about the destruction of the church and the school. Unfortunately for the mayor, the walk only increases the preacher's desire to stay. In fact, Eli calls the trek with Ragsdale "the most inspiring walk of my life."
Roxanne worries that Eli will not believe that Ragsdale has hired goons to kill him, because Eli is "always looking at the good side of people." Marcus concurs, responding, "Yeah, but while he's looking at their good side, their bad side's gonna finish him."
After complaining in the rafters, a la Statler and Waldorf from the Muppets, at Eli's first preaching attempt in Bloodshy, Jasper disgustedly tells Mansfield, "I've heard enough, Mansfield!" Moments, later, however, he hears a lot more, as Roxanne rings the church bell situated directly above Jasper's head.
Eli and Billy finally get on with their race after a delay caused by Sheriff Kid's verbose instructions and faulty gun. Now, on with this post!
Relationship to Other Disney Films
Hot Lead and Cold Feet was the fifth of six theatrically-released live action Disney films to feature Don Knotts, following The Apple Dumpling Gang (1975), No Deposit, No Return (1976), Gus (1976), and Herbie Goes to Monte Carlo (1977); and preceding The Apple Dumpling Gang Rides Again (1979). Knotts also voiced Mayor Turkey Lurkey in the animated film Chicken Little (2005).
Jim Dale had previously appeared in Pete's Dragon (1977) for Disney.
Jack Elam also appeared in Never a Dull Moment (1968) and The Apple Dumpling Gang Rides Again for the studio.
Darren McGavin and John Williams previously appeared in No Deposit, No Return for Disney.
Dallas McKennon, who appears briefly among saloon patrons in Hot Lead and Cold Feet, had worked on various Disney animated and live action films for thirty years prior to his appearance in Hot Lead and Cold Feet. These efforts included Melody Time (1948), Lady and the Tramp (1955), Sleeping Beauty (1959), One Hundred and One Dalmatians (1961), Son of Flubber (1963), The Misadventures of Merlin Jones (1964), Mary Poppins (1964), Bedknobs and Broomsticks (1971), The Many Adventures of Winnie the Pooh (1977), and The Cat from Outer Space (1978).
Kevin Corcoran, previously a Disney child star in Old Yeller (1957), The Shaggy Dog (1959), Pollyanna (1960), Swiss Family Robinson (1960), Toby Tyler (1960), Babes in Toyland (1961), Bon Voyage! (1962), Savage Sam (1963), and A Tiger Walks (1964), worked on Hot Lead and Cold Feet as an associate producer. Corcoran, who was named a Disney Legend in 2006, was also an associate producer for Return from Witch Mountain (1978), The North Avenue Irregulars (1979), and Herbie Goes Bananas (1980).
In the Parks
Dallas McKennon voiced aspects of several Disney theme park attractions, including "Big Thunder Mountain Railroad," "Country Bear Jamboree," "Hall of Presidents," "It's a Small World," "The American Adventure," and "The Haunted Mansion."
The respective "Frontierland" sections at Walt Disney World's Magic Kingdom and the Disneyland parks in California and Paris; the "Grizzly Gulch" section at Hong Kong Disneyland Park; and the "Westernland" section at Tokyo Disneyland Park exude Wild West themes.
Overall
Overall, Hot Lead and Cold Feet is a satisfying effort—the soundtrack is excellent, and action and laughs abound.
What do you think of Hot Lead and Cold Feet? Let me know in the comments!
Sponsored Ad:  Would you like to help support The Mouse For Less website in continuing their mission of being THE Disney vacation planning resource?  You can do so by purchasing Hot Lead & Cold Feet from our Affiliate Link through Amazon. Thanks so much for your support!