This post may contains affiliate links for your convenience. If you make a purchase after clicking a link we may earn a small commission but it won't cost you a penny more! Read our full disclosure policy here.
DVD Cover Copyright Disney
Home on the Range was theatrically released as the forty-fifth full length animated feature in Disney history on April 2, 2004. It is seventy-six minutes in length.
The film started towards its eventual structure in 2001, changing course from an initial project called "Sweating Bullets," which was scheduled to be released in late 2003. (1) Home on the Range maintained many elements from "Sweating Bullets," including composer Alan Menken's music. (2)
Plot Summary
Way out west, a notorious crook named Alameda Slim swipes Abner Dixon's cattle in the middle of the night, and, void of alternatives, the elderly Dixon sells both his farm and the one cow that was not taken, Maggie. Maggie is sold to Pearl Gesner, the owner of the "Patch of Heaven" farm, which holds numerous animals, including two cows: the stuffy Mrs. Calloway and the socially-awkward Grace.
The three cows are quickly united by a common goal, detaining Slim. You see, finances are dire, and if Pearl does not pay her $750 debt to the bank within three days, Patch of Heaven will be auctioned off. Conveniently, a $750 reward is being offered for the capture of Slim, but three little cows are just no match for a professional bandit. Right?
Development
The plot of Home on the Range is poorly developed. The mental state of Pearl over her farm's probable demise is captivating and depressing at moments, but this turmoil serves more as a loose thread than a focal point. The eccentric behaviors of individual characters are more interesting and engaging than the story itself, which unfolds with no real direction. In other words, comic relief dominates in Home on the Range at the expense of storytelling. I personally love comedies and enjoyed Home on the Range but not because of its plot.
Lucky Jack the rabbit illustrates the plot's shallowness. Jack is teased in the introduction and plays a fairly significant role later on, yet he feels like a complete afterthought. He was there but did not add anything.
Faith
When hope seems lost, the easiest option is to sit and quietly await imminent doom. Maggie, conversely, encourages a more proactive strategy, working with Mrs. Calloway and Grace to help Pearl keep her farm.
Underdogs
Great feats are often attempted by seemingly inferior beings. In Home on the Range, baby chicks try to change Mrs. Calloway's decisions, and the cows embark on their grand mission to reign in Slim.
Animation
The animation quality in Home on the Range is inconsistent. While many of the backgrounds, especially the skies, are excellent, other portions are reminiscent of Saturday morning cartoons. The animation of the pigs borders on horrid.
Slim's rendition of "Yodle-Adle-Eedle-Idle-Oo" features abstract animation and alternating colors.
Music
Home on the Range is not a musical, but it features a solid soundtrack. All of the film's songs were composed by Alan Menken, who did the same for The Little Mermaid (1989), Beauty and the Beast (1991), Aladdin (1992), Pocahontas (1995), The Hunchback of Notre Dame (1996), and Hercules (1997).
The featured number, "Home on the Range," adds excitement and anticipation throughout, and "Little Patch of Heaven" provides a fun introduction to Pearl's farm. You will likely want to jump up and dance to the latter number!
My favorite song in the movie, however, is "Will the Sun Ever Shine Again." This beautiful song, which is performed by Bonnie Raitt, deals with regaining hope in the darkest moments of life.
Some of the characters sing as a hobby. Slim's yodeling is captivating enough to hypnotize his listeners, while Grace…well, I have nothing nice to say about her singing, so I will not comment on it… Ok, her singing is comically bad! There; I said it. Now, let's move on to another topic.
Humor
If not consistently hilarious, the flick's perpetual humor will probably keep you grinning…or rolling your eyes.
Verbal humor, including homophones, slang, translations, and puns, are incorporated throughout the movie.
Maggie enjoys county fairs, barnyard football, and having fun in general. She can be gross with the piggies, but they do not seem to mind; fortunately or otherwise for the audience, this movie was not enhanced for Odorama.
Buck the horse is a "legend in his own mind." He dreams of becoming the next Rocky Balboa but is relegated to playing tic-tac-toe, where he currently trails Rusty the dog by a 27-6 score.
A man named Morse reads a telegram to Sheriff Sam Brown. Samuel Morse invented the electric telegraph in 1837.
Slim's henchmen are seemingly incapable of recognizing their master incognito. Come on guys, it's me; I'm just wearing a disguise!
Relationship to Other Disney Films
Abstract animation is also incorporated in Fantasia (1940), Dumbo (1941), and various segments of the package films of the 1940s.
The Wild West is also the setting for the "Blue Shadows on the Trail" and "Pecos Bill" segments of Melody Time (1948).
Close relationships between animals and humans are also formed in Cinderella (1950), Lady and the Tramp (1955), The Jungle Book (1967), The Aristocats (1970), The Fox and the Hound (1981), Aladdin, and Tarzan (1999).
Like Slim, Vice Principal Lamar Bone from Disney's "Doug" enjoys yodeling, though the latter does not use it as a form of hypnosis.
In appearance and mannerisms, Lucky Jack reminds me of the title character from Who Framed Roger Rabbit (1988).
In the Parks
Although no attractions or regular character meets directly based on Home on the Range are featured in Disney's theme parks, guests can interact with cows, pigs, and goats at the "Affection Section" petting zoo in the Rafiki's Planet Watch area of Walt Disney World's Animal Kingdom theme park.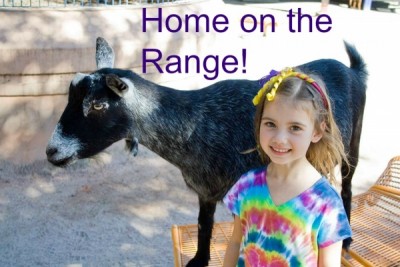 Photo Copyright Kathy Anderson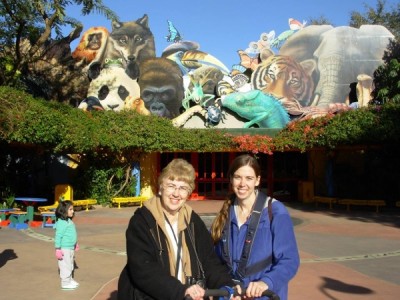 Photo Copyright Kathy Anderson
Horseback riding and pony rides are offered for an extra charge at Walt Disney World's Fort Wilderness Resort's "Tri-Circle-D Ranch."
A runaway train is featured in Home on the Range, and related attractions are offered at Disney's parks. The "Big Thunder Mountain Railroad" roller coaster is a staple at Walt Disney World's Magic Kingdom, Disneyland Park in California, Tokyo Disneyland Park, and Disneyland Park Paris. The latter is the most interesting version of this coaster as the bulk of the ride takes place on what is "Tom Sawyer Island" at Walt Disney World and Disneyland, California.
A more intense runaway train ride can be found in the Animal Kingdom's "Expedition Everest," which includes a backwards section.
The train chaos in Home on the Range commences in a mine. The Magic Kingdom's Fantasyland houses "Seven Dwarfs Mine Train," a tame coaster with some thematic surprises.
A luau like the one mentioned by Maggie to the piggies is offered every Tuesday through Saturday at Walt Disney World's Polynesian Village Resort. This luau, "Disney's Spirit of Aloha Dinner Show," features a meal and theatrical entertainment.
Overall
Relying on perpetual humor to atone for a shallow plot, Home on the Range is one of Disney's weaker animated movies. Still, it is a fun watch if you limit your expectations. I thought it would be awful but was pleasantly surprised.
Notes
1) Brayton, T. (2009, December 11). DISNEY ANIMATION: CATTLE OUT THE OL' WAZZOO. Retrieved May 9, 2015, from http://antagonie.blogspot.com/2009/12/disney-animation-cattle-out-ol-wazzoo.html
2) Stuart, J. (2001, July 1). COVER STORY / SPEAKING PARTS / Hollywoods biggest stars may be staying in the background, but their talents are audible in a host of animated films: [ALL EDITIONS]. Newsday, p. D06. Retrieved May 9, 2015, from http://0-search.proquest.com.alpha1.suffolk.lib.ny.us/docview/279430336?accountid=35174
What do you think of Home on the Range? Let me know in the comments!
Sponsored Ad:  Would you like to help support The Mouse For Less website in continuing their mission of being THE Disney vacation planning resource?  You can do so by purchasing Home on the Range from our Affiliate Link through Amazon. Thanks so much for your support!
Incoming search terms:
https://www themouseforless com/blog_world/movie-review-home-range/