This post may contains affiliate links for your convenience. If you make a purchase after clicking a link we may earn a small commission but it won't cost you a penny more! Read our full disclosure policy here.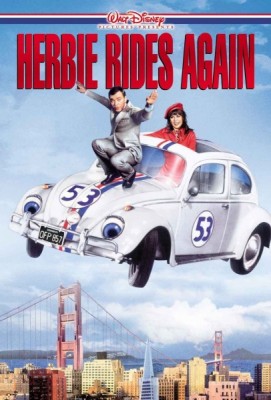 DVD Cover Copyright Disney
A sequel to The Love Bug (1968), Herbie Rides Again was theatrically released on June 6, 1974. The live action flick, which centers on Herbie, a Volkswagen Beetle with human characteristics, is eighty-eight minutes in length. Aside from the title car, none of the characters, including Jim Douglas (Dean Jones) and Tennessee Steinmetz (Buddy Hackett), from The Love Bug reappear in Herbie Rides Again. The Herbie series continued with Herbie Goes to Monte Carlo (1977) and Herbie Goes Bananas (1980).
Plot Summary
With stock-car driver Jim Douglas now racing new vehicles in Europe and Douglas's friend Tennessee Steinmetz engaged in a philosophical adventure in Tibet, the pair's anthropomorphic Volkswagen, Herbie, is enjoying retirement with Tennessee's elderly aunt Mrs. Steinmetz (Helen Hayes) at a San Francisco firehouse. Here, life is tranquil save for one major problem: a corrupt local business tycoon, Alonzo Hawk (Keenan Wynn), is intent on building an imposing 130-story structure, Hawk Plaza, and the firehouse remains the sole obstruction to this skyscraper's construction. To Hawk's rage, Mrs. Steinmetz refuses to surrender her home.
With only Herbie and a young airline employee, Nicole Harris (Stefanie Powers), who was herself displaced by Hawk and is now living with Steinmetz, intent on actively aiding Steinmetz in her battle to save the firehouse, hope seems lost. Then again, perseverance often affords benefits, and potential help arrives from a contemporary Benedict Arnold, Hawk's nephew Willoughby Whitfield (Ken Berry). A young attorney who had formerly revered Hawk, Willoughby changes course to enthusiastically support Steinmetz, Harris, and Herbie upon discovering his uncle's true character.
Still, Hawk has the support of seemingly superior forces. Will the firehouse be saved?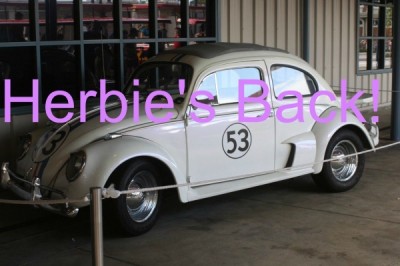 Photo Copyright Harold D, @Hdnj79 on Twitter
Reviews
Newsday film critic Martin Levine seemed unsure of whether or not he enjoyed the movie. Covering an array of themes, Levine wrote: "'I hear it's pretty good,' said the Preview Theater elevator operator as he took us up to see 'Herbie Rides Again.' And so it is, given the dreadfulness of recent Walt Disney productions.
Herbie, as those who saw 'The Love Bug' know, is a self-starting and willful 1963 Volkswagen (Model 1200, with sun roof). This time he prevents evil Alonzo Hawk from building a skyscraper on the site of a firehouse inhabited by lovable Grandma Steinmetz. He also helps bring Hawk's nephew, bumbling Willoughby Whitfield, together with Mrs. Steinmetz's boarder, spunky Nicole Harris.
The Disney wizards haven't yet solved the problem of making an automobile expressive, which is just as well, considering the immorality of feeding children pro-car propaganda. But even with a limited vocabulary—at peaks of emotion, he paws the ground with his front tires—Herbie is occasionally appealing. I liked it when he chased sea gulls around on a beach.
And I savored Grandma's casual reference to her nephew, Tennessee Steinmetz. Screenwriter Bill Walsh, who also produced, has aimed a few little jokes at any adults present.
…The entire picture reeks of either a tin eye or two hands clamped on the money belt. The worst thing is not that the firehouse exterior is a blatant back-lot set, nor even that the scene of Herbie climbing the cables of the Golden Gate Bridge was shot with a Dinky Toy. It's that there is a back-projection of a restaurant I'll swear was just used in [Disney's 1973 film] 'Superdad.'
Still, your children will probably have a good time." (1)
Dave Smith, chief archivist emeritus of the Walt Disney Archives, confirmed Levine's observation of the film's staging. In response to a query concerning the location of the flick's firehouse, Smith said, "The firehouse featured in Herbie Rides Again was built on the back lot of the Disney Studios in Burbank, California. Movie magic did all the rest: the street scenes of San Francisco were matted in around the firehouse." (2)
Additionally, recycled scenes were hardly a rarity in Disney films of this period, especially in the company's animated efforts. Such duplications were employed in, among other movies, The Jungle Book (1967), The Aristocats (1970), and Robin Hood (1973). (3)
Keeping up with the Joneses
A few years back, I submitted the following question about Herbie Rides Again to Dave Smith: "I am a fan of the Disney films from the 1960s and 1970s. After watching The Love Bug series, I noticed that Dean Jones starred in The Love Bug and Herbie Goes to Monte Carlo, the third film in the series, but not in Herbie Rides Again [nor in Herbie Goes Bananas, which I failed to mention].Was there any specific reason why Helen Hayes starred in Herbie Rides Again instead of Jones?"
Smith's answer: "Dean Jones once said in an interview that he didn't think the script was up to the quality of that of the first film. It is explained in the film, which starred Helen Hayes as Herbie's new owner, that Herbie's former owner, Jim Douglas (Dean Jones), had gone to Europe." (4)
Indeed, when asked in a 1998 interview whether he had been offered roles by Disney for either Herbie Rides Again or Herbie Goes Bananas, Jones replied, "No, they didn't offer me those roles, and I think it was because I said that I didn't think the scripts were up to the quality of the first one." (5)
Question
How did Herbie react when Douglas departed for Europe? Herbie responded harshly to seeming betrayal in The Love Bug, and he remains sensitive in Herbie Rides Again. Perhaps Douglas eased Herbie into a mutual agreement, or maybe Herbie simply tired of racing?
Alonzo Hawk
Hawk personifies self-interest, maintaining civility with other people only as long as he benefits from their actions. Moments after excoriating his nephew's request for an appointment and seeming ignorant of their familial relationship, for example, Hawk calls Willoughby his "favorite nephew" because the latter is presented as a competent lawyer, which Hawk needs to convince Mrs. Steinmetz to cede her property. Hawk thereafter berates various players, ranging from attorneys to window washers, for performing scheduled tasks that he abruptly deems irritating.
Like his counterpart from The Love Bug, Peter Thorndyke (David Tomlinson), Hawk's demeanor is intimidating, ruthless, and cowardly, ingredients for a great villain.
Morality
Though Willoughby could become rich by representing Hawk, he quickly disowns his uncle after Nicole convinces the young attorney of Hawk's unsavory character. Thereafter, Willoughby staunchly defends the rights of Nicole and Mrs. Steinmetz.
Music
George Bruns's amazing instrumental theme song from The Love Bug is reprised throughout Herbie Rides Again. In addition to this gem, assorted tunes are utilized to complement the film's varying moods. For example, ominous numbers accompany demolition shots during the opening credits and the uncertainty of the jousting tournament, while a triumphant tune is played as Herbie signals fellow cars to defend the firehouse.
Humor
Though not hysterically funny, Herbie Rides Again is consistently amusing.
Like most tourists, Alonzo Hawk is impressed by the Roman Colosseum. More uniquely, however, Hawk is enthralled by the possibility of using the Colosseum's grand real estate for a new shopping mall, not by the structure's history or architecture.
During the film, Herbie hurdles other vehicles; spontaneously enters a jousting competition; straddles the side of the Golden Gate Bridge; travels through a parking garage, an elegant hotel, a fancy restaurant, an orchestra performance, and an office building; floats across the Pacific Ocean; barges through a warehouse door; and attains companionship with a cable car, a jukebox, and other automobiles. He does not fly over the moon, however.
After referencing local baseball legend Joe DiMaggio during lunch with Willoughby on Fisherman's Wharf, Nicole smashes a home run, launching her future lover into San Francisco Bay with a boiled lobster.
The warehouse scene following Hawk's confiscation of Mrs. Steinmetz's furniture produces successive humorous moments, mostly involving statements of the obvious. First, a frustrated Nicole asks Willoughby, who is trying to forcibly unlock the garage door, "What's the matter? Haven't you ever driven a lock before?" To this question, Willoughby responds, "Of course not; it isn't exactly a hobby of mine!" Then, after Willoughby informs Mrs. Steinmetz that she is yelling at a recording of Alonzo Hawk, not Hawk himself, the clan escapes with all of Mrs. Steinmetz's belongings. Perplexed by the heist, one stationed policeman tells his partner, "You know Smitty, I don't think Mr. Hawk's gonna be happy about this." That is the understatement of the movie.
Relationship to Other Disney Films
Keenan Wynn had previously portrayed Alonzo Hawk in The Absent-Minded Professor (1961) and that film's sequel, Son of Flubber (1963). These productions are otherwise unrelated to Herbie Rides Again. Incidentally, Hawk's son Biff from the earlier movies does not reappear in Herbie Rides Again.
The princess present at the jousting contest (Beverly Carter) is reminiscent of Princess Aurora from Sleeping Beauty (1959).
In the Parks
As a "Herbie Day" was held at Disneyland Park on March 23, 1969 to help promote The Love Bug, a sequel to this event occurred at Disneyland Park on June 30, 1974 to promote Herbie Rides Again. For both occasions, Volkswagen owners were encouraged to decorate their cars for a special parade and prizes. (6)
Overall
Fitting a comparable amount of action into a shorter duration, Herbie Rides Again is superior to its predecessor.
Notes
1) Levine, M. (1974, June 7). MOVIES: A bumpy ride. Newsday, p. 9A. Retrieved July 18, 2016, from http://0-search.proquest.com.alpha1.suffolk.lib.ny.us/docview/919544287?accountid=35174
2) Smith, D. (2012). Live-Action Films. In Disney Trivia from the Vault: Secrets Revealed and Questions Answered (p. 153). New York: Disney Editions.
3) MacQuarrie, J. (2015, June 2). The Real Truth About Disney's "Recycled Animation" – Updated. Retrieved July 18, 2016, from https://geekdad.com/2015/06/disneys-recycled-animation/
4) Smith, D. (n.d.). Ask Dave: Films. Retrieved July 18, 2016, from https://d23.com/ask-dave-category/films/page/15/
5) Evans, D., & Jones, D. (1998). A Conversation with Dean Jones. Retrieved July 18, 2016, from http://www.herbiemania.com/deaninterview.htm
6) Cotter, B. (n.d.). Herbie Day at Disneyland Press information on CD. Retrieved July 18, 2016, from http://www.worldsfairphotos.com/themeparks/herbie-day.htm
What do you think of Herbie Rides Again? Let me know in the comments!
Sponsored Ad:  Would you like to help support The Mouse For Less website in continuing their mission of being THE Disney vacation planning resource?  You can do so by purchasing Herbie Rides Again from our Affiliate Link through Amazon. Thanks so much for your support!
Incoming search terms:
https://www themouseforless com/blog_world/movie-review-herbie-rides/#:~:text=Fitting a comparable amount of action into a shorter duration, Herbie Rides Again is superior to its predecessor