This post may contains affiliate links for your convenience. If you make a purchase after clicking a link we may earn a small commission but it won't cost you a penny more! Read our full disclosure policy here.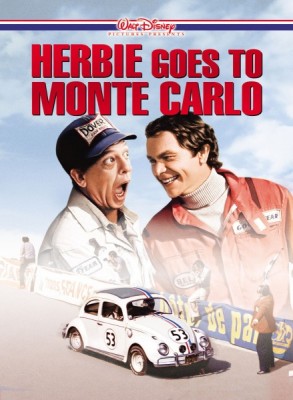 DVD Cover Copyright Disney
The third Disney film concerning Herbie, an anthropomorphic Volkswagen Beetle, after The Love Bug (1968) and Herbie Rides Again (1974), Herbie Goes to Monte Carlo was theatrically released on June 24, 1977. The 104-minute flick was followed by two additional theatrically-released Herbie movies, Herbie Goes Bananas (1980) and Herbie: Fully Loaded (2005).
Plot Summary
In France, Herbie is reunited with his former driver Jim Douglas (Dean Jones), who, along with Douglas's mechanic and sidekick, Wheely Applegate (Don Knotts), will try to ride Herbie to the car's first victory in twelve years at the Trans-France Race, which is routed between Paris and Monte Carlo. As the trial runs commence, it becomes obvious that figurative rust from Herbie is the least of any potential problems that Douglas and Applegate will face. Indeed, far more serious conundrums exist in Herbie's sudden love affair with another anthropomorphic car, a Lancia Scorpion driven by a confident female racer, Diane Darcy (Julie Sommars); and in the actions of a trio of crooks, Inspector Bouchet (Jacques Marin), Max (Bernard Fox), and Quincey (Roy Kinnear), who have hidden a stolen diamond in Herbie's gas tank and ruthlessly scheme to retrieve it. Combined with the more general issue of competent drivers, most notably the arrogant Bruno Von Stickle (Eric Braeden), Herbie's odds of taking the checkered flag appear to be slim. Can Herbie regain his past glory?
Reviews
In the New York Times, critic Lawrence Van Gelder offered a mediocre review of Herbie Goes to Monte Carlo, noting especially the film's jarring effects. Said Van Gelder: "Does Herbie win? Does Herbie help foil the jewel thieves? Does true love triumph? Countless people will probably pay to find out the answers despite special effects in which the actors appear repeatedly in black outline and occasionally distorted perspective; and an assortment of tricks (rearing up on hind wheels, blushing and blinking his lights) that possesses a somewhat limited power to captivate. Reluctant adults marched off to 'Herbie' by tiny press gangs [i.e. children] may take what consolation they can from the scenery, featuring France and Monaco." (1)
More positive was Alexander Keneas's review in Newsday. Keneas afforded the effort 2.5 out of four stars and noted Herbie's charm, saying, "One of the nice things about Herbie, of course, is that he's nonverbal. He's not your run-of-the-mill kid's movie anthropomorph with cloyingly high-pitched human voice. When Herbie wants to show off for his lady friend, he flaps his doors and sunroof, blinks his headlights and rears up on two wheels and takes off. When a French traffic cop laughs at him, he gets even by squirting him with oil. Herbie is ridiculed a lot because he is a funny-looking little guy thrown into a field of bigger, more powerful, classier cars. Which is probably why little people identify with him." (2)
Jones's Last Stand
Dean Jones, the star of The Love Bug, who was not offered a role in Herbie Rides Again after expressing reservations about the quality of the sequel's script, resumed his role as Jim Douglas in Herbie Goes to Monte Carlo. (1) It turned out to be the end of an era. Herbie Goes to Monte Carlo marked Jones's tenth and final starring performance in a Disney film. Jones, who was named a Disney Legend in 1995, had previously held lead roles in That Darn Cat (1965), The Ugly Dachshund (1966), Monkeys, Go Home! (1967), Blackbeard's Ghost (1968), The Horse in the Gray Flannel Suit (1968), The Love Bug, The Million Dollar Duck (1971), Snowball Express (1972), and The Shaggy D.A. (1976). In 1997, Jones made a cameo appearance in the remake of That Darn Cat.
Questions
What happened to Carole Bennett, who wed Douglas at the end of The Love Bug? Assuming that their marriage did not end through death or divorce, Douglas's interactions with Diane during the latter part of Herbie Goes to Monte Carlo are at best contradictory and at worst morally suspect.
How many anthropomorphic cars exist in the film's world? In addition to the Lancia Scorpion, which is eventually named "Giselle" by Diane, Herbie led numerous cars to the defense of Grandma Steinmetz at the end of Herbie Rides Again.
Conflict and Antagonists
The film's two subplots, the automobile romance and the jewel heist, are interesting but superficial. They often feel like pit stops along the racetrack.
Exhibiting perseverance and duplicity, the three jewel thieves are solid villains who are easy to root against, though they fall short of their more bombastic counterparts, Peter Thorndyke and Alonzo Hawk, from The Love Bug and Herbie Rides Again, respectively. In some sense, because of frequent outbursts of arrogance and rage, Von Stickle and even Diane could be considered villains, but Inspector Bouchet, Max, and Quincey are the real troublemakers here.
By convincing Herbie, against the protest of Applegate, to potentially surrender a victory to save Diane and Giselle from drowning, Douglas demonstrates excellent sportsmanship. He is thereafter rewarded for his actions, evidence that nice guys do not always finish last.
Baseball
At least three members of the Baseball Hall of Fame can be extrapolated from Herbie Goes to Monte Carlo.
Herbie's number, 53, was an admitted nod by Bill Walsh, the producer of The Love Bug, to Los Angeles Dodgers' pitcher Don Drysdale. (4)
Giselle shares a number, seven, with New York Yankees legend Mickey Mantle, who bears no relation to the mouse of the same first name.
Because he is a double agent, Max and Quincey refer to Inspector Bouchet as "Double X." Double X was also the moniker of Jimmie Foxx, the feared slugger for the Philadelphia Athletics, Boston Red Sox, Chicago Cubs, and Philadelphia Phillies from 1925 to 1945.
Action
With intense racing and several battle scenes, Herbie Goes to Monte Carlo is loaded with action. The battle scenes feature Herbie, Douglas, and Applegate fighting the armed jewel thieves.
Music
The background music in Herbie Goes to Monte Carlo is excellent. A whimsical, jazzy tune nicely complements the beauty of the French scenery, and the love segments between Herbie and Giselle are augmented by an enchanting, soothing, dreamy, mesmerizing number. Additionally, a comical tune accompanies some of the film's more silly moments, and George Bruns's brilliant theme song from the first two films is rarely but cleverly reprised, most notably with a fitting introduction in the tunnel at the end of the Trans-France Race.
Humor
Applegate provides most of the film's comic relief. Douglas's mechanic is often oblivious and discombobulated, and his poor yodeling skills cause landslides.
Applegate facilitates a couple of notable transitions. First, after Applegate calls Herbie "a real jewel" to defend the vehicle's pride against Von Stickle's taunts, the camera shot shifts to a more literal jewel, which is about to be secured, or not secured, in the museum. Then, while Diane is violently berating a shaken Douglas for accusing her of attempted sabotage, Applegate calmly explains to Herbie how firm and tough Douglas is under pressure. The shots in the latter scenario shift between the fight and Applegate's conversation with Herbie, an amusing juxtaposition.
Max and Quincey force Herbie to barge through a festival, where the Volkswagen realizes a man's fortune and launches a roast suckling pig into the villains' car.
Herbie and Giselle communicate through their doors, sunroofs, headlights, taillights, radios, and hoods. The segment where they interact next to the café is visually bizarre, but do not worry; cars are not really about to take over the world, rush-hour traffic excepted.
Promotion
Goodyear is seen as a sponsor throughout Herbie Goes to Monte Carlo. In real life, the company sponsored the now-defunct PeopleMover attraction in Disneyland Park's Tomorrowland from 1967 to 1981.
Baskin-Robbins ice cream released a special flavor, "Monte Carlo Stripe," in 1977 to promote Herbie Goes to Monte Carlo. (5)
Relationship to Other Disney Films
Herbie Goes to Monte Carlo was the fourth of six theatrically-released live action Disney films to feature Don Knotts, following The Apple Dumpling Gang (1975), No Deposit, No Return (1976), and Gus (1976), and preceding Hot Lead and Cold Feet (1978) and The Apple Dumpling Gang Rides Again (1979). Knotts also voiced Mayor Turkey Lurkey in the animated film Chicken Little (2005).
Authentic French settings were also featured in Bon Voyage! (1962).
A jewel heist was also integral to the plot of Muppets Most Wanted (2014).
The glass covering for the jewel at the Paris museum is reminiscent of the glass covering for the enchanted rose in Beauty and the Beast (1991).
As Applegate yodels, so too does Mr. Bone from the Nickelodeon and Disney television series Doug. In the "Doug's Derby Dilemma" episode of the Nickelodeon portion of the series, Doug Funnie and Skeeter Valentine, like Jim Douglas and Applegate, stop their vehicle near the finish line of a race to aid friends, Beebe Bluff and Chalky Studebaker, who are enduring serious car trouble.
In the Parks
Guests at Walt Disney World can enjoy French cuisine, architecture, and culture at the France Pavilion in Epcot's World Showcase.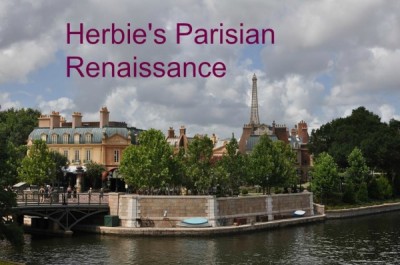 Photo Copyright Pam Forrester
If you enjoyed the fireworks that encompassed Monte Carlo at the end of the film, be sure to check out the various firework displays at Walt Disney World and Disneyland: "Wishes" at Walt Disney World's Magic Kingdom, "Illuminations" at Epcot, "Fantasmic" and "Star Wars: A Galactic Spectacular" at Disney's Hollywood Studios, and both a unique "Fantasmic" as well as rotating firework spectacles at Disneyland Park.
In 1992, Disney opened the Euro Disney Resort, now Disneyland Resort Paris, in Marne-la-Vallée, France, approximately twenty miles east of Paris proper. Disneyland Resort Paris currently features two theme parks, Disneyland Park and Walt Disney Studios Park; the Disney Village entertainment district; and seven official hotels. The "Moteurs… Action! Stunt Show Spectacular" at the Walt Disney Studios Park included an appearance by Herbie until 2011, when he was replaced by Lightning McQueen from Disney and Pixar's Cars (2006) and Cars 2 (2011). (6)
Overall
Herbie Goes to Monte Carlo picks up speed as it progresses and culminates in triumphant glory.
Notes
1) Van Gelder, L. (1977, August 4). Film: 'Herbie' in Neutral. New York Times, p. 55. Retrieved August 2, 2016, from http://0-search.proquest.com.alpha1.suffolk.lib.ny.us/docview/123400508?accountid=35174
2) Keneas, A. (1977, August 4). MOVIE REVIEW: 'Life with Herbie. Newsday, p. 39A. Retrieved August 2, 2016, from http://0-search.proquest.com.alpha1.suffolk.lib.ny.us/docview/922693856?accountid=35174
3) Smith, D. (n.d.). Ask Dave: Films. Retrieved July 18, 2016, from https://d23.com/ask-dave-category/films/page/15/; Evans, D., & Jones, D. (1998). A Conversation with Dean Jones. Retrieved July 18, 2016, from http://www.herbiemania.com/deaninterview.htm
4) "The Loveable Bug" [DVD]. (2003). United States: Disney. 43-minute segment featured on Disk 2 of 2003 Special Edition DVD release of The Love Bug, 5:48-6:22 (minutes and seconds into segment); 11 LOVABLE FACTS ABOUT HERBIE THE LOVE BUG: ANOTHER SORT OF BEETLEMANIA SWEPT THE NATION IN 1969. (2016, June 8). Retrieved July 3, 2016, from http://www.metv.com/lists/11-lovable-facts-about-herbie-the-love-bug
5) Ibid.
6) S. (2011, June 4). Photo of the Day: 4th June 2011 – So Long Herbie. Retrieved August 7, 2016, from http://dedicatedtodlp.com/2011/06/04/photo-of-the-day-4th-june-2011-so-long-herbie/
What do you think of Herbie Goes to Monte Carlo? Let me know in the comments!
Sponsored Ad:  Would you like to help support The Mouse For Less website in continuing their mission of being THE Disney vacation planning resource?  You can do so by purchasing Herbie Goes to Monte Carlo from our Affiliate Link through Amazon. Thanks so much for your support!
Incoming search terms:
https://www themouseforless com/blog_world/movie-review-herbie-goes-monte-carlo/