This post may contains affiliate links for your convenience. If you make a purchase after clicking a link we may earn a small commission but it won't cost you a penny more! Read our full disclosure policy here.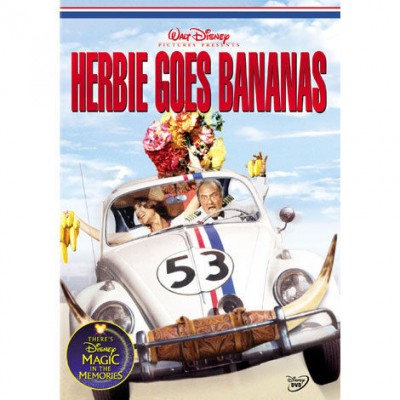 DVD Cover Copyright Disney
The fourth and final installment in the original series of live action flicks featuring Herbie the anthropomorphic Volkswagen Beetle, after The Love Bug (1968), Herbie Rides Again (1974), and Herbie Goes to Monte Carlo (1977), Herbie Goes Bananas was theatrically released on June 25, 1980. The film, which was followed by a more modern effort, Herbie Fully Loaded, in 2005, is ninety-eight minutes in length. As had been the case with Herbie Rides Again, Dean Jones, who had played the star driver, Jim Douglas, in The Love Bug and Herbie Goes to Monte Carlo, expressed reservations about the script's quality and was thus not offered a role in Herbie Goes Bananas. (1)
Plot Summary
In Puerto Vallarta, Mexico, an orphan boy, Paco (Joaquin Garay III), steals the wallets of two men. The first of the victims is a young man named D.J. (Charles Martin Smith), who is traveling with his friend Pete (Stephan W. Burns), the nephew of Herbie's famed owner, Jim Douglas, to race Herbie in the Brazil Gran Premio. Meanwhile, the second victim, Shepard (Richard Jaeckel), is on a sleazy mission with two other men, Quinn (Alex Rocco) and Prindle (John Vernon), to attain Incan gold, which is documented on a film strip.
D.J. retrieves his wallet, but he is inadvertently afforded something extra: Shepard's film strip. With Shepard, Quinn, Prindle, and the police now chasing Paco, the boy jumps into Herbie's hood to elude capture. Little does Paco know that he is boarding a cruise ship, The Sun Princess, bound for Panama and eventually Brazil.
Trapped below deck, Paco and Herbie, who Paco now calls "Ocho," because of the sum, in Spanish, of Herbie's digits, five and three, wreak much havoc, and an infuriated Captain Blythe (Harvey Korman) throws Herbie overboard in punishment. Now, Pete and D.J. have no car to race, and, to compound matters, an eccentric sponsor procured on the ship, Aunt Louise (Cloris Leachman)—her niece Melissa (Elyssa Davalos), a PhD student of Latin American cultures, is along for the adventure—has wasted her money. Furthermore, Paco must be returned to Mexico, and Shepard, Quinn, and Prindle are intent on reclaiming the film strip. How will this affair end?
The film is fun, though the plot is convoluted and largely undeveloped. The main problem is an excess of subplots, including Paco's thievery, various romantic relationships, and the simultaneous quests to find Paco and thwart the three crooks.
Reviews
Newsday provided a review from two, at the time, ten-year old girls. Said this duo on Herbie Goes Bananas: "It's very good! This is the second movie made on the adventures of Herbie [actually the fourth], which is a car. The first [actually the third] was called, 'Herbie Goes to Monte Carlo.'
Herbie, 'The Love Bug,' is now owned by another relative, who is a race car driver. Herbie is picked up in Mexico and put on a cruise ship bound for the Panama Canal. A small orphan boy named Paco stole some money and tried to hide in Herbie's trunk. When he looked out, he found himself on the ship. Herbie and the boy, along with the race car driver and his friends, have many action packed adventures.
The scenery was beautiful and the movie was funny. The part we liked best was when Captain Blythe (Harvey Korman) was running after a truck, shouting, 'Give me a lift to my ship.' Needless to say, he was a strange captain and the ship left without him.
This Walt Disney technicolor movie stars Cloris Leachman and Harvey Korman. If we were rating in bananas, on a scale of one to five bananas we would rate this a four-banana movie." (2)
Harvey Korman
In a July 1980 interview with the New York Times, Harvey Korman offered his opinion on working at a more family-friendly movie studio than was his norm. As relayed by columnist Tom Buckley: "It was with a certain amount of trepidation that Harvey Korman, who is virtually a charter member of the Mel Brooks Academy of Inspired Adult Lunacy, slipped into the Disney studio in Hollywood to make 'Herbie Goes Bananas.'
Mr. Korman, who played a sadomasochistic psychiatrist in Mr. Brooks's 'High Anxiety' and the craven villain, Hedley Lamarr, in his 'Blazing Saddles' wondered whether he would be comfortable in that cookies-and-milk atmosphere.
'I had to go down Mickey Mouse Lane and turn right at Goofy Drive to get to the sound stage,' he recalled the other day over lunch. 'I kept asking myself, 'What if Mel finds out?"…
'They work differently at Disney than at other studios,' Mr. Korman said. 'Every shot is 'storyboarded.' That means they make a drawing of it before they do it. It's like part of an animated cartoon. And, naturally, nobody uses bad language or has a conference with an actress in his dressing room during the lunch break. Just the same, it was very pleasant.'" (3)
Car Overboard
The Herbie thrown overboard by Captain Blythe was never recovered and still lies at the bottom of the ocean. (4) Numerous Volkswagen Beetles were used during the filming of each of the four movies.
Heart
In the opening scene of Aladdin (1992), the peddler says of the Magic Lamp, "Do not be fooled by its commonplace appearance. Like so many things, it is not what is outside but what is inside that counts. This is no ordinary lamp! It once changed the course of a young man's life. A young man [Aladdin] who like this lamp was more than what he seemed: a diamond in the rough."
Herbie, like the lamp, is unimpressive on the outside to all who encounter him, a seemingly ordinary Volkswagen. When Pete and D.J. arrive at the mechanic shop to retrieve Herbie, the former's incredulous response upon viewing the vehicle is "There's gotta be some mistake!" Also shocked, the latter exclaims, "You're telling me that this thing won the Monte Carlo Grand Prix?!"
To those who earn his trust, however—Paco here and Jim Douglas, Tennessee Steinmetz, and Grandma Steinmetz in the earlier films—Herbie fights with all his heart, even when he has seemingly exhausted his willpower. He is like The Little Engine That Could.
True Friendship
There is a difference between true friendship, a relationship maintained because of genuine concern among people…or cars, and false friendship, a relationship existing only to aid the aggrandizement of one of the parties. Whereas Paco truly cares about Herbie and the car's welfare, Pete only dates the shy, geeky Melissa in an attempt to convince her aunt Louise to cover the damage costs for Herbie's misadventures on the ship and to sponsor the vehicle in the Brazil Gran Premio. Not surprisingly, Melissa is hurt by the scheme, displaying her pain by immediately putting her glasses back on. She had removed her glasses when she thought Pete loved her.
Music
In contrast to its three predecessors, where instrumental tunes monopolized the music, Herbie Goes Bananas features two major lyrical songs, "Look at Me" and "I Found a Friend." The former song is beautiful if forgettable and contributes a perfect mood for the dance between Pete and Melissa on the cruise ship. Conversely, "I Found a Friend," especially after watching the previous Herbie films, feels forced, though it is not necessarily a bad number in and of itself. Also, to be fair, the lyrics fit the theme of the movie, namely the significance of true friendship.
George Bruns's theme song from The Love Bug is periodically reprised. Its first appearance in Herbie Goes Bananas, moments after Paco jumps in Herbie's hood to conceal himself from the police, produces a pure, whimsical adrenaline rush.
Humor
Lightning never strikes twice and neither does Paco the wallet thief. He strikes three times.
As in his previous adventures, Herbie is involved in numerous quirky situations in Herbie Goes Bananas, such as barging into the cruise ship dining room, impersonating a taxi, partaking in a bull fight, launching bananas, and eating a nutritious mixture of chicken dinners, gold coins, and airplane tails.
Captain Blythe's firsthand war and pirate stories, especially when coupled with his violent mannerisms, confound everyone in the dining room. He also sends messages via pigeon because he struggles to communicate with operators on payphones.
Melissa does not concur with her aunt's push to have her date Pete or D.J. After being informed that the duo is entering the Gran Premio, Aunt Louise says, "You're a race driver? Oh, oh, well isn't that fascinating, oh, oh, I just love race cars! Don't you Melissa?" Melissa's blunt response: "Not really." Sorry, Aunt Louise!
Aunt Louise is perpetually spurned by Captain Blythe in her attempt to date him.
Melissa literally buys a bus for herself, Pete, and D.J. in an attempt to catch her aunt, Paco, and Captain Blythe, who are speeding away in Herbie. She wasted $340, because the bus travels slower than the average person walks.
Relationship to Other Disney Films
Mexico, and Central and South America were also highlighted in Saludos Amigos (1942) and The Three Caballeros (1944), which combined educational segments with whimsical animated fun. In both of these films, Donald Duck interacts with a Brazilian parrot named Jose Carioca, and a Mexican rooster named Panchito Pistoles is introduced as the third player in The Three Caballeros.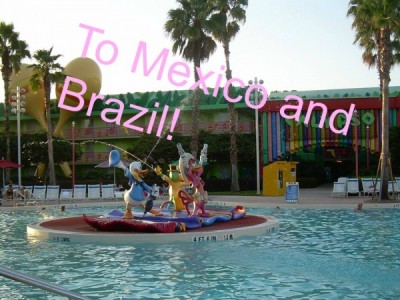 Photo Copyright Kelly Nobles
Seen during the title card of Herbie Goes Bananas, a serape was previously featured in The Three Caballeros, essentially doubling as a magic carpet in that flick.
A hectic cruise was also a key aspect in Bon Voyage! (1962).
A lost civilization was also featured in Atlantis: The Lost Empire (2001).
Captain Blythe plans to rejoin The Sun Princess in Tobago, the island where Swiss Family Robinson (1960) was filmed.
In the Parks
Guests at Walt Disney World can enjoy Mexican architecture, cuisine, beverages, and culture at the Mexico Pavilion in Epcot's World Showcase. This pavilion also includes an attraction based on The Three Caballeros, "Gran Fiesta Tour Starring The Three Caballeros."
A Mexican theme pervades the entirety of the "Coronado Springs Resort" at Walt Disney World.
In 1998, the Walt Disney Company launched the Disney Cruise Line, which currently features four vessels—the Disney Magic, the Disney Wonder, the Disney Dream, and the Disney Fantasy—with varied itineraries, including occasional fourteen-night repositioning cruises through the Panama Canal. Unfortunately or otherwise, guests on these cruises are unlikely to spot Herbie floating about in the Canal.
Overall
Herbie Goes Bananas lacks a coherent plot, but the individual parts are interesting and fun enough to compensate for the disjointed whole.
Notes
1) Evans, D., & Jones, D. (1998). A Conversation with Dean Jones. Retrieved July 18, 2016, from http://www.herbiemania.com/deaninterview.htm
2) Feldman, E., & Sosnowsk, C. (1980, September 10). DID YOU LIKE IT: A MOVIE REVIEW 'HERBIE GOES BANANAS' Newsday, p. A34. Retrieved August 13, 2016, from http://0-search.proquest.com.alpha1.suffolk.lib.ny.us/docview/964335834?accountid=35174
3) Buckley, T. (1980, July 18). At the Movies: Korman goes from 'Bananas' to Mel Brooks. New York Times, p. C6. Retrieved August 13, 2016, from http://0-search.proquest.com.alpha1.suffolk.lib.ny.us/docview/121346849?accountid=35174
4) 11 LOVABLE FACTS ABOUT HERBIE THE LOVE BUG: ANOTHER SORT OF BEETLEMANIA SWEPT THE NATION IN 1969. (2016, June 8). Retrieved July 3, 2016, from http://www.metv.com/lists/11-lovable-facts-about-herbie-the-love-bug
What do you think of Herbie Goes Bananas? Let me know in the comments!
Incoming search terms:
Disneys Herbie Goes 1980
https://www themouseforless com/blog_world/movie-review-herbie-goes-bananas/
sewer cover herbie bananas