This post may contains affiliate links for your convenience. If you make a purchase after clicking a link we may earn a small commission but it won't cost you a penny more! Read our full disclosure policy here.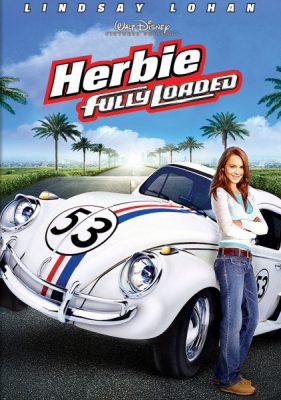 DVD Cover Copyright Disney
After a quarter-century hiatus from the big screen, Disney's beloved anthropomorphic Volkswagen Beetle, Herbie, regained his glory when Herbie: Fully Loaded was theatrically released on June 17, 2005. The live action flick, the fifth theatrically-released Herbie movie, after The Love Bug (1968), Herbie Rides Again (1974), Herbie Goes to Monte Carlo (1977), and Herbie Goes Bananas (1980), is 102 minutes in length. Herbie: Fully Loaded marked Lindsay Lohan's final appearance in a Disney movie.
Plot Summary
In Los Angeles, Maggie Peyton (Lindsay Lohan) graduates from college and is rewarded by her father, Ray Peyton Sr. (Michael Keaton), with a choice of any car from the lot of the surly Crazy Dave (Jeremy Roberts). Though hardly her first choice, Maggie fortuitously selects Herbie, who blasts her off to infinity and beyond! Err, check that. Herbie actually blasts Maggie off to the repair shop of an old high school friend, Kevin (Justin Long), who is coincidentally a racing enthusiast. Later in the afternoon, Herbie drives the duo to an appearance by fictitious NASCAR driver Trip Murphy (Matt Dillon) unaware that Pandora's Box is about to open.
Herbie, insulted by Murphy's demeaning comments on the former's ability, scratches the side of Murphy's car, instigating a race that has Maggie, who was banned from street racing by her father following a serious accident several years earlier, driving the Volkswagen to a victory incognito.
Maggie and Herbie may have improbably defeated Murphy, but Maggie faces major troubles. Her father wants her to pursue a professional career with ESPN in New York, and Murphy is intent on getting revenge. How will this saga conclude?
Herbie: Fully Loaded's plot, like those of its predecessors, is engaging but shallow and largely subordinated to the action. In particular, the relationship among Maggie, Ray Sr., and Ray Jr. (Breckin Meyer), the latter an inept NASCAR driver, is superficially heartwarming, yet it never develops to a point that will make you cry.
Reviews
In Newsday, columnist Gene Seymour afforded Herbie: Fully Loaded 2.5 out of four stars, deeming the script uneven but praising both the film's premise and acting. Said Seymour: "Summer is supposed to be a reprieve from Thinking Too Hard, which is why summers were created for movies like 'Herbie: Fully Loaded.' Still, the conscious mind can't keep itself from wondering a few things, none of which has anything to do with whether it's plausible for a 1963 Volkswagen Beetle to be able to think, feel and drive for itself. We passed that exit almost 40 years and four movies ago with 1968's 'The Love Bug,' one of the profitable ornaments in the Disney canon.
So we can easily accept that a car can behave like Chaplin (or a reasonable facsimile thereof). What's hard to understand is why, even after the span of a couple decades, not one character in this fresh new 'Herbie' movie seems to remember that a magic car ever won all those races in the 1960s and '70s. Doesn't anyone in this movie know how to use the Internet?
Surely Ray Peyton Sr. (Michael Keaton as yet another world-weary, aggrieved grown-up) would be old enough to remember Herbie's glory years, having once been a promising stock-car racer before forming his own struggling NASCAR team. And what about his daughter, Maggie (Lindsay Lohan), who's forsaking her natural gifts for racing for, of all things, a journalism career? Didn't she pick up any stray facts in the college archives about the Little Car That Could and Always Did?…
Director Angela Robinson ('D.E.B.S.') is saddled with a committee-written script whose transmission sticks and even sputters at various intervals. By the time the inevitable Big Race arrives, all you can wonder (literally) is how much more oil they can siphon. But give credit to the production team for its solicitude toward the movie's nostalgia value while remembering it's today's little children who remain the primary target.
And credit Lohan for continuing to make perkiness a badge of honor instead of a candy crutch. Who would have ever thought that she'd succeed as this generation's Hayley Mills?" (1)
Mills, who was named a Disney Legend in 1998, starred in six Disney films in as many years during the 1960s—Pollyanna (1960), The Parent Trap (1961), In Search of the Castaways (1962), Summer Magic (1963), The Moon-Spinners (1964), and That Darn Cat (1965). Lohan's Disney debut came in the 1998 remake of The Parent Trap, where she reprised Mills's double role from the original effort.
Unfortunately for Lohan, addiction and legal troubles would soon come to overshadow her acting career. (2)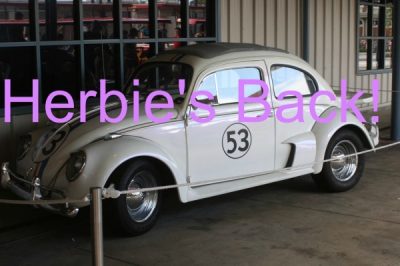 Photo Copyright Harold D, @hdnj79 on Twitter
Advertising
Herbie: Fully Loaded incorporated much advertising through product placement. Along the way, Maggie becomes an assistant producer at the Disney-owned ESPN sports network, wears a Goodyear baseball cap, and encounters advertisements for companies such as Mobil, Outback Steakhouse, Popeye's Chicken, McDonalds, Pepsi, and Cheetos.  Furthermore, a scene involving a car blowout was changed to a relatively benign "wall scraper" at the insistence of Goodyear. (3)
According to David Leener of Disney marketing, the overt advertisements were largely necessitated by the film's NASCAR theme. Leener said, "There was no way we could have gotten this film done without the cooperation of Nascar, and the deals were essentially a trade-out for services." (4)
Incidentally, no visual Volkswagen advertisements, save for Herbie himself, were incorporated in Herbie: Fully Loaded because Volkswagen had recently signed an advertising deal with Disney competitor NBC-Universal and had no pecuniary reason to promote an old vehicle. (5)
Comparisons
Notable correlations among Herbie: Fully Loaded and its predecessors can be discerned.
As had been the case in The Love Bug, Herbie is betrayed by his owner in favor of a fancier race car. Jim Douglas fell for a shiny Lamborghini in the earlier effort, while Maggie exudes a preference for Trip Murphy's fancy stock car in Herbie: Fully Loaded. Herbie is vindictive under these situations, but he also rewards loyalty with immense effort.
As had been the case in Herbie Goes to Monte Carlo, Herbie falls in love with another car. Said affection, a major plot point in the earlier flick, persists for only two brief scenes in Herbie: Fully Loaded, however.
The demolition derby scene in Herbie: Fully Loaded is an amalgamation of the bullfight scene from Herbie Goes Bananas and the suicide scene from The Love Bug, the former visually and the latter emotionally.
Action
Herbie's racing style fuels an adrenaline rush. In order to attain victory, he hurdles other vehicles, grips a guardrail, and speeds along a track fence. Buckle your seat belt, and hold on tight!
Music
Though hardly one of Disney's most original soundtracks, Herbie: Fully Loaded is loaded with fun songs to accompany the film's action.
The Beach Boys number "Getcha Back" is well utilized during the opening credits. This smooth, retro tune nicely complements visuals depicting the car's triumphs and trials, most of which are clips from the original four films. Other popular songs, including "Wipe Out," "Born to be Wild," "More Than a Feeling," "Walking on Sunshine," "Hello," and "Jump," are scattered throughout the flick.
Furthermore, George Bruns's iconic theme song from The Love Bug is reprised immediately after Maggie launches Herbie for the first time—perfection.
Humor
Herbie virulently responds to Crazy Dave's insults by spraying the junkyard owner with exhaust, launching a tire plate at his head, drenching his shoes with oil, and dragging his body across the parking lot with a rope.
In a moment of dramatic irony, Crazy Dave reassures a hesitant Maggie that his lot features "a certified pre-owned champion just waiting to be discovered, a car with the guts, the character, and the heart of a thoroughbred."
Before agreeing to sell Herbie for $75, Dave disingenuously tells Maggie that "[he] always felt that there was something special about that car." Dave's true feelings notwithstanding, his statement is accurate.
Witty lines from numerous players are inserted throughout the film. For example, while Herbie wildly maneuvers down a crowded street, a confounded Maggie says, "Great! I'm being carjacked by my own car." Later, after saving Herbie at the demolition derby, Maggie says to Jason, "I was a jerk; I know." Jason replies, "me too," and after Maggie protests that he was not a jerk, Jason says, "No, I meant I also know you were a jerk." If anything, Jason is honest!
In the Parks
Between 2005 and 2011, Herbie appeared in Disney's Hollywood Studios' "Lights, Motors, Action! Extreme Stunt Show," which closed in 2016 to prepare for the park's Star Wars and Toy Story expansions. Herbie was replaced in "Lights, Motors, Action!" by Lightning McQueen from Cars (2006) and Cars 2 (2011). (6)
Relationship to Other Disney Films
Lohan had previously starred in The Parent Trap, Life-Size (2000), Get a Clue (2002), Freaky Friday (2003), and Confessions of a Teenage Drama Queen (2004) for Disney.
Maggie was also the first name of the protagonist, a cow, in Home on the Range (2004).
Overall
Herbie: Fully Loaded is simply fun. Fast-paced action and a great soundtrack more than compensate for the typically superficial plot.
Notes
1) Seymour, G. (2005, June 23). MOVIE REVIEW, After years idle, 'Herbie' still has charm in the tank: [ALL EDITIONS] MOVIE REVIEW, After years idle, 'Herbie' still has charm in the tank: [ALL EDITIONS]. Newsday, p. B05. Retrieved August 28, 2016, from http://0-search.proquest.com.alpha1.suffolk.lib.ny.us/docview/279846510?accountid=35174
2) Lohan: In AA a year: [ALL EDITIONS]. (2006, December 13). Newsday, p. A10. Retrieved August 28, 2016, from http://0-search.proquest.com.alpha1.suffolk.lib.ny.us/docview/280111628?accountid=35174; Waxman, S. (2007, May 31). For Lohan, A Cocktail Of Sympathy And Scorn. New York Times, p. E.1. Retrieved August 28, 2016, from http://0-search.proquest.com.alpha1.suffolk.lib.ny.us/docview/433577186?accountid=35174
3) Johnson, R. (2005, July 6). Product Placement For the Whole Family: 'Herbie' Film Loaded With Brand Names. New York Times, p. E5. Retrieved August 28, 2016, from http://0-search.proquest.com.alpha1.suffolk.lib.ny.us/docview/93058865?accountid=35174
4) Ibid.
5) Ibid.
6) Hochberg, M. (2011, April 4). Lightning McQueen to replace Herbie in Lights, Motors, Action! Extreme Stunt Show. Retrieved July 4, 2016, from http://www.studioscentral.com/blog/2011/04/04/lightning-mcqueen-replace-herbie-lights-motors-action-extreme-stunt-show
What do you think of Herbie: Fully Loaded? Let me know in the comments!
Sponsored Ad:  Would you like to help support The Mouse For Less website in continuing their mission of being THE Disney vacation planning resource?  You can do so by purchasing Herbie Fully Loaded from our Affiliate Link through Amazon. Thanks so much for your support!
Incoming search terms:
https://www themouseforless com/blog_world/movie-review-herbie-fully-loaded/
herbie fully loaded car pic