This post may contains affiliate links for your convenience. If you make a purchase after clicking a link we may earn a small commission but it won't cost you a penny more! Read our full disclosure policy here.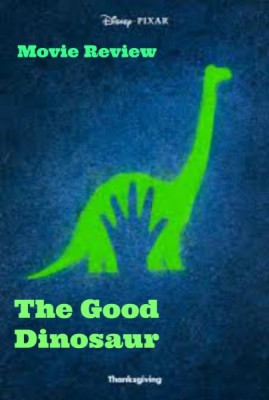 My family always tries to see every Disney-Pixar film the week that it's released, and The Good Dinosaur was no exception. Pixar's newest film explores a fun "what if" idea . What if that asteroid that wiped out the dinosaurs actually flew right by the earth without impacting it at all?
In this imaginary world, dinosaurs have evolved over a million years to become intelligent creatures who farm, store food for the winter, and even rustle bison. In the meantime, primitive humans have just arrived on the scene, and are treated by the dinosaurs at best as pets, and at worst as pests who raid their food stores.
Arlo is a gentle, timid dinosaur who is born into a farming family. He is the smallest member of the family, and although he is deeply loved, he struggles to find his place. His father is brave, his mother is hard working, his brother is strong, and his sister is clever. Arlo simply doesn't know who he is and finds it difficult to find a way to make his mark.
To complicate matters, a young human boy has been raiding their food store, and Arlo has been charged with getting rid of the pest. This proves to be a problem since Arlo is afraid of his own shadow.
All of this leads Arlo on an adventure of self discovery, where he learns much about friendship, family, fear, and bravery. In the end, he not only finds his place in the world, he also discovers how to be the very best version of himself that he can.
Let's start with the most obvious aspect of this film: the computer animation, especially the nature scenes, is magnificent. I don't think I've ever seen more lifelike plants or water environments in an animated film. The characters have less of a realistic feel to them. In fact, the faces of the dinosaurs often reminded me of Aardman Animation's characters. Surprisingly, the juxtaposition of these two animated styles – photo realistic backgrounds and environments against more traditional animated character design, seems like a match made in heaven.
But what Pixar is known for, even beyond their incredible animation, is their ability to tell a story. This film does not disappoint. Audiences will feel Arlo's pain as he laments his lack of bravery, and they will cheer for him as he struggles to overcome his fears.
Like many recent Disney and Pixar films, this is rated PG. As near as I can tell, this is for the prevalent theme of animals hunting and eating other animals. It's a dangerous world out there for Arlo and the human boy he is supposed to get rid of. So very young children might find this frightening. However, all told, this is a fine film that is quite family appropriate.
Have you seen The Good Dinosaur yet? What were your thoughts?