This post may contains affiliate links for your convenience. If you make a purchase after clicking a link we may earn a small commission but it won't cost you a penny more! Read our full disclosure policy here.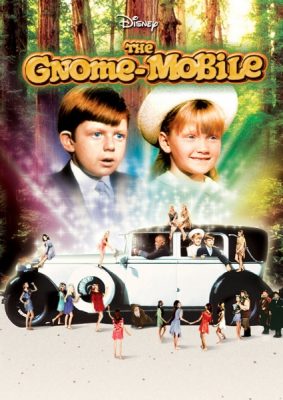 Based on Upton Sinclair's 1936 novel The Gnomobile, Disney's The Gnome-Mobile was theatrically released on July 19, 1967. The live action fantasy comedy is eighty-four minutes in length.
The Gnome-Mobile had been contemplated since the publication of Sinclair's book, when the author suggested that Walt Disney create a related film. Disney, who had not yet produced his first animated flick, Snow White and the Seven Dwarfs (1937), did not believe that Sinclair's story lent itself well to animation but promised to keep the idea in mind. Sinclair sent additional requests to Disney after the studio commenced the production of live action films during the 1950s. (1)
Plot Summary
In San Francisco, millionaire businessman D.J. Mulrooney (Walter Brennan) picks up his two young grandchildren, Rodney (Matthew Garber) and Elizabeth (Karen Dotrice), at the airport and proceeds with them in his beloved old car, a 1930 Rolls-Royce, towards Seattle, where he is scheduled to represent his logging company, Mulrooney Lumber, at a meeting. Stopped en route for a picnic in a scenic Redwood Forest, Elizabeth encounters a gnome, Jasper (Tom Lowell), with a problem. You see, gnomes have largely disappeared from the area, and with seemingly no marriage prospects for Jasper, his grandfather, Knobby (Walter Brennan), has surrendered his will to live. Mulrooney is eager to help, and after Knobby, who is distrustful of humans—"doo-deens" to gnomes—because of their destructive environmental activities, reluctantly accedes, the cast hops in Mulrooney's car and ventures for an unimproved stretch of forest, where, Mulrooney believes, Jasper may find some female gnomes.
Unfortunately for Jasper, as Mulrooney checks into a hotel for the night, Knobby overhears the human's last name, realizes that he is traveling with the logger who he detests over all other "doo-deens," and commences an explosive harangue. The rant infuriates Mulrooney, who has now lost interest in aiding the gnomes and resigns to just returning them to the picnic spot the next morning. Knobby has seemingly destroyed his grandson's chance for marriage. Will the situation be rectified?
Plot Traits
Wavering between a comedy, a romance, a drama, and an environmental critique, The Gnome-Mobile's purpose is a bit ambiguous, but the film is a hoot nonetheless.
Although an environmental message is present in The Gnome-Mobile, said message is diluted by the film's comedic aspects. As such, the intensity of The Gnome-Mobile's environmentalism is not in the same stratosphere as that in Tomorrowland (2015).
Difference
It is often difficult to discern who you can trust. Throughout The Gnome-Mobile, people and gnomes alike learn that sometimes those who seem trustworthy should not be afforded confidence, while those who seem untrustworthy are actually trustworthy.
More broadly, looks can often be deceiving. Mulrooney's car may not be the latest model, but, as displayed through the car chase scene towards the end of the film, it can race with the best of them. Also, although "Poor Violet" (Cami Sebringis) is the least flamboyant of the many female gnomes encountered in the film's closing moment, she is the perfect match for Jasper because he too is reserved. Different strokes for different folks!
Questions Based on Plot Ambiguities
How did the villainous entertainer Horatio Quaxton (Sean McClory) obtain the telephone number to Mulrooney's room?
Why did Mulrooney decide to save the gnomes from Quaxton so soon after angrily pronouncing that he would abandon them?
Music
Although The Gnome-Mobile does not feature a diverse array of music, its main lyrical tune, "The Gnome-Mobile Song," is excellent. The song, which was composed by the legendary Disney songwriting duo of Richard and Robert Sherman, who were named Disney Legends in 1990, is jolly, upbeat, and will have you grinning in glee.
"The Gnome-Mobile Song" is first sung early in the film by Mulrooney and his grandchildren with the refrain "in me jauntin' car" to express the group's joy at enjoying a leisurely automobile ride together; the "jauntin' car" refers to Mulrooney's desired childhood vehicle in Ireland. The song is twice reprised with the refrain "in the gnome mobile" after the gnomes join the humans in the car.
Humor
The Gnome-Mobile is consistently funny and occasionally hysterical.
Knobby expresses happiness upon learning that Jasper has found some friends, but this information is insufficient to make the former gnome regain his will to live. Jasper's further explanation that his friends are humans, conversely, does the trick. Any doubt of Knobby's renewed lease on life is answered by his vocal chords—man, does he scream!
After Knobby relays a story about being hit by falling timber, Rodney asks whether the blow killed the gnome. Seeing that Knobby is still alive, I think the answer is no.
Mulrooney exudes a legalistic vibe while checking into the hotel. When the agent mistakes Knobby's screams from inside a picnic basket for a dog and informs Mulrooney that canines are not allowed in the hotel, Mulrooney responds that he actually has geese. Then, when the agent clarifies that the policy extends to all pets, Mulrooney counters that the geese are not pets but business investments. Then, when the agent clarifies that the policy actually extends to all animals…the agent realizes that he is dealing with Mulrooney and bends the rules. Thank goodness!
Such as to kidnap Jasper and Knobby, Horatio Quaxton fabricates a story over the telephone to Elizabeth that her grandfather, who had just departed the hotel for a service station, has endured an accident and needs her assistance.
That Mulrooney never endures an accident during the film is miraculous considering the reckless way he enters traffic. His grandchildren, even without licensees and needing teamwork to reach the gas pedal and brakes, are better drivers…or maybe not.
Convinced that Mulrooney has become insane, Mulrooney Lumber's Ralph Yarby (Richard Deacon) reacts to his boss's reported gnome kidnapping by swapping the requested private detective with a psychiatrist, Dr. Ramsey (Jerome Cowan).
Mulrooney and Rodney conceal a breakout through fake snoring. If you are bored, the noise during this scene will prevent you from falling asleep.
Jasper uses brainpower to compensate for his height disadvantage in a frantic battle with Quaxton.
Yarby issues impossible instructions to his drivers during the car chase with Mulrooney. It's hard to drive fast and "look where you're going" when you are driving through a thick forest and shedding tires. Similarly, braking and turning are rendered difficult when the brakes and steering wheel literally come detached.
Under the direction of Rufus the Gnome King (Ed Wynn), the female gnomes play football with a greased pigskin to decide the victor of the grand prize: marriage with Jasper.
Relationship to Other Disney Films
Darby O'Gill and the Little People (1959), like The Gnome-Mobile, featured small, mythical characters, albeit leprechauns instead of gnomes, interacting with humans. Special effects, including forced perspective and oversized props, were used to create the illusion of dramatic height differences in both films and were later utilized to similar effect in The World's Greatest Athlete (1973), Honey, I Shrunk the Kids (1989), Honey, I Blew Up the Kid (1992), and Honey, We Shrunk Ourselves (1997).
Peter Ellenshaw, who was named a Disney Legend in 1993, used matte painting to add detail to regular camera shots in both The Gnome-Mobile and Darby O'Gill and the Little People.
The Gnome-Mobile was the last of three Disney films to feature Karen Dotrice and Matthew Garber, after The Three Lives of Thomasina (1964) and Mary Poppins (1964). The children are noted as "The "Mary Poppins" Kids" in the opening credits. Dotrice and Garber were named Disney Legends in 2004, the latter posthumously; Garber succumbed to hepatitis at only twenty-one years of age in 1977. Reflecting years later on Garber, Dotrice said, "I can't imagine making movies would have been half as much fun without him. He loved being naughty, finding and jumping off of small buildings on the back lot. While I was Victorian proper and wouldn't let myself get dirty or muddy, Matthew had a great sense of fun and danger. He was a daredevil and could have been a race car driver. And he did live a full life over his 21 years." (2)
The Gnome-Mobile was the twelfth of nineteen Disney films directed by Robert Stevenson, who was named a Disney Legend in 2002. Stevenson had previously directed Johnny Tremain (1957), Old Yeller (1957), Darby O'Gill and the Little People, Kidnapped (1960), The Absent-Minded Professor (1961), In Search of the Castaways (1962), Son of Flubber (1963), The Misadventures of Merlin Jones (1964), Mary Poppins, The Monkey's Uncle (1965), and That Darn Cat! (1965) for Disney; and he subsequently directed Blackbeard's Ghost (1968), The Love Bug (1968), Bedknobs and Broomsticks (1971), Herbie Rides Again (1974), The Island at the Top of the World (1974), One of Our Dinosaurs Is Missing (1975), and The Shaggy D.A. (1976) for the studio.
In The Parent Trap (1961), Hayley Mills simultaneously portrayed both of the film's identical twins. Similarly, in The Gnome-Mobile, Walter Brennan concurrently portrays a pair of grandfathers, physically representing D.J. Mulrooney and providing the voice of Knobby.
Richard Deacon previously appeared in That Darn Cat! for Disney, and he subsequently appeared in Blackbeard's Ghost for the studio.
Tom Lowell had previously held a major role in That Darn Cat!, portraying Canoe, the boyfriend of Patti Randall (Hayley Mills).
A talking raccoon, seen at the beginning of The Gnome-Mobile, was also featured in Guardians of the Galaxy (2014) and Guardians of the Galaxy Vol. 2 (2017).
Rufus was also the name of Penny's wise old cat in The Rescuers (1977).
The Gnome-Mobile marked the final film for Ed Wynn, who died on June 19, 1966, almost a year prior to the movie's release, and was posthumously named a Disney Legend in 2013. The famed voice of the Mad Hatter in Alice in Wonderland (1951), Wynn later appeared in The Absent-Minded Professor, Babes in Toyland (1961), Son of Flubber, Mary Poppins, Those Calloways (1965), and That Darn Cat! for Disney.
In the Parks
Logging is a major theme of "Kali River Rapids," the whitewater rapids attraction at Walt Disney World's Disney's Animal Kingdom.
Family-friendly Redwood Forest activities, sans gnomes, are offered at Disney's California Adventure's "Redwood Creek Challenge Trail."
Knobby's reaction to the notion that his grandson has made "doo-deen" friends reminded me of Hopper's reaction to Flick's interaction with humans in the "It's Tough to be a Bug" 3-D show at Disney's Animal Kingdom and Disney's California Adventure.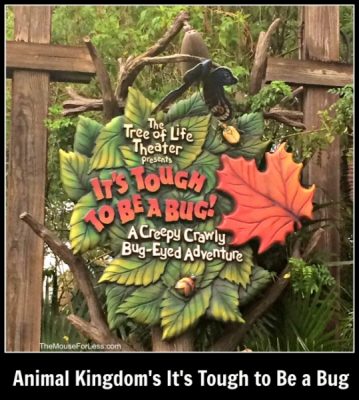 Overall
With great music, sequences of unremitting action, and lots of laughs, The Gnome-Mobile is a highly-enjoyable film in spite of a somewhat haphazard premise.
Notes
1) Timmer, T. (2017, March 19). Celebrating 50 Years of Riding Along in the Gnome-Mobile. Retrieved June 30, 2017, from http://waltdisney.org/blog/celebrating-50-years-riding-along-gnome-mobile; Winter, A. S. (2012, November 28). Walt Disney Presents The Gnome-Mobile. Retrieved June 30, 2017, from http://wetoowerechildren.blogspot.com/2012/11/walt-disney-presents-gnome-mobile.html; Gordon, D. (2014, June 21). Upton Sinclair Meets Walt Disney in 1967's The Gnome-Mobile. Retrieved June 30, 2017, from https://parttimemonster.com/2014/06/21/2409/.
2) Fedko-Blake, V. (2015, September 16). The Tragic Story of What Happened to Little Jane & Michael Banks from 'Mary Poppins' Will Tear Your Heart to Shreds. Retrieved January 18, 2017, from https://moviepilot.com/posts/3546753.
What do you think of The Gnome-Mobile? Let me know in the comments!
Sponsored Ad:  Would you like to help support The Mouse For Less website in continuing their mission of being THE Disney vacation planning resource?  You can do so by purchasing The Gnome-Mobile from our Affiliate Link through Amazon. Thanks so much for your support!
Did you like this article? Make sure to share it with your friends! Check below for easy ways to share!