This post may contains affiliate links for your convenience. If you make a purchase after clicking a link we may earn a small commission but it won't cost you a penny more! Read our full disclosure policy here.
Fun and Fancy Free was released on September 27, 1947 as the ninth full-length animated feature in Disney history and the fourth in a string of six consecutive package films produced by the studio. The package films combined multiple short segments based around a common theme, in this case having fun, as opposed to a single plot-based story. Fun and Fancy Free is 73 minutes in length.
Structure
The flick's thread is none other than Jiminy Cricket, the famed conscience of the title puppet from Pinocchio (1940). In Fun and Fancy Free, Jiminy introduces the two shorts, "Bongo" and "Mickey and the Beanstalk," which were based on Sinclair Lewis' 1930 short story "Little Bear Bongo" and the English fairy tale "Jack and the Beanstalk," respectively. "Bongo" is a charming story of an unhappy circus bear who escapes performance life for nature, while "Mickey and the Beanstalk" features Mickey, Donald Duck, and Goofy attempting to save a kidnapped harp princess from the castle of Willie the Giant.
Quality
In his 1997 book The Magic Kingdom: Walt Disney and the American Way of Life, Professor Steven Watts of the University of Missouri bluntly observed that the package films arose in part from Walt Disney's "eroding artistic vision" during the 1940s. (1) The New Yorker's review of Fun and Fancy Free upon its release was decidedly scathing, saying, "Walt Disney, who seems to have been determinedly aiming at mediocrity in his recent productions, has not even hit that mark [with Fun and Fancy Free]." (2)
I agree that Fun and Fancy Free lacks in quality and would say that it is the worst animated movie that Walt Disney was involved with. First off, aside from his itinerant nature, there is no real reason for Jiminy's presence. He is amusing but serves no purpose in augmenting a story. In fact, there is no comprehensive story or thread; "having fun" is a weak theme.
Additionally, the "Mickey and the Beanstalk" segment is just bizarre. The short follows a live-action scene where ventriloquist Edgar Bergen entertains a young girl with the help of his puppets Charlie and Mortimer. I had no knowledge of these puppets prior to viewing the film and thought they were controlling themselves, like live-action versions of Pinocchio; it was rather awkward to behold. The craziness continues when Bergen begins narrating "Mickey and the Beanstalk." The short itself is satisfactory—not particularly inspired—but frequent interruptions by Charlie become tiresome and detract from the cartoon. The puppet inserts numerous corny jokes that are more cringe-worthy than funny. It's like watching a movie next to a person who feels the need to add his or her own commentary instead of letting the action speak for itself.
To be fair, though, I'm probably as corny as Charlie and thus being hypocritical in my negative remarks.
Themes
"Bongo" shows that looks and feelings can be deceiving. While the bear appears happy performing in the circus, he is mistreated behind the scenes and wants to escape to the wild.
Several connections can be made between "Mickey and the Beanstalk" and larger cultural situations. The drought and poverty that arose after the kidnapping of the harp princess are reminiscent of 1930s American hardships, most notably the Great Depression and the Dust Bowl. Also, the differing reactions by Mickey and Donald to Mickey trading a cow for "magic beans" can be compared to politics at the Disney studio. Mickey's gamble is akin to the numerous visionary risks taken by Walt Disney over the years, while Donald's doubt relates to the fiscal conservatism displayed by Roy O. Disney.
Music
Played during the opening credits, "Fun and Fancy Free" is an upbeat number that expresses the film's goals. "If you should have a chronic ache, pills won't make you strong; the only tonic you should take is a teaspoon full of song!" In other words, watch the movie and be happy!
"Bongo" contains several good songs. An upbeat yet soothing number, "Lazy Countryside" fits well with the film's natural images, such as mountains, plains, and forest animals. Additionally, "Say it With a Slap" should hit—no pun intended—the spot even you're not in the mood for a hoedown.
Relationship to Other Disney Films
As in "Bongo," a circus setting is featured in Dumbo (1941).
In Pinocchio, Jiminy proved to be a mediocre conscience. His morals remain suspect in Fun and Fancy Free because he reads another person's mail even after questioning himself.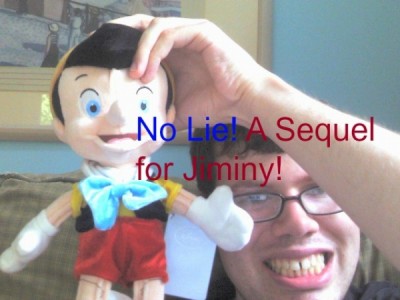 In a display of dramatic irony, Charlie mentions Cinderella, the title character of Disney's 1950 animated feature. Similarly, Charlie adorns a pirate hat; Treasure Island (1950) became Disney's first entirely live-action picture.
The opening moments of "Mickey and the Beanstalk" reminded me of a combination of Cinderella, Beauty and the Beast (1991), and The Lion King (1994) because of the imagery and mood.
Mickey reads Willie's palm lines. A similar scene occurs between Quasimodo and Esmeralda in The Hunchback of Notre Dame (1996).
In the Parks
A circus setting can be found in Fantasyland at Walt Disney World's Magic Kingdom.
Sir Mickey's in Fantasyland at the Magic Kingdom is themed after the "Mickey and the Beanstalk" short. You'll even be able to catch the giant, if you look close enough.
Mickey, Donald, and Goofy make regular appearances throughout both Walt Disney World and Disneyland.
If you're in a pirate mood, be sure to ride "Pirates of the Caribbean," an elaborate boat ride at both the Magic Kingdom and Disneyland Park.
In the style of "Bongo," performing bears star at the Magic Kingdom's "Country Bear Jamboree."
At the end of Fun and Fancy Free, Bergen consoles a depressed Mortimer by telling the puppet that Willie is just a "figment of imagination." Guests at Epcot can experience "Journey into Imagination with Figment," a track ride through the five senses.
Overall
Fun and Fancy Free is a haphazard effort, but it is still worth a watch. "Bongo" is entertaining, and you may enjoy Bergen and "Mickey and the Beanstalk" more than I did. Also, Walt Disney voiced Mickey for the final time in this film. Ah, nostalgia!
Notes
1) Watts, S. (1997). Disney's Descent. The Magic Kingdom: Walt Disney and the American Way of Life (). Columbia, Missouri: University of Missouri Press, p. 249.
2) Ibid.,  p. 250.
What do you think of Fun and Fancy Free? Let me know in the comments!
Sponsored Ad:  Would you like to help support The Mouse For Less website in continuing their mission of being THE Disney vacation planning resource?  You can do so by purchasing Fun and Fancy Free from our Affiliate Link through Amazon. Thanks so much for your support!
Incoming search terms:
fun and fancy free Puppet
https://www themouseforless com/blog_world/movie-review-fun-fancy-free/