This post may contains affiliate links for your convenience. If you make a purchase after clicking a link we may earn a small commission but it won't cost you a penny more! Read our full disclosure policy here.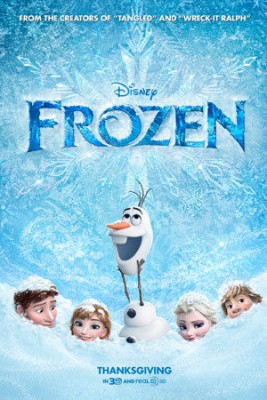 DVD Cover Copyright Disney
The subject of one of the greatest entertainment frenzies in recent memory, Frozen was theatrically released as the fifty-third full length animated feature in Disney history on November 27, 2013. The film is 102 minutes in length.
Plot Summary
The grand day has finally arrived, the day when Princess Elsa is to be crowned Queen of the Kingdom of Arendelle. Unfortunately, the day is not happy.
You see, more than a decade earlier, Elsa had been ordered by the late King and Queen to hide her undesirable power to freeze her surroundings from both the masses and her sister, Anna. The seclusion, though well intended, estranged the sisters.
Elsa truly loves Anna, but she just cannot reveal her secret, and Anna understandably thinks Elsa hates her. So, when Elsa bluntly refuses to sanction Anna's proposed marriage to Prince Hans of the Southern Isles, Anna snaps, unknowingly triggering Elsa's power. Horrified, Elsa flees to the secluded North Mountain for everyone's safety, but she leaves an eternal winter behind.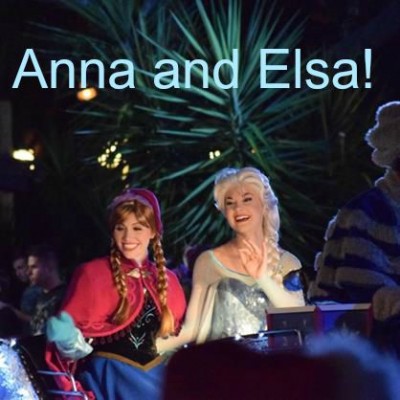 Photo Copyright Tim Rogers
Anna, finally cognizant of Elsa's true situation, treks to find her sister and rectify years of misery. Anna is aided in her quest by numerous memorable characters, including Olaf the snowman, a family of trolls, and Kristoff, a socially awkward but kindhearted ice salesman.
Although her intentions are good, Anna's journey is laden with potential dangers. Can she possibly succeed?
Frozen's plot is incredibly engaging and exciting. If anything, it is suspenseful to a fault, as a plot shift toward the middle of the film feels somewhat forced.
Development
Frozen continued a renaissance for Disney fairy tale films under the leadership of Chief Creative Officer John Lasseter, being the third such film under his watch following The Princess and the Frog (2009) and Tangled (2010). Prior to Disney's acquisition of Pixar in 2006, Disney had not released a fairy tale-based movie since Mulan in 1998. Lasseter did not like this trend. He said, "One of the things that was very important to me was to bring back the sincere fairy tale. I didn't understand why the previous leaders felt like the modern audience wasn't interested in the sincere fairy tale anymore." (1)
The development of Frozen commenced in 2008, when Lasseter approved an idea by Chris Buck, who had previously co-directed Tarzan (1999), to adapt Hans Christian Andersen's fairy tale "The Snow Queen" into an animated feature. Buck would co-direct the eventual Frozen with Jennifer Lee, the first woman to direct an animated feature in Disney history. (2)
Lasseter played a key role in focusing Frozen's development. Initially, Elsa was intended to be a villain instead of the complex, misunderstood protagonist of the completed project. On Elsa's role as an antagonist, Lasseter asked, "Why does Elsa have to be a villain?" Producer John Del Vecho said of this query, "It was the best question, and it set off the creation of the Academy Award-winning song 'Let it Go.'" (3)
The Magic Torch
Though they changed studios over the years, Lasseter and Chris Buck had strong ties to Disney's great legacy. Said Lasseter at Walt Disney Animation Studio's ninetieth-anniversary celebration on December 10, 2013, "Chris and I both went to CalArts in the character animation program. We were taught by those great Disney artists that they had pulled out of retirement. These were the guys who helped Walt Disney kind of create this art form of animation. They were there from the beginning. And when we first went to the Disney studio, many of those Nine Old Men were still working. Now I recognize exactly what they were doing. They were handing the torch to us." (4)
In the case of Frozen, that torch proved magical.
A Frozen Frenzy
Frozen opened to glowing reviews and phenomenal box-office returns, and its success only accelerated from there. Moviegoers gave the film an "A-Plus" grade in exit polls over opening weekend, and Frozen's $93 million earnings during its first five days made it among the most successful Thanksgiving-weekend releases of all time according to box-office analysts. (5) When all was said and done, Frozen grossed over $1.2 billion worldwide, the highest-ever total for an animated movie and within the top-ten overall. (6) It should be noted, though, that recent flicks have been aided by 3-D sales.
To nobody's surprise, Frozen won the Academy Award for "Best Animated Feature" at the 2014 Oscars.
The flick's triumphs extended far beyond movie theatres. Frozen's setting was inspired by Norway, and tourists bought into that European country. In June 2014, Harold Hanson, the United States' spokesman for Visit Norway, said, "We noticed a huge increase [in tourism] from the U.S. already in November and December last year, just after we started our marketing with Disney in October." (7)
Disney itself got involved in the tourism boom by, well, jumping into the Norway tourism business. As noted in a New York Times article from May 11, 2014: "The Disney tour company Adventures by Disney, seeking to capitalize on the film, introduced an eight-day Norway trip with seven departures this summer and fall. The trips begin in Bergen, purportedly the model for Arendelle, the setting for "Frozen," and visit stave churches, fjords and folk dancers, also sources of inspiration for the filmmakers." (8)
The Norway itineraries will continue for the foreseeable future. (9)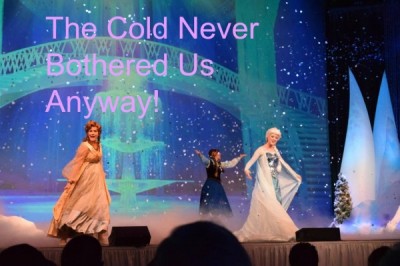 Photo Copyright Tim Rogers
Reality
Humans are often complex, and appearances do not always represent reality. Those who seem good may really be bad or vice versa. This concept is personified in Frozen though Elsa, Hans, and Kristoff.
Secrets
Keeping secrets usually results in stress and unintended problems. Life would have likely been happier for both Anna and Elsa had the latter been allowed to come clean years earlier.
Music
Frozen's soundtrack was the work of husband-and-wife duo Kristen Anderson-Lopez and Bobby Lopez. Regarding the couple's decision to accept the task, Bobby Lopez said, "When we first were approached by Disney, they showed us a piece of art that had projections of what the little girls would look like as kids in the castle playing together. That was what sold us on the whole movie because they reminded us of our girls." (10)
Frozen's soundtrack proved so popular that theatres throughout the United States commenced a related gimmick in February 2014: a sing-along version of the flick, where audiences were encouraged to join the actors in singing the tunes. Said Dave Hollis, executive vice president of theatrical distribution of the Walt Disney Studios, on the idea, "'Frozen' fans have embraced the film's original songs and its soundtrack with such passion — there are countless YouTube videos from people singing songs like 'Let It Go' — we decided to create a version that would celebrate that enthusiasm." (11)
Frozen's soundtrack is undoubtedly catchy, but I find it overrated. I would rank all of the soundtracks from the Disney Renaissance films of the 1990s above Frozen's, though to be fair, I grew up during the 1990s, so I may be biased here. Among Lasseter-era films, I think Frozen's soundtrack is far superior to that of Tangled, but not as good as the score from The Princess and the Frog. Still, Frozen has an excellent soundtrack; a mediocre ranking among Disney movies in this regard is a testament to the company's great musical legacy, not a condemnation of Frozen's score.
Humor
Anna's socially-awkward personality creates numerous funny lines. She can finish other people's sentences…and sandwiches.
A trading post with an attached sauna! Now I have seen everything!
The trolls provide some toilet humor.
Olaf is present for comic relief. He is Frozen's version of Timon and Pumbaa from The Lion King (1994), the Gargoyles from The Hunchback of Notre Dame (1996), and Mushu from Mulan. He is ignorant of the scientific principles of water.
A bizarre, yet hilarious disclaimer to a line uttered by Kristoff is included near the culmination of the end credits: "The views and opinions expressed by Kristoff in the film that all men eat their own boogers are solely his own and do not necessarily reflect the views or opinions of The Walt Disney Company or the filmmakers. Neither The Walt Disney Company nor the filmmakers make any representation of the accuracy of any such views and opinions."
In the Parks
Frozen's popularity extended to Disney's theme parks. In June 2014, waits to meet Anna and Elsa at Walt Disney World's Magic Kingdom reached an incredible five hours within a half-hour of the park's opening. (12)
At Walt Disney World, guests can meet Anna and Elsa at the Magic Kingdom's "Princess Fairytale Hall." Waits remain tremendously long, so try to get a FastPass+ reservation if someone in your party wants to meet the duo.
During the holiday season, Guests can experience "A Frozen Holiday Wish" Castle Lighting Ceremony.
In California, the princesses greet guests at Disney's California Adventure's "Animation Academy."
A Frozen-based attraction, "Frozen Ever After," is scheduled to open at Epcot's Norway pavilion in 2016.
Overall
Amazing characters, good humor, and a catchy soundtrack make Frozen an incredibly enjoyable film. I recommend watching it on a cold winter night with a cup of hot chocolate in hand and the fireplace running.
Notes
1) Keegan, R. (2013, May 12). The reanimation of Disney Studios. Los Angeles Times, p. D.1. Retrieved August 27, 2015, from http://0-search.proquest.com.alpha1.suffolk.lib.ny.us/docview/1350005717?accountid=35174
2) Ibid.
3) Kang, C. (2014, November 20). Disney's global success with 'Frozen' took lots of translation, investment. The Washington Post. Retrieved August 28, 2015, from http://0-search.proquest.com.alpha1.suffolk.lib.ny.us/docview/1626790038?accountid=35174
4) King, S. (2013, December 10). It's been 90 colorful years; As Walt Disney Animation Studios celebrates a big day, it takes a look back. Los Angeles Times, p. D.2. Retrieved August 27, 2015, from http://0-search.proquest.com.alpha1.suffolk.lib.ny.us/docview/1466048707?accountid=35174
5) Barnes, B. (2013, December 2). Boys Don't Run Away From These Princesses: [The Arts/Cultural Desk]. New York Times, Late Edition (East Coast), p. C.1. Retrieved August 28, 2015, from http://0-search.proquest.com.alpha1.suffolk.lib.ny.us/docview/1462757323?accountid=35174
6) Lush, A. (2014, June 8). Families in a frenzy over Disney's 'Frozen.' Press, p. 6. Retrieved August 28, 2015, from http://0-search.proquest.com.alpha1.suffolk.lib.ny.us/docview/1534133600?accountid=35174
7) Hapaz, B., & Rising, M. (2014, June 7). 'Frozen' frenzy includes Norway tourism. The News Journal, p. 2. Retrieved August 28, 2015, from http://0-search.proquest.com.alpha1.suffolk.lib.ny.us/docview/1533730917?accountid=35174
8) Glusac, E. (2014, May 11). A Flurry of Bookings to Norway: [Travel Desk]. New York Times, Late Edition (East Coast), p. TR.3. Retrieved August 28, 2015, from http://0-search.proquest.com.alpha1.suffolk.lib.ny.us/docview/1524320580?accountid=35174
9) Check out The Mouse for Less' Adventures by Disney page for more information on this and other itineraries. https://www.themouseforless.com/adventures-by-disney/
10) Chai, B. (2013, November 27). Arts & Entertainment — Speakeasy: 'Frozen': Music for the Whole Family. Wall Street Journal, Eastern Edition, p. A.21. Retrieved August 28, 2015, from http://0-search.proquest.com.alpha1.suffolk.lib.ny.us/docview/1461846081?accountid=35174
11) See Disney's 'Frozen' again, but this time sing along. (2014, January 31). The Post – Crescent, p. 5. Retrieved August 28, 2015, from http://0-search.proquest.com.alpha1.suffolk.lib.ny.us/docview/1492933930?accountid=35174
12) See note 6.
What do you think of Frozen? Let me know in the comments!
Sponsored Ad:  Would you like to help support The Mouse For Less website in continuing their mission of being THE Disney vacation planning resource?  You can do so by purchasing Frozen from our Affiliate Link through Amazon. Thanks so much for your support!