This post may contains affiliate links for your convenience. If you make a purchase after clicking a link we may earn a small commission but it won't cost you a penny more! Read our full disclosure policy here.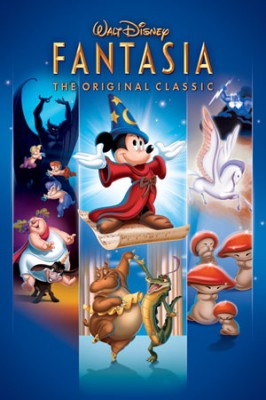 A unique experiment to combine animation with classical music, Fantasia was theatrically released on November 13, 1940 as the third full-length animated feature in Disney history. A sequel, Fantasia 2000, was released on December 17, 1999.
Plot Summary
In what is presumably a concert hall, composer Deems Taylor takes the stage as the master of ceremonies while the members of the Philadelphia Orchestra tune their instruments and prepare to begin the program. Taylor explains that the ensuing film will feature animation derived from the imaginations of the animators while listening to the respective classical music that will be played.
Eight segments based on the works of different musicians, all introduced by Taylor, follow: "Toccata and Fugue in D Minor" by Johann Sebastian Bach, "Nutcracker Suite" by Pyotr Ilyich Tchaikovsky, "The Sorcerer's Apprentice" by Paul Dukas, "The Rite of Spring" by Igor Stravinsky, "Intermission/Meet the Soundtrack," "The Pastoral Symphony" by Ludwig van Beethoven, "Dance of the Hours" by Amilcare Ponchielli, and "Night on Bald Mountain/Ave Maria" by Modest Mussorgsky and Franz Schubert, respectively.
There are three types of musical segments in the flick: those with music and a definite story, those with music and definite pictures if not a fully-developed plot, and those that showcase music for music's sake. The first two segments and the intermission fall into the latter category, "The Sorcerer's Apprentice" and "The Pastoral Symphony" feature definite stories, and the remaining segments fall, in my opinion" in the middle category, though this sentiment can be debated.
A Grand Experiment
Love it or hate it, Fantasia is undoubtedly one of the most unique animated films in history. With the cooperation of conductor Leopold Stokowski and his Philadelphia Orchestra, Disney animators attempted to combine animated segments with classical music. This concept infuriated some critics, who bemoaned the use of the chosen numbers in a film for the masses; following the flick's premiere in New York City, Walt Disney blasted the detractors, saying they had no right to tell him what to do. (1) Controversy notwithstanding, the endeavor was exquisitely accomplished, with the animation effectively complementing the tunes.
In some segments, action is synchronized with the music. A fish's tail moves with silk-like fluidity during a sequence of smooth music in "Nutcracker Suite," Russian flowers quickly move up and down during a series of short notes in "Nutcracker Suite," and rushing lava and water accompany intense music in "The Rite of Spring."
The segments that feature music for its own sake include abstract images. For example, during "Toccata and Fugue in D Minor," random lines and shapes dominate amidst alternating background colors. Also, during "Meet the Soundtrack," a generic geometrical line—the soundtrack—radiates different waves for different instruments, a harp, a violin, a flute, a trumpet, a bassoon, and a bass drum. The wave image for the bass drum reminded me of a tiki pole that you might encounter at Walt Disney World's "Enchanted Tiki Room." Harkening back to Taylor's introduction, I do not think that these images would be in my head if I was listening to the numbers on my own time, but the animators' choices successfully complement the music.
The Problem with Borrowing
In his first two full-length animated features, Snow White and the Seven Dwarfs (1937) and Pinocchio (1940), Walt Disney added his own touches to well-known stories. Fantasia featured a similar process, but instead of seeking inspiration from stories, Disney turned his attention to music. The addition of imagery and story to said music angered some critics, who believed that these manipulations "robbed them [the musical pieces] of their integrity and thus demonstrated a fundamental disrespect for the masters of the musical art." (2)
Themes
"The Sorcerer's Apprentice" demonstrates the hazards of cockiness and laziness. Despite not yet being an expert in spells, Mickey, the sorcerer's apprentice, decides to empower a broom to complete the mouse's task of filling the cauldron with water. The plan backfires, and it is unknown whether Mickey lost his apprenticeship. So, remember kids, do not take shortcuts!…unless you know a quicker route to Disney World, but that is another story.
Getting back on track, a second theme of Fantasia is morality. By combining the "profane" [Taylor's word] "Night on Bald Mountain" with the "sacred" [Taylor's word] "Ave Maria," Disney instigates a battle between good and evil. Go team good!
Finally, the evolution of earth is highlighted through "The Rite of Spring." Get ready to see protozoa, volcanoes, and dinosaurs!
Interesting Elements
Fantasia's title card, indicating the flick's name and copyright information, does not appear until the intermission, approximately sixty-six minutes into the film.
Despite being an animated film, almost all the dialogue comes from the live-action Taylor and Stokowski. After "The Sorcerer's Apprentice," Mickey's shadow gets a few lines on stage with Stokowski, but the shorts themselves are silent.
At 126 minutes, Fantasia is by far the longest of Disney's fifty-four full-length animated features, surpassing its nearest competitors, Frozen (2013) and Big Hero 6 (2014), by twenty-four minutes. After Fantasia, no Disney animated feature reached 100 minutes until Tangled (2010).
Length
I think the running time is Fantasia's main problem. A two-hour movie is on the long side for many plot-based movies, let alone for one that, impressive as it is, has no actual story. I had my fill by the intermission. To fully appreciate the effort, it may be best to watch Fantasia in multiple sittings.
Humor
Walt Disney dissuaded his animators from making the film a comedy, saying, "Please avoid slapstick gags in the ordinary sense; work instead toward fantasy and business with an imaginative touch." (3) The animators got the message. Some awkward lines by Taylor, dancing hippos, and marching brooms will likely make you grin, but I did not think anything in the movie was laugh-out-loud funny.
Relationship to Other Disney Films
The structure of Fantasia is akin to Disney's "package films," such as Melody Time (1948), in that it features multiple segments based around a common theme, in this case music, as opposed to a single plot-based story. Fantasia is of much higher quality than the "package films," though.
Dinosaurs, featured at length in "The Rite of Spring," take center stage in Dinosaur (2000).
Many of the mythological players in "The Pastoral Symphony," including Zeus and Pegasus, reappear in Hercules (1997). The blue centaur in "The Pastoral Symphony" reminded me of the Genie from Aladdin (1992).
In the Parks
"Fantasmic," a nighttime spectacular at Walt Disney World's Disney's Hollywood Studios and Disneyland Resort's Disneyland Park, features the sorcerer's apprentice—Mickey—fighting Disney villains so that, as in the final scene of Fantasia, good can triumph over evil.
At Walt Disney World, guests can partake in Fantasia-themed mini-golf at "Fantasia Gardens." This separate-admission experience features both a putt-putt option as well as the more difficult Fantasia Fairways path, a scaled-down version of a real golf course.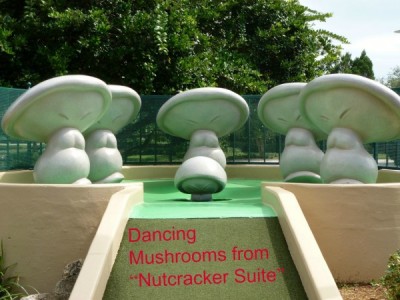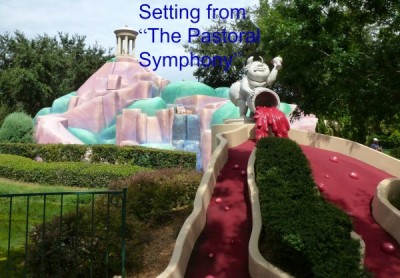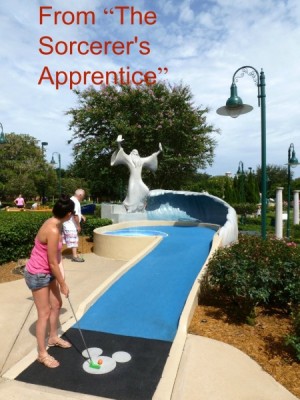 The sorcerer's hat from "The Sorcerer's Apprentice" has served as the official icon of Disney's Hollywood Studios since 2001, but it is scheduled to be taken down in early 2015.
If you are craving dinosaurs, you can see them in numerous locales at both Walt Disney World and Disneyland: the "DinoLand USA" area of Disney's Animal Kingdom, "Universe of Energy: Ellen's Energy Adventure" at Epcot, and the "Grand Canyon/Primeval World" diorama section of the "Disneyland Railroad" at Disneyland Park.
Overall
Fantasia is a brilliantly-executed experiment that goes on about forty minutes too long. Alas, this post is going on too long, so until next time, thanks for reading!
Notes
1) Watts, S. (1997). Disney and the Depression: Populist Parables. In The Magic Kingdom: Walt Disney and the American Way of Life. Columbia, Missouri: University of Missouri Press, p. 88.
2) Watts, S. (1997). The Entertainer as Artist: Sentimental Modernism. In The Magic Kingdom: Walt Disney and the American Way of Life. Columbia, Missouri: University of Missouri Press, p. 117.
3) Ibid., p. 114.
What do you think of Fantasia? Let me know in the comments!
Sponsored Ad:  Would you like to help support The Mouse For Less website in continuing their mission of being THE Disney vacation planning resource?  You can do so by purchasing Fantasia from our Affiliate Link through Amazon. Thanks so much for your support!