This post may contains affiliate links for your convenience. If you make a purchase after clicking a link we may earn a small commission but it won't cost you a penny more! Read our full disclosure policy here.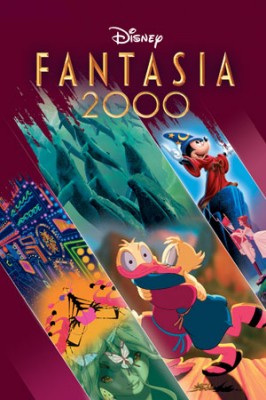 A sequel to perhaps the most creative film in Disney history, Fantasia (1940), Fantasia 2000 was released on December 31, 1999 as Disney's thirty-eighth full-length animated feature. Fantasia 2000 is much shorter than its 126-minute predecessor, clocking in at only 75 minutes including the end credits, which the original Fantasia did not contain.
Development
Walt Disney had intended Fantasia to commence a series of films synchronizing music to animation, with the sequels featuring new segments in addition to old favorites. However, Fantasia was a box office disappointment, and combined with other factors, such as World War II, a sequel did not transpire during Walt Disney's lifetime.
In 1990, Disney Vice-Chairman Roy E. Disney, the son of Walt Disney's brother and business partner Roy O. Disney, proposed making his uncle's dream of a Fantasia sequel a reality. The Walt Disney Company's Chief Executive Officer, Michael Eisner, was not a fan of the idea but was willing to compromise. To this end, if Roy Disney, who had been fighting Eisner's plan to release Fantasia on home video, permitted its VHS release, the proceeds from the video sales would be used to create a sequel. The strategy worked; Fantasia sold 15 million copies and finally attained a profit. The sequel was on! (1)
Plot Summary
With numerous musical animated segments introduced by live-action narrators in a concert hall, the structure of Fantasia 2000 is similar to that of its predecessor. The film commences with a clip of Deems Taylor, the master of ceremonies from Fantasia, reprising his spiel about the three types of segments the movie will contain—those with music and a definite story, those with music and definite pictures if not a fully-developed plot, and those that showcase music for music's sake—amidst highlights from the 1940 film and an interstellar backdrop.
Fantasia 2000 incorporates eight segments synchronized to different music: "Symphony No. 5" by Ludwig van Beethoven, "Pines of Rome" by Ottorino Respighi, "Rhapsody in Blue" by George Gershwin, "Piano Concerto No. 2. Allegro Opus 102" by Dmitri Shostakovich and based on the story "The Steadfast Tin Soldier," "Carnival of the Animals (Le Carnaval des Animaux). Finale" by Camille Saint-Saens, "The Sorcerer's Apprentice" by Paul Dukas, "Pomp and Circumstance—Marches 1. 2. 3. And 4" by Sir Edward Elgar, and "Firebird Suite—1919 Version" by Igor Stravinsky.
Of the eight segments, "Symphony No. 5" is music for music's sake, "Pines of Rome" and "Carnival of the Animals" have definite pictures but not a fully-developed plot, and the rest of the shorts feature discernable stories. "The Sorcerer's Apprentice" is the only segment to be repeated from the original Fantasia.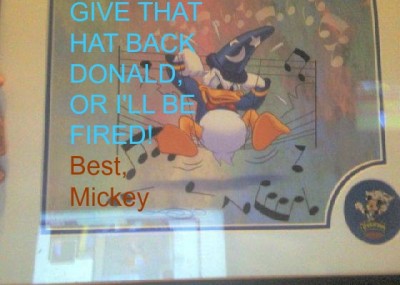 Narrators
Unlike the original Fantasia, where Taylor served as the sole narrator, different celebrities introduce the various segments in Fantasia 2000. Taylor introduces "Symphony No. 5" with the throwback clip; Steve Martin and Itzhak Perlman introduce "Pines of Rome;" and Quincy Jones, Bette Midler, James Earl Jones, Penn and Teller, James Levine, and Angela Lansbury do the honors, respectively, for the remaining segments.
I would not say that having multiple narrators affects the film either positively or negatively in relation to Fantasia; it is just different.
Music
As in Fantasia, Disney, with one notable exception highlighted in the ensuing section, exquisitely mixed its music selections with the animation. For example, in "Pines of Rome," a smooth tune accompanies the flying whales, while shorter and quicker notes dominate once the creatures touch down in the water. Also, three short notes masterfully complement the light flashes in "Symphony No. 5," and a still tune follows the Tin Soldier on his boat ride through the sewer in "Piano Concerto No. 2."
Pomp and Circumstance
Yes, Michael Eisner can be pompous. No, that is not the point of this section…well, it actually kind of is. In any event, upon hearing the classic "Pomp and Circumstance" at his son's high school graduation ceremony, Eisner told Roy Disney and the animators that the tune had to be incorporated into Fantasia 2000 because "everyone can relate to 'Pomp and Circumstance.'" (2) The CEO also proposed a story concept to accompany the song: classic Disney heroes and heroines would march in a wedding procession with their future babies. (3)
Roy Disney and the animators hated these ideas, and though Eisner was willing to forfeit his specific story concept, he maintained that "Pomp and Circumstance" had to be inserted. (4)
To its credit, the animation team found a creative way to satisfy Eisner. As students march in pairs at graduation ceremonies, so too did the animals onto the biblical Noah's Ark. In Fantasia 2000, "Pomp and Circumstance" provides the backdrop as an assortment of animals, including Donald Duck, board the ark.
I enjoy "Pomp and Circumstance" as much as anybody, but the song did not fit here. I equate the tune to graduation, so I found the use in relation to boarding a ship amidst an incoming hurricane to be more comical than anything. The segment was entertaining, but I do not think it was what Eisner was hoping for. It is the only segment in either installment of Fantasia where I found the music selection muddled.
Animation
Disney's attempt to mix computer animation with hand-drawn animation rendered mixed results in my opinion. While the traditional backgrounds, especially those of the sky and glaciers in the first two segments, were breathtakingly beautiful, I thought they were overwhelmed by the bold appearance of the CGI butterflies and whales.
Furthermore, considering solely animation, I was unimpressed with the sketchy style of "Rhapsody in Blue." That style of animation, also used in the "All the Cats Join In" portion of Make Mine Music (1946), does not scream "Disney" to me.
Humor
In developing Fantasia, Walt Disney dissuaded his animators from making the film a comedy, saying, "Please avoid slapstick gags in the ordinary sense; work instead toward fantasy and business with an imaginative touch." (5)
A similar heeding was not given in making Fantasia 2000, which contains numerous hysterical moments, both in the introductions and the feature segments. Yo Yo Flamingo wreaks havoc with his yo-yo, Steve Martin demonstrates his inability to play the violin, Donald impersonates a meteorologist, and Duke, the construction worker from "Rhapsody in Blue," literally takes his breakfast on the run! The film's funniest moment, though, occurs when Rachel, the girl in "Rhapsody in Blue," is taking singing lessons—the reaction of the dog in the room is classic.
Relationship to Other Disney Films
The structure of Fantasia 2000 is akin to Disney's "package films," such as Melody Time (1948), in that it features multiple segments based around a common theme, in this case music, as opposed to a single plot-based story.
Bette Midler voiced Georgette in Oliver and Company (1988).
The determination of the ballerina in "Piano Concerto No. 2" to marry her true love, Tin Soldier, rather than her evil suitor, Jack-in-the-Box, harkens back to Belle from Beauty and the Beast (1991) and Jasmine from Aladdin (1992).
The nasty demeanor that Killjoy Margaret displays towards her husband, Flying John, in "Rhapsody in Blue" reminded me of Fran Garrison's attitude with her husband, Mark Garrison, in the live-action The Ugly Dachshund (1966).
In the Parks
"Fantasmic," a nighttime spectacular at Walt Disney World's Disney's Hollywood Studios and Disneyland Resort's Disneyland Park, features the sorcerer's apprentice—Mickey—fighting Disney villains.
The sorcerer's hat from "The Sorcerer's Apprentice" has served as the official icon of Disney's Hollywood Studios since 2001, but it is scheduled to be taken down in early 2015.
Overall
Fantasia 2000 is inferior to its 1940 predecessor in terms of overall quality, but I found the sequel more enjoyable due to the humor and shorter duration. The synchronization of the music to the animation is, for the most part, still excellent.
Notes
1) Stewart, J. (2005). The Wonderful World of Disney. In Disney War (pp. 105-106). New York: Simon & Schuster.
2) Stewart, J. (2005). Disenchanted Kingdom. In Disney War (p. 289). New York: Simon & Schuster.
3) Ibid.
4) Ibid.
5) Watts, S. (1997). The Entertainer as Artist: Sentimental Modernism. In The Magic Kingdom: Walt Disney and the American Way of Life (p. 114). Columbia, Missouri: University of Missouri Press.
What do you think of Fantasia 2000? Let me know in the comments!
Sponsored Ad:  Would you like to help support The Mouse For Less website in continuing their mission of being THE Disney vacation planning resource?  You can do so by purchasing Fantasia 2000 from our Affiliate Link through Amazon. Thanks so much for your support!