This post may contains affiliate links for your convenience. If you make a purchase after clicking a link we may earn a small commission but it won't cost you a penny more! Read our full disclosure policy here.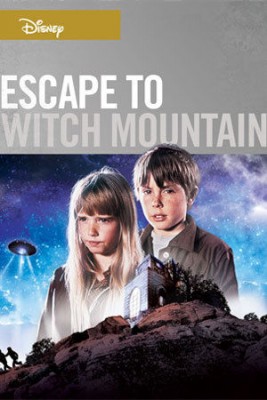 DVD Cover Copyright Disney
Based on Alexander Key's 1969 novel of the same name, Escape to Witch Mountain was theatrically released on March 21, 1975. The live action flick is 97 minutes in length.
Plot Summary and Opinion
In California, young siblings, Tony Malone (Ike Eisenmann) and Tia Malone (Kim Richards), enter the Pine Woods Orphanage. They do not remember much about their past, but the general nature of that past soon becomes obvious to the audience. Tony uses supernatural powers to levitate objects to defeat a bully, Truck (Dermott Downs), and Tony and Tia save the life of an attorney named Lucas Deranian (Donald Pleasence) by prophetically warning him of an impending accident if he enters his limousine.
Deranian is grateful for the warning, but he is more intrigued by Tony and Tia's overt powers. His boss, Aristotle Bolt (Ray Milland), is desperate for means to increase his wealth, and the Malone siblings are the solution. Bolt forces Deranian to obtain forged papers such that he can pose as Tony and Tia's uncle and thus adopt them. The children know Deranian is not really their uncle, but Mr. Bolt's residence, "Xanthus," is captivating. In place of an orphanage, Tony and Tia will now reside in a mansion with a plethora of stuffed animals and ice cream, not to mention free horse-riding lessons! Deranian may be an impostor, but the children are in paradise, so all is well. Right?
The plot is fast paced and interesting, albeit shallow. The supporting characters lack depth, with many appearing for fairly lengthy stretches before being thrust aside.
Puzzle
As cloudy skies gradually part to pure sunshine, Tony and Tia's complete backstory methodically reveals itself over the course of the film. The process is well executed, and the Eureka moment is fulfilling.
Acting
The best performance in Escape to Witch Mountain, in my opinion, is turned in by Eddie Albert, who genuinely portrays a lonely yet kindly old man, Jason O'Day. Conversely, I was unimpressed by Richards's performance as Tia. I found Tia excessively awkward and almost grating at times, most notably at the campsite when she and Tony recount O'Day's unfortunate family life.
Music
Escape to Witch Mountain contains no feature songs, but background music is included throughout the movie and is integral to several scenes.
Mysterious tunes complement the opening credits and each of Tia's flashbacks.
Tony plays the harmonica to predict the future and manipulate his surroundings. The resulting music ranges from soothing to nails-on-chalkboard irritating.
A fun, whimsical number augments a puppet show at Xanthus.
Imagery
Loaded with instances of levitating objects, including a baseball glove, a baseball bat, a marker, a gun, a harmonica, Tony himself, a jacket, a hat, bags of flour, a recreation vehicle, and an unidentified flying object, Escape to Witch Mountain is pleasing to the eye.
History buffs should note John Trumbull's famous portrait of the signing of the Declaration of Independence on the wall of the office of Sheriff Purdy (Walter Barnes).
Humor
Most of the humor in Escape to Witch Mountain concerns the powers of Tony and Tia. The scenes where the siblings figuratively turn the tables on Deranian and other antagonists are comical, as are the final segments with the assorted vehicles on the mountain. The funniest scene, in my opinion, involves Sheriff Purdy battling a "ghost" in his office. On the whole, the film is consistently amusing but rarely, if ever, hysterically funny.
Relationship to Other Disney Films
A sequel to Escape to Witch Mountain, Return from Witch Mountain, was theatrically released on March 10, 1978. Ike Eisenmann and Kim Richards reappear as Tony and Tia.
Race to Witch Mountain (2009) was a remake of Escape to Witch Mountain. Eisenmann and Richards are afforded respective cameos as Sheriff Anthony and Tina.
Towards the beginning of Escape to Witch Mountain, the children at Pine Woods Orphanage take a field trip to see Snow White and the Seven Dwarfs (1937).
Orphans also play major roles in Pollyanna (1960), The Rescuers (1977), and Meet the Robinsons (2007).
After Tony and Tia escape, Mr. Bolt orders Deranian to recapture them even if he has to "chase them on a magic carpet." A magic carpet was at the center of Aladdin (1992).
In the Parks
No attractions or character meets based directly on Escape to Witch Mountain are featured at Disney's theme parks. At Walt Disney World and Disneyland, however, guests can enjoy multiple mountain-based attractions: "Big Thunder Mountain Railroad" at the Magic Kingdom and Disneyland Park, "Splash Mountain" at the Magic Kingdom and Disneyland Park, "Space Mountain" at the Magic Kingdom and Disneyland Park, "Matterhorn Bobsleds" at Disneyland Park, and "Expedition Everest" at Disney's Animal Kingdom. All of these attractions are roller coasters except Splash Mountain, which is a flume.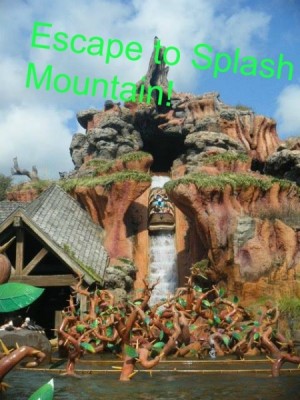 Photo Copyright Liliane Opsomer
Mr. Bolt questions whether Tony and Tia's powers are merely "figments" of Mr. Deranian's "very fine imagination." At Epcot, guests can enjoy a multi-sensory extravaganza, "Journey Into Imagination With Figment."
Mysterious visual effects are integral to the Haunted Mansion, located at both the Magic Kingdom and Disneyland Park.
Overall
Though it is by no means a great film, Escape to Witch Mountain delivers a compelling enough story to entertain people of all ages. It is worth a watch, especially on a dark and stormy night.
What do you think of Escape to Witch Mountain? Let me know in the comments!
Sponsored Ad:  Would you like to help support The Mouse For Less website in continuing their mission of being THE Disney vacation planning resource?  You can do so by purchasing Escape To Witch Mountain from our Affiliate Link through Amazon. Thanks so much for your support!
Incoming search terms:
https://www themouseforless com/blog_world/movie-review-escape-witch-mountain/