This post may contains affiliate links for your convenience. If you make a purchase after clicking a link we may earn a small commission but it won't cost you a penny more! Read our full disclosure policy here.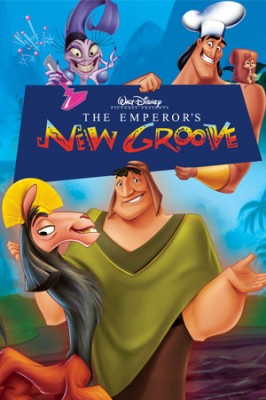 The Emperor's New Groove was released on December 15, 2000 as the fortieth full-length animated feature in Disney history. It is seventy-eight minutes in length.
Plot Summary
Ah, politics. Some leaders are likeable; some are not. Some are mean yet competent, while others are kindhearted but clueless. Unfortunately for the Inca people, their emperor, Kuzko, is an ego-maniacal buffoon. The next time this seventeen-year-old monarch commits a kind deed will be the first.
Kuzko may be ten times more arrogant than the most self-centered person you have ever met, yet he is somehow not even the cruelest person in his own palace! That's right; Yzma, Kuzko's power-hungry advisor, is heartless and out to dominate. Upon being fired by Kuzko, she orders her right-hand man, Kronk, to help her trick the emperor into drinking a poisonous solution.
There's just one problem: Kronk accidentally serves the emperor a llama potion, and Kuzko, though now on four legs instead of two, lives on.
Still, Kuzko finds himself far from home, and he treats the only person who can help him, the peasant village leader Pacha, like dirt. The emperor seems incapable of showing any humility. Can he find it in himself to change?
Humor
If you are looking for a comedy, you have come to the right flick. With numerous jokes, both verbal and physical, The Emperor's New Groove is perhaps the funniest animated movie in Disney history. If not consistently hysterical, the gags will at least keep you grinning.
The title character is comically arrogant, and sarcastic.
Despite being less than bright, Kronk is a renaissance man. Yzma's assistant can cook, jump rope, defy geographical limits, and talk to squirrels! Yzma, too, is at the center of the comedy. This antagonist concocts family lineage, plays music with her broccoli, and impersonates piñatas.
As for Pacha, the peasant awkwardly commences CPR and un-birthday celebrations, and impersonates Tarzan. Now, let's swing into the next section.
Changing Clothes
The Emperor's New Groove hardly resembles Disney's original intentions for the flick. When work on the movie, originally titled "Kingdom of the Sun," began in 1994, it was supposed to be a musical drama akin to the masterpieces of the Disney Renaissance, such as Beauty and the Beast (1991), Aladdin (1992), and The Lion King (1994). By 1998, however, Disney sensed problems with the concept's development and dramatically altered the drama into the eventual comedy.
Regarding the film's rocky road, no ice cream pun intended, Producer Randy Fullmer said, "We wanted to set it in the 1400s before the Spanish came [to South America]. The Spanish brought the wheel, but we had to have a cart on the storyboard. We debated for three hours whether to have a wheel on the cart. At the end of the day, it hit several of us. We are really on the wrong track. We are not trying to make a documentary on the Incas. We are just trying to have fun." (1)
The film's plot may be flawed, but the movie is indeed fun.
Villains
While the antagonists in most Disney films are clear-cut, the "villains" in The Emperor's New Groove are more ambiguous in nature. Yzma is obviously evil, but I was more infuriated by Kuzko's obnoxious attitude throughout much of the movie.
Additionally, Kronk comes across well despite his association with Yzma. His conscience may be conflicted, but he seems like a decent guy.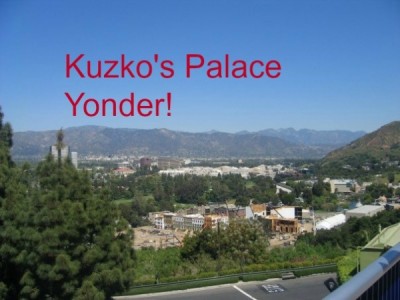 Pacha
A husband and father of two young children, Pacha is a kindhearted man. Pacha is continuously degraded by Kuzko, both in human and llama form, but he never abandons the emperor in his time of need. Frankly, I found Pacha's unwillingness to strand the emperor annoying after a while—enough is enough—but Pacha did what he thought was right.
Gym Class
The Emperor's New Groove incorporates numerous physical activities, including running, swimming, rugby scrumming, weight lifting, and bungee jumping. Trust-building exercises are especially emphasized. It should be noted, however, that these endeavors are undertaken in unorthodox ways and should not be replicated at home.
Music
"Kingdom of the Sun" was to feature numerous songs written by British rock and roll star Sting. The Emperor's New Groove retained two of these numbers, "Perfect World" and "My Funny Friend and Me," but Sting's influence was significantly mitigated. "My Funny Friend and Me" is only heard during the end credits. On his role in The Emperor's New Groove, Sting said, "I tried to resign about three times. This was a difficult process. But in the end, I'm really happy we stayed the course and stuck with it. I'm not really a quitter." (2)
After the catchy "Perfect World," performed by Tom Jones, successfully sets the story, music is relegated to well-utilized background tunes. For example, a smooth jazz tune creates a mysterious vibe at what is supposed to be Kuzko's last dinner.
Relationship to Other Disney Films
A South American setting including llamas was also featured in Saludos Amigos (1942).
In both appearance and personality, Pacha strikes me as almost identical to Quasimodo from The Hunchback of Notre Dame (1996). Yzma reminds me of Megara from Hercules (1997) in appearance, though the latter is much younger and nicer.
In discussing the movie with me after I watched it, my friend Amy said she thought the old man who Kuzko threw out the window sounded like Piglet from The Many Adventures of Winnie the Pooh (1977). In fact, both characters were voiced by the late John Fiedler. I thought the old man sounded like Sterling Holloway; Roquefort the mouse from The Aristocats (1970) popped into my head when I heard the voice.
In the Parks
The protagonists of The Emperor's New Groove enjoyed a roller coaster ride, and you can too at many of the Disney parks around the world: "Space Mountain" at Walt Disney World's Magic Kingdom and the Disneyland Parks in Anaheim, Paris, Tokyo, and Hong Kong; "Matterhorn Bobsleds" at California's Disneyland Park; "Big Thunder Mountain Railroad" at Walt Disney World's Magic Kingdom and the Disneyland Parks in Anaheim, Paris, and Tokyo; "Big Grizzly Mountain Runaway Mine Cars" at Hong Kong Disneyland; "Rock 'n' Roller Coaster® Starring Aerosmith" at Disney's Hollywood Studios and Walt Disney Studios Paris; "Crush's Coaster" at Walt Disney Studios Paris; "California Screamin'" at Disney's California Adventure; "Expedition Everest" at Disney's Animal Kingdom; "Primeval Whirl" at Disney's Animal Kingdom; "Goofy's Sky School" at Disney's California Adventure; "Indiana Jones et le Temple du Péril" at Disneyland Park Paris; "Raging Spirits" at Tokyo DisneySea; "Gadget's Go Coaster" at the Disneyland Parks in Anaheim and Tokyo; and "The Barnstormer featuring the Great Goofini" at Walt Disney World's Magic Kingdom.
Overall
The plot of The Emperor's New Groove lacks direction, sometimes literally, but the onslaught of jokes will keep you engaged. It is definitely worth watching.
Notes
1) Welkos, R. (2001, January 4). Disney's Groove / The studio shakes things up with a hip new flick. Newsday, p. B03. Retrieved December 12, 2014, from http://0-search.proquest.com.alpha1.suffolk.lib.ny.us/docview/279373791?accountid=35174
2) Graff, G. (2000, December 14). Sting's New Groove Struggle. Retrieved December 13, 2014, from http://abcnews.go.com/Entertainment/story?id=112044
What do you think of The Emperor's New Groove? Let me know in the comments!
Incoming search terms:
https://www themouseforless com/blog_world/movie-review-emperors-new-groove/