This post may contains affiliate links for your convenience. If you make a purchase after clicking a link we may earn a small commission but it won't cost you a penny more! Read our full disclosure policy here.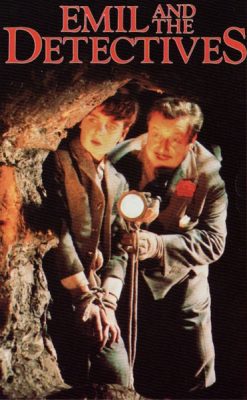 Image Copyright Disney
Based on Erich Kästner's 1929 novel of the same name, Emil and the Detectives was theatrically released on December 18, 1964. The live action mystery film is ninety-nine minutes in length.
Plot Summary
In the small German town of Neustadt, young Emil Tischbein (Bryan Russell) boards a bus to Berlin, where he plans to spend a holiday at the home of his grandmother (Elsa Wagner). Emil's mother (Eva Ingeborg Scholz) has entrusted him with a sum of 400 Deutsche Mark in an envelope, but before the bus reaches Berlin, disaster strikes: a wanted fugitive named August "Mole" Grundeis (Heinz Schubert), who had witnessed Frau Tischbein give her son the money, slyly works his way to the seat adjacent to Emil. Grundeis then hypnotizes the boy with his watch, exits the bus while Emil is waking up from a nap, and escapes into a café, where two other wanted criminals, Werner "Baron" Von Breugel (Walter Slezak) and Bruno Muller (Peter Ehrlich), await. Von Breugel, a great bandit who has been missing for so long that the police believe he is dead, is employing Muller and Grundeis, mere "pickpockets," to facilitate a massive bank robbery through an underground tunnel.
Emil frantically departs the bus and locates Grundeis inside the café but is unsure of how to proceed. A local traffic cop is disinterested in helping, and while a random teenager named Gustav Fleischmann (Roger Mobley) expresses great interest in helping Emil, he comes on very strong and seems disreputable. Before claiming that he operates an amateur detective agency called "Gustav Fleischmann and Associates," for example, Gustav promotes himself as an employment agent and a tour guide of Berlin. As insincere as this Renaissance youth appears, Emil is desperate and allows Gustav to take the case.
Emil might have been better suited telling his grandmother that he was robbed, but Gustav, a group of Gustav's friends, and Emil's cousin Pony (Cindy Cassell) tirelessly pursue Grundeis, Muller, and Von Breugel. The cumulative effort of these detectives cannot be questioned, but effort is often exerted in vain. Will the crooks be brought to justice?
Narrator
A narrator operating behind the fourth wall introduces the plot and its general direction in the opening scene and in several moments thereafter. This narration replaces dialogue among characters, most notably the discussion between Frau Tischbein and Emil about the money. I would have preferred a more natural disclosure of the plot through conversation, but, on the plus side, possible confusion is obviated. Furthermore, the narration permits the employment of cinematographic creativity—visuals of the characters at the bus stop are sped up and slowed down, for example, creating a more whimsical setting, which is enhanced by the youthful nature of the film's heroes.
Kids Rule
The youth of Berlin are presented as more adept at dealing with local affairs than the city's authorities in Emil and the Detectives. The police, as would be the case the following year in That Darn Cat! (1965), are depicted as incompetent, angrily dismissing the children's accurate leads as pranks. The high ability of the children is especially highlighted through their celebration of a "Greenback Party," not related to the late-nineteenth century United States political party of the same name, in the film's closing moments. Yay! Free money for everyone!
Gustav
Gustav possesses an extremely rough personality. Though not overtly discussed, one senses that his home life, if he has one, is not happy. When the "Professor" (Brian Richardson) of the detective group offers to tell Gustav's father that he will be staying out all night to watch for the crooks, Gustav, with a sad look on his face, replies, "It's payday. He won't be home till late. Besides, he doesn't care what I do."
After Gustav utters the last line, Pony, who had been berated by Gustav moments prior, somberly stares into his face. Pony's personality is also somewhat "coarse and unrefined," and I would not be surprised if she likes Gustav, though it is also possible that she merely finds him obnoxious.
Sequel
A standalone film, Emil and the Detectives presents many plausible concepts for a potential sequel. The backstory of Gustav's life, for example, might make an interesting plot as would Pony's journalism career; Emil's cousin is especially interested in working with the detectives because she writes for her school's newspaper.
Smoking
Omitted from children's movies nowadays, smoking plays a noticeable role in Emil and the Detectives. Von Breugel frequently smokes a cigar, and Emil is given a cigarette by Dienstag (David Petrychka), one of Gustav's young associate detectives. Neither boy actually lights up, however.
Music
The film's background music, including numerous mysterious tunes, nicely complements the action.
The background music during the bus ride from Neustadt to Berlin is brilliantly chosen. A jolly soundtrack augments visuals of both the passing countryside and joyous interactions between Emil and his fellow passengers, including a baby and an elderly lady, before turning ominous as Grundeis commences his exploits.
Also of note, catchy oompah music is played by a band in the café scene early in the film.
Humor
In addition to animated depictions of the three criminals, a pronunciation guide to Emil's name is provided over the opening credits: the letter "A" and a mill. Thus, "Emil" is pronounced "A Mill."
With awkward mannerisms, colorful clothing, and a pocket watch, Grundeis is reminiscent of the Mad Hatter from Alice in Wonderland (1951).
Gustav's group of young detectives includes a pair of identical twins and a professor but no Mary Ann or Gilligan.
Blunt conversations frequently occur during Emil and the Detectives. For example, after Gustav hawks his tour guide service by saying "I can help you make out a list of things to see," Emil responds with "And I could give you a punch in the nose if I wasn't so busy." Ouch!…Later, when Emil's grandmother inquires of her grandson's whereabouts to a bus stop worker, this attendant says, "I don't know anything about grandsons, just buses." Great, thanks for your help!..Finally, after Emil introduces his cousin Pony to Gustav and the other young detectives with the words "Gustav Fleischmann, may I present my cousin Brunhilde Heimbold," she adds, "Hi, my friends call me Pony." Frustrated, Gustav interjects, "Get rid of her." Nice to meet you too!
Dienstag's sister adds laughter by…well, laughing. Her playing of "My Pretty Baby Loves Me So" over the telephone to her ex-boyfriend Gunther results in one of the movie's funniest moments.
Von Breugel and Muller enjoy a picnic lunch in a musty underground tunnel. Eschewing peanut butter and jelly sandwiches, the duo helps itself to caviar and fine wine.
Relationship to Other Disney Films
Emil and the Detectives was one of several Disney films of the 1960s to feature authentic footage of European settings. In addition to Emil and the Detectives, Bon Voyage! (1962) was filmed in France; Almost Angels (1962) was shot in Vienna, Austria; and The Three Lives of Thomasina (1963) was filmed in the United Kingdom.
Bryan Russell had previously held a minor role in Babes in Toyland (1961) for Disney, and he subsequently appeared in The Adventures of Bullwhip Griffin (1967) for the company. Additionally, Russell appeared in two miniseries on NBC-TV's "Walt Disney's Wonderful World of Color": the first and third installments of the three-part "Gallegher" series, which aired on January 24, 1965 and February 7, 1965, respectively; and each installment of the four-part "Kiljoy" series, which aired on successive Sunday nights between March 14, 1965 and April 4, 1965. Russell was not related to Disney Legend Kurt Russell, who emerged as one of the company's stars later in the decade. (1)
Other Disney mystery films include That Darn Cat!, The Great Mouse Detective (1986), and Zootopia (2016).
In the Parks
Guests can enjoy German culture and cuisine at the Germany Pavilion in Epcot's World Showcase. Dining in the pavilion is offered buffet style at the "Biergarten Restaurant," which, like the café in the movie, often features a live oompah band.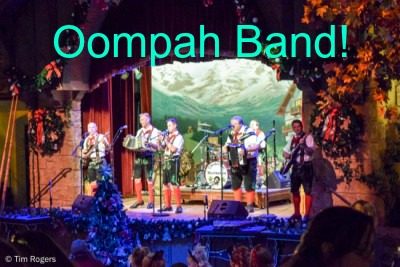 Photo Copyright Tim Rogers
Disney offers itineraries to Germany and the surrounding region through its "Adventures by Disney" tour service. See The Mouse for Less's Adventures by Disney Itineraries page for more information.
Overall
Though Emil and the Detectives is not among Disney's most heralded films, it is a well-paced and suspenseful effort that is definitely worth watching. If nothing else, you will not be bored.
Notes
1) Smith, D. (2012). Disney Trivia from the Vault: Secrets Revealed and Questions Answered. New York: Disney Editions, p. 153.
What do you think of Emil and the Detectives? Let me know in the comments!
Sponsored Ad:  Would you like to help support The Mouse For Less website in continuing their mission of being THE Disney vacation planning resource?  You can do so by purchasing Emil and the Detectives from our Affiliate Link through Amazon. Thanks so much for your support!
Did you like this article? Make sure to share it with your friends! Check below for easy ways to share!
Incoming search terms:
https://www themouseforless com/blog_world/movie-review-emil-and-the-detectives/
Peter ehrlich muller
Peter ehrlich muller emil and the detectives