This post may contains affiliate links for your convenience. If you make a purchase after clicking a link we may earn a small commission but it won't cost you a penny more! Read our full disclosure policy here.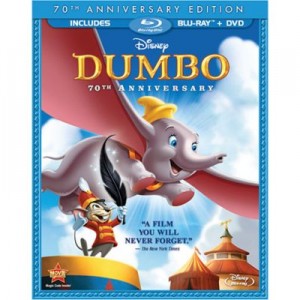 The fourth full-length animated feature in Disney history, Dumbo was released on October 23, 1941. The film, which was created on a low budget in an attempt to make up for the poor performance of Fantasia (1940), is only 64 minutes in length, making it the third-shortest animated feature in Disney history. Only Saludos Amigos (1942) and Winnie the Pooh (2011), which clock in at 42 minutes and 63 minutes, respectively, are shorter than Dumbo.
Plot Summary
The film commences with a special delivery. No, it isn't a package, and, no, it's not arriving via FedEx. Rather, the delivery is a baby elephant that is being brought to the Casey Jr. Circus Train by a stork.
It soon becomes evident that this baby elephant, Jumbo Jr., is unique. He has big ears, and he is mocked by "fellow" elephants and others alike for being different; the name "Dumbo" arises in jest.
Still, the title character possesses one key ally: Timothy Q. Mouse. The mouse has faith in Dumbo, and he tries his hardest to turn his friend into the "climax" of the circus.
Empathy
Empathy, the ability to "put oneself in another's shoes," so to speak, is a key theme in Dumbo. A vast majority of the characters do not possess this trait.
The elephants, aside from Dumbo's loving mother, shun Dumbo because of his ears. Though all of these elephants are cruel, Elephant Matriarch angers me the most. Her deep voice is off putting to begin with, and when she verbally attacks her nephew—"Out of my way, assassin!" for example—she's even more intolerable.
To be fair to the elephants, they're not alone in their ways. The ring master tortures the elephants by giving a drawn out speech while they're trying to balance themselves, and the clowns…well, the clowns are kind of phony. They pretend to like Dumbo, but they really just want a pay raise. Heck, they don't think Dumbo has feelings!
Timothy Q. Mouse
If there is one character in Dumbo who shows empathy, it's Timothy. He really cares about Dumbo and has an uncanny ability to make him happy through improvisation.
When the elephant is feeling down, Timothy will say something—even if it's not necessarily true—to brighten his spirits. For example, the mouse tells Dumbo that "lots of people with big ears are famous." I'm not sure if he really meant this, but it worked.
Also, after his first attempt to make Dumbo a star fails, Timothy cheers up his friend by claiming he made an appointment for Dumbo to see his mother. Again, while I don't think Timothy really "made an appointment" for Dumbo, the gesture certainly brightened the protagonist's day.
In a way, Timothy reminds me of Jiminy Cricket from Pinocchio (1940). As Jiminy is a good friend to Pinocchio despite being a mediocre conscience, Timothy is a good friend to Dumbo even though he may not always have the best ideas.
Timothy is voiced by Edward Brophy. I can't put my finger on the exact reason, but I'm not sure Brophy's voice really fits Timothy's character. It's not a major problem, but I found the voice to be a bit distracting at times.
The Stork
The stork is voiced by Sterling Holloway, who also narrated some of the most notable shorts in Disney history. Holloway provided the voice behind Susie the Little Blue Coupe (1952), The Little House (1952), and "The Cold-Blooded Penguin," which was released as a segment in The Three Caballeros (1944).
Also, and somewhat ironically, Holloway reprised his role as the stork in Lambert the Sheepish Lion (1952) in addition to serving as that short's narrator.
Music
While the music in Dumbo is not my favorite, it well accompanies the film. The soundtrack is appropriately peaceful during the scenes that feature Dumbo's mother, but it becomes more upbeat and fun during the circus sequences.
The movie's most beautiful song is "Baby Mine." Sung during the scene where Dumbo visits his mother, the tune is accompanied by drawings of various baby animals being cared for by their respective parents.
"Pink Elephants on Parade" is the film's most bizarre number. The lyrics are corny, and the overall sequence is…well, odd. Dumbo and Timothy inadvertently become drunk and begin to see pink elephants. If you've watched The Three Caballeros, the latter part of that film reminds me of the pink elephant segment. It's also comparable to Fantasia.
Finally, "When I See an Elephant Fly" is probably the most fun song in Dumbo. Performed by the crows, this tune makes good use of rhymes and puns.
In the Parks
Each of the five Magic Kingdom-style Disney parks around the world features the "Dumbo the Flying Elephant" attraction. Though the theming of the ride varies from park to park, the general premise is the same: guests fly in a Dumbo-shaped ride vehicle around a central hub.
As part of the Fantasyland expansion at Walt Disney World's Magic Kingdom, the former Mickey's Toontown Fair land was transformed into "Storybook Circus." This alcove of Fantasyland features theming that was inspired by Dumbo.
Disneyland Park in California is home to the "Casey Jr. Circus Train" attraction. Based on and named after the train from Dumbo, this ride affords guests a view of the Storybook Land miniatures, which can also be seen by riding the "Storybook Land Canal Boats."
Overall
Dumbo doesn't hold my attention as well as other Disney classics such as Pinocchio and Alice in Wonderland (1951). Nonetheless, it's a fun film with good plot elements including humor and sentimentality that will appeal to many viewers.
What do you think of Dumbo? Let me know in a comment!
Sponsored Ad:
  Would you like to help support The Mouse For Less website in continuing their mission of being THE Disney vacation planning resource?  You can do so by purchasing
Dumbo from our affiliate link through Amazon
.