This post may contains affiliate links for your convenience. If you make a purchase after clicking a link we may earn a small commission but it won't cost you a penny more! Read our full disclosure policy here.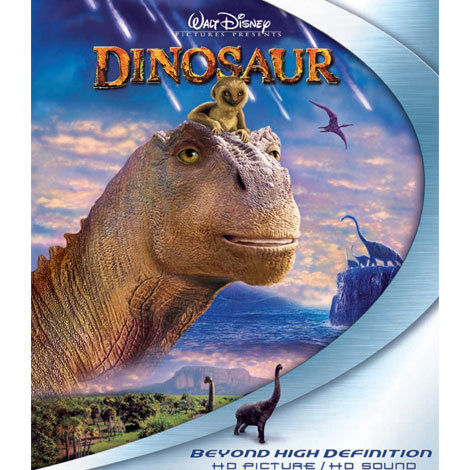 DVD Cover Copyright Disney
The thirty-ninth full length animated feature in Disney history, Dinosaur was theatrically released on May 19, 2000. It is eighty-two minutes in length.
Quiet, It's a Secret…Lab
Upon its release, critics marveled at Dinosaur's visuals, and for good reason. Rather than utilizing only animation, Dinosaur incorporated an amalgamation of animation and real world settings.
In 1999, Disney merged special effects company "Dream Quest Image" with Disney Animation's computer-graphics operation to create a single entity called "The Secret Lab." Dream Quest Image, acquired by Disney in 1996, had developed the special effects for such live action thrillers as The Rock (1996), Con Air (1997), and Armageddon (1998), which were distributed through Disney's adult labels, Hollywood Pictures in the case of The Rock and Touchstone Pictures for the other two flicks. (1)
Dinosaur was certainly eye candy. Said Jay Carr of the Boston Globe on Dinosaur's visuals, "The keyboard wizards blend the computerized dinos with actual landscapes. These backgrounds are in some cases computer-enhanced—a sky or a river may be painted in or touched up. But Disney's cameras roamed the world for locations–Samoa, Australia, Venezuela, Hawaii, and Jordan, as well as Florida and California. It makes for a certain grandeur." (2)
Meanwhile, Bill Muller of the Arizona Republic said, "It took 12 years and as much as $200 million, but Disney may just have the watershed movie it wanted, at least in terms of computer-generated images. Morphing real landscapes with cutting-edge digital technology, the studio created a prehistoric world never before seen by man. The realism is stunning, going far beyond previous computer-generated films, such as [Pixar's] Toy Story [1995] and A Bug's Life [1998]. In this movie, when the wind blows, individual hairs move on the faces of the friendly lemurs. Muscles ripple beneath the skin of the iguanodons. The earth cracks and dust sprays under the feet of the massive brachiosaur." (3)
Dinosaur's looks may have been phenomenal, but many critics were less fond of the movie's story and character development, and Disney itself did not overtly deny the validity of these criticisms. Said Walt Disney Motion Pictures Group Chairman Dick Cook on the film's marketing campaign, "There's no question that we started off with the look of the film. We felt that that was such a strong component, that no one had ever seen anything like it on the screen." (4)
Dinosaur grossed $38.9 million on its opening weekend, the second-highest total for a Disney animated film to that point behind only The Lion King (1994), and it performed solidly overall at the box office. (5) Nonetheless, great characters and stories pervade Disney's most beloved films, and Dinosaur was seen by many to be lacking in these areas.
Plot Summary
Long before I or anyone reading this post was born, an Iguanodon egg was stranded during a Carnotaurus attack and subsequently fumbled until recovered by a caring lemur family. The lemurs, Plio, Yar, Zini, and Suri, raise the hatched dinosaur, Aladar, as their own and coexist happily with him until a meteor shower destroys their land.
Wandering aimlessly, Aladar and the lemurs encounter a massive dinosaur herd marching toward fertile terrain called the "Nesting Grounds." They join the march seeking tranquility, but many of the participants are struggling to maintain pace with the leader, Kron, and water is seemingly nonexistent. Will the herd find enough strength to reach their utopian destination?
Overall, Dinosaur's plot is exciting, exhilarating at points, but the story is rushed, and the character development is mediocre. Aside from Aladar, the dinosaurs blend together, so it is difficult to connect with individual players. Also, the opening scenes struck me as trite, eerily similar to Tarzan (1999) in substance.
Themes
The main theme of Dinosaur is perseverance. Even when things seem hopeless, it is best to fight until the proverbial clock strikes midnight. Prematurely surrendering, to quote Plio, is "your choice, not your fate."
Kron
Kron is abrasive, arrogant, and does not care about the fate of the stragglers, but he is not necessarily a villain. The times are desperate, so Kron may simply be taking desperate measures to ensure the survival of as many dinosaurs as possible. Of course, the caring, optimistic demeanor exuded by Aladar towards everyone causes the audience to favor him over Kron, but Kron's heart is not necessarily in the wrong place.
Visuals
The mixing of animation with real settings renders some awkward results, but the amalgamation succeeds for the most part.
The Pteranodon flight scene early in the flick is breathtaking, as is the meteor segment.
Suspense
Dinosaur chases and natural disasters are incorporated throughout the movie.
The aftermath of the meteor shower, featuring bright colors, loud noises, and unbridled emotion, may be too intense for young children.
Music
Dinosaur incorporates no feature songs, but the background music is excellent and enhances the drama at numerous moments, such as the Pteranodon flight scene. Conversely, several seconds of silence are shrewdly utilized in the immediate aftermath of the meteor strike.
Humor
Corny jokes and sarcasm are sprinkled throughout Dinosaur. Aladar and Zini provide the bulk of the laughs.
Relationship to Other Disney Films
Dinosaurs were also prominently featured in the "Rite of Spring" segment of Fantasia (1940) as well as Meet the Robinsons (2007).
Orphans were also protagonists in The Rescuers (1977), The Hunchback of Notre Dame (1996), Tarzan, and Meet the Robinsons.
Dinosaur was only the second Disney animated feature to receive a "PG" rating, the first being The Black Cauldron (1985).
In the Parks
Dinosaurs are featured in many Disney attractions, including "Universe of Energy: Ellen's Energy Adventure" at Epcot and the "Disneyland Railroad" at California's Disneyland Park.
Disney's Animal Kingdom features an entire section, "DinoLand U.S.A.," devoted to dinosaurs. This area features an excavation-themed playground called "The Boneyard," a wild mouse roller coaster called "Primeval Whirl," a spinner attraction called "TriceraTop Spin," and, last but not least, a bucking bronco motion simulator attraction called, simply, "Dinosaur." Arguably the scariest ride at Walt Disney World because of its jerky nature, its frenetic pace, and the deafening dinosaur roars, "Dinosaur" was originally entitled "Countdown to Extinction" when the Animal Kingdom opened in 1998. The attraction was afforded its current name in 2000 to correlate with Dinosaur.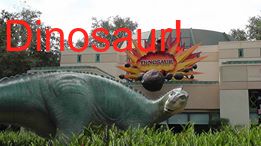 Photo Copyright Themouseforless
Overall
Dinosaur is flawed, but the visuals are unique, and the plot, though superficial, is extremely engaging. It is worth watching at least once.
Notes
1) McNary, D. (1999, October 28). Disney, DQI To Form The Secret Lab: New Entity For Visual Effects Will Be Based in Burbank. Los Angeles Daily News. Retrieved August 8, 2015, from http://www.thefreelibrary.com/DISNEY, DQI TO FORM THE SECRET LAB : NEW ENTITY FOR VISUAL EFFECTS…-a083626916.
Disney announced the closing of "The Secret Lab" in late 2001 for cost-cutting reasons. See Verrier, R. (2001, October 26).  IN BRIEF / Entertainment; Disney to Close Visual Effects Lab: [Home Edition]. Los Angeles Times. Retrieved August 8, 2015, from http://0-search.proquest.com.alpha1.suffolk.lib.ny.us/docview/421853524?accountid=35174
2) Carr, J. (2000, May 19). OFF TO SEE THE LIZARDS DISNEY'S COMPUTER WHIZZES GO BACK VIA THE FUTURE, TAKING `DINOSAUR' TO A NEW LEVEL OF ANIMATION: [THIRD Edition]. Boston Globe, p. D.1. Retrieved August 8, 2015, from http://0-search.proquest.com.alpha1.suffolk.lib.ny.us/docview/405343060?accountid=35174
3) Muller, B. (2000, May 19). 'DINOSAUR' DISNEY'S LATEST IS BIG ON EFFECTS. Arizona Republic, p. P.1. Retrieved August 8, 2015, from http://0-search.proquest.com.alpha1.suffolk.lib.ny.us/docview/237913101?accountid=35174
4) Orwall, B. (2000, May 18). Disney to Focus on Technology, Not a Character, to Sell `Dinosaur.' Wall Street Journal, p. B16. Retrieved August 8, 2015, from http://0-search.proquest.com.alpha1.suffolk.lib.ny.us/docview/398756693?accountid=35174
5) Welkos, R. (2000, May 23). Weekend Box Office; 'Dinosaur' Gives Disney Weekend to Roar About: [Home Edition]. Los Angeles Times. Retrieved August 8, 2015, from http://0-search.proquest.com.alpha1.suffolk.lib.ny.us/docview/421490577?accountid=35174
What do you think of Dinosaur? Let me know in the comments!
Sponsored Ad:  Would you like to help support The Mouse For Less website in continuing their mission of being THE Disney vacation planning resource?  You can do so by purchasing Dinosaur from our Affiliate Link through Amazon. Thanks so much for your support!
Incoming search terms: