This post may contains affiliate links for your convenience. If you make a purchase after clicking a link we may earn a small commission but it won't cost you a penny more! Read our full disclosure policy here.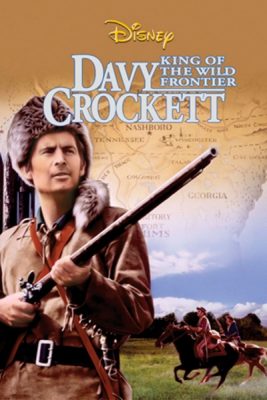 DVD Cover Copyright Disney
Based on the real life military and political career of frontiersman Davy Crockett (1786-1836), Davy Crockett, King of the Wild Frontier was theatrically released on May 25, 1955. The film, which was followed by a prequel, Davy Crockett and the River Pirates, in 1956, is ninety-three minutes in length.
Repackaging
Davy Crockett, King of the Wild Frontier is an edited amalgamation of the first three Davy Crockett episodes from Walt Disney's weekly "Disneyland" television series. The episodes, "Davy Crockett: Indian Fighter," "Davy Crockett Goes to Congress," and "Davy Crockett at the Alamo," originally aired on ABC-TV in the United States on December 15, 1954; January 26, 1955; and February 23, 1955, respectively. (1) The episodes, which ran about forty-seven minutes apiece, were edited and shortened for the theatrical production. (2) The decision to release the episodes to theaters was announced by Disney on February 25, 1955. (3)
The content of the episodes occurred over an approximately twenty-three year period, from the Creek War (1813-1814) during the War of 1812 to Crockett's death at the Alamo in 1836. Between these bookends, Crockett served in the House of Representatives from 1827 to 1831 and again from 1833 to 1835. Historians debate whether Crockett was really as virtuous a character as portrayed by Disney, but the scope, if not the exact happenings, of the film is more or less accurate. Crockett, for example, definitely fought in the Creek War; definitely broke with Andrew Jackson during Jackson's presidency and in more hostile terms than portrayed in the film; definitely opposed the Indian Removal Act; definitely went on an extended Eastern tour, albeit in the spring of 1834 rather than during the 1830 debates over the Indian Removal Act and in an effort to promote his autobiography and Whig Party causes rather than as a dupe of a plot by President Jackson; and definitely died at the Alamo. (4)
Because Walt Disney shrewdly filmed most of his productions in Technicolor, theaters were able to screen the movie in color; ABC-TV television audiences had been forced to view the separate Davy Crockett installments in black and white. (5) Walt Disney moved the "Disneyland" television series, now rechristened "Walt Disney's Wonderful World of Color," from ABC-TV to NBC-TV for the 1961-62 television season because of the latter station's greater interest in color television productions and, ironically, because of ABC's unrelenting pressure on Walt Disney to produce westerns when Disney preferred to create diverse offerings. (6)
Coonskin Craze
If Frozen (2013) facilitated an amazing fad, the Frozen Phenomenon was nothing compared to the Davy Crockett Craze of the mid-1950s. A plethora of merchandise, including coonskin caps, buckskin jackets, moccasins, blue jeans, bathing suits, jigsaw puzzles, pajamas, lunch boxes, soap, balloons, wallets, vinyl swimming pools, tepees, rocking chairs, guitars, bath towels, and plastic powder horns, was released, and department stores even opened special Davy Crockett sections. (7) Furthermore, the demand for coonskin caps accelerated so quickly that raccoon pelt supplies were exhausted, and pelts of other animals were used instead. "Anything with hair on it moved," stated one merchant in regards to his sales. (8)
Quite simply, as Time magazine said in May 1955, "Davy Crockett [was] bigger even than Mickey Mouse." (9)
Fess Parker
Through no fault of his own, Fess Parker was not Walt Disney's first choice to portray Davy Crockett. Disney had intended to cast James Arness, who later starred in the long-running television series "Gunsmoke," as Crockett, but upon viewing a science-fiction film featuring Arness, Them! (1954), Disney became more impressed with another actor who held a minor role in the film: the tall, rugged Parker. (10) Upon seeing Parker, Walt Disney said, "There's our Davy Crockett!" (11)
A relative novice in acting, Parker was initially uncomfortable with the role, but he was aided by his veteran co-stars Basil Ruysdael and Buddy Ebsen, who portrayed General/President Andrew Jackson and Crockett's friend George Russel, respectively. (12) More grueling than the mental pressure of playing Crockett for Parker was the physical pressure on the actor's body. During production, which occurred on site in Tennessee, Texas, and North Carolina, Parker adorned heavy split-leather buckskins; was clawed by a bear; fell off a horse into a river; fell down an embankment; and was grazed in the head by an arrow. (13) The Disney film crew afforded Parker the moniker "Painless Parker" for his perseverance. (14)
As Davy Crockett became a phenomenon, so did Parker. He was mobbed by autograph seekers during an April 1955 state dinner in Washington D.C. and was stalled in the midst of a twenty-five mile gathering of fans in New Orleans. Additionally, the actor met with the children of Vice President Richard Nixon and Tennessee Governor Frank G. Clement. (15)
In a July 1995 interview with historian Steven Watts, Parker admitted that he was stressed during the Davy Crockett phenomenon. Said Parker: "I was uncomfortable a lot. In fact, I was terrorized a lot of times. It was not possible to go to a restaurant and have dinner unaccosted. In fact, at the height of it I couldn't leave my room." (16) Even so, Parker was intent on setting a good example for children, specifically expressing a desire to use his role to combat juvenile delinquency. (17)
Honor
Crockett's actions, at least in the film, arise out of a sense of moral duty, not out of a desire for self-aggrandizement. He runs for political office at the local, state, and national levels such as to prevent the victories of corrupt opponents, and, once elected to Congress, he curtails a glorious national tour to condemn an Indian bill that was being brought to a vote against his knowledge.
Action
Davy Crockett, King of the Wild Frontier is loaded with action. Along the way, viewers will encounter Indian battles, suspenseful brawls, and the final assault at the Alamo. The acting leaves something to be desired from modern standards, however; during shootouts, players fall for no apparent reason. These characters have been shot by implication, but the visuals are unconvincing.
Music
Like Parker, Davy Crockett's soundtrack, among the most catchy soundtracks in Disney history, arose almost by accident. Needing extra content to fill the allotted television airtime, Disney Studios composer George Bruns extemporaneously developed "The Ballad of Davy Crockett." Producer Bill Walsh initially deemed the effort "pretty awful," but audiences disagreed, and the song became a hit. Pop singer Bill Hayes recorded a version that topped the charts for five weeks, and more than fifteen other singers, including Fess Parker, recorded their own renditions. (18)
In contrast to "The Ballad of Davy Crockett," "Goodbye," which is performed at the Alamo before the final carnage, did not top the charts, but it is a beautiful, nostalgia-inducing effort. The song well sums up Crockett's adventurous life.
Humor
Although Davy Crockett, King of the Wild Frontier is not a comedy, the film features some funny moments.
Crockett attempts to use his big smile to "grin" a bear to death. Unfortunately for Crockett, Major Tobias Norton (William Bakewell) disrupted the proceedings, so the title character had to kill the bear in a more traditional way: with a knife.
George Russel inflates his friend's prestige by writing a pamphlet about Crockett's adventures in the Rocky Mountains. Crockett, in fact, had never traveled west of the Mississippi River.
Relationship to Other Disney Films
Featuring the final two episodes of the five-part Davy Crockett series on "Disneyland," Davy Crockett and the River Pirates was theatrically released on July 18, 1956.
Fess Parker subsequently appeared in The Great Locomotive Chase (1956), Westward Ho the Wagons! (1956), Old Yeller (1957), and The Light in the Forest (1958) for Disney.
In the Parks
In Critter Country at California's Disneyland Park, guests can explore the Rivers of America on "Davy Crockett's Explorer Canoes."
Crockett's Tavern at Walt Disney World's "Fort Wilderness Resort and Campground" serves pizza, wings, nachos, and assorted beverages.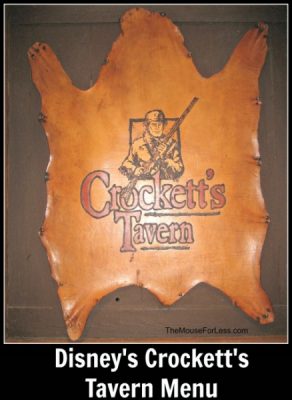 Image Copyright The Mouse for Less
Guests at Disneyland Resort Paris can lodge in cabins at "Disney's Davy Crockett Ranch."
Overall
It may not be a completely-accurate history lesson, but Davy Crockett, King of the Wild Frontier is nonetheless an exhilarating adventure with a great theme song that will linger in your head for days even if you were not born on a mountaintop in Tennessee. So, pull up your rocking chair, put on your coonskin cap, and sing…"Davy, Davy Crockett! King of the Wild Frontier!…Davy, Davy Crockett! Fighting for Liberty!"
Notes
1) Severo, R. (2010, March 19). Fess Parker, Who as Davy Crockett Set Off Coonskin Cap Craze, Dies at 85. New York Times, p. B17. Retrieved May 3, 2017, from https://0-search.proquest.com.alpha1.suffolk.lib.ny.us/docview/113433565?accountid=35174.
2) Smith, D. (2012). Disney Trivia from the Vault: Secrets Revealed and Questions Answered. New York: Disney Editions, p. 191.
3) Pryor, T. M. (1955, February 26). DISNEY RELEASES TV SERIES AS FILM: Edits 3 'Davy Crockett' Shows Into a Feature Picture– Showings Start in June. New York Times, p. 12. Retrieved May 3, 2017, from https://0-search.proquest.com.alpha1.suffolk.lib.ny.us/docview/113203061?accountid=35174.
4) Jones, J. A. (Fall 1987). Say it ain't true, Davy! The Real David Crockett vs. The Backwoodsman in Us All. Appalachian Journal, 15(1), 45-51. Retrieved May 5, 2017, from http://www.jstor.org/stable/40932996; Voss, F. S. (April 1988). Portraying an American Original: The Likenesses of Davy Crockett. The Southwestern Historical Quarterly, 91(4), 457-482. Retrieved May 5, 2017, from http://www.jstor.org/stable/30240051; Sundquist, M. L. (2010-2011). Worcester v. Georgia: A Breakdown in the Separation of Powers. American Indian Law Review, 35(1), 239-255. Retrieved May 5, 2017, from http://www.jstor.org/stable/41148666.
5) Crowther, B. (1955, May 26). Screen: Disney and the Coonskin Set: ' Davy Crockett' Fights Again at the Globe Fess Parker Plays King of the Wild Frontier. New York Times, p. 36. Retrieved May 3, 2017, from https://0-search.proquest.com.alpha1.suffolk.lib.ny.us/docview/113433565?accountid=35174.
6) Watts, S. (1997). The Magic Kingdom: Walt Disney and the American Way of Life. Columbia, MO: University of Missouri Press, pp. 368-71; Smith, D. (2012), p. 180.
7) Watts, S. (1997), 314-15; Mr. Crockett Is Dead Shot As Salesman. (1955, June 1). New York Times, p. 38. Retrieved May 3, 2017, from https://0-search.proquest.com.alpha1.suffolk.lib.ny.us/docview/113313910?accountid=35174.
8) Watts, S. (1997), 315.
9) Ibid., 314.
10) Ibid., 320; Smith, D. (2012), 194.
11) Severo, R. (2010, March 19). Fess Parker, Who as Davy Crockett Set Off Coonskin Cap Craze, Dies at 85. New York Times, p. B17.
12) Watts, S. (1997), 320.
13) Ibid.
14) Ibid.
15) Ibid., 313, 316.
16) Ibid., 316, 316n.
17) Ibid., 321.
18) Ibid., 315; Smith, D. (2012), 170.
What do you think of Davy Crockett, King of the Wild Frontier? Let me know in the comments!
Sponsored Ad:  Would you like to help support The Mouse For Less website in continuing their mission of being THE Disney vacation planning resource?  You can do so by purchasing Davy Crockett, King of the Wild Frontier from our Affiliate Link through Amazon. Thanks so much for your support!
Did you like this article? Make sure to share it with your friends! Check below for easy ways to share!
Incoming search terms:
https://www themouseforless com/blog_world/movie-review-davy-crockett-king-of-the-wild-frontier/